There's nothing like staring into the heart of the galaxy to take your breath away. If you're new to the world of telescopes, however, you might be wondering how to find the right one for your celestial celebrations.
Here are just a few of the best-selling telescopes currently available for sale. Some are cheap and easy to use; others will require a bigger investment on your part, but they'll also give you deeper, cleaner images of the night sky.
Go on. Read our reviews on best telescopes available. Choose the perfect one.
The universe is waiting for your glance.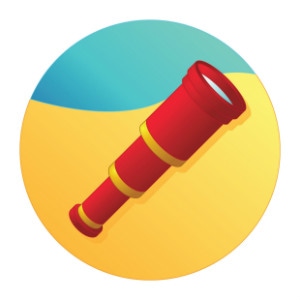 | Product | Ranking | Feature | Buy & Price |
| --- | --- | --- | --- |
| Celestron NexStar 5 SE Telescope | 1 | Find 40000+ celestial objects | |
| Celestron 127EQ PowerSeeker | 2 | 300X magnification | |
| Celestron NexStar 130 SLT | 3 | Track 600 galaxies | |
Only top 3 telescopes are listed above in the table. If you continue reading, you'll find us discussing and ranking 11 telescopes.  
Ranking 11 Popular Telescopes
1. Celestron NexStar 5 SE Telescope
Our First Pick!
With an endless array of features, controls and customizable specs, the NexStar 5 SE is one of most sold on the market.
Where do we even begin with the NexStar 5 SE? It offers so many great features that it's hard to narrow down its best and brightest.
Maybe we should start with reviewing its specs and see why it's listed as one of the top telescopes available.
The NexStar 5 SE also comes with a staggering amount of alignment options through its finderscope. Do you want one- or two-star alignments? Would you prefer a manual alignment instead of an automatic one? Maybe you'd like a fully computerized "SkyAlign." With the NexStar 5 SE, all of these are possible.
Speaking of computerized technology, that's another benefit of the NexStar 5 SE. It comes with an attached LCD screen that can be used for all kinds of stargazing events and activities. For example, it can track up to 40,000 objects in the sky depending on your exact time and location, and hundreds of these can be expanded on with additional facts and details. You can even take a "sky tour" that will show you all of the celestial highlights within range.
The one drawback of the NexStar 5 SE is that its high-tech features can be a bit of an energy leech, so you'll need to keep an eye on your battery life if you're spending all night under the stars.
At the end of the day, there are very few that can match both the strength and the versatility of the NexStar 5 SE, so don't settle for less when looking for a high-quality, professional-grade ones. This is the tool that you want as a serious astronomy enthusiast.
2. Celestron 127EQ PowerSeeker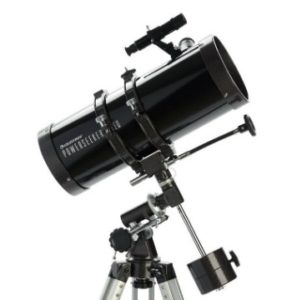 Good Budget Pick
Offering both value and versatility, the PowerSeeker will allow you to squeeze the most out of your budget.
While lacking some of the finer features of a high-tech telescope, the PowerSeeker is perfect for kids, college students and other newbies to the night sky. It's sharp and precise enough to be a step up from toy telescopes. Above all, it's affordable enough that you won't have to break the bank before you even know if you're interested in long-term astronomy study. 
Its specs are pretty impressive for its price range, too. The aperture of the PowerSeeker measures 127mm, and its focal length is a good 1,000mm. The 300x magnification is enough to see all kinds of distant objects in the night sky.
The PowerSeeker also includes three different lenses right in the box. Two of them measure 4mm and 20mm, and the third is a Barlow lens. This is a great variety for any telescope, especially an inexpensive one, so don't be afraid to make full use of them. You never know when swapping out an eyepiece will make a difference in your viewing experience.
As for assembly, putting together the PowerSeeker is a breeze. The sturdy aluminum tripod doesn't even need an instruction manual to set up, and the accessory tray will provide quick access to your lenses and star charts.
Speaking of star charts, if you feel like coordinating your telescope with real-time celestial events, Celestron has a special "SkyPortal" app that can be downloaded and used with the PowerSeeker. It's a handy little program to have in the middle of a star party with your friends. It can also be consulted before hiking expeditions if you prefer to stargaze deep in the mountains and away from city lights.
All things considered, the PowerSeeker is a great choice if you're curious about sky watching but not willing to shell out thousands of dollars for your first model. It will give you a taste of the night sky and make you want to come back for more.
3. Celestron NexStar 130 SLT Computerized Telescope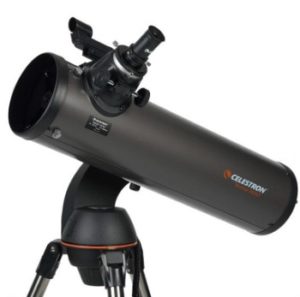 A telescope for amateurs or beginners
What do you get when you combine great image quality with a searchable database of sky objects? Ask the NexStar 130 SLT.
With an aperture of 130mm and a focal length that measures 650mm, the NexStar 130 SLT isn't playing around when it comes to gathering light. Throw in the 307x magnification and you'll be treated to sharp, clear and high-contrast views of some of the solar system's most distant objects.
Have you always wanted to see the polar ice caps on Mars? Or maybe you're dying for a real-life look at the Great Nebula in Orion. The NexStar 130 SLT will afford you viewing opportunities for these heavenly bodies and more.
You'll also enjoy the benefit of computerized technology when you buy the NexStar 130 SLT. The built-in alignment controls will ensure that you never miss a celestial event, and with more than 4,000 objects in the digital database, it will take you months before you run out of things to observe. There's tracking information for 600 galaxies alone!
For these reasons and more, the NexStar 130 SLT is one of our recommendation for beginners. Not only will it provide the kind of image quality that you probably expect from all of your astrophotography browsing on Instagram, but it also comes with features and controls to guide you towards a successful evening of stargazing.
One thing to keep in mind about the NexStar 130 SLT, however, is that it requires a bit of set-up. You can't just take it out of the box and expect to use it right away. You'll need to align your finderscope and set up your hand controls first, so give yourself a few extra minutes for assembly before the sun sets.
So what do you say, Copernicus? Are you ready to buy your first telescope?
4. Celestron 21061 AstroMaster 70AZ Refractor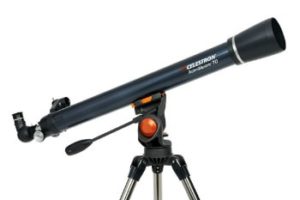 A nice low price turns the AstroMaster 70AZ into an awesome refractor telescope that's both affordable and functional.
With a sleek, classic design, the AstroMaster 70AZ will make you feel like you're five years old and gazing through your father's telescope again. That said, technology has definitely advanced since dad's time!
On review, it's not the strongest one on the market, but the AstroMaster 70AZ offers a respectable 70mm aperture and 900mm focal length. 
Its magnification is 165x, and that's more than enough to see things like Jupiter's moons and Saturn's rings. You won't have any trouble spotting what you want to spot as long as it's within a few light-years.
Another great thing about the AstroMaster 70AZ is its pre-mounted star pointer. No matter what constellation that you're trying to find in the sky, this telescope can help you track it down. It'll be a life-saving tool for astronomy students and a handy resource even for experienced stargazers.
You don't have to worry about assembly with the AstroMaster 70AZ, either. The tripod, mount and optical tube all come with a no-tool promise from Celestron. The accessory tray is right there whenever you need it, and there are quick-release attachments whenever you'd like to change your positioning. As a bonus, the clutches and levers will be quite comfortable to grip as you're making your adjustments. You can even maneuver them through gloved hands on cold nights.
If you're looking for the most technologically advanced telescope on the market, this isn't it. If you just want an easy way to catch the next meteor shower, however, say hello to the AstroMaster 70AZ.
5. Celestron 52306 Regal M2 100ED Spotting Scope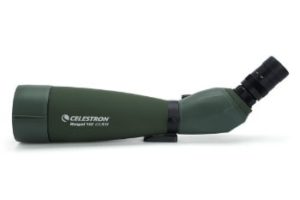 High Rated Portable Telescope. Period.
Take a closer look at the world with the multipurpose, multi-coated optics of the Regal M2.
Yowza! The Regal M2 will provide such a razor-sharp viewing experience that you'll feel like you're standing right there on the moon. Your eyebrows might have popped up at the price tag, but once you realize the full scale of this product's multi-coated optics, you'll understand that the Regal M2 is a steal.
For starters, we should disclaim that the Regal M2 isn't actually a telescope designed for scientific purposes. It's a multipurpose scope that can be used for everything from stargazing to bird-watching. You'll really get your money's worth in terms of versatility.
As for its specs, the Regal M2 comes with a 100mm objective lens diameter and a 1.9″ – 0.9″ angular field of view. Its magnification ranges from 22x – 67x depending on your chosen accessories. These numbers are why the Regal M2 is able to provide such high contrasts, accurate color reproductions and little-to-no noise.
Its amazing image quality is just one of the reasons to love the Regal M2, however. It's also very portable. Weighing an easy five pounds, it can be stored in all kinds of desks, cupboards and backpacks, so you'll never be without magnifying power when you see something unexpected in the sky. It even comes with a soft carrying case to protect it during transport!
Are you tired of sore arms and shaking fingers ruining your view? The Regal M2 doesn't have to be a handheld device: You can also secure it on the rotating tripod mount to keep it steady while you swivel. Vibrations are the enemy of astronomers everywhere, but with the Regal M2, you can stop them before they begin.
Speaking of extras, here's a full list of everything that's included with your purchase of the Regal M2:
Zoom eyepiece
Balance rail
Lens cap
Lens cloth
Eyepiece cover
Carrying case
T-adapter ring
Instruction manual
It's not a bad haul, right? While it might be a costly piece of equipment, the Regal M2 makes sure that you get your money's worth.
6. Celestron 21035 70mm Travel Scope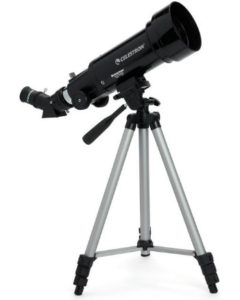 Requiring no hassle to use, store or carry, the Travel Scope 70 is definitely on the upper end of portable spy glasses.
The Travel Scope 70 is the best-selling refractor telescope on Amazon, and after you've had a look at its specs, you'll probably agree with that assessment.
For starters, the Travel Scope 70 has an aperture of 70mm and a focal length of 400mm. Its maximum magnification is 165x with two eyepieces measuring 20mm and 10mm. It will provide a nice, sharp view of anything in its path, so there's nothing to fault with its optics. You can even erect image diagonals to keep your views oriented properly.
Another great thing about the Travel Scope 70 is its extra content. A special software program called "TheSkyX – First Light Edition" will take you deep into the world of galaxies, satellites and asteroid belts with more than 10,000 objects in its database. As a bonus, it also offers enhanced images and printable star maps for you to take with you as you travel.
Did we forget to mention that the Travel Scope 70 is a portable telescope? Not only does it come with easily-disassembled pieces and a collapsible aluminum tripod, but Celestron will also throw in a backpack for all of your storage and transpo needs. Whether you're setting up a backyard observatory or hiking up a mountain to take a picture of the Milky Way, the Travel Scope 70 will make sure that you have all of your pieces when you do.
This isn't a flawless equipment, of course, because everything has flaws. But it's hard to care that the finderscope is made out of plastic when everything else about the Travel Scope 70 is so great.
If you're looking for a high-quality telescope that's beloved by Amazon, consider the Travel Scope 70.
7. Celestron 21024 FirstScope Telescope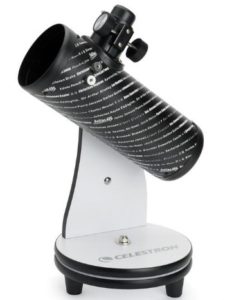 As fashionable as it is practical, the FirstScope is a spy glass that you won't be able to miss.
Make an immediate statement with the FirstScope. Because of its scrolling white text on the black background of its tube, it's sure to draw attention from onlookers with its fun, quirky design.
Don't make the mistake of thinking that the FirstScope is nothing but flash, however. The white text is actually a list of names that includes everyone from Johannes Kepler to Galileo Galilei. It pays tribute to the men and women who have made an impact on astronomy, so it's a valuable teaching tool for kids as well as an inspirational piece for adults.
The FirstScope has decent optics, too. With a 76mm aperture and 300mm focal length, it has the juice to get the job done, though it should be noted that these numbers aren't meant for serious stargazing. You'll need something with a little more power for that. However, two eyepieces (4mm and 20mm) can be swapped out at your leisure, so you'll be able to personalize your viewing experience depending on what you want to locate in the sky. Its overall magnification is 180x.
A rotating tabletop stand is another nice feature of the FirstScope, especially if you'd like to display it on a desk or window stand. You can show it off while still being able to arrange it to your preferred angles and positions.
To top it all off, the FirstScope comes with a two-year warranty from Celestron! Buy it without fear of accidents and mishaps. If something breaks, you can just return it for a new one.
You'll be hard-pressed to find another one that's as useful and cool-looking as the FirstScope, so if you're ready to turn heads with your astronomy endeavors, consider this model.
8. Celestron 21041 60mm PowerSeeker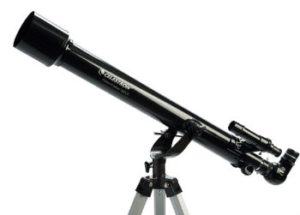 Best for Kids
Encourage your little astronomer with the PowerSeeker 60, a telescope that will provide hours of fun without overly-complicated design features.
With gleaming black surfaces that hide glass optical components, the PowerSeeker 60 is definitely a vision. Your kids will be excited as soon as they open the box and see its parts nestled inside.
That said, the true value of the PowerSeeker 60 isn't in its attractive design. It's in the easy, intuitive handling that even a child can master. You don't have to hold any advanced degrees to figure out this one; even if it didn't have a clear instruction manual filled with pictures, its buttons and knobs speak for themselves.
As for specs, the PowerSeeker 60 has a top magnification of 142x with a 60mm aperture and 700mm focal length. Its extras include things like image prisms and a Barlow lens. It doesn't boast top-of-the-line viewing quality, but its power is more than enough for identifying stars and planets in our solar system. Your kids will be able to complete their school projects without fear.
Another perk of the PowerSeeker 60 is the adjustable tripod included with every purchase. You can keep it low for the kids or make it taller for mom and dad; the choice is entirely yours.
If we're being honest, the PowerSeeker 60 isn't going to change the world, but everyone has to start somewhere. It's simple, affordable and easy to use, so it's a perfectly serviceable choice for your child's first telescope.
9. Orion 8945 SkyQuest XT8 Classic Dobsonian Telescope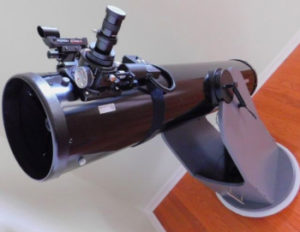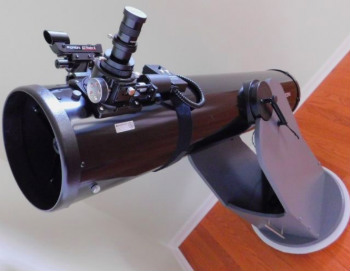 The innovative Dobsonian design is just one of the perks that you'll enjoy when you buy the SkyQuest XT8.
Opening the box for the SkyQuest XT8 is a little like opening a present on Christmas morning. In addition to the telescope itself, you'll also receive the following:
-2″ Crayford focuser
-25mm Sirius Plossl eyepiece
-EZ Finder II reflex sight
-Collimation cap
It's a lot to take in, right? But this is one of the reasons that the SkyQuest XT8 is ranked so highly among Dobsonian telescopes.
If you're unfamiliar with Dobsonian telescopes, they're usually made with squat tubes that rest on altazimuth bases. They can be designed to view everything from nebulas and star clusters, and they're very popular with amateur astronomers thanks to their simple construction and handling. They differ from "Newtonian telescopes" because they were invented by John Dobson instead of Sir Isaac Newton.
But let's get back to the SkyQuest XT8. It's a very simple point-and-view machine, so it can be used with minimal fuss. However, you're welcome to modify and supplement it with all of the accessories listed above, so don't feel limited by its streamlined design.
In terms of specs, the SkyQuest XT8 comes with an 8″ diameter that measures somewhere around f/5.9 in terms of aperture. You'll be able to track those distant planetary moons with no problems.
Last but not least, you'll enjoy many different customization options with the SkyQuest XT8. The focuser can accommodate eyepieces measured both 1.25 inches and 2.0 inches, and the mount can be modified with all kinds of filters, scopes and tracking tools. If you're hoping to find something specific in the sky, this is a spyglass that can help you track it down.
10. Orion 10012 SkyScanner 100mm TableTop Reflector Telescope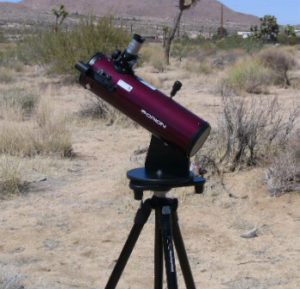 The SkyScanner 100 is one of the perfect tabletop telescopes for the money spent. 
If you've been looking at different tabletop telescopes, you've probably noticed that many of them have cheap, flimsy designs with things like plastic lenses. Their focus is more on portability than usability.
The SkyScanner 100 plays by a different set of rules. Not only does it offer parabolic mirror optics that will give you wide-length images, but it even provides multiple lenses with different magnification levels to give you a truly customized view of the solar system.
You'll have two choices when looking through the eyepiece: a 10mm lens and a 20mm lens. You'll also have the patented EZ Finder II to help you aim, track and locate different terrestrial objects.
In terms of specs, the SkyScanner 100 has a 100mm aperture and 400mm focal length. While these numbers are nothing to write home about in a full-sized telescope, they're pretty impressive for a tabletop device, especially when you consider that the SkyScanner 100 is a reflector.
The SkyScanner 100 also lives up to its name as a tabletop device. Measuring 9.5 x 9.5 x 14 inches and weighing just 6.2 pounds, it can be easily stashed and stored in closets, lockers and desk drawers. It's a powerful machine in a compact package.
If you're looking for a tabletop telescope that doesn't disappoint, consider the SkyScanner 100.
11. Orion 09007 SpaceProbe 130ST Equatorial Reflector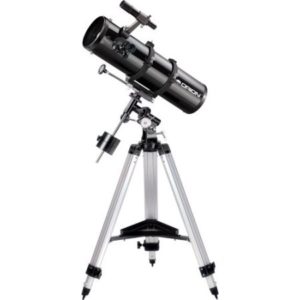 One of the high rated for Hobbyists
Convenient and user-friendly features make the SkyProdigy 130 a nice product for those who are still learning about the device and how to use them.
Being a hobbyist can put you in a weird place in the astronomy world. You aren't a professional astrophysicist who has thousands of dollars to spend on top-notch telescopes, but at the same time, you know enough about the universe to want to see it. You aren't a child to be placated with homemade sky viewers made out of cardboard.
Thankfully, the SkyProdigy 130 is here to fill the gap between amateur and expert. It will provide enough viewing power to satisfy your stargazing needs without being so complicated that you need a genius IQ just to unwrap it.
Let's start by discussing its specs. The SkyProdigy 130 has an aperture of 130mm, a focal length of 650mm and two separate lenses that measure 9mm and 25mm. Its total, maximum magnification is 307x. It measures 39 x 10 x 17 inches and weighs 18 pounds.
The SkyProdigy 130 also contains a variety of computerized features to help you with finding, tracking, identifying, observing and notating different celestial objects. "Star sense" technology will automatically align your telescope without any effort on your part, and the database will point you towards more than 4,000 objects in the sky. This one will even update itself with new product upgrades when connected to the Internet!
In addition, the SkyProdigy 130 solves the battery problem of many computerized telescopes by providing a battery pack that's good for 30-ish hours. You won't have to worry about losing power in the middle of a stargazing event.
As you can see, the SkyProdigy 130 is the greatest of both worlds. It lets in enough light to be a precise, powerful one, but at the same time, it doesn't require you to actually understand how it works in order to use it. Between its motorized mount and computerized tracking technology, all you have to do is turn it on to get started!
How To Choose A Telescopes?
Things can get complicated when you're ready to graduate from toilet paper rolls to real telescopes. The good news is that we're here to help. If you're in the market for a telescope, here are just a few tips for finding a model that will unlock the night sky and all of its secrets.
There are several different types of telescopes, but the most common are refractor, reflector and compound. The refractor is cheap and easy to use, but it doesn't have a very good range when it comes to celestial objects. The reflector can see far-off phenomena, but it's useless for anything too close. The compound telescope lets you view nearby and far-away objects, but it will cost you a pretty penny. Keep all of these pros and cons in mind as you go shopping for a telescope.
You don't have to be a technical engineer to buy an awesome telescope, but it certainly helps if you understand and appreciate things like aperture, focal length and maximum magnification. Do some research to learn what these things are and how they can help you when you're tracking comets and identifying constellations. Remember, bigger isn't always better. Smaller numbers can mean larger focus areas or greater fields of depth.
Some telescopes come with built-in computer assistance for tracking and identifying celestial objects. This can be quite handy if you're an amateur astronomer who wants to learn more about the night sky, but if you'd prefer to do the work yourself, you might want to find a model that's a little more old-school. Ultimately, there's no right or wrong answer when it comes to the level of technology that you're comfortable with, so mull it over before making a decision.
It's always a good idea to get your purchases insured, but it's especially important when you're dealing with high-end telescopes. You don't want a shipping accident to leave you with nothing but a broken eyepiece and a big bill. Look at the product's warranty and ask yourself the following questions:
– What kinds of accidents are covered by the policy? Do they include human errors as well as product defects?
– Who pays for return shipping if the device has to be sent back to the manufacturer?
– How long does the warranty last? Can that coverage be extended with an extra fee?
Telescopes can range from $20 toys to $2,000 tools. You'll definitely want to take a look at your bank account before you start getting starry-eyed over a particular model or brand. You should also remember that many of these devices can be modified and upgraded over time, so instead of going into debt to buy that huge magnification lens right this second, you can always save your money and replace a cheaper lens later.
These are just a few things to keep in mind as you shop for telescopes. Whether you're an avid astronomer at the local observatory or a simple college student looking for something to poke out of your dorm room window, these tips can help you make a smart purchase decision about your next telescope. Good luck getting the best rated telescope available!