Several years ago, I took over responsibility for managing my club's Loaner Telescope program. We had a fairly rag-tag fleet of telescopes, everything from an 80mm short-tube refractor to 14.5-inch truss Dobsonian. At the time I took over, we had two NexStar SE scopes, a 5SE and a 6SE. During my tenure, we accepted donations of another 5SE and a 4SE.
The NexStar line began in the late 1990s, mostly as a response to the LX200 that Meade had released, which was the first commercially successful GoTo telescope line.  Designed to be a low-cost, easy to use GoTo telescope, the early NexStar line gained a strong following.
But all was not well for Celestron, which was struggling to keep their financial heads above water. This finally led to the company being bought by the SW Technology Corporation, a Delaware-based affiliate of the Synta Technology Corporation of Taiwan, which had been manufacturing many of Celestron's products for some time. At this point, Celestron became just another brand in the Synta lineup, which includes Sky-Watcher as well as equipment sold by other brands such as Orion and Meade.
*Rankings and ratings are calculated by comparing all telescopes on the same price range, in this case, $600 to $800.
The NexStar product line today is actually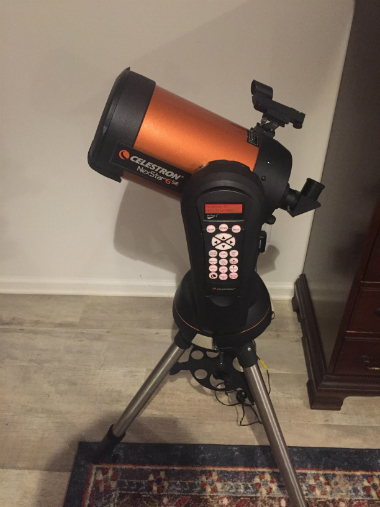 three separate lines of products. The NexStar SLT line, which they describe as "Designed to be an affordable entry level to mid-level computerized GoTo telescope," constitutes their lower-end tier and includes Newtonian, Refractor, and Maksutov-Cassegrain optical tubes on their NexStar SLT mount.
The NexStar SE line includes a 4-inch Maksutov and 5, 6, and 8-inch Schmidt-Cassegrain optical tubes, all painted orange as an homage to the legendary Orange Tube C8 that made the company's name in the 1970s. These all appear to be targeted at amateurs looking for an easy-to-use GoTo system that doesn't cut corners on the optical capabilities.
The upper-tier is the NexStar Evolution line, which raises the bar. With improved mechanics, including brass gears, a built-in rechargeable battery, and added features such as WiFi, it comes in 6, 8, and 9.25-inch versions.
The 6SE is arguably the most popular of the NexStar SE line. It comes with Celestron's popular 6-inch Schmidt Cassegrain Telescope, which has an actual aperture of 150 mm and focal length of 1,500 mm, giving it a focal ratio of f/10, which is typical of most SCTs. The OTA comes on a Vixen-style dovetail bar, which fits into the dovetail saddle on the mount.
The mount is altitude-azimuth single-arm fork-style mount with a total instrument payload capacity of 12 lbs. It comes with a 1.25" prism diagonal, 25 mm Plossl eyepiece (providing 60x when used with the 6SE) and Celestron's StarPointer, which is a zero-power red-dot-style finder.
The mount for the 6SE weighs in at only 11 lbs. and comes with a tripod with 2" stainless steel legs which weigh in at 9lbs. The total package comes in at under 40 lbs. and can be broken down into very manageable components. This makes it convenient for transport or for people who don't want to haul a large scope up and down the stairs of an apartment building.
The mount is compatible with the latest generations of Celestron's NexStar hand control, which contains over 40,000 objects in its database, along with the ability for users to define up to 200 of their own objects. The NexStar system offers five different alignment options from the user-friendly SkyAlign system to one-star and two-star alignments and even a quick-alignment which uses the previous alignment data.
The overall package is designed to offer good optical performance with good GoTo and tracking performance. This, coupled with a lightweight and compact form-factor and ease of setup, make a strong combination for the casual to moderately experienced observer.
Optical Performance Of Nexstar 5SE
Celestron has long turned out some of the best optics in its price class. Their Schmidt-Cassegrains set the standards for the SCT back in the 1970s. Like any manufacturer, they have had their ups and downs over the course of their history. Still, their SCTs are still hard to beat, and their current offerings are consistently good performers.
The 6-inch OTA provides a good balance between light gathering capability, magnification, size, weight, and cost. When matched up with a good eyepiece, it can offer excellent views of Mars, Jupiter, and Saturn, as well as the Moon, even under light polluted skies. Under fairly clear, dark skies, all of the objects in the Messier catalog should be visible, as well as a good portion of the NGC catalog.
Mount Performance
The design concept of the NexStar SE mounts is very attractive. But the SE line doesn't always live up to their promises. This appears to be more a problem with quality control and manufacturing than it is overall design. The Celestron engineers designed a competent mount, but the Suzhou Synta Optical Technology company of China – Synta's manufacturing arm on the mainland – doesn't seem to execute the design for these lower-middle range models as well as they do for their higher-priced models. As a result, they are somewhat prone to breakdowns.
When these mounts work, they're really not too bad. The GoTo accuracy is fairly good for an alt-az mount, and it can usually put the desired object in the field of view (whether or not you can actually see it depends on the sky conditions and the object). Of course, the accuracy of the GoTo on this mount will be heavily influenced by how accurate your initial inputs are for time, date, and location as well as your star alignment points. All of these data points can throw off your accuracy. As with any alt-az GoTo mount, I recommend regular re-synching to maintain GoTo accuracy.
The solder and component quality of the SE mount's innards are not the best and may be prone to reliability issues down the road, but with the thousands of happy NexStar SE owners we're confident that you shouldn't have any trouble. And if you do have electronic issues, Celestron's customer support should be able to help you. The biggest problem with the SE mount is that the power jack can lose connection, which will shut down the mount and require re-booting and re-aligning it – however, installing AA batteries in the scope as backup will prevent this issue.
The NexStar 6SE may not be perfect, but it's certainly a viable and decent entry-level option for beginners who want a GoTo telescope.
Celestron Nexstar 6SE Awards
Based on positive ranking from our team of experts and telescope owners, the Celestron Nexstar 6SE has earned the following awards in our buyer's guides.