Celestron's Astro-Fi 130 is the company's latest attempt to make GoTo telescopes and stargazing as accessible as possible to the beginner, and in my opinion succeeds. Not only that, but it's a relatively affordable option for a beginner, as well as a decent alternative to a Dobsonian.
*Rankings and ratings are calculated by comparing similar telescopes, in this case, 12 telescopes between $300 and $400.
The Optical Tube & Capabilities Of Astro Fi 130
The Astro-Fi 130's optical tube is identical to Celestron's NexStar 130SLT and SkyProdigy 130.
It's a 130mm (5.1") Newtonian with a short Vixen dovetail, a Synta/Vixen-style finder shoe, and a 2.5" rack-and-pinion focuser made mostly of plastic. The primary mirror is plate glass.
The optics in my personal Astro-Fi 130 are quite good. M13 begins to be resolved into stars at a mere 72x, and the Moon and planets look excellent.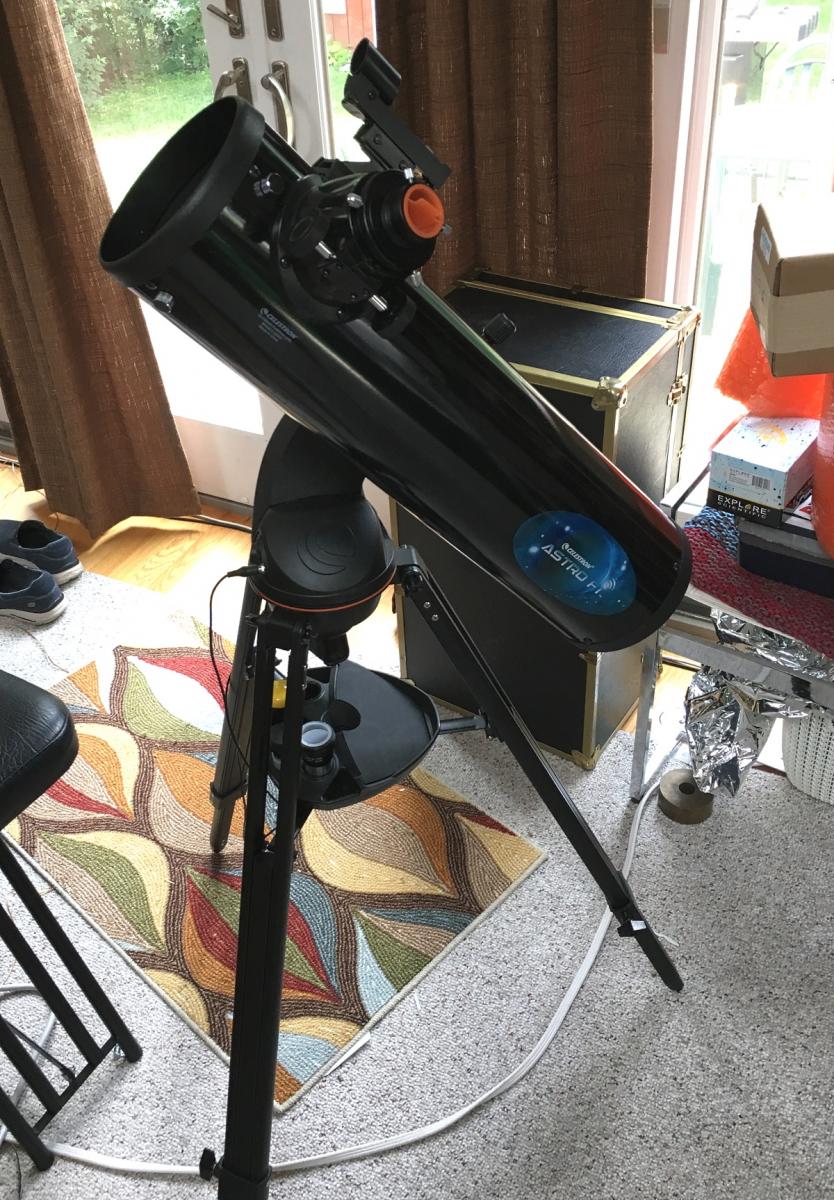 The 130's focuser rack is a little coarse for focusing at high power, but there is very little drawtube wobble – which I've verified with both a laser and a Cheshire collimation tool, as well as when actually using the telescope – it is surprisingly good for a plastic focuser. However, despite having a 2.5" drawtube, it doesn't come with any kind of 2" adapter and you are limited to 1.25" eyepieces only unless you find or make your own adapter. Celestron doesn't offer one. I was hoping to use my Paracorr and Tele-Vue Ethos eyepieces just to see how the scope would perform with them but without an adapter there is simply no way to securely attach 2" accessories.
Collimating the Astro-Fi 130 is a little difficult since the scope doesn't come with a collimation tool. We recommend checking out our collimation guide and obtaining some kind of collimation tool if you don't have one already.
Reviewing the Accessories
The Astro-Fi 130 comes with 25mm (26x) and 10mm (65x) Kellner eyepieces. While they do lack eyeguards and don't work the greatest at f/5, they're all-metal in construction and are decent for a sub-$350 telescope. I'd much rather have them than cheap, plastic Plossls. Additionally, the Astro-Fi 130 includes a StarPointer red dot finder for aligning the scope and newer models include a smartphone adapter built into the lens cap, which my scope didn't have. This adapter is rather crude, but it does function better than merely holding your phone to the eyepiece.
Outwardly, the Astro-Fi mount resembles Celestron's NexStar SLT and GT mounts. However, it is a completely different beast.
For one, the gears in the mount head seem to have been improved compared to the NexStar SLT. There is far less backlash compared to most Celesron mounts. Slewing it is dead simple – the only complaint I have is that it takes a bit to move all the way around the sky even at maximum slewing speed.
Next, the scope uses a tripod made of black extruded aluminum, unlike the thin tubular steel tripod with the NexStar SLT scopes. You'd think it'd be inferior, but surprisingly the Astro-Fi mount seems more stable than the NexStar SLT mount to me overall, probably because it is less prone to bending than the very thin steel used on the SLTs. The only wobbling I get with the Astro-Fi is when focusing at high power, and even that is relatively slight.
The port arrangement is different – 2 side-by-side auxiliary ports instead of one above the other, and the power port has been moved. I'm unsure why this is, or why the scope even needs the aux ports. You're not going to be autoguiding it or anything, and controlling it with a hand controller or computer ruins the whole point of the Astro-Fi.
Lastly, the spreader is different, having a shelf (presumably for your phone) and some gripping substance on it. I find this to be an improvement over the usually useless metal or plastic spreaders provided with many scopes which do nothing besides serve as a slight structural support.
Like many Celestron GoTo telescopes, the Astro-Fi 130 is powered by 8 AA batteries in a small pack. Powering the Wi-Fi network will drain these faster compared to a regular, controller-operated telescope, so I would definitely recommend using AC power or a rechargeable 12-volt DC power supply.
Using Celestron's SkyPortal App
Connecting to the Astro-Fi is relatively simple. First, download the Celestron SkyPortal app on your phone, then turn the scope on. Connect your phone or tablet to the telescope's Wi-Fi network, then open SkyPortal and hit "Connect & Align". You should be prompted with alignment instructions.
A lot of the bad reviews on Amazon of the Astro-Fi telescopes seem to be related to the SkyPortal app being buggy and unable to connect with the telescope. Celestron has fixed this with numerous firmware updates and it shouldn't be a problem. My scope has given me no issues.
Alignment is a relatively simple 3-star process based on Celestron's SkyAlign technology. The entire process from start to finish takes about 4 minutes. You can easily set the scope up and be observing within maybe ten minutes, as assembly is tool-free and only requires putting a couple things together.
However, unlike the unusable, bug-ridden SkyAlign, the Astro-Fi obtains data from your phone/tablet rather than you entering it in for pinpoint accuracy. I have had no alignment failures with this system and find it very reliable, with very precise GoTos. To test the tracking accuracy, I slewed to M13 at 72x – it was perfectly centered of course by the scope – and left for an hour. When I came back, M13 had moved maybe an arc-minute or two at most – that's a couple times the apparent diameter of Jupiter, no problem for visual use or planetary astrophotography (which is all this scope is capable of anyway).
If you walk out of range of the Astro-Fi's WiFi network or power off your device, the scope won't stop tracking or lose alignment – so if your device dies or you need a cup of coffee, it's no problem.
The SkyPortal app has two rather annoying flaws, however. For one, its database is tiny – containing only 4,000 objects. Besides the Messier and Caldwell objects and a few odds and sods Celestron deemed interesting enough to include, you're pretty limited as to targets. I don't get why Celestron would provide such a restrictive database, but they did. You can control the scope with the SkySafari app, however, which while a little expensive will solve these issues.
The other flaw has to do with screen brightness, at least on iOS. In addition to your device's built-in dimming settings (which still render the screen rather bright even at minimum brightness, enough so to ruin dark adaptation) Celestron allows one to dim the screen even further within the app, though you can't turn it red. However, this dimming setting doesn't apply to the keyboard, so when I tried to type in an object I was greeted by a blindingly bright keyboard.
You can control the scope with the SkySafari app, which while a little expensive, will solve these issues.
Looking For a Better Option?
Celestron Astro-Fi 130 is our fourth most recommended telescope for someone with a budget between $300 and $400, below Skywatcher 8″ Dob and SkyQuest XT8. 
If you have a flexible budget, you may choose to increase your budget and pick the best from our $400 to $600 telescopes' category.
While I'm a little disappointed by the lack of upgradability for experienced observers such as the 1.25"-only focuser and limited database, the Astro-Fi 130 is actually a solid choice in its price range and one of the first computerized scopes I've seen that I really think is a good alternative to a Dobsonian at the same price.