Servo motors were encased in slick-looking plastic housings and the mount was mated to the Celestron NexStar hand controller. The CG-5-ASGT also provided an ST-4 compatible guide port for those interested in astrophotography. With a price point comfortably lower than many competitors and a 30 lb. payload capacity, the mount caught on fairly rapidly.
Celestron soon offered it bundled with a variety of telescopes including a 6-inch or 8-inch Newtonian or their 6, 8, 9.25, or 11-inch SCT models. A later add-on GPS unit was also made available after a few years.
The CG-5-ASGT (I'll just use CG-5 from here forward), became a very popular mount. It was small and light enough to be easily transported, used a Vixen-style dovetail saddle that could handle a wide array of payload options, and was priced very competitively
But the CG-5 had its limitations. While it had the guide port, it really wasn't well-suited for astrophotography. It had too much backlash and periodic error to really serve as a good platform for imaging.
That said, for visual use, it was a great mount. When properly aligned, GoTo performance was generally quite accurate, and it paired very well with the C8.
The New Kid on the Block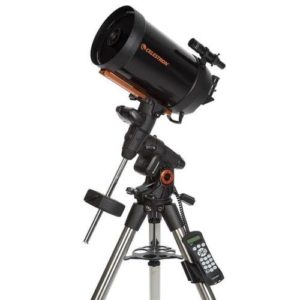 Enter the Advanced VX. With the AVX, Celestron did a complete re-design of the CG-5 with a focus on improving its main shortcomings and specifically targeting the mount at the beginning astrophotography market.
On the mechanical side, they increased the size of the base castings to improve stability, particularly when carrying payloads closer to the upper-end of its capacity. They also upgraded the motors, using servos capable of higher torque than the CG-5.
On the electronics side, they added periodic error correction, the ability to image past the meridian, and better autoguiding support. The NexStar firmware already included upgraded alignment processes, and to this, they added better polar alignment assistance.
As advertised, then, the AVX seems like a great move forward for Celestron. The AVX, while not the cheapest mount on the market, was priced very competitively, especially given its advertised capabilities. And when paired with the EdgeHD version of the C8, which is HyperStar compatible, the package sounded like a dream come true.
The Celestron C8 OTA
In the late 1960's, Tom Johnson, the founder of Celestron, developed a new method of mass-producing corrector plates for Schmidt-Cassegrain Telescopes. Prior to this time, SCTs were significantly more expensive as the corrector plate had to be hand-configured by a master optical craftsman.
Contrary to a common misconception, the corrector plate in an SCT – which is the plate of glass that holds the secondary in place at the front of the telescope – is not a flat plane of glass. In fact, it has a subtle, but critical curvature which provides correction for the spherical aberration inherent in the design's use of spherical mirrors.
With his new design, Johnson created a new division, Celestron Pacific, of his electronics company, Valor Electronics, devoted to telescopes. This division would later spin-off to become a separate company in its own right, keeping the Celestron name.
Celestron's line of SCTs became some of the most popular amateur telescopes available, and remain so to this day. And the C8, their 8-inch model, is by far the leader of the pack.
The standard C8 optical tube assembly (OTA) has an aperture of 203.2 mm and a focal length of 2,032 mm, giving it a focal ratio of f/10. The secondary obstruction is 64 mm wide, accounting for 31% of the aperture diameter, but slightly less than 10% of the aperture area.
The current crop of C8 OTAs is also equipped with Fastar/HyperStar compatible secondary assemblies.
Simply put, the C8 is one of the best amateur scopes on the market, and the scope that put Celestron on the map. While there are better and cheaper scopes out there, there aren't many, and the C8 continues to be a classic.
In 2009, Celestron added to its lineup an improved version of their SCT line. The EdgeHD series takes the superb Celestron optics and improves upon them. Designed with imaging in mind, the EdgeHD series includes a further optical correction to produce an aplanic flat field.
It also includes vents on the tubes with filters to keep out dust and other particulate matter, but still allow for air flow to help speed up and maintain temperature equalization and mirror support knobs to reduce image shift. All of this comes together to make the C8 even better.
Both versions of the scope are available bundled with the AVX.
The AVX is also paired with the C6, C9.25, and C11 – both standard and EdgeHD models, as well as two different models of Newtonian tubes, a 6-inch f/8 refractor, a 7-inch f/15 Maksutov-Cassegrain, and the newest addition to the Celestron family, an 8-inch Rowe-Ackerman Schmidt astrograph.
Fastar/HyperStar
From early on, Amateur astrophotographers started connecting cameras to Celestron SCTs. Unfortunately, the standard SCT design has a problem here: long focal length. At 2,032 mm, the f/10 focal ratio of the C8 is not well-suited for imaging.
A longer focal ratio means that the light from the target object gets spread out over a larger area of the digital image sensor (or, in the older days, film). This means that longer exposure is needed than is the case for telescopes with shorter focal ratios.
For example, if you take two telescopes which are otherwise identical, but one has twice the focal length of the other, and use identical cameras in them, the shorter focal ratio will capture the same level of signal (brightness) as the longer scope in one-quarter the time. This is why telescopes with shorter focal ratios are often referred to as "fast scopes." The shorter focal length also leads to a wider field of view, which lessens the demand for precision in tracking.
F/10 is a very long focal ratio for imaging, and not one that's generally recommended. For some time, Celestron, as well as their main competitor in this market segment, Meade, have made focal reducers – optical elements which act somewhat like reverse-Barlow lenses to effectively decrease focal length – that drop the focal ratio of a typical 8-inch SCT from f/10 to f/6.3, which is much better suited for imaging.
But this still leads to a rather tight field of view and longer exposure times.
For this reason, Celestron introduced the Fastar system in the 1990's.
For a typical f/10 SCT, the primary mirror has a curvature ground to a focal ratio of f/2, and the secondary to f/5, combining for an f/10 focal ratio.
Celestron's innovation was to remove the secondary mirror and place a camera at this point. Thus, the telescope remains at f/2 – very fast indeed. To accomplish this, they created a secondary mirror mount that allowed the mirror to be easily removed and replaced as desired, and when removed, the socket accepts and adapter for a camera.
The adapter, or Fastar lens, is more than just a connector, but also includes optical correcting lenses to perform some of the same corrective functions done by the secondary, as well as further flatten the field.
Unfortunately for Celestron, this feature was a bit ahead of its time. Digital astrophotography hadn't yet come far enough, and while some amateurs did film astrophotography, the bar was still very high.
In 2005, Celestron stopped making the Fastar lens, but granted permission to a third-party, Starizona based in Tucson, Arizona, to continue the technology. Starizona's version, dubbed HyperStar, is available for a wide range of Celestron SCTs from the C6 on up.
As digital imaging has advanced since 2005, the HyperStar system has become more and more popular. Though not an inexpensive option, it can capture the same amount of signal in 1 minute that the full f/10 focal ratio would capture in 25 minutes, and with a wider field of view and far less stringent requirements for tracking.
Celestron has continued to offer the Fastar/HyperStar secondary assembly on its SCT line, so owners don't have to worry about a retro-fit, just buying the HyperStar lens and a compatible camera. It's not a perfect system, it does have some critical limitations, but even then it's still an excellent option for imaging – that is if you can afford it.
The AVX Mount
The AVX is a German Equatorial Mount (GEM) with GoTo capability and a payload capacity of 30 lbs. The mount head weighs 17 lbs. and the included tripod weighs 18. The tripod has 2-inch diameter stainless steel legs, and the spreader has the fairly standard holes drilled for 1.25 and 2-inch eyepieces. The mount comes with one 12 lb counterweight, and users can purchase additional weights as needed.
The mounting saddle is designed to handle two different styles of dovetail plate. Celestron refers to these as CG-5 and CGE. The CG-5 dovetail plate is pretty much identical to the Vixen-style dovetail. Both a Celestron CG-5 Dovetail and a standard Vixen-style should work equally well.
The Celestron CGE style dovetail, on the other hand, while being similar to the Losmandy D plate, is not quite the same, and because of this, the AVX cannot accept an actual Losmandy D. The actual Losmandy standard is slightly wider than the Celestron variant and won't fit in the saddle properly. Additionally, the height of the dovetail portion itself, what is called the under-cut, on the CGE is somewhat higher than the Losmandy D plate.
If the width wasn't a problem, you could probably attach a Losmandy D, but I'm not sure I'd recommend it as it may not clamp down tightly and may not provide a stable attachment. Celestron does make an optional universal mounting plate for use with other scopes, but this is another cost. If you want a mount to handle multiple payloads, and you're not entirely brand-loyal, you may end up spending more on additional mounting plates.
The CG-5/Vixen style variant is probably the best option if you do want to handle multiple payload options. It works just fine for most uses. It may be a little less stable for heavier payloads, particularly for imaging.. Personally, I find the Vixen style much easier to mount, however.
The AVX comes with Celestron's standard NexStar+ hand controller (the variant for equatorial mounts). The NexStar+ hand control has a database of over 40,000 objects, including the entire Messier, Caldwell, NGC, and IC catalogs.
The AVX can take advantage of nearly all of Celestron's advanced technologies such as SkyAlign and CPWI (their new software developed in conjunction with PlaneWave), a well as their StarSense AutoAlign, SkySynch GPS, and SkyPortal WiFi add-ons.
AVX Payload Weight Capacity
As mentioned before, the payload weight capacity of the AVX is listed at 30 lbs. This does not include counterweights: just the weight of anything attached to the dovetail saddle, and generally including the telescope, mounting rail, rings (if needed), eyepiece, finder scope, camera, autoguider, additional mounting hardware, and anything else riding on the mount.
Every company has its own method of rating mount capacity. In my experience, Celestron tends to be a bit liberal with the number, and when they say 30 lbs., I wouldn't recommend putting any more than 30 on it. I'm sure doing so would put you in jeopardy of voiding the warranty.
Loading the AVX up close to 30 lbs., you may well notice some performance problems such as less accurate tracking and GoTo performance. You may also hear it straining to move the load. With this in mind, I find it odd that Celestron actually offers the mount with the C11 as an option, which weighs in at 27.5 lbs. – just shy of the mount's max. When you add in a diagonal, eyepiece, finder scope, and dew shield, you may easily find yourself over 30 lbs.
It's also good to keep in mind that a common rule of thumb for astrophotography says that your total payload weight for imaging should be kept to one-half the mount's rated maximum or less. So, for imaging, the C11 would be right out.
But with a tube weight of only 12.5 lbs., however, the C8 rides the mount fairly well. For visual use, you have plenty of room in the weight budget add on heavy eyepieces and a better finder.
For imaging use, it comes pretty close to the recommended limit, but a lightweight camera, along with a focal reducer and auto guider, while likely to be over the 50% mark, probably won't be too bad for casual imaging use. And for planetary imaging – which uses short exposures or, more often, video capture – which puts less emphasis on the mount, there should be no problem here.
AVX Performance
The AVX was designed to be a mount both for imaging and visual observing. For visual observing, the requirements are far less than those needed for imaging. And here, the AVX does pretty well.
When properly set-up and aligned, the GoTo performance and tracking are accurate and reliable. Put an object in the eyepiece and you can expect it to stay there for as long as you intend to look at it. Slew to another object, and, assuming you did a good star alignment, you can expect it to put the object right in the center of the eyepiece.
Though heavier loads may make it strain and may decrease accuracy, it still generally performs well, definitely good enough for visual use. But in two areas, the AVX is a bit of a disappointment.
The first is backlash, particularly on the declination axis. One of the chief reasons the CG-5 was never a great performer for imaging was the backlash, which could be pretty significant.
Backlash, is a problem caused by gears that don't mesh together as closely as they should. This can be due to gears which aren't being held tight together, or by gears that aren't properly sized to fit each other. The key symptom is some give in the axis.
While properly meshed gears should remain in contact with each other at all times, when gears aren't properly meshed, there may be some looseness which can result in back and forth wobbling. For visual, this can be a nuisance but is usually not a problem (though it can decrease the accuracy of GoTo performance). For imaging, it can result in noticeable problems in the stars.
The backlash on the Right Ascension axis in the AVX is definitely better than the previous CG-5 models experienced but still may seem a little high for some users, especially those who need high-precision for imaging. The backlash on the declination axis, however, is a common complaint among users. There are some ways of reducing it, but it's disappointing that Celestron wouldn't have done more in design and manufacture, particularly since this mount is designed with imaging in mind.
The other disappointment is found in what is known as Peak to Peak Periodic Error, usually just referred to as the periodic error.
Periodic error is caused by problems, often inconsistencies, in the drive gears of the mount. It is called periodic as it happens in a cycle based on the turning of the mount's gears, especially the worm gear. As this gear turns, if there are spots where the gear teeth or the spiral of the worm gear are not quite right, perhaps there's a spot a little thicker or thinner or a bend in part of a gear due to some minor damage, this can cause small errors in motion – and this can be a big problem for imaging. As with backlash, periodic error in the CG-5 was a well-known problem, and the AVX definitely improves this, but it still leaves room for improvement still.
As with many other brands, Celestron has now built into their hand control an option for periodic error correction, or PEC (sometimes referred to as permanent periodic error correction).
To make use of this feature, the user first must attach an autoguider to his or her mount and properly calibrate it for use. Then, the user sets the PEC function to record and lets it run while autoguiding.
The PEC function then records the corrective motions of the autoguider for at least one full revolution of the worm gear, which is 10 minutes for the AVX. This essentially builds a map of the inconsistencies of the gear. When the PEC is then put in the playback mode, it essentially replays the corrections automatically without the need for the autoguider.
This can dramatically improve the symptoms of periodic error. When used in conjunction with the autoguider, it can often provide very accurate tracking motion for long exposures, particularly at lower focal lengths.
Overall, as designed, the performance of the AVX is hard to beat in its price class. But, again, that's as-designed.
But all is not well
If you do a little digging around on astronomy forums, you may find a higher than an average number of complaints about the AVX. And while some of those complaints are about issues such as backlash and periodic error, there are some bigger problems out there.
Some users have reported significant problems with the mount's electronic components. And here, it appears, is where Celestron has really dropped the ball.
The promise of the AVX leads to a lot of more experienced users picking one up as a lighter-weight alternative to their main mounts. For many such owners, the AVX promised to give them a performance that approached that of higher grade mounts, but is a quicker, easier, and cheaper alternative for times when their workhorse mounts were just too much work to lug around and set up.
In this sense, some of the complaints may not be entirely fair, as these are users with a much higher level of expectation. For less-experienced users, which seem to comprise the core of the target audience for the mount, the performance of the AVX is more likely to meet expectations. When it works.
But when a mount such as this stops working, for whatever reason, it becomes a high-priced doorstop. And various web forums are full of horror stories of mount problems, mostly regarding poor wiring and lower-quality electronic components in the mount itself – the hand control seems to be just fine here unless problems in the mount lead to damage.
The core of the problem may be traceable to quality control on the production line. While some of Celestron's higher-end equipment, such as their more recently released mount, the CGX, appears to be well manufactured, AVX, at its lower price-point, appears to not get as much attention and care in the assembly process. As a result, many owners have had to send theirs back for warranty work or replacement. This can be frustrating, especially to those newer in the hobby.
Conclusions
In the long run, the Celestron Advanced VX mount with the classic C8 optical tube is a great combination for visual use, assuming you aren't one of the unlucky users to end up with one of the bad apples in the barrel. The C8 itself is a hard scope to beat and shows that Celestron still knows how to make a good SCT. Buyers who opt for the EdgeHD version will get an even better OTA, especially for imaging.
As designed, the AVX mount itself isn't a bad mount. However, there have been a fairly high number of complaints which seem to be entirely due to the manufacturing process, leading to wariness in much of the AP community.
Still, even with those complaints and horror stories, many owners have had good experiences, and it's impossible not to admit that some people – many with little or no experience and others with years of imaging under their belt – have had some great success with the mount.
If you get one of the good ones, the AVX can be a good beginner's imaging mount, especially for short-tube refractors and wide-field imaging. It can also be good for planetary imaging with The C8. In the hands of an experienced user, it can be a competent backup or lighter-duty mount.
But I wouldn't recommend this scope and mount to anyone specifically looking to get started in imaging or who don't have a fallback option should it turn out to be one of the duds.
Overall, I give it three stars out of five. If it weren't for the unusually high number of complaints about the mount, I would up that to four stars. If it lived up to its design, it would be a real winner. As it is, it can be a bit of a crapshoot.