Many beginning astronomers start with computerized telescopes since they offer many advantages, like requiring less (but contrary to popular belief, not zero) knowledge about the night sky to find objects, hands-free automatic tracking, and the ability to move the telescope with a button, which induces fewer vibrations than manual pushing.
Why do we often recommend Manual over GoTo Telescopes?
Computerized telescopes are not for everyone. They require constant power, usually a 12-volt portable power supply (basically a car battery) or lithium-ion battery packs. You usually can't move them at all manually without ruining the alignment; we'll get back to this later.
Furthermore, GoTo is not an exceptionally modern technology, having been around for three and a half decades now. Your typical computerized telescope has an interface basically the same as it had 20 years ago, with a small hand controller with the processing abilities of a pocket calculator, a small LCD screen with calculator-like text, and many functional limitations. Most computerized scopes have no internal clocks and require re-alignment if power is lost, even briefly.
Most, or even the best computerized GoTo scopes, require a two-star alignment. It's an advertised feature that supposedly lets you align on any three objects, or by pointing the scope north and leveling it. Neither works accurately, and you end up having to align on two known stars most of the time, meaning you need to have a basic understanding of the motions of the sky and some bright stars to find in it. And there are occasional failures and weird behaviors requiring hours of troubleshooting—hours which could be spent at the eyepiece instead.
Star charts and observing books like Turn Left At Orion are much more interesting and engaging to read than the user manual of a Go-To telescope, and learning star hops in online forums is more interesting and engaging than consulting troubleshooting forums.
And it is indeed more fun to manually point a telescope, following star-hops to figure out where an object is in the sky. It's more fun because it's more engaging and it gives you something to do. By learning to find objects, you're learning the night sky. You're learning to navigate it, to go from place to place, to learn which objects are in the neighborhood.
A few cases where I can see the need for Go-To scopes are: Observatories and Star Parties, where you need to reliably find an object to show it off on schedule, and specific astronomical events like occultations, transits, and eclipses, where you need the tracking to keep you pointed at some obscure object so you don't miss anything. And, of course, astrophotography. But in all of these use cases, they're not strongly overlapping with the interests of the beginner astronomer.
This being said, the pros may outweigh the cons for you depending on your situation, and there's absolutely no shame in owning a computerized instrument. So let's get into our top picks for computerized telescopes.
Best GoTo Telescopes Overview
We'll highly recommend telescope e-retailers like High Point Scientific because you'll get better technical and post-sales support, product range, and deals from online telescope retailers, and also, better assurance that you'll get what you ordered, as we have discussed in our '
Where To Buy Telescopes
' article. Your experience with them would be comparable to that of your typical Amazon purchases. Check out our '
Computerized Telescope Ranking
' page to see the entire list of computerized telescopes available in the US and their rankings.
Recommended Best Computerized Telescopes Individually Reviewed
1. Best Cheap Computerized Telescope – Sky-Watcher Virtuoso GTi 130P
The Virtuoso GTi 130P is a tremendously capable little telescope, with our only complaint being that the larger 150P is available for just a bit more.
Extremely lightweight and compact
Adequate 5" aperture
Can be used both manually and with smartphone-controlled GoTo
The Sky-Watcher Virtuoso GTi 130P is essentially a computerized version of the legendary Heritage 130P (also sold as the Astronomers without Borders OneSky). However, to call it merely a computerized upgrade would be a disservice to this fabulous telescope. The Virtuoso GTi 130P features advanced encoder technology so that you can aim it manually with the system powered on, without any effect on the alignment of the mount on the sky. You can also just use this telescope entirely manually, without even powering it on, if you desire. Rather than a clunky and outdated hand controller, you operate the Virtuoso GTi 130P with the SynScan app or SkySafari on your smartphone or tablet.

The Virtuoso GTi 130P boasts a whopping 130mm (5.1") of aperture with a focal length of 650mm (f/5). It uses Sky-Watcher's collapsible tube technology to produce a scope that fits into a backpack. You simply set the telescope on a sturdy elevated surface and can start viewing – or power up the mount, align it on a few stars, and direct it to whatever target you choose with the tap of a button on your smartphone or tablet. The collapsible tube does need a homemade foam or paper shroud to keep stray light out; if you use the scope under light-polluted conditions without one the view will be washed out in brown.
Sky-Watcher provides a red dot finder and two 1.25" eyepieces with the Virtuoso GTi 130P – a 25mm "Super" Konig providing 26x magnification and a 10mm for 75x. The 130P can handle up to 200x magnification, so it would certainly be a good idea to invest in more eyepieces.
2. Best $450-$1000: Sky-Watcher Virtuoso GTi 150P
The Virtuoso GTi 150P is one of the top telescopes we recommend, period. Its portability, value for the money, and well-designed GoTo mounting make it one of the best deals in astronomy gear there is.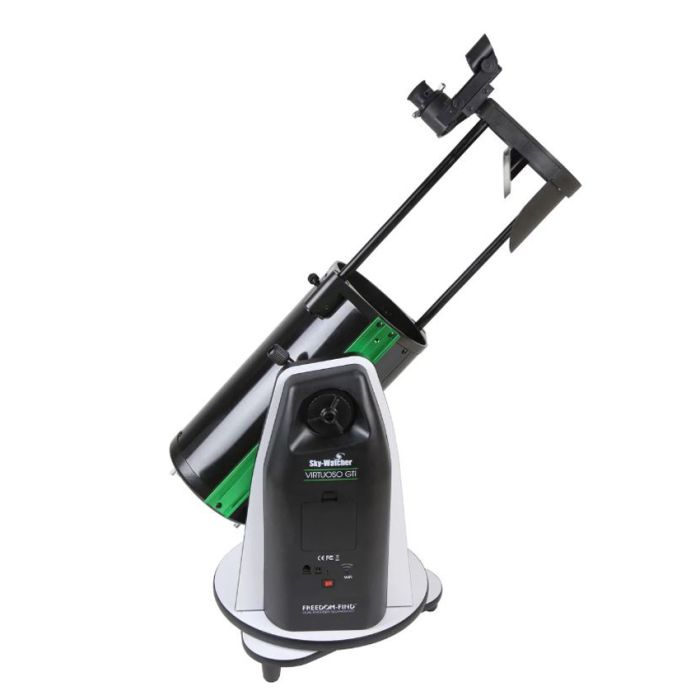 Lightweight, compact, and quick to set up
Large 6" aperture
Can be aimed both manually and with smartphone-controlled GoTo
As with the 130P, the Virtuoso GTi 150P from Sky-Watcher combines the already great Heritage 150P with Sky-Watcher's GoTo and FreedomFind technology, all at a stunningly low price tag. The 150P's 150mm (6") aperture provides 40% more light gathering than the 130P, and 20% more resolving power. You control the scope via your smartphone or tablet with SkySafari Pro or the SynScan app, and you can also unlock the clutches to aim the GTi 150P manually with or without the electronics powered up, allowing for speedy setup and a backup option if you run out of battery power.
The fast Virtuoso GTi 150P's fast f/5 focal ratio and short 750mm focal length give it a much wider field of view than comparable 6" full-sized Dobsonian, refractor, or catadioptric telescopes. You get two eyepieces (25mm & 10mm, 1.25" Super Konigs providing 30x and 75x respectively) and a red dot finder as with Sky-Watcher's other Virtuoso/Heritage tabletop telescopes.
You can fit the Virtuoso GTi 150P into luggage or a large backpack when it's disassembled, and it works best when placed atop a short, elevated surface like a bar stool or milk crate. As with the Virtuoso GTi 130P, you need to make some kind of shroud for the tube to reduce reflections and a higher-power eyepiece for planets would be a good investment – but almost any beginner scope is going to require additional purchases such as these.
3. Best in $1000-$1400: Celestron NexStar 6SE
The NexStar 6SE is the smallest of Celestron's computerized options to actually have enough aperture for the GoTo to make sense. It's also a little more suitable for astrophotography than the Sky-Watcher Virtuoso GTi scopes, though the views through either are largely going to be the same.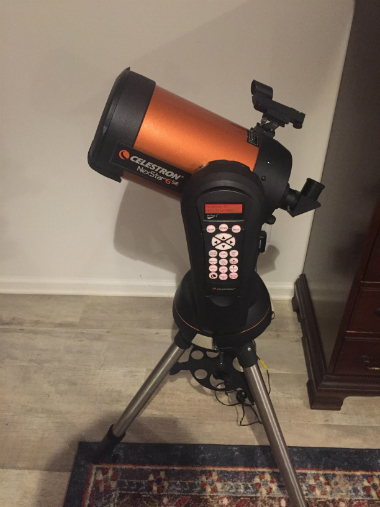 Compact and portable
Sturdy, solid construction
Good aperture
Doesn't need frequent collimation
The Celestron NexStar 6SE is even better than its smaller sibling, the 5SE. Along with a slightly larger, steady, well-built mount and the same water-white corrector glass, XLT coatings, and accessory capability, the 6SE boasts an extra inch of aperture, a smaller secondary mirror, and the ability to use 2" accessories or an f/6.3 focal reducer without any vignetting, enabling a wider field of view.
The 6" XLT Schmidt-Cassegrain optical tube, also known as the C6, is a comparatively new entry by Celestron – the C8 stretches back to the early 1970s; a prototype existed in the 1960s; the C90, C5, and C14 debuted in the mid-70s; the C11 debuted in the 1980s, and the C9.25 made its appearance in the 1990s. The C6 has only been around since 2006, when Celestron was bought by Synta, the same Chinese company that owns the Sky-Watcher brand.
The C6 tends to be quite good optically, and the 6" of aperture allows you to start doing some deep-sky observing beyond the brighter Messier objects and a few others. The 6SE has a long focal ratio of f/10 and a resulting 1500mm focal length which gives it a narrower field than competing fast Dobsonian telescopes, but does make it easier to do planetary astrophotography with the addition of a 2x Barlow lens. You can also take the C6 optical tube off the SE mount and use it for deep-sky imaging with an f/6.3 focal reducer or Starizona HyperStar f/2 addon.
As with any Schmidt-Cassegrain telescope, the 6SE is tedious to collimate, but thankfully it hardly needs it. However, you should make it a habit to check during every observing session, as bad collimation will cause you to get fuzzy images and elongated stars at the eyepiece.
Overall, a very good choice for the beginner or experienced astronomer.
4. Sky-Watcher 8″ Flextube SynScan Collapsible Dobsonian GoTo – Choice in $1400-$1700
The Sky-Watcher 8" FlexTube Collapsible GoTo isn't for everyone, but can be used both manually or with its GoTo system activated, with neither interfering with the other. The scope is surprisingly portable, too.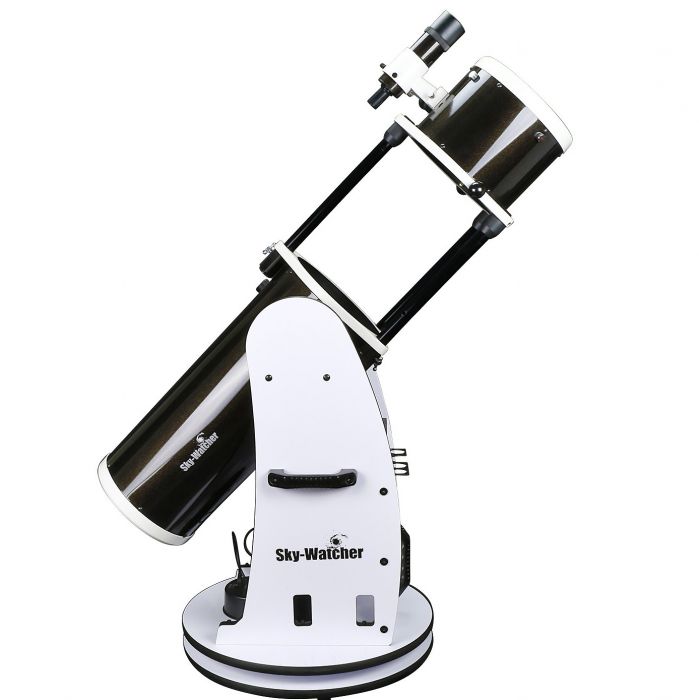 Fairly large aperture
Very steady
Can be used manually
Great bang for your buck
8" of aperture is enough to start showing you a lot of interesting things previously impossible with a smaller instrument: There are hundreds and hundreds of galaxies, resolution in a dozen or two globular clusters, and planetary nebulae littering the sky. Neptune's moon Triton is relatively easy to see (it's near-impossible with a 6″), and you may even be able to hunt for Uranus' moons.
As with most of Sky-Watcher's other computerized telescope and mount offerings, the 8" FlexTube GoTo can be used manually with the scope powered off, and can be pushed around the sky even after the scope is powered up and aligned to no ill effect. The 8" FlexTube fits in almost any automobile and is relatively easy to pick up and carry around yourself.
The 8" FlexTube comes with two Super 1.25" eyepieces: a 25mm (48x) and a 10mm (120x), which work just fine at the scope's f/6 focal ratio, though you may want to upgrade later on to get some 2" wide-field eyepieces and 1.25" planetary eyepieces. The open tube also necessitates a shroud of some sort to keep light out of the tube – as well as mitigate dew – which you can either purchase or sew yourself.
5. Sky-Watcher 10″ FlexTube GoTo – Choice in $1700-$2000
The 10" FlexTube is similar in form factor and operation to the 8" model, but with significantly brighter images and more resolving power.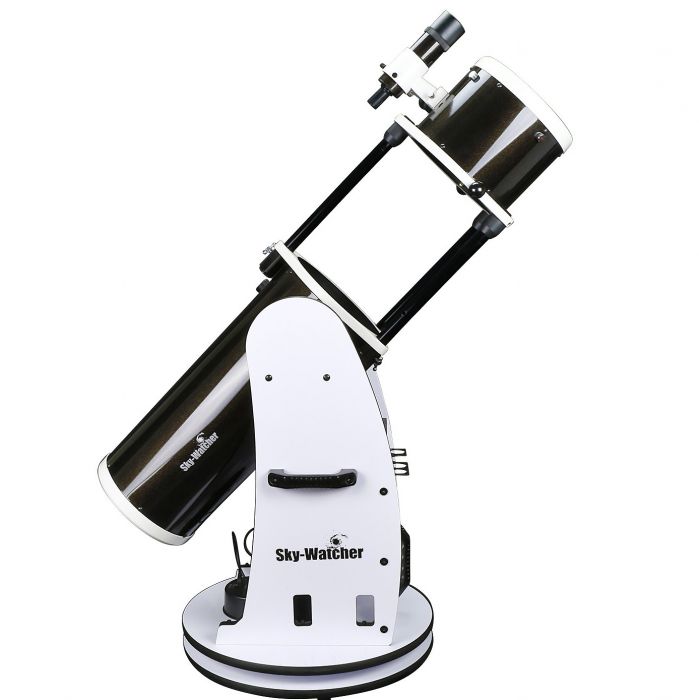 Fairly large aperture
Very steady
Can be used manually
Great bang for your buck
Like the other computerized Sky-Watcher Dobsonians, the 10" FlexTube can be moved manually even if the GoTo system is in operation. This means you can use the scope fully manually if there is no power available, push it around the sky to save power for slewing, and small bumps won't ruin your alignment on the sky.
The FlexTube design doesn't really save weight on the 10" compared to a more traditional solid-tubed design, but reduces the tube length slightly to make storage and transport a bit less of a hassle. As with the 8" FlexTube model, will need to buy or make a shroud to keep light and moisture out of the open tube.
The 10" FlexTube has a focal ratio of f/4.7. This means that you'll need quality wide-angle eyepieces to get the sharpest low-power views, and ideally a coma corrector as well. Collimation is also harder than with a longer/slower instrument, though it is still plenty easy for the beginner. The included 25mm and 10mm "Super" Konig eyepieces (48x and 120x) work okay, but will definitely need replacing as you upgrade and expand your eyepiece collection.
6. Celestron NexStar Evolution 8" – $2000-$2500 Choice
Celestron really took the "Evolution" name literally when they made the NexStar Evolution 8.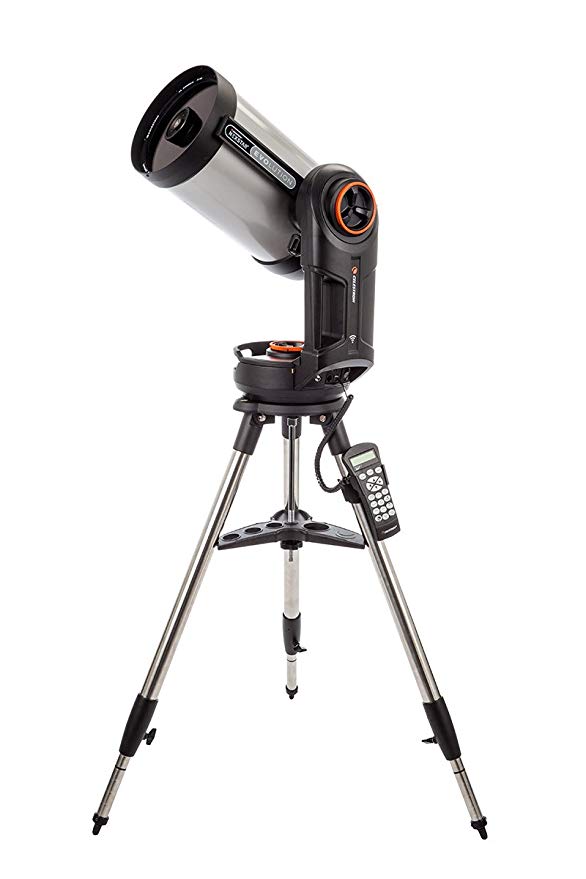 Lightweight, compact and portable
Fairly large aperture
Doesn't need frequent collimation
Built-in battery
Can be controlled with a phone or tablet
The Celestron NexStar Evolution 8 features 8" (203mm) of aperture in Celestron's compact, award-winning and versatile C8 XLT optical tube, an f/10 Schmidt-Cassegrain with a focal length of 2032mm. The Evolution mount and tripod feature GoTo that is controlled either with the provided hand controller or a smartphone app such as SkySafari or Celestron's free SkyPortal app. You can also unlock the clutches on the mount and aim it manually, but not with the scope powered on. The Evolution mount's built-in WiFi is already a great feature, but it's complemented with a built-in lithium battery that is rechargeable, runs the scope for a few nights straight, and will last about a decade before needing replacement.
The Evolution 8 comes with a 1.25" visual back, a 1.25" prism star diagonal, and two 1.25" Plossl eyepieces: a 40mm E-Lux (providing 50x magnification) and a 13mm (153x) of reasonably high quality. However, you'll want to get a focal reducer or alternatively a 2" diagonal and eyepieces to maximize the field of view you can get with the scope, as well as one or two additional high-power eyepieces and/or a 2x Barlow lens.
Overall, an excellent choice.
7. Sky-Watcher 12″ Flextube Dobsonian GoTo – Choice in $2500-$3000
The 12" FlexTube GoTo has a massive amount of light-gathering ability but retains a fair amount of portability and can easily be moved and set up by one person thanks to Sky-Watcher's innovative FlexTube system.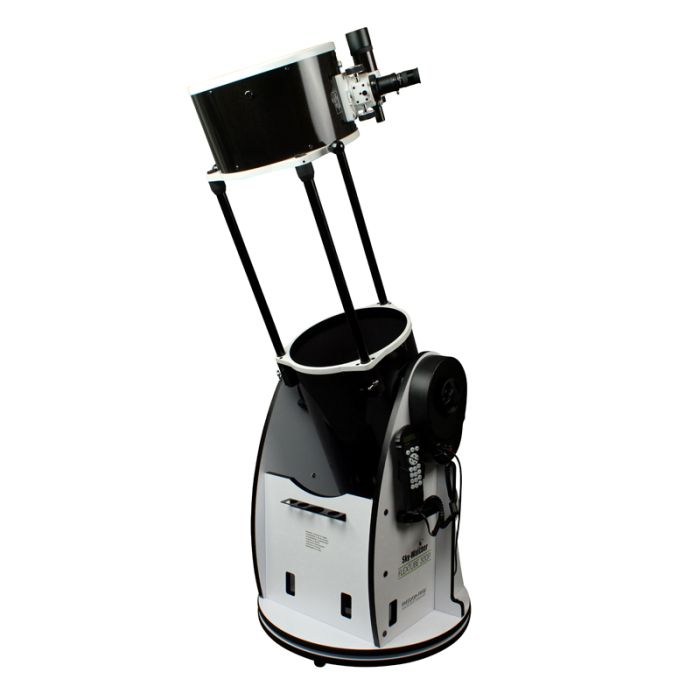 12" aperture blows away smaller instruments in viewing quality
Fairly easy to transport yourself
Can be aimed manually
The 12" FlexTube GoTo features a massive 305mm (12") primary mirror which collects more than double as much light as an 8" with 50% more resolving power (or 44% more light and 20% more resolution than a 10"). This transforms views of deep-sky objects – spiral arms in galaxies like M51 become fair game under dark skies. The 12" FlexTube's collapsible tube also really comes in handy for transport, reducing the 5' long tube to about 3', which means it'll fit sideways across the back of a car with no problems, unlike a traditional solid-tubed 12" f/5 Dobsonian telescope. You can aim the 12" FlexTube GoTo manually with or without the motors powered on; the advanced encoders on the mount allow the computer to keep track of your manual movements without them impacting its alignment on the sky as with Sky-Watcher's other computerized Dobsonian models.
The 12" FlexTube comes with the same 25mm (60x) and 10mm (150x) Super Konig eyepieces as many of Sky-Watcher's other telescopes, and a 2" single-speed Crayford focuser. For a finder, you get a straight-through 9×50 unit. As with all open-tubed telescopes, some kind of shroud is needed to keep light and moisture out of the telescope tube and preserve contrast at the eyepiece, especially under light-polluted skies, but this is not a huge expense and is easy to make yourself, too.
8. Sky-Watcher 14″ FlexTube SynScan GoTo Collapsible Dobsonian – $3000-$4000
The 14" FlexTube has even more light gathering than the 10" and 12" models, with the bonus of a dual-speed Crayford focuser and a fully collapsible base.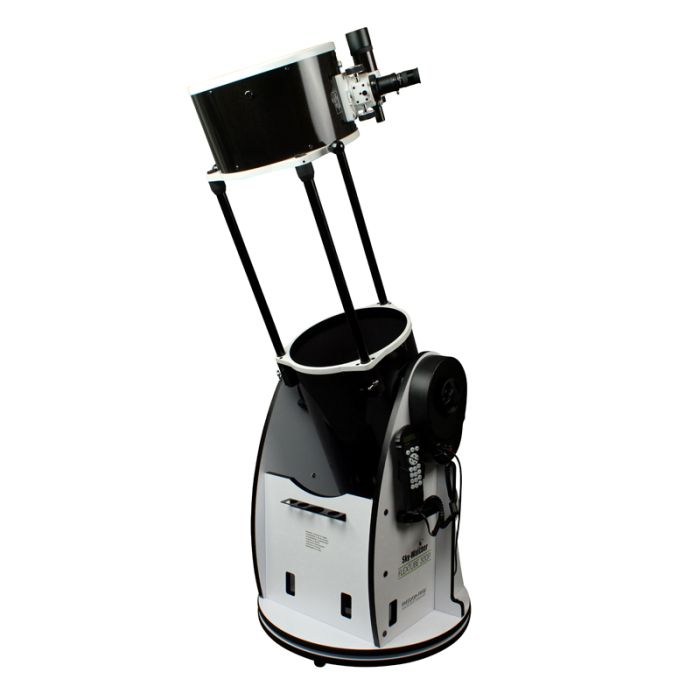 14" aperture for super bright and sharp views
Base and tube can both be compacted for storage/transport
Dual-speed 2" Crayford focuser
The 14" FlexTube is, in some ways, slightly more portable than the 12" model. Unlike the smaller FlexTube scopes, the 14" model's base assembles with hand knobs and is designed to be packed flat. Assembly of both the tube and collapsed base takes minutes and requires no tools. This means you can fit the tube and base into a smaller space than would otherwise be possible – particularly if you are transporting the telescope in a vehicle.

A 14" Dobsonian has even brighter images than a 12" – though side by side, a 36% gain in light grasp doesn't seem that impressive, it's triple the light-gathering ability of an 8" (compared to double that of an 8" with 12" of aperture). The 14" FlexTube also features a dual-speed 2" Crayford focuser for finer focusing adjustment at high magnification, and it includes the same 9×50 finder and pair of Super Konig eyepieces as the other Sky-Watcher FlexTube scopes (25mm and 10mm, providing 66x and 165x magnification in the 14" FlexTube respectively).
As with the other FlexTube GoTo scopes, you need a shroud for this instrument, and the telescope can be aimed either manually, with the included hand paddle, or you can push it around the sky while the GoTo system and hand controller are activated without impairing the precision star alignment of the mount.
9. Sky-Watcher 16″ FlexTube SynScan GoTo Collapsible Dobsonian – $4000-$5000
The 16" FlexTube features the same great features of all of Sky-Watcher's smaller GoTo Dobsonians but with even more light gathering and resolving power.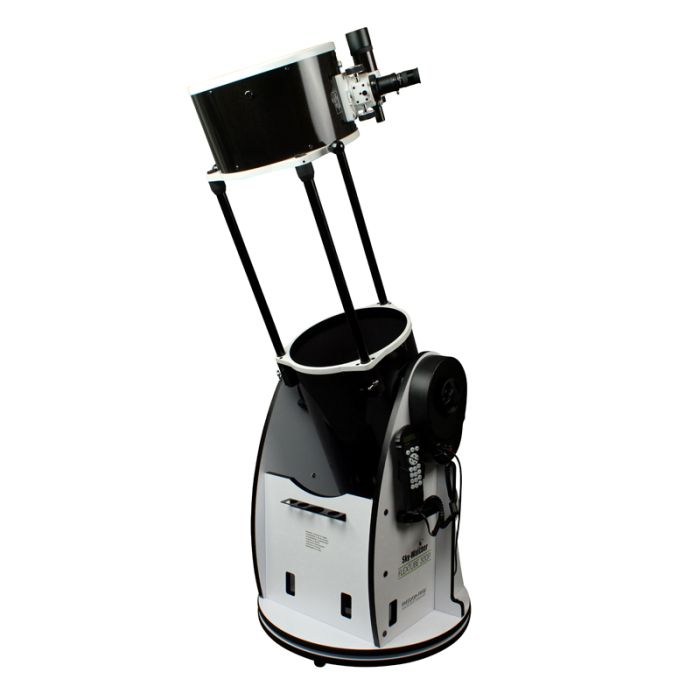 Colossal 16" aperture for super bright and high-resolution views of all objects
Conical, thin primary mirror means faster cooldown time
2" dual-speed Crayford focuser
The 16" FlexTube provides even more light-gathering ability and resolving power than a 12" or 14" scope. As with the 14" FlexTube, the 16" model has a dual-speed 2" Crayford focuser and the base collapses flat for transport/storage. However, the optical tube – even when collapsed – is so big and heavy that moving it yourself is a difficult task, and it requires a fairly large vehicle to transport. The usual considerations of a shroud and additional eyepieces apply here too.
Runner Ups
The Astro-Fi 102 boasts 4" (102mm) Maksutov-Cassegrain optics with sharp views in a compact form factor, mounted atop a full-sized tripod with control via your smartphone/tablet and the SkyPortal or SkySafari Pro app. It comes with a red dot finder, 1.25" prism star diagonal, and a pair of eyepieces to get you started.
Due to the Astro-Fi 102's small aperture and long 1325mm focal length, you're not going to be able to view much in the way of deep-sky objects—the brightest nebulae and open star clusters won't fit in the field, and the scope is too small to view most planetary nebulae, globular clusters, and galaxies in detail. However, the setup is very portable, and this telescope doesn't need collimation, so it's definitely worth considering, despite the price tag.
The Astro-Fi 130's 5.1-inch aperture gives it enough light-collecting area and resolution to give great views of the Moon, planets, and deep-sky objects. You'll have no trouble spotting the shadow transits of Jupiter's moons and resolving the brightest globular star clusters like M13. The short 650mm focal length also provides a super wide field of view. You control the telescope's mount with your smartphone or tablet via the SkySafari Pro or Celestron SkyPortal app.

If this sounds familiar, that's because the Astro Fi 130 has the same optics and extremely similar features and accessories to the Sky-Watcher Virtuoso GTi 130P, which, unlike the Astro Fi 130, can be aimed manually and has a collapsible tube. The Astro Fi adds a 2" focuser and tripod, but these aren't really necessary nor worth the bump up in price.
The NexStar 127 SLT is much like the Astro Fi 102, but with a hand controller instead of the ability to control it over Wi-Fi. The 127SLT has great optics, but its 120mm aperture isn't much of a bump up from 102mm, and it is inferior in performance to the much cheaper 130mm or 150mm reflectors/Dobsonians that are available such as the Astro Fi 130 or Virtuoso GTi telescopes.
Sky-Watcher 102 mm & 127 mm Skymax AZ-GTi Mak GoTo
The 102mm and 127mm Skymax AZ-GTi telescopes share the same optics as the Astro Fi 102 and NexStar 127 SLT. The big difference is the mount. The Sky-Watcher AZ-GTi mount allows for control via your smartphone or tablet, and as with many other Sky-Watcher mounts can be moved manually with or without being powered on, and doesn't affect the alignment or tracking of the GoTo systems. The mount and tripod are remarkably compact, and you can even convert the GTi into an equatorial star tracker. However, a small Maksutov-Cassegrain will be outperformed by the larger Dobsonians and Schmidt-Cassegrains in our list.
The 5SE boasts a full 5" of aperture with StarBright multi-coatings and water-white corrector lens glass for maximum light gathering capability. However, being an f/10 Schmidt-Cassegrain means its field of view is rather narrow. You can't use a standard f/6.3 reducer or 2" diagonal and eyepieces to increase the field of view like larger Schmidt-Cassegrains, as the 5SE's baffle tube will vignette too much for either to work effectively. Also, the 5SE's rather large secondary mirror – covering 37.8% of the scope's diameter – reduces contrast quite a bit and has a slight impact on light-gathering ability.
The 6" NexStar Evolution features the same C6 XLT optical tube as the NexStar 6SE mounted atop the Celestron NexStar Evolution mount. Apart from the slightly different accessory bundle, built-in WiFi and built-in battery, you're getting exactly the same telescope at a higher price; these upgrades can be purchased separately for much less than the cost differential between the 6SE and Evolution 6.
Celestron 9.25″ NexStar Evolution Schmidt Cassegrain GoTo
The 9.25" NexStar Evolution features the C9.25 XLT optical tube mounted atop the Evolution mount head, but with a massive tripod borrowed from the Celestron CPC telescopes. The Evolution mount head is not really up to the task of holding the C9.25 when you start adding a 2" diagonal into the mix (which is somewhat mandatory) and the CPC tripod is utterly massive.
Tips on Choosing the Best Computerized Telescope
Except for the Celestron NexStar Evolution telescopes, almost every computerized telescope requires a portable power supply, either a 12-volt lead-acid rechargeable DC battery or lithium-ion rechargeable batteries. Either adds cost to your scope and has to be hauled around. Some telescopes can use AA batteries as backups, but they will quickly guzzle them within a few observing sessions, and continually replenishing them is expensive. So, always budget at least $50 for a power supply.
Cheaper computerized telescopes have weaker tripods and plastic or imprecise gears, and tend to consume more power. They're also typically smaller and include lower-quality or fewer accessories.
More aperture means more light-collecting area, which allows you to see fainter objects more easily. Light-gathering ability goes up with the square of the aperture, so an 8" telescope gathers four times as much light as a 4" telescope.
Aperture also increases resolution, which in turn increases the maximum magnification usable with a given telescope. Resolution increases linearly with diameter, so an 8" telescope has twice the resolution of a 4" telescope.
On a night of good seeing, a telescope can be used at as much as 40–50x per inch of aperture. However, more power doesn't show you more things, and most planetary/lunar observers use around 30x/inch for observations. For deep-sky observing, particularly for large objects and to find things in the sky, use as low a power as possible.