Recommended Best Computerized Telescopes Individually Reviewed
1. Best Cheap Computerized Telescope – Celestron Astro Fi 102
Celestron Astro Fi 102 is all in all a decent choice for the price, but with limitations.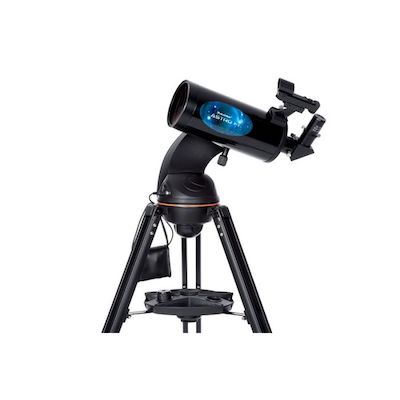 Lightweight & portable
Cheap and great optics
Easy to use
The Astro-Fi 102 doesn't pack a ton of aperture but delivers it in a portable, convenient, and relatively inexpensive package with easy control via your smartphone or tablet. The Astro-Fi 102 is primarily optimized for lunar and planetary viewing thanks to its small aperture and long focal ratio, but will deliver decent deep-sky views as well, especially under dark skies.
The Astro-Fi 102 includes two eyepieces: 25mm and 10mm Kellners providing 53x and 132x, respectively. Both are high enough quality to get you started and work very well thanks to the scope's super-long focal ratio, but you may want to upgrade later on to some Plossls or quality wide-field eyepieces.
Due to the Astro-Fi 102's small aperture and long focal length, you're not going to be able to view much in the way of deep-sky objects—the brightest nebulae and open star clusters won't fit in the field, and the scope is too small to view most planetary nebulae, globular clusters, and galaxies in detail. However, the setup is very portable, and this telescope doesn't need collimation, so it's definitely worth considering.
2. Celestron Astro-Fi 130 – Choice in $600 range
The Astro-Fi 130 has a fair amount of aperture, a super-simple interface, and a solid mount that's easy for beginners and enjoyable for experienced users to get the hang on.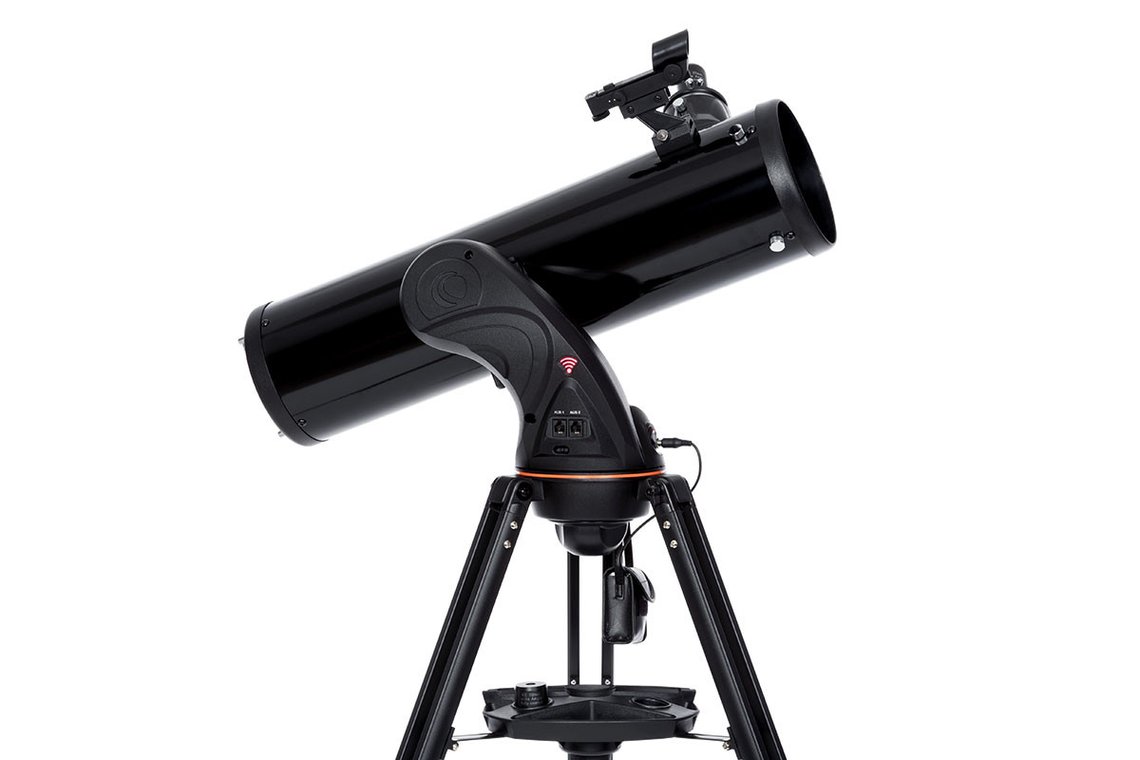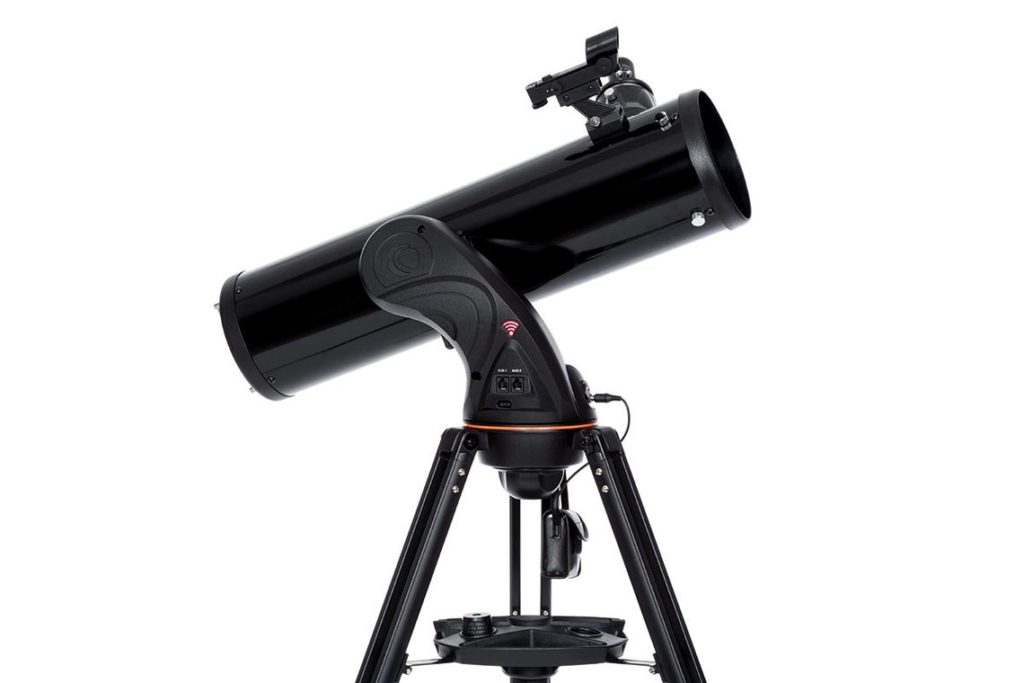 Wide field of view
Decent aperture
Easy to use
The Astro-Fi 130 not only boasts 130mm (5.1") of aperture at a fast focal ratio of f/5, but it also comes with a 2" focuser. This focuser allows you to use 2" eyepieces (sold separately), which can bring the scope's field of view up to nearly 4 degrees – that's eight times the width of the full Moon! A wide-field telescope like the Astro-Fi 130 is great for deep-sky observing. The Astro-Fi mount is more stable than the NexStar SLT mount that preceded it and can be controlled via your phone or tablet with the free SkyPortal app or the SkySafari app.
The Astro-Fi 130's 5.1-inch aperture gives it enough light collecting area and resolution to give great views of the Moon, planets, and deep-sky objects. You'll have no trouble spotting the shadow transits of Jupiter's moons and resolving the brightest globular star clusters like M13.
However, there are some compromises that are expected from a 130mm GoTo in this price range. First, the inexpensive rack-and-pinion focuser means it's hard to focus at high power. Second, the scope's f/5 focal ratio means it suffers from coma at the edge of the field of view (particularly with wide-field 2" eyepieces) and inexpensive eyepieces such as the included 25mm and 9mm Kellners (26x and 72x) will not perform well even near the center of the field. So when buying the Astro-Fi 130, save some money for a few medium to high-quality eyepieces – you won't regret it.
The Astro-Fi 130 also requires frequent collimation, another thing to be aware of. While this is annoying, collimation is nothing to fear and can be done in minutes with or without collimation tools.
Note: The Astro-Fi 130 has low Amazon ratings due to numerous bugs with the initial units' software. These issues have since been remedied and should not be of concern to new buyers.
3. Celestron NexStar 5SE – Choice in $900 range
The NexStar 5SE doesn't pack a ton in aperture, but it's compact, well-made, and will last a lifetime.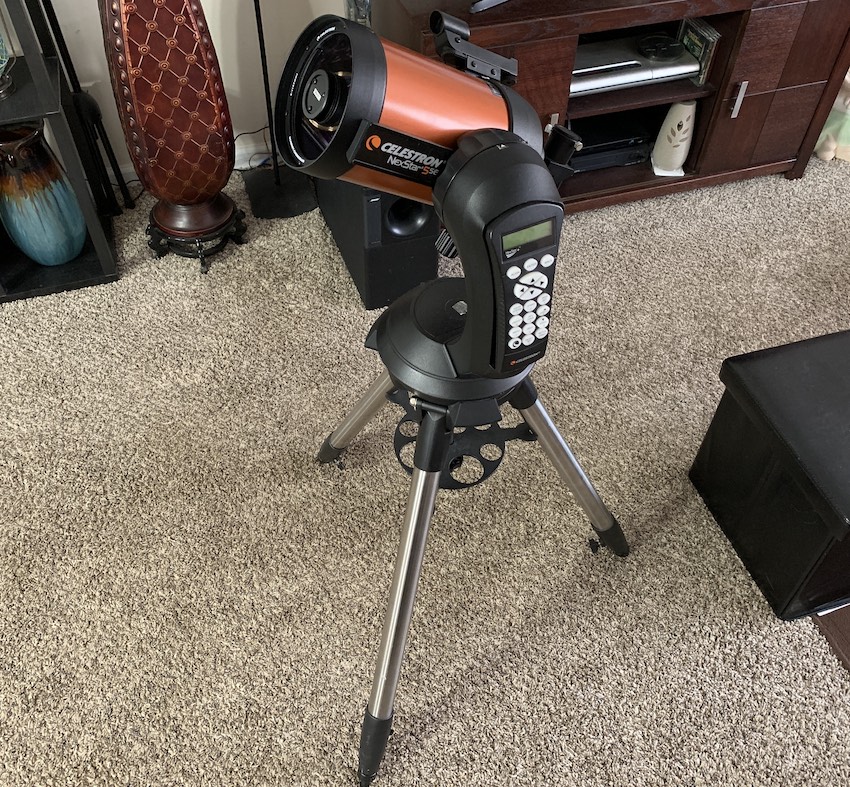 Compact and portable
Sturdy, solid construction
Decent aperture
Doesn't need frequent collimation
The Celestron NexStar 5SE ("Special Edition") is a Schmidt-Cassegrain with a heritage going back to the original Celestron C5, introduced in the early 1970s.
The 5SE boasts a full 5" of aperture with StarBright multi-coatings and water-white corrector lens glass for maximum light gathering capability. However, being an f/10 Schmidt-Cassegrain means its field of view is rather narrow. You can't use a standard f/6.3 reducer or 2" diagonal and eyepieces to increase the field of view like larger Schmidt-Cassegrains, as the 5SE's baffle tube will vignette too much for either to work effectively. Also, the 5SE's rather large secondary mirror – covering 37.8% of the scope's diameter – reduces contrast quite a bit and has a slight impact on light-gathering ability, but the scope's other features make up for this flaw for the most part.
Being a Schmidt-Cassegrain, the 5SE almost never needs collimation. However, when it does have to happen, collimation is a somewhat tedious affair, requiring pointing the scope at a defocused star and adjusting the secondary mirror with an Allen wrench.
The 5SE mount is very sturdy, and can be upgraded with GPS, Wi-Fi control, and other capabilities later on. It also has quality gears. However, the built-in wedge is a useless gimmick and cannot be used accurately enough for good equatorial tracking. The 5SE's hand controller has a larger catalog of deep-sky objects than the SLT telescopes, but the interface is otherwise identical.
The 5SE and other SE telescopes include only one eyepiece – a 25mm Plossl, in this case yielding 50x. Set aside some money for at least one or two extra eyepieces for medium and high magnifications.
All in all, a pretty good choice.
4. Celestron NexStar 6SE – $1000 GoTo choice
The Celestron NexStar 6SE is even better than its smaller sibling, 5SE.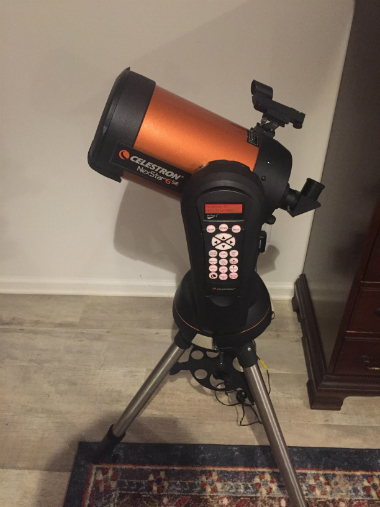 Compact and portable
Sturdy, solid construction
Good aperture
Doesn't need frequent collimation
The Celestron NexStar 6SE is even better than its smaller sibling. Along with a slightly larger, steady, well-built mount and the same water-white corrector glass, XLT coatings, and accessory capability, the 6SE boasts an extra inch of aperture, a smaller secondary mirror, and the ability to use 2" accessories or an f/6.3 focal reducer without any vignetting, enabling a wider field of view.
The 6" Schmidt-Cassegrain optical tube, also known as the C6, is a comparatively new entry by Celestron – the C8 stretches back to the early 1970s; a prototype existed in the 1960s; the C90, C5, and C14 debuted in the mid-70s; the C11 debuted in the 1980s, and the C9.25 made its appearance in the 1990s. The C6 has only been around since 2006, when Celestron was bought by Synta, the same Chinese company that owns the Sky-Watcher brand.
The C6 tends to be quite good optically, and the 6" of aperture allows you to start doing some deep-sky observing beyond the brighter Messier objects and a few others. You won't be nearly as tempted to upgrade as with a smaller instrument, which alone might justify the extra investment in the NexStar 6SE.
Like the 5SE, the 6SE is tedious to collimate, but thankfully it hardly needs it. However, you should make it a habit to check during every observing session, as bad collimation will cause you to get fuzzy images and elongated stars at the eyepiece.
Overall, a very good choice for the beginner or experienced astronomer.
5. Sky-Watcher GoTo Collapsible 8" Dobsonian – Choice in $1500 range
The Sky-Watcher GoTo Collapsible 8" is probably my favorite on this list, probably because it's a Dob of course.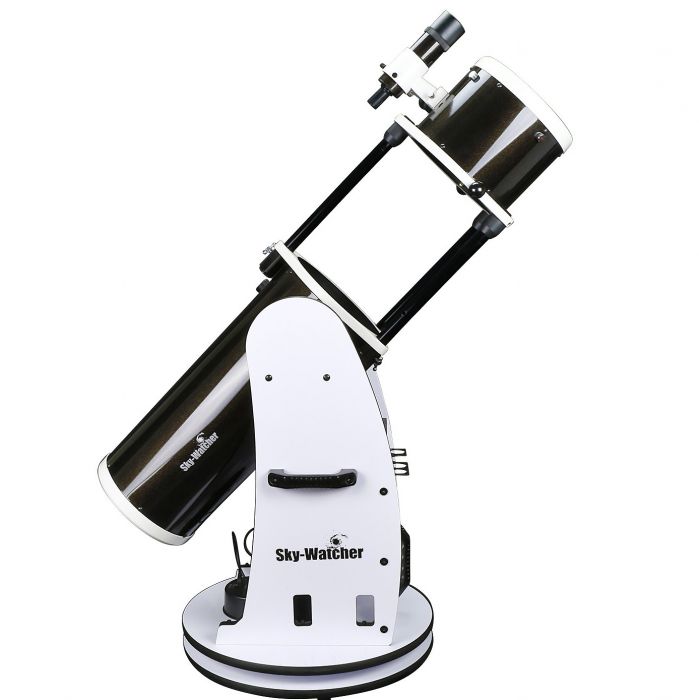 Fairly large aperture
Very steady
Can be used manually
Great bang for your buck
GoTo Dobsonians are different from tripod-mounted GoTo telescopes in that they can always be pushed manually without ruining the alignment. This allows you to save power by nudging the scope to the approximate area of sky you'd like to observe, then using the GoTo to fine-tune until you're on target. You can move the scope manually during alignment if you want. And if you don't feel like setting up the GoTo or forget your battery, you can still observe with no problems.
8" of aperture is enough to start showing you a lot of interesting things previously impossible with a smaller instrument: There are hundreds and hundreds of galaxies, resolution in a dozen or two globular clusters, and planetary nebulae littering the sky. Neptune's moon Triton is relatively easy to see (it's near-impossible with a 6″), and you may even be able to hunt for Uranus' moons.
The 8" Collapsible comes with two Plossl eyepieces: a 25mm (48x) and a 10mm (120x), which work just fine at the scope's f/6 focal ratio, though you may want to upgrade later on to get some 2" wide-field eyepieces and 1.25" planetary eyepieces.
The downsides? For one thing, the telescope can't be broken down into small pieces, and even removing the optical tube from the mount can be a bit of a pain. Also, the open tube design means the scope requires a shroud.
6. Celestron NexStar 8SE – Choice in $1500 range
Celestron Nexstar 8SE, all in all, is a good choice if you can't fit a 8" Dob in your life, but with drawbacks compared to one.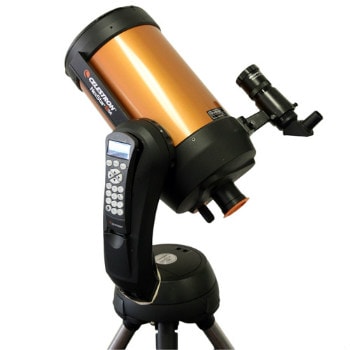 Relatively compact and portable
Fairly large aperture
Doesn't need frequent collimation
The Celestron NexStar 8SE has the same features as the NexStar 6SE, but boasts an even larger aperture.
Unlike the aforementioned Sky-Watcher 8" Collapsible, the 8SE will fit in a very small space and doesn't need any sort of shroud (though a dew shield helps). Like the NexStar 6SE, the 8SE can fit a reducer, T-adapter, or 2" diagonal on the back and the mount can be upgraded to have Wi-Fi, GPS, or even self-alignment capabilities.
The only downsides are that you still get the same single 25mm eyepiece, the field of view is starting to get uncomfortably narrow (particularly without a reducer or 2" eyepieces), and the 8" optical tube is a bit much for the mount to carry.
7. Sky-Watcher 10" Collapsible GoTo – Choice in $1700 range
Providing a whopping 10" of aperture at only a slightly higher price than the NexStar 8SE, it is probably best for a user who plans on observing mostly at home.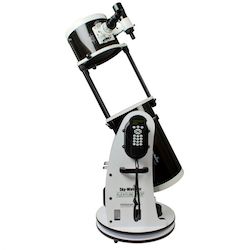 Large aperture at an affordable price
Sturdy
Can be used manually
Fairly compact
The Sky-Watcher 10" Collapsible GoTo is the largest telescope on this list.
Like the Sky-Watcher 8" Collapsible GoTo, the 10" Collapsible can be moved manually even if the GoTo system is in operation, as well as aligned manually, and it, of course, features the same collapsible tube. You can also use the entire scope without power or GoTo if you would like to.
The 10" collapsible has a focal ratio of f/4.7. This means that you'll need quality wide-angle eyepieces to get the sharpest low-power views, and ideally a coma corrector as well. Collimation is also harder than with a longer/slower instrument, though it is still plenty easy for the beginner. The included 25mm and 10mm Plossls (48x and 120x) work okay, but will definitely need replacing as you upgrade and expand your eyepiece collection.
Thanks to the collapsible tube, the 10" Collapsible GoTo can fit in almost any vehicle, and the base is easily disassembled without tools to pack flat into a trunk or truck bed, so portability isn't too much of a problem. The setup time can get kind of long when you dismantle the base, but it's ironically more compact than the 8" model if you choose to do so.
Honorable Mention – Celestron NexStar Evolution 6″
All of my comments about the NexStar Evolution 8 (our next pick) apply here, except that the Evolution 6, of course, uses a 6" optical tube. If you like the other features the Evolution has to offer but can't afford the 8" model, consider this one. However, for the same price, you could get a Skywatcher 10″ Collapsible GoTo – a much better bargain in terms of aperture.
8. Celestron NexStar Evolution 8" – $2000 Choice
Celestron really took the "Evolution" name literally when they made the NexStar Evolution 8.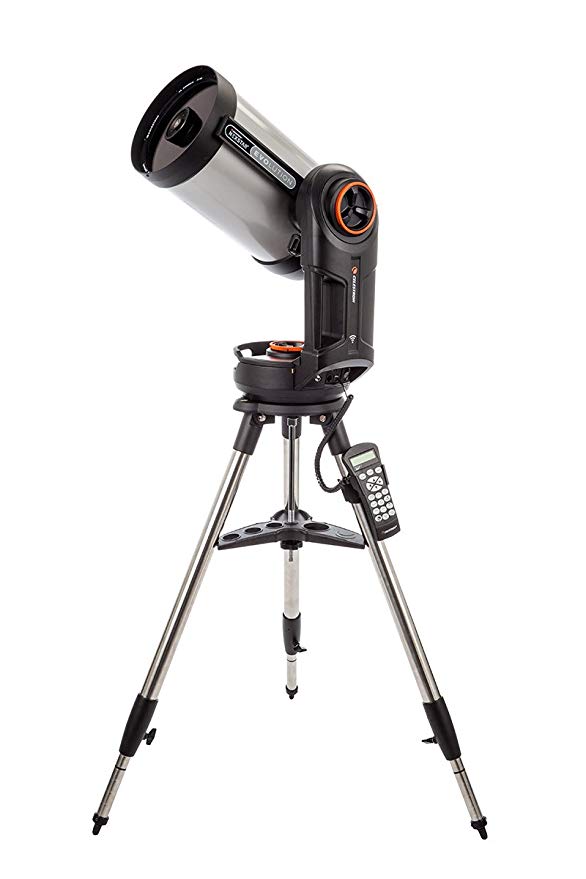 Lightweight, compact and portable
Fairly large aperture
Doesn't need frequent collimation
Built-in battery
Can be controlled with a phone or tablet
The Evolution 8 still has the same optical tube and hand controller as the NexStar 8SE, but with a number of upgrades.
Firstly, the scope has a much sturdier tripod, eliminating the stability issues of the 8SE. Second, the mount has a built-in lithium ion battery, which eliminates the issues of having to buy a power supply as well as cord wrap.
The Evolution's main selling point is that it can be controlled remotely via a phone or tablet. This is rather unnecessary, especially since a hand controller is still provided, but can be a nice feature, particularly for kids.
The Evolution 8 comes with two Plossl eyepieces: a 40mm (50x) and a 13mm (153x) of reasonably high quality. However, you'll want to get a focal reducer or 2" diagonal and eyepieces to maximize the field of view you can get with the scope, as well as one or two additional high-power eyepieces.
Overall, an excellent choice.
9. Celestron NexStar Evolution 9.25" – Choice in $2500 range
Evolution 9.25 is a great choice if you don't mind the narrow field and high price.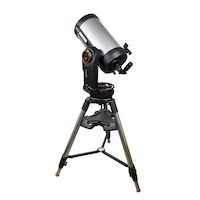 Lightweight, compact and portable
Fairly large aperture
Doesn't need frequent collimation
Built-in battery
Can be controlled with a phone or tablet
The NexStar Evolution 9.25" is, as the name says, a scaled-up version of the Evolution 8. Care has been taken by Celestron to make this scope just as user-friendly as possible, so the tripod has been scaled up as well to a heavier-duty version with thicker legs for maximum stability.
The 9.25" optical tube has a slightly different optical configuration than Celestron's other Schmidt-Cassegrain telescopes. This results in it being easier to collimate and having sharper images. However, the 2350mm focal length of the C9.25 tube results in a field of view that feels rather claustrophobic even with 2" low-power eyepieces, and thus it's best for viewing the Moon, planets, and small deep-sky objects such as globular clusters and planetary nebulae.
While providing more aperture than the 10" Collapsible or the 8" and 9.25" SCTs in its price range, the 12" Collapsible is bulky enough that it won't fit in any vehicle and it can be very intimidating for a beginner.
Tips on Choosing the Best Computerized Telescope
Except for the Celestron NexStar Evolution telescopes, almost every computerized telescope requires a portable power supply, either a 12-volt lead-acid rechargeable DC battery or lithium-ion rechargeable batteries. Either adds cost to your scope and has to be hauled around. Some telescopes can use AA batteries as backups, but they will quickly guzzle them within a few observing sessions, and continually replenishing them is expensive. So, always budget at least $50 for a power supply.
Cheaper computerized telescopes have weaker tripods and plastic or imprecise gears, and tend to consume more power. They're also typically smaller and include lower-quality or fewer accessories.
More aperture means more light-collecting area, which allows you to see fainter objects more easily. Light-gathering ability goes up with the square of the aperture, so an 8" telescope gathers four times as much light as a 4" telescope.
Aperture also increases resolution, which in turn increases the maximum magnification usable with a given telescope. Resolution increases linearly with diameter, so an 8" telescope has twice the resolution of a 4" telescope.
On a night of good seeing, a telescope can be used at as much as 40–50x per inch of aperture. However, more power doesn't show you more things, and most planetary/lunar observers use around 30x/inch for observations. For deep-sky observing, particularly for large objects and to find things in the sky, use as low a power as possible.