Dobsonian telescopes are what I usually recommend to beginners, and if you ask most astronomy clubs, websites, or observatories, they'll probably respond in unison: "Get a Dob". The famed San Francisco monk's simple, pioneering design allows for a smooth-moving, easy-to-use telescope that puts as much money as possible into the optics and simply gives you the most bang for your buck. Heck, half of my personal telescopes are Dobsonians. Anything that is 10" or above and is either cheap or portable is going to be a Dobsonian. The design just works.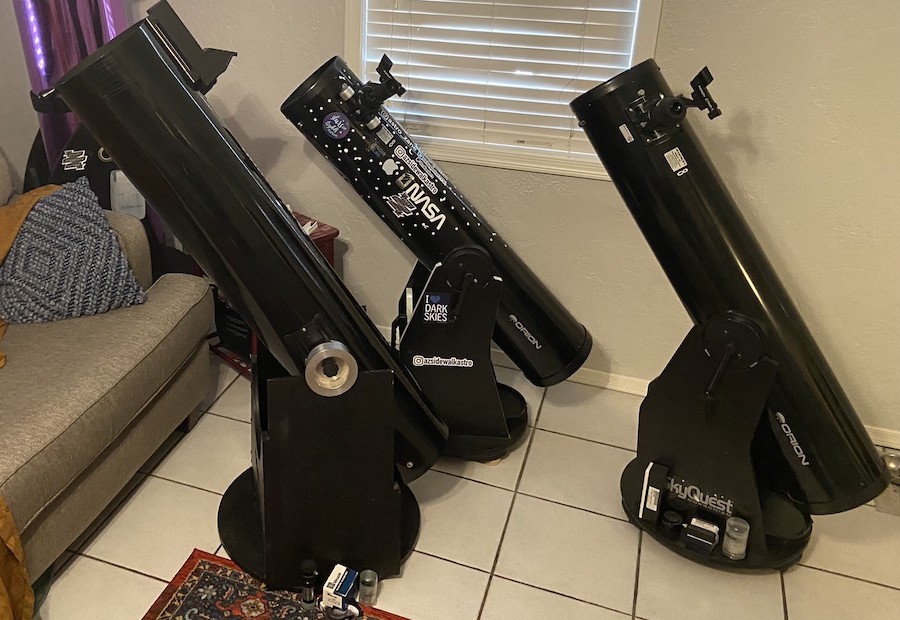 Beginner telescopes on tripods seem to be sold almost entirely because they "look like a telescope," whereas Dobsonians look kind of strange by comparison. Don't be fooled.
In this guide, we are excluding the smaller, tabletop Dobsonians, which are among our highest recommended telescopes in the under-$500 price range. While technically Dobsonians, these scopes lack the double-armed rocker boxes of a true Dob and don't sit on the ground. But a tabletop Dobsonian will last you even after you've moved on to more advanced and complicated equipment, as it remains an easy-to-use, portable Grab n' Go scope.
ALERT:
While tabletop scopes nonetheless, the Heritage and
Virtuoso 150P
Dobsonians offered by Sky-Watcher are available at such attractive price points (both at less than the price of the XT6) that we can't help but give them a shout here. Please consider one of these scopes if you only have the budget for a 6"
A full-sized Dobsonian remains easy to use and ideal for visual astronomy even when you get some big, expensive astrophoto setup later on.
At higher price points, Dobsonians tend to diversify a lot, and it gets difficult to pick the best dob among them. You have to decide whether you want GoTo, digital setting circles, or an entirely manual instrument. Also, there are numerous other design features that often make it hard to really nail down a single "best" Dobsonian telescope in one price bracket.
First off, here are our top Dobsonian recommendations straightaway, in case you don't want to read them in detail. These recommendations hold true if you are looking for the best deep-space telescopes as well, since Dobs are perfect for deep space viewing.
Best Dobsonian Telescopes Overview
Some telescopes are still out of stock or on backorder as a result of the pandemic's impact on the supply chain even though it's already 2023. If it's necessary, take into account placing a backorder based on your level of flexibility. We'd highly recommend telescope e-retailers like HighPointScientific because you'll get better technical and post-sales support, product range, deals from online telescope retailers, and also, better assurance that you'll get what you ordered. Your experience with them would be as good as your usual Amazon orders. We'd recommend you check out
our Dobsonian Telescopes Rankings
to check all available list of Dobsonians.
Recommended Best Dobsonians Individually Reviewed
1. Best 6″ Telescope – Orion XT6
The Apertura DT6, which would otherwise be the best choice, is never available for purchase (out of stock for about 1-2 years now), making the XT6 the best 6″ Dobsonian on the market.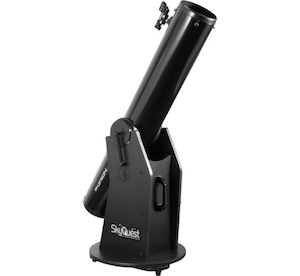 Cheapest

Easy collimation
Does everything a more expensive 6" can, view-wise
The new and improved 2022 model of the Orion SkyQuest XT6 at last sports a 2" all-metal Crayford focuser and the same great optics of the original.
The Orion SkyQuest XT6 Classic will show you the entire Messier catalog as well as many other deep-sky objects and a wealth of detail on the Moon and planets. It has a 2" single-speed Crayford focuser and spring-tensioned bearings to maximize usefulness with expensive wide-angle eyepieces. You don't get a lot of accessories with it to start out-just a 25mm Plossl eyepiece (47x) and a red dot finder for aiming the telescope-but upgrading later is always an option.
6" f/8 scopes such as the Orion XT6 are easy to collimate, lightweight, and portable. However, an 8" f/6 Dobsonian, such as the Orion XT8 or Apertura AD8, is only slightly larger in width and is still pretty easy to collimate, despite being the same length/height overall. That being said, 6 inches of aperture is more than enough for a lifetime of enjoyable views.
2. Best Budget 8″ Dobsonian Telescope – Orion SkyQuest XT8 Classic
The XT8 isn't the most well-accessorized option for an 8", but it gets the job done and at a fairly low price. The Apertura DT8, which would otherwise be the best budget choice, is never available for purchase (out of stock for about 1-2 years now).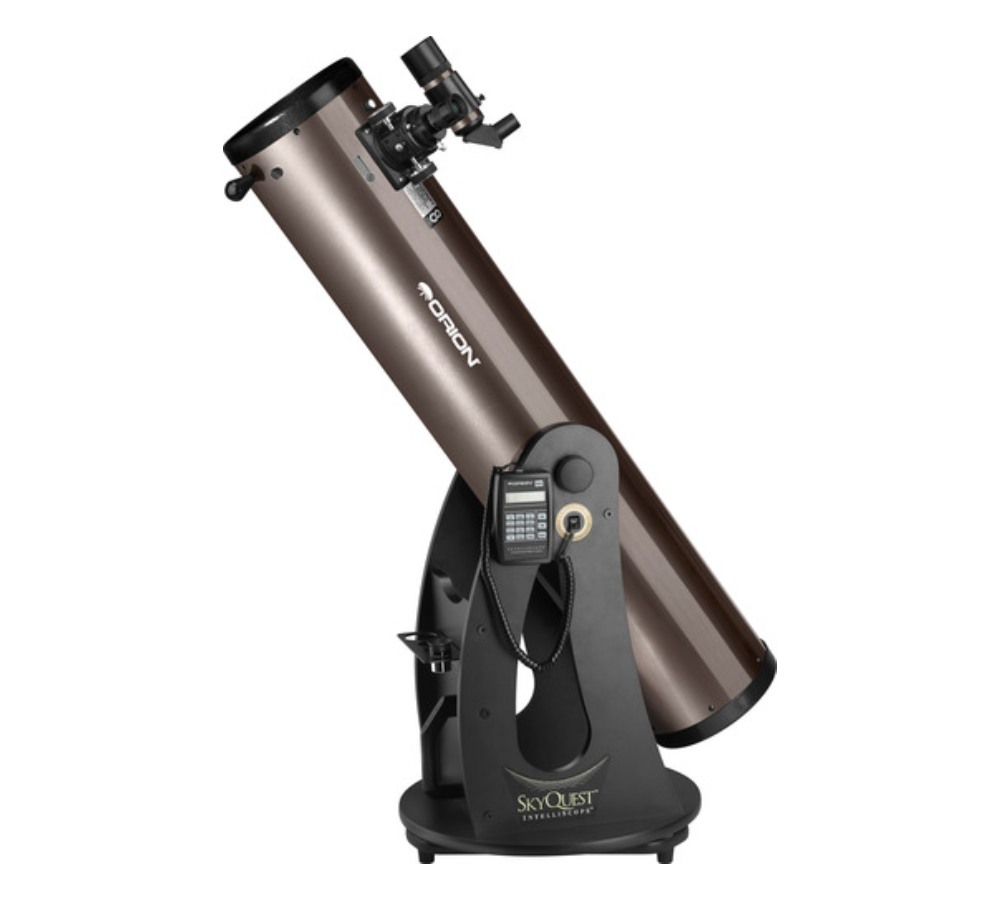 Lots of aperture for the money
Great optics
Similar form factor and portability to a 6" Dobsonian
The Orion SkyQuest XT8 Classic is a rather basic telescope, but it's the cheapest 8" Dobsonian available and has the same optical performance as any other good scope of its aperture. The XT8 Classic includes a 2", single-speed Crayford focuser with a brass compression ring to avoid marking up your eyepieces, and has well-designed spring-tensioned altitude bearings to avoid balance issues with heavier eyepieces.
The XT8 Classic only comes with a red dot finder and a low-power, 25mm Plossl eyepiece (47x magnification), but upgrading to add additional accessories later on is easy. The provided red dot finder is just fine for aiming, and the 25mm Plossl makes for a good low-power eyepiece despite its fairly limited field of view.
The XT8 is the same length and takes up a similar amount of floor space to the XT6 Classic, so if you can afford the XT8, there's really no reason not to upgrade from the 6"; the weight difference between the two is negligible and the bulk nonexistent.
3. Best 8″ Dobsonian Telescope – Apertura AD8
If you asked me if there was any #1 telescope that I recommend to beginners over all others, it would probably be the Apertura AD8 or one of its various copycats.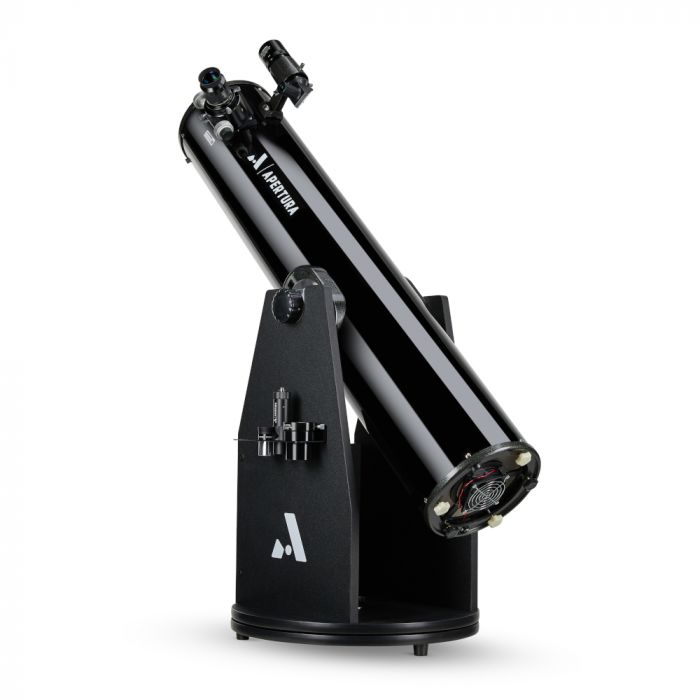 Very good value
Good optics
Extreme quality accessories
The Apertura AD8 is our favorite because it'a perfect size, comes with all the required accessories out of the box, and somehow bundles features that you normally have to pay double its price for. No other telescope provides as much bang for your buck out of the box as the Apertura AD8.
The AD8 is an 8" f/6 just like the Orion XT8, but it has altitude tensioning knobs that don't stick out and can be adjusted to move along the scope's optical tube to properly balance it. It has a fancy 2" dual-speed Crayford focuser. The 50mm finderscope is a right-angle correct image model, though you may want to supplement it with a Telrad. The AD8's bearing friction is adjustable on both axes and the altitude bearings can be slid along the tube to balance the telescope with different weight accessories.
The AD8 also comes with a quality 30mm wide-angle 2" eyepiece for low power and a 9mm Plossl for high power, though you'll, of course, want something in between, as well as a shorter focal length high-power eyepiece or two if you want to squeeze out the maximum potential of the scope.
Lastly, the AD8 includes a cooling fan on the back and a laser collimator, which may or may not function out of the box; more often than not, the laser beam isn't aligned with the body of the collimator and has to be collimated itself, which is an extremely difficult process. Don't worry, though – you don't really need the laser, and the Apertura AD8 is still a fantastic deal even without it.
4. Best 8″ Computerized Dobsonian Telescope – Celestron StarSense Explorer 8"
The StarSense Explorer 8" not only features Celestron's easy-to-use StarSense Explorer navigation aid, but it also has a considerably more lightweight base than the competition.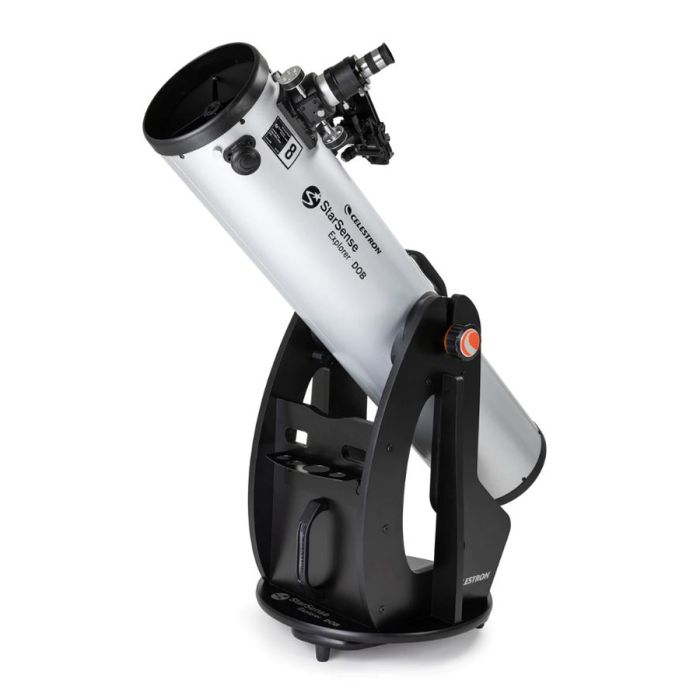 StarSense Explorer technology assists in aiming
Lightweight base makes for better portability
Good performance
The StarSense Explorer 8" doesn't come with a lot of features or accessories; as with the Orion XT8 you only get a single eyepiece, red dot finder, and single speed focuser. However, the telescope uses Celestron's StarSense Explorer technology to turn your smartphone into a precision-pointing device without the hassle of any additional electronics, batteries, or controllers.
The StarSense Explorer 8" also has a lightweight, optimized base with cutouts built-in along with numerous carrying handles, so it's quite a bit more portable than the other 8" Dobsonians on our list. However, the price is a little high for what you get, and collimating the primary mirror in the field requires a screwdriver. If you're okay with these compromises, however, the StarSense Explorer 8" Dobsonian makes for a great telescope.
5. Best 10″ Dobsonian Telescope – Apertura AD10
If you like the Apertura AD8 (or Zhumell Z8), you'll really like the AD10.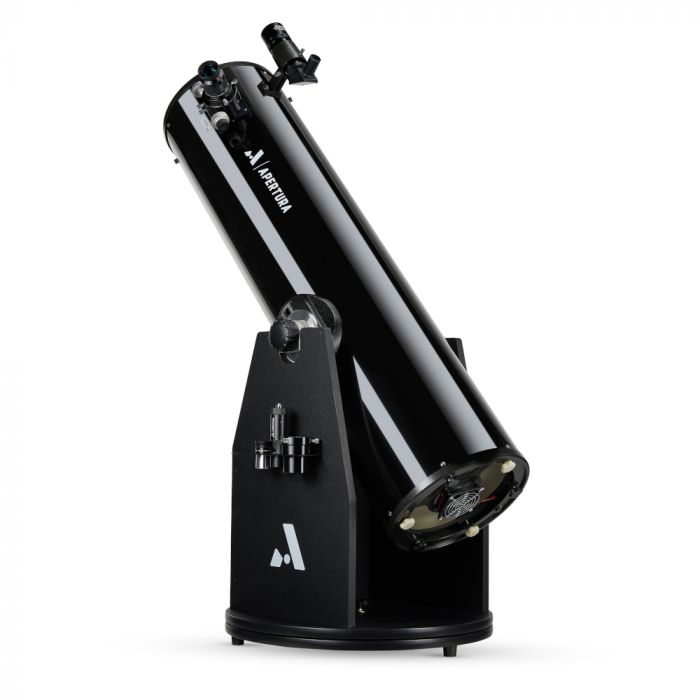 Very good value
Good optics
Extreme quality accessories
Like the fantastic Apertura AD8/Zhumell Z8, the Apertura AD10 offers a great set of accessories bundled with it right out of the box and a little more aperture.
The scope's tube is a little longer than a 6" or 8" Dobsonian, but not by too much. However, the scope's size and weight mean that it is a bit more awkward to handle than its smaller cousins.
The 30mm eyepiece supplied will show some off-axis coma and astigmatism in a fast scope like the AD10 but provides a far larger field of view than a 25mm Plossl, which is, of course, a huge boon in locating and observing deep-sky objects.
Thanks to the AD10's dual-speed Crayford focuser, focusing at high power is an absolute delight. The AD10's cooldown fan is actually pretty helpful with a 10" scope, though it is really nothing more than a glorified computer fan attached to the rear end of the tube with a battery pack wired on.
Like the AD8, the AD10 also comes with a 9mm Plossl eyepiece, though the scope can handle a lot more magnification than the 133x it provides—a 10" scope is capable of up to 500x with good collimation and steady skies, and the AD10's dual-speed focuser makes comfortably achieving that even easier.
Like with the AD8 and AD12, the Apertura AD10's laser collimator is probably unusable and the Moon filter is a joke, but considering the great value the scope still otherwise provides, I don't consider these to be a problem in the slightest.
6. Best 10″ Computerized Dobsonian Telescope – Celestron StarSense Explorer 10"
As with the 8" model, the 10" StarSense Explorer is remarkably lightweight, and aiming it around the sky is a breeze.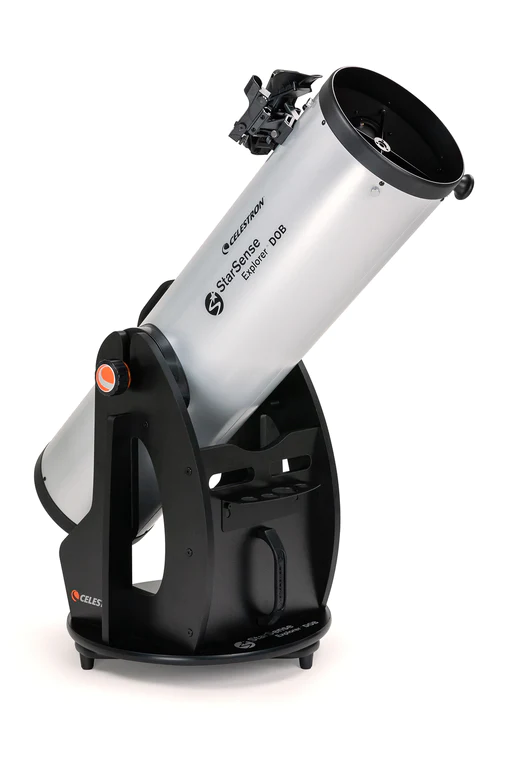 StarSense Explorer technology assists in aiming
Optimized, lightweight base makes for significantly better portability than competitors
Great performance
As with the StarSense Explorer 8" Dobsonian, the StarSense Explorer 10" Dobsonian really doesn't get you a lot of kit for the money; the main thing you're paying for is the StarSense Explorer technology and lightened base design.
The StarSense Explorer 10" offers a lot of performance, as with any good 10" Dobsonian, and is significantly more portable than the Apertura AD10. However, it costs more than the AD10 to begin with, and upgrading to have a similar set of accessories will put you into an even higher price range.
7. Best 12″ Dobsonian Telescope – Apertura AD12
If 10" of aperture still isn't enough to satisfy you, then there's the Apertura AD12.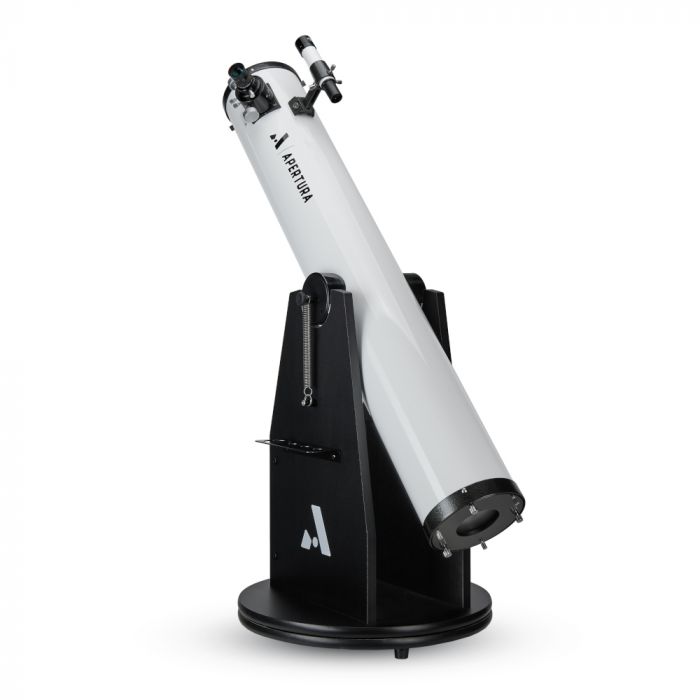 Huge aperture
Great accessories
Good optics
The AD12 comes with the same 30mm 2" wide-angle eyepiece, cooling fan, dual-speed Crayford focuser, adjustable altitude bearings, 50mm right-angle finderscope, and great optics that make the smaller AD series scopes such great deals, as well as the same useless Moon filter and laser collimator. However, there are some practical considerations to be made in buying this telescope.
First: it's heavy. 75 pounds may not sound so bad, especially considering that it splits into two pieces. But what if you have to load it into your car to get it to an observing site? Now picture loading that scope back into your car, then unloading it, then bringing it into your house very late on a cold, damp night. Even if you observe from your backyard, setting up the AD12 isn't easy.
The AD12 is also much larger physically than a 6", 8", or 10" Dob. It's a full foot longer, and the tube is 14" wide, with no good places to really grab it from. You'll probably want straps or a helper to move the tube. Also, the length means it may not fit in smaller vehicles.
The AD12 is best if you have a smaller scope to complement it and/or a dolly and a garage so you can conveniently roll it out for observing. If you're shopping for your first telescope, we would recommend getting something smaller and cheaper first before purchasing the AD12. But if you're sure you're hooked and can accommodate this massive instrument in your home and lifestyle, a 12" Dobsonian like the Apertura AD12 can't be beaten.
8. Best Portable 12″ Dobsonian Telescope – Sky-Watcher 12″ Flextube Collapsible Dobsonian
If you'd like your 12″ dobsonians to be a little more portable, SkyWatcher provides a collapsible version of their dobsonians.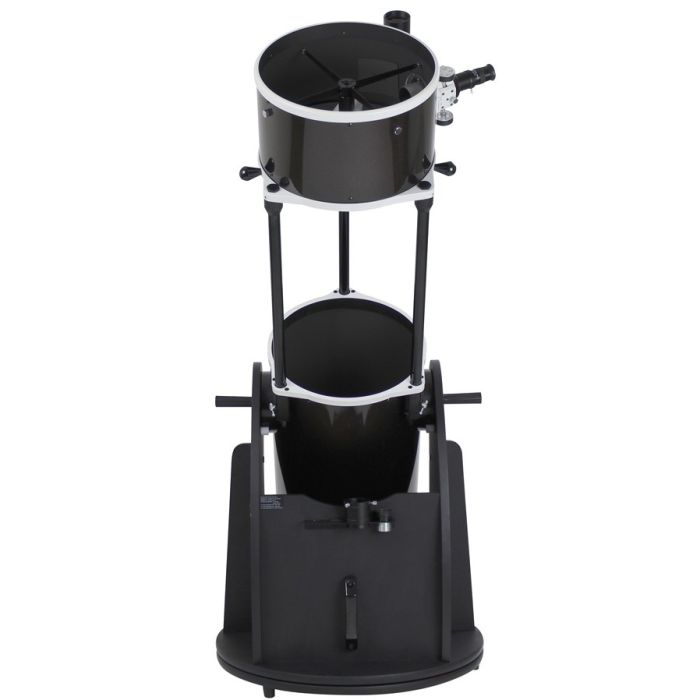 Massive aperture but still fits in most vehicles
Easy to set up and assemble
Individual components not too heavy
The Sky-Watcher Flextube Dobsonians have some compromises in their design that make the 8" and 10" models rather unappealing, at least as a first choice. However, the 12" Flextube is a lot more portable than a solid-tubed 12" Dobsonian; its collapsible tube can fit across the back of a vehicle, whereas the long tube of a conventional 12" will need to have seats folded down – and plenty of available cargo space – to be transported. The focuser on the 12" Flextube is only a single-speed and it comes with a pair of rather basic 1.25" wide-angle eyepieces, but the scope features the same awe-inspiring views of any good 12" Dobsonian and a right-angle 9×50 finder is included.
You'll need to make or buy a fabric shroud to keep stray light out of this open-tubed instrument and probably find a way to roll the base around if you need to move it a significant distance, but the 12" Flextube is a great choice for those with smaller vehicles, families, and/or limited storage space options at home.
9. Best Computerized 12″ Dobsonian Telescope – Sky-Watcher 12″ Flextube Dobsonian GoTo
The GoTo version of the 12" FlexTube gives you motorized tracking regardless of whether you need assistance in finding objects, making it an excellent upgrade from the standard edition.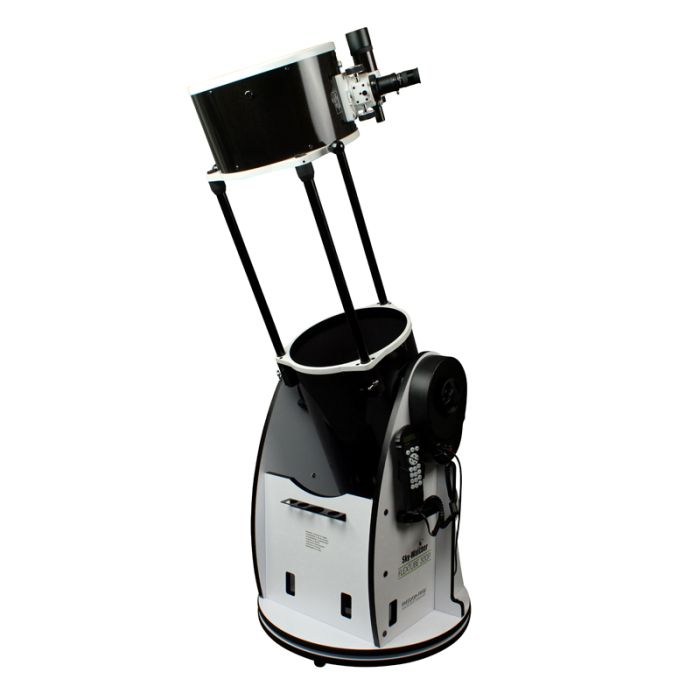 Massive aperture but still fits in most vehicles
Easy to set up and assemble
Individual components not too heavy
The GoTo 12" Flextube is largely the same as its manual counterpart, but features full motorized pointing and tracking capability in all directions, controlled with the included handset; with an additional adapter you can run it with an app on your smart device. The 12" Flextube GoTo can be used manually with the electronics powered off, or it can be pushed manually with the telescope fully activated and aligned without any impairment to its motorized pointing and tracking accuracy thanks to Sky-Watcher's FreedomFind technology. This also allows you to push the scope partway to its targets if you are moving large distances around the sky to save power.
The motorized base of the 12" Flextube GoTo is, however, quite heavy and you might need help – or wheels – to move it around at all, as well as load it into a vehicle.
10. Best 14″ Dobsonian Telescope – Sky-Watcher 14″ Flextube SynScan GoTo Collapsible Dobsonian
The 14" FlexTube further improves upon the 12" versions with a dual-speed focuser, more aperture, and a fully collapsible Dobsonian base, too.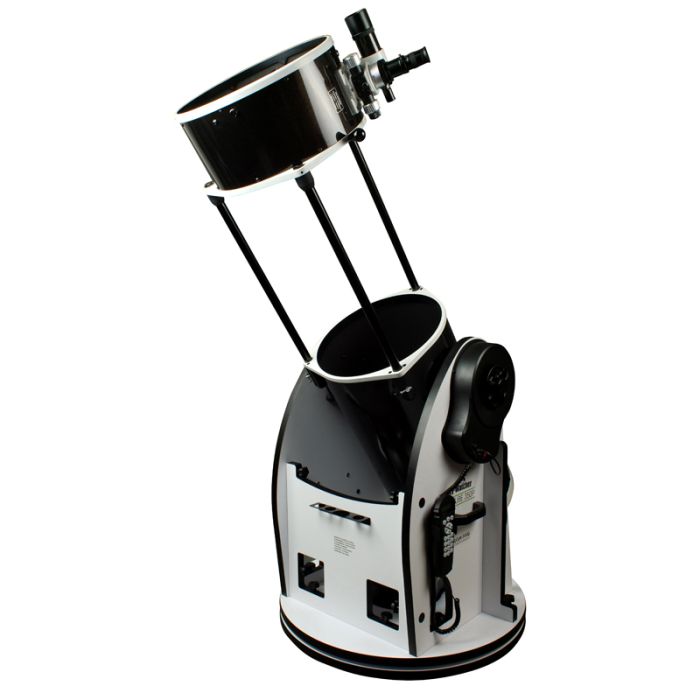 14" aperture for even brighter and bolder views, with motorized tracking and GoTo
Base and tube both collapse for portability
Dual-speed focuser
The 14" Flextube Dobsonian is only available in a GoTo configuration but is in some ways more portable than either the manual or GoTo 12" Flextube variant. The reason? The whole base compacts flat with no tools and can be reassembled again in minutes. This allows you to save a lot of space when transporting the 14" Flextube GoTo in a vehicle. The 14" Flextube GoTo also comes standard with a premium dual-speed Crayford focuser for ultra-fine adjustment when focusing at high magnifications. This scope is certainly not for the faint of heart and requires plenty of storage as well as a fairly large vehicle to transport it, but it will reward you with significantly brighter (by 36%) views than a 12" in a fairly portable and sturdy package.
11. Best 16″ Dobsonian Telescope – Explore Scientific 16″ f/4.5 Truss Tube Dobsonian Telescope
The 16" Explore Scientific Truss Tube is among the best we've tested, and it's significantly more portable than the Sky-Watcher FlexTube options. However, it's a little bit difficult to get up and running.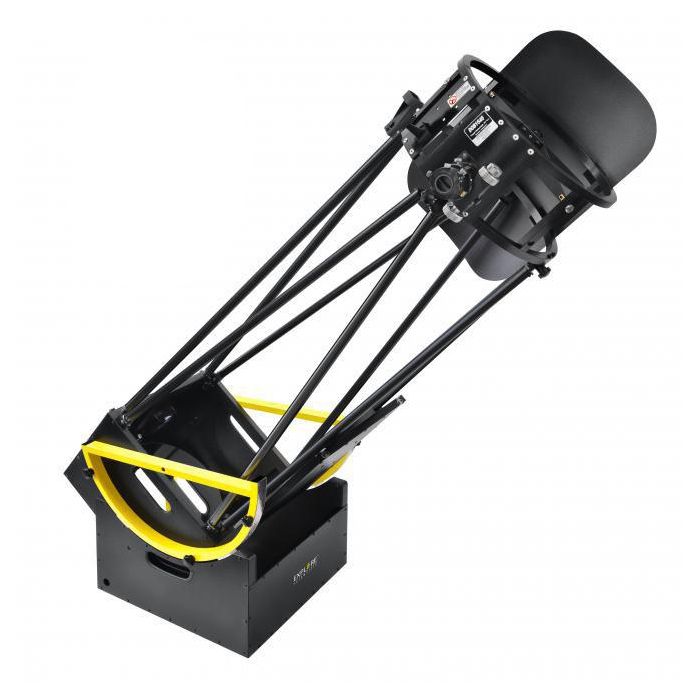 Huge 16" aperture for the views of a lifetime
Compact form factor when collapsed with no flimsy particle board or plastic parts
Smooth mount movements & dual-speed focuser
The Explore Scientific 16" f/4.5 Truss Tube Dobsonian seems like a monster telescope at first glance, but it actually compacts into a remarkably small and easy-to-move package when disassembled. The entire telescope, minus the poles, collapses into a roughly 2 by 2-foot cube, with the upper cage fitting inside the mirror box.
The Explore Scientific Dobsonians' glassboard-covered bearings are silky smooth, making the telescope extremely easy to aim. Cooling fans are built into the box surrounding the primary mirror, and the focuser is a nice dual-speed unit. However, this telescope, of course, requires a shroud for its open tube, as well as a plastic baffle/liner for the minimalist upper end, and the included accessories are both inadequate and poorly made—so expect some additional investment to get this titanic telescope performing at its best.
12. Best Computerized 16″ Dobsonian Telescope – Sky-Watcher 16″ Flextube SynScan GoTo Collapsible Dobsonian
The 16" FlexTube is best if you don't observe alone-or have a permanent site to roll it out to. However, the views are stunning and the capabilities are excellent.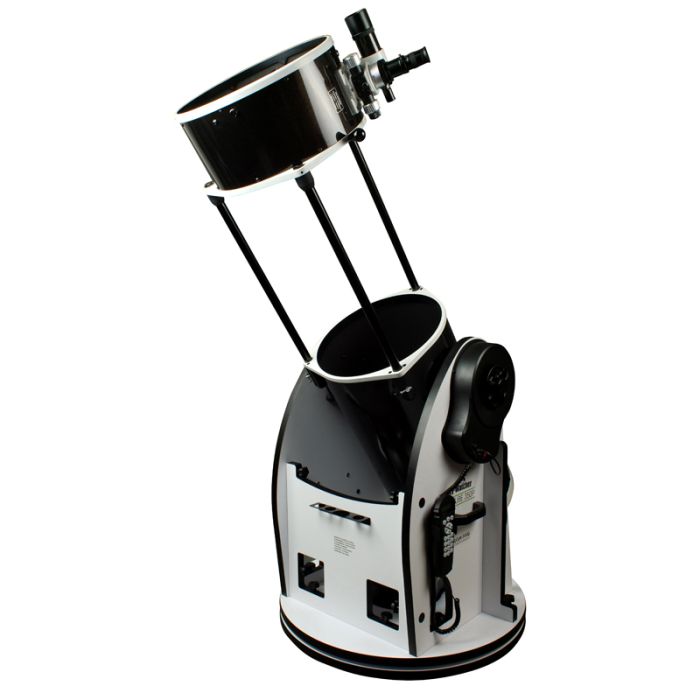 Monster 16" aperture for impressive views
Lightweight, fast-cooling conical primary mirror
Dual-speed focuser
The 16" Flextube is a monster telescope and one that certainly requires a lot of help or a permanent setup to be taken advantage of. As with the 14" FlexTube, the scope's tube collapses and the base packs flat for transport. The primary mirror is also conical for less weight and quicker cooling. However, both the tube and ground disk are extremely heavy and thus really require a helper to move. Even compacted, the tube and base also require a fairly large vehicle to move around. You also have to secure a pack of counterweights to the back of the scope each time you set it up, as well as haul these weights wherever you go.
Runner Ups
The Classic Dobsonians from Sky-Watcher aren't bad scopes – but the 6" and 8" Dobs from Orion feature superior focusers as well as better-designed bearings, while there are a variety of better alternatives for a 10" Dob. However, if our other recommendations aren't available to you, we would definitely recommend going with one of the solid-tubed scopes from Sky-Watcher.
Explore Scientific 10" Hybrid Dobsonian
The 10" Hybrid is available at the price of many 8" Dobsonians, and features a dual-speed focuser, making it extremely attractive at first glance. However, it needs a shroud, a new finder, and eyepieces (the included ones are trash). Furthermore, unless you make some DIY modifications the focuser/eyepiece is stuck at an extremely uncomfortable angle of 90 degrees to the ground, often requiring you to kneel to use the scope. If you're looking to get the most for your money and don't mind putting in some work this instrument is a good choice, but it's a bit beyond what we'd recommend for a beginner or casual enthusiast.
Sky-Watcher 8" & 10" FlexTube Dobsonians
The Sky-Watcher FlexTube/collapsible design works really well with larger scopes, where it might make the difference between fitting in an automobile or not. However, the 8" and 10" FlexTube models are not any lighter than their solid-tubed counterparts and the space savings are really not much to brag about – and when you consider the need for a shroud, the nuisance of additional collimation (especially with the 8" model, which requires a screwdriver to adjust), and the price, there just isn't much of a point. For a 10", one of the truss models from Explore Scientific will be more compact anyway. As with the bigger FlexTubes, GoTo versions of the 8" and 10" FlexTubes are available at a higher price.
Explore Scientific 10" & 12" Truss Tube Dobsonians
While these scopes feature the same excellent features of the 16" model, the high price and the additional spending required – combined with the same discomfort in using the 10" model as with the Hybrid – makes them less-than-appealing for a first-timer. However, if storage space is of huge importance and you have extra room in the budget, these are both good scopes.
Explore Scientific FirstLight 8" & 10" Dobsonians
The FirstLight Dobsonians feature wonderfully smooth bearings, fully adjustable and rotatable tube cradles, and well-designed focusers. However, the included accessories are useless and the focusers are only single-speed; for the price, other options probably make more sense.
These would be some of our top picks for their price range, but seem to always be out of stock. We'll keep this article updated if/when they return.
Tips On Choosing The Best Dobsonian
If you're on a tight budget, it's probably best to get the largest scope for your dollar and worry about accessories later. However, don't skimp to the point that you are unable to get everything you want out of your telescope.
If possible, I highly recommend borrowing a scope from a friend or at least examining it in person before purchasing it. Dobsonians are big, hefty instruments, and sales brochures are going to try to make them seem as small and portable as possible. Don't buy something that looks small in pictures and then ends up being an unwieldy behemoth that you'll never bother with – the best telescope is the one you'll use.
A cheap Dob nowadays probably won't be compromised optically (thank goodness), but the accessories and things like the focuser will be cheapened. If you can afford them, the more expensive models for a given aperture are probably worth it.
If you're using your Dob for outreach, you'll want something portable but at the same time with as much aperture as possible – GoTo or digital setting circle assistance also helps, as you'll save time locating targets. If you're using it with your kids, portability may not be as much of a consideration, but the "wow" factor of the image, as well as your kids' attention span, will dictate a lot of your choice of telescope.
If you're buying a telescope for a child or teenager, I wouldn't recommend going above 8 inches in aperture – collimation will be too difficult, and it'll be too heavy for them to set up and use on their own.