For those who don't have a lot to spend or aren't sure whether they're interested in astronomy, binoculars are a great choice. They can be used for terrestrial purposes, take up very little space, and since there is a far larger market for binoculars than telescopes, they tend to be very cheap.
For more experienced stargazers, binoculars are also a great choice to complement a telescope, as they have wide fields of view and the setup time is effectively zero. In fact, some astronomers observe using only binoculars!
Best Astronomy Telescopes Overview
Best Binoculars For Astronomy: Individually Reviewed
1. Celestron Cometron 7×50 – Choice Under $50, Lowest Price
Celestron's Cometron 7x50s are surprisingly affordable and one of the best astronomy binoculars for the money, and in fact, the first pair of binoculars I ever owned.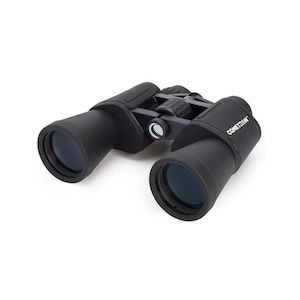 Low price
Lightweight and easy to hold
Wide field of view
Cometron 7x50s are lightweight, and this, combined with the low magnification, means that they're pretty easy to keep steady, even for children. They also have a very nice, cushy neck strap.
Obviously, for less than the price of a somewhat-decent telescope eyepiece or a Telrad, you can't expect perfection. The cheap BK-7 prisms vignette the aperture somewhat, and the coatings are simple (also reducing the effective aperture), making them more like a 40mm pair. Also, the edge of the field of view isn't the sharpest.
The field of view is also slightly narrower at 6.8 degrees, meaning the eyepieces only have a 47-degree apparent field. The eyepieces can also "rock" out of alignment for whatever reason if you press your eyes up against them, which is annoying but easily fixed.
The binoculars are also not entirely waterproof—not much of an issue for astronomy, but it may be an inconvenience if you plan on using them for other things. They do, however, have a decent rubber coating on the housing, which makes them at least water-resistant.
All the drawbacks become non-existent when you look at how cheap this astronomical binocular is.
Lastly, there's a chance your binoculars may be delivered out of collimation (i.e., the prisms are knocked out of alignment), which is very difficult to fix. Thankfully, Celestron will quickly and easily replace your binoculars free of charge if this is a problem.
All this being said, the Cometron 7x50s deliver about 75% of the views that a really expensive pair will, for next to nothing. I highly recommend them even if you buy another pair of binoculars since they're so cheap that they can serve as a spare or backup.
These are basically a 10x version of the Cometron 7x50s. If the Cometrons sound good but you want 10x magnification instead of 7x, then these are for you. Otherwise, they are literally identical, and all of my other comments apply.
2. Bushnell Legacy WP 10×50 – Choice Between $60 – $100
The Bushnell Legacy WP 10x50s, the other pair of 50mm binoculars I currently own, are actually identical to a few other more expensive 10x50s.
Higher-quality prisms for more light transmission
Comfortable eyepieces with long eye relief & twist up eyecups
10x magnification provides arguably better contrast under light-polluted skies
The prisms on the Legacy WP 10x50s are BAK-4 glass, which means a sharper, brighter field compared to BK-7. They are still very slightly undersized/noncircular and vignette about 5% of the aperture, which is in effect invisible. As is stated in the name, the Legacy WP 10x50s are fully waterproof and, I think, somewhat fogging-resistant – a nice bonus. All glass surfaces in the binoculars are also fully multi-coated for maximum light transmission.
The Legacy WP 10x50s have a field of view of 6.5 degrees, and given the 10x magnification, this means the apparent field is a nice, wide 65 degrees. The eyepieces have 20mm of eye relief if you wear glasses for astigmatism (you don't need them otherwise), and twist-up eyecups, as well as eyepiece caps that stay attached to the neck strap.
Downsides? Well, for one, the magnification. The 10x binoculars are really the limit for handheld use, and the weight of the Legacy WP 10x50s doesn't help with steadying them. Children and some adults will have trouble holding them steady for long periods.
If you can hold them steady, the Bushnell Legacy WP 10x50s are great binoculars for stargazing. Mine has traveled with me halfway around the globe to dark locations and is great for daytime spotting too.
Honorable Mentions in the Price Range
These are roof-prism style binoculars. With only 42mm of aperture, these binoculars are a great choice if you need the most compact pair of binoculars possible. They're also waterproof and fogproof, have fully multi-coated optics, and have twist-up eyecups.
The main flaws of the Outland 8x42s, however, are that the narrow design means they're harder to hold steady than a pair of Porro binoculars, and, of course, the smaller aperture leads to dimmer views than a pair of 50mm binoculars.
If you'd like a very compact pair of binoculars and don't mind the aperture reduction and slight loss in stability, the Celestron Outland 8x42s are a solid choice.
The SkyMaster 15x70s provides a big aperture at a not-so-big price. With full multi-coatings and BAK-4 prisms, it's a miracle that Celestron sells them for as cheap as they are.
Unfortunately, the large aperture and high magnification of the SkyMaster 15x70s pretty much mean they require a tripod unless you happen to be built like Arnold Schwarzenegger. Because of their bulk and tripod requirement, the SkyMaster 15x70s are not really great all-purpose binoculars and will take up a large portion of your bag.
Celestron supplies a tripod adapter with the SkyMasters, but it's all-plastic and basically useless. Thankfully, you can obtain an aftermarket all-metal adapter for a minimal cost.
The other major downside is that the collimation on the SkyMaster 15x70s seems to be finicky. Some users report them arriving very far out of collimation, and the general consensus is that they lose collimation fairly easily, and re-aligning them is quite difficult and complicated. My own pair used to be in great collimation but have slowly drifted out of alignment (albeit not quite to the point of unusability) over time.
If you have a sturdy photo tripod and are willing to deal with having to collimate it every so often, I wholeheartedly recommend the SkyMaster 15x70s. Otherwise, stick to a smaller, less maintenance-hungry pair.
3. Orion Scenix 7×50 – Choice Around $110
The Orion Scenix 7x50s are the lightest and most compact binoculars on this list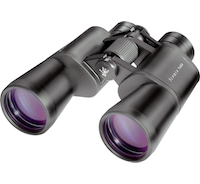 Widest true field of view of any of the binoculars on our list
7x magnification + quality coatings/prisms makes for bright images
Lightweight
The Orion Scenix 7×50's 7x magnification combined with its compact nature makes it the best choice for children or those with shaky hands. They're also ideal for traveling when you have minimal space in your bag.
The Scenix 7x50s have high-quality BAK-4 prisms with minimal vignetting problems. The true field is a wide 7.1 degrees, making the apparent field at the eyepieces a slightly narrow but comfortable 50 degrees. The eye relief is a comfortable 20mm for those who need to wear glasses when using them, but the eyecups are standard roll-up thin rubber ones, not twist-up.
As for downsides, the Scenix 7x50s are not waterproof nor really water resistant. There isn't a thick rubberized coating on them, so you'll need to be careful when using them. The coatings are also slightly inferior compared to other binoculars in their price range.
All in all, not a bad choice, especially if you worry about holding 10x binoculars steady.
4. Pentax SP 10×50 WP – Choice Above $150
These binoculars aren't really marketed as much for astronomical use as the other pairs on this list, but they are a surprisingly good choice as a binocular for stargazing.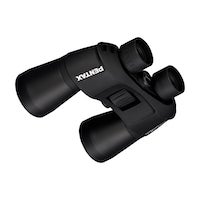 Durable and rugged design
Waterproof
Sharp, high-contrast views
Being heavily armored, nitrogen-filled, and waterproof (they can even be submerged in up to 1 meter/3.25 feet of water), the Pentax SP 10x50s are extremely rugged and can survive relatively harsh use.
They're also exceptionally sharp right out to the edge of the field of view and have very fancy optical coatings for maximum light transmission.
In terms of view quality, the SP 10x50s are the best on this list.
Downsides?
Well, the armor means that these binoculars are slightly heavier than similar models, but not by as much as you'd think – only a handful of ounces.
The main drawback of the SP 10x50s is the narrow field of view; only 5 degrees, giving an apparent field of 50 degrees. This is not narrow enough to feel claustrophobic and like you're looking down a soda straw, but it is significantly narrower than the field of view most astronomical 10x50s provide.
And overall, they're not as comfortable to hold and use as a regular pair of binoculars, handling more like a piece of military equipment. But if you can handle these slight drawbacks, then the Pentax SP 10x50s are for you.
Tips on Choosing Best Astronomical Binoculars
In general, binoculars are used when handheld, and since you probably do not have unlimited arm/hand strength when you're aiming directly down the tubes, you don't want to use a super-high magnification that leaves you with a jiggly field and struggling to find anything. The first number in a pair of binoculars' specifications – e.g. 7×50 or 8×42 – refers to the magnification, in this case, 7x or 8x.
I consider 8x to be the limit for most children to hand-hold steadily, and 10x or 11x to be the limit for most adults. There are some who can handle 12x, or even 15x or 16x binoculars, but in practice, it is usually hard to hold them steady. For terrestrial use, you can amp up the magnification a little more, since daytime things are generally near the horizon (easier to hold steady) and are brighter and more familiar (thus taking less work for your eyes to see even if the image is jiggly).
The second number in a pair of binoculars refers to its aperture in millimeters – e.g. 42mm, 50mm, 63mm, etc.
The larger the aperture, the more light-gathering power you have. In general, I consider 42mm to be the minimum for astronomical viewing for adults. 35mm will suffice, but in general, 42mm or larger is better, and anything smaller than 35mm is really for watching birds or sports teams – not astronomy.
On the other hand, a too-large pair of binoculars will mean you're unable to hold them steady. Binoculars with objective lenses as large as 150mm (6") are available on the market, but anything larger than 100mm tends to resemble a pair of telescopes more than binoculars, often having interchangeable eyepieces, and will be very expensive.
For astronomical purposes without a tripod, the upper limit for handheld binoculars is probably 63mm of aperture or less. Some people can hand-hold 10x or 11×70 binoculars, but it is not easy to do, and I would not recommend doing so without having a tripod in the event that they're too much to handle.
50mm of an aperture is a good general-purpose size, which is why most of the pairs on this list are 50mm. They're large enough for basically anyone to use them handheld, but small enough to be portable and still easy to manage.
Binoculars with BK-7 (soda-lime glass) prisms tend to have slightly dimmer, less sharp, and often vignetted images. Look for binoculars with BAK-4 (Barium Crown) glass or a similar high-quality optical glass.
The better the optical coatings, the less light is absorbed or reflected off your lenses and prisms.
Coated means that at least one optical surface has been coated with a single layer of anti-reflection coating, typically magnesium fluoride. Multi-coated means that at least one optical surface has an advanced multi-layer coating on it, but that some surfaces may have simple coatings or no coatings at all. Fully multi-coated means that all optical surfaces have advanced multi-coatings for maximum light transmission. In general, try to look for binoculars that are fully multi-coated.
Look for binoculars with center-focusing and diopters for maximum ease of focus. Avoid "insta-focus" and "perma-focus" designs; these are attempts by manufacturers to cheap out and result in blurry/fuzzy views most of the time.