If you are a beginner in astronomy or working with a limited budget, a pair of 10×50 astronomy binoculars could be an excellent choice for you. These versatile binoculars are suitable for both terrestrial and celestial observations and occupy minimal space. As the market for binoculars is larger than that for telescopes, and smaller binoculars do not necessitate a mount or tripod, they are incredibly cost-effective. Additionally, the 10x magnification yields a smaller exit pupil than the 7x50s, preventing issues with vignetting during daylight or an overly bright sky background under light-polluted or moonlit skies.
Handheld 10×50 binoculars can replicate the views of a 9×50 or 10×50 finder scope typically used for aiming a large telescope, making them valuable as a reference or for practice when attempting to locate a new celestial object with your telescope for the first time. Moreover, using both eyes is more comfortable and offers a substantial brightness enhancement compared to using a single-eye telescope. This places a pair of 10×50 binoculars on par with a 60-70mm finderscope or telescope in terms of overall light-gathering capacity.
10×50 or 7×50?
10×50 binoculars have a 5mm exit pupil, which produces a darker sky background compared to the 7×50 binoculars and their 7mm exit pupil. This can be important if you are under very light-polluted skies, where a brighter background will lead to a more washed-out view with worse contrast. Likewise, during the daytime, a 7mm exit pupil will vignette, as your eyes cannot dilate to 7mm at night. Older observers' eyes may never dilate to 7mm, however, and thus the vignetting remains at night in this case, stopping down the aperture. This means that if you are over the age of 60 you probably will get the same view out of a 7×50 as you would with a 42mm or 35mm aperture, albeit with an even brighter sky background.
Furthermore, with 10x magnification, you can observe more objects in closer proximity. For example, when it comes to open clusters—an area where small binoculars excel—a 7x binocular may only separate stars approximately 20-21 arcseconds apart, while a 10x binocular can distinguish stars as close as 15 arcseconds. Consequently, you will perceive a higher level of resolution with 10x magnification.
However, the increase in magnification of 10×50 binoculars may present stability challenges. While a 7x binocular is easy for almost anyone to use handheld, a 10x model may be more difficult to keep stable, potentially necessitating the use of a monopod or tripod for extended periods of observation. Additionally, in many instances, 7×50 binoculars offer a wider true field of view than 10×50 models, although this is not always the case.
Our general recommendation would be that if you do not have dark skies, you should go with 10x50s over 7x50s unless you have trouble holding them steady or are giving them to a child. The increase in brightness that 7x50s provide on extended objects is negated by the effects of light pollution anyway, while 10x50s are more suited for terrestrial use than 7x50s due to the exit pupil reasons we've mentioned in addition to their other benefits.
Related Product Guide: Best 7×50 Binoculars
Recommended Best 10×50 Binoculars
Under $50 – Cheapest – Celestron UpClose G2 10×50
The Celestron UpClose G2 10x50s are certainly compromised in performance on account of their low price, but they do a good job and are inexpensive enough to throw around without much worry.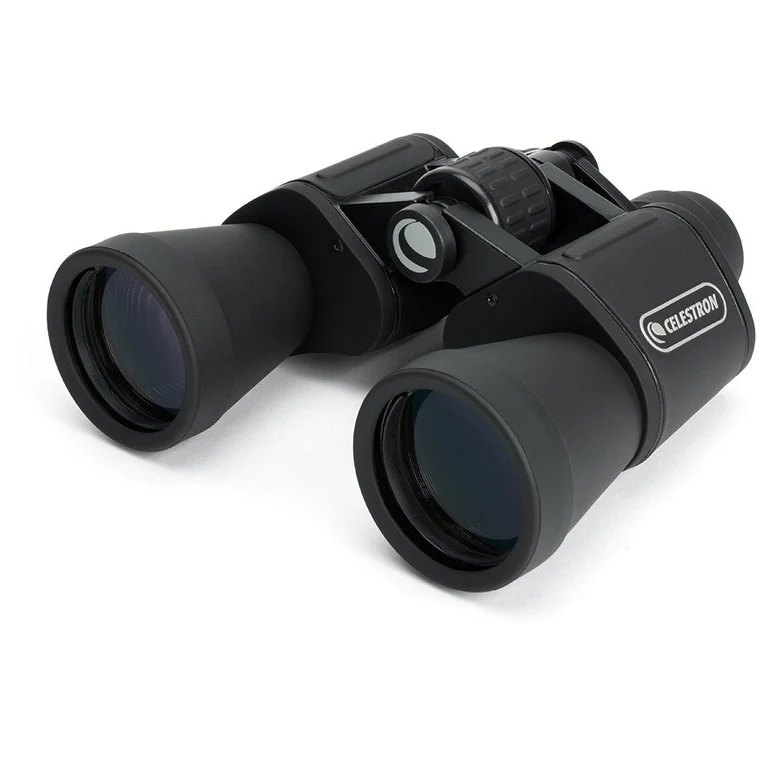 Cheap
Fairly wide field
Lightweight
The Celestron UpClose G2 10×50 binoculars are quite similar to the Cometron 7x50s, with the primary difference being the 10x magnification, which naturally enhances contrast in light-polluted skies. However, there inevitably come compromises in quality due to these binoculars' low price, such as vignetting of the aperture due to the use of low-cost BK-7 prisms and basic, less efficient coatings on the optics. Additionally, these binoculars lack significant water resistance, and the eyepieces can occasionally tilt if you press your head into them too forcefully.
What we don't like:
Cheap, undersized BK7 prisms and simple coatings reduce performance significantly
Annoying issues with eyepieces shifting around when used
Generally low build quality
$50-$75 – Best Wide-Field – SVBONY SV206 10×50
The SVBONY SV206 10x50s aren't perfect, but for a budget binocular, they certainly have some nice features.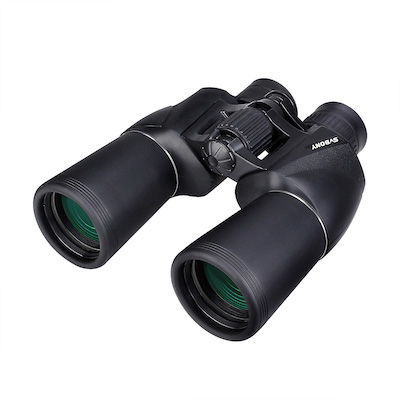 BaK4 prisms and fairly good optical quality
Very wide field of view
Lightweight
The SVBONY SV206 10x50s have a wide 7.5-degree true field, and use BAK-4 prisms, allowing the full aperture to be utilized unlike the cheaper Celestron UpClose G2 and similar 10x50s with BK-7 prisms. The eye relief is a fair bit shorter than the stated 23mm – probably more like 18mm, the edges of the field of view are rather distorted, and you're certainly getting what you pay for, but the performance of these binoculars is fairly good.
What we don't like:
Sharpness drops off towards field of view edges
Cheap build quality
Short eye relief
$75-$125 – Best Value – Bushnell Legacy WP 10×50
The Bushnell Legacy WP 10x50s are a high-quality and durable pair of 10x50s and probably the best compromise between performance, durability, and cost among our picks.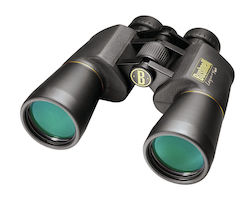 BaK4 prisms
Sharp optics
Waterproof, rubberized body
Comfortable twist-up eyecups and nice leather case
The Bushnell Legacy WP 10×50 binoculars boast BAK-4 glass prisms, full waterproofing, fog-resistant lenses, and multi-coated glass surfaces for enhanced light transmission. They offer a true field of view of 6.5 degrees and a broad apparent field of 65 degrees. The eyepieces provide 20mm of eye relief and feature twist-up eyecups, while the eyepiece caps remain attached to the neck strap when removed. The Orion UltraView 10x50s are identical to the Legacy WP 10×50 in every way but are often sold at a higher price. These are some of the author's favorite binoculars, and for good reason.
What we don't like:
A wider field of view would be nice
$125-$175 – Best Performance – Nikon Aculon 10×50
The Nikon Aculon 10x50s are one of the top binoculars for both astronomy and general purposes for good reasons – superb optics, build quality, and overall comfort.
BaK4 prisms
Great optics
Waterproof, rubberized body
Comfortable twist-up eyecups
The Nikon Aculon 10x50s are very similar to the Bushnell Legacy WP/Orion UltraView 10x50s, and feature basically the same performance, twist-up eyecups, and 6.5-degree field, but the body is textured a little differently with less slippery rubber, with a more comfortable grip. The front caps are also able to be attached to the neck strap like the rear caps, which is not the case with cheaper binoculars, including the Bushnell or Orion models. However, the case isn't quite as fancy, being made of cheap fabric instead of leather or faux leather.
What we don't like:
Not the widest possible field of view
Rather cheap carrying case
$125-$200 – Most Durable – Nikon Action Extreme 10×50
The Nikon Action Extreme 10x50s are a rugged, if perhaps overkill for astronomy, pair of 10x50s.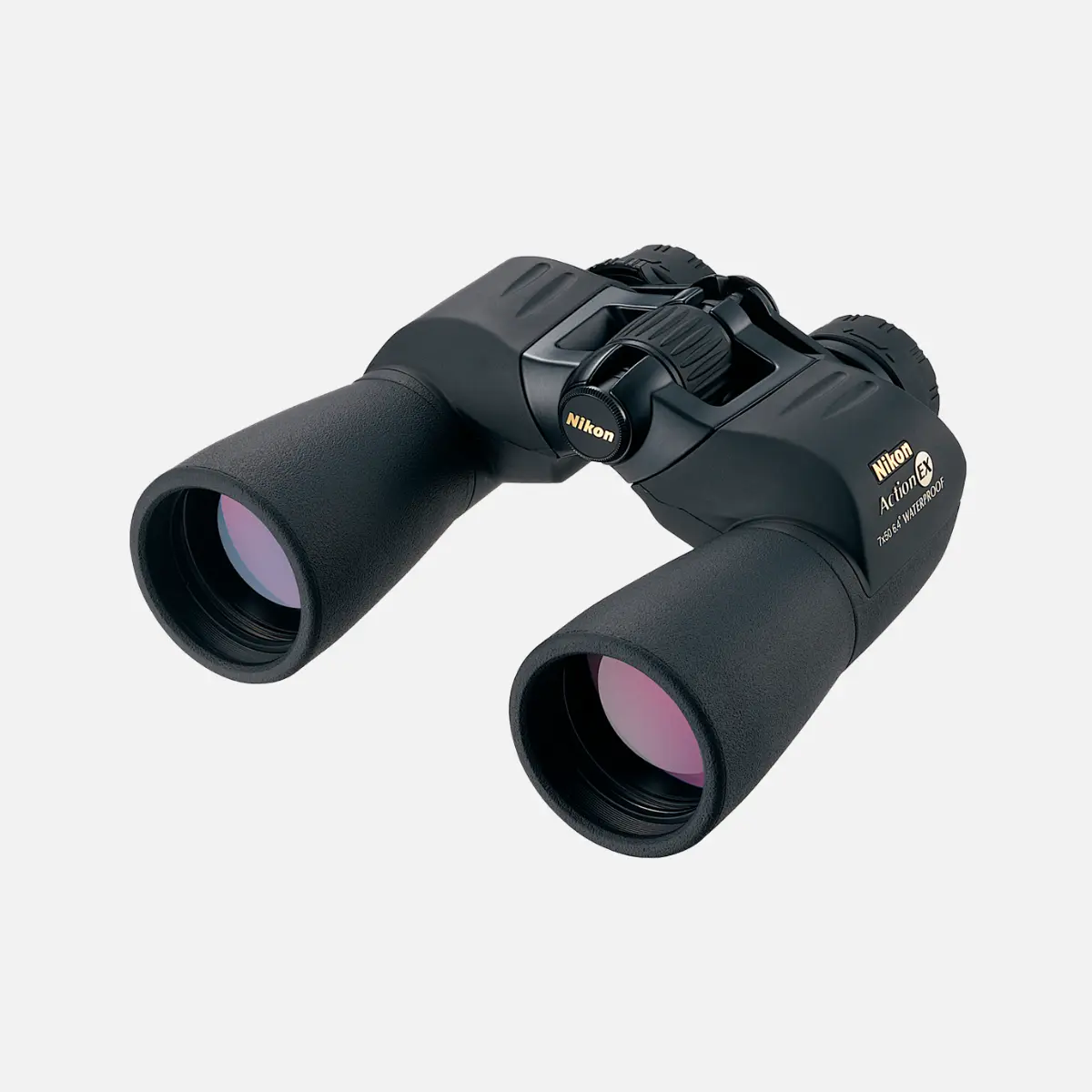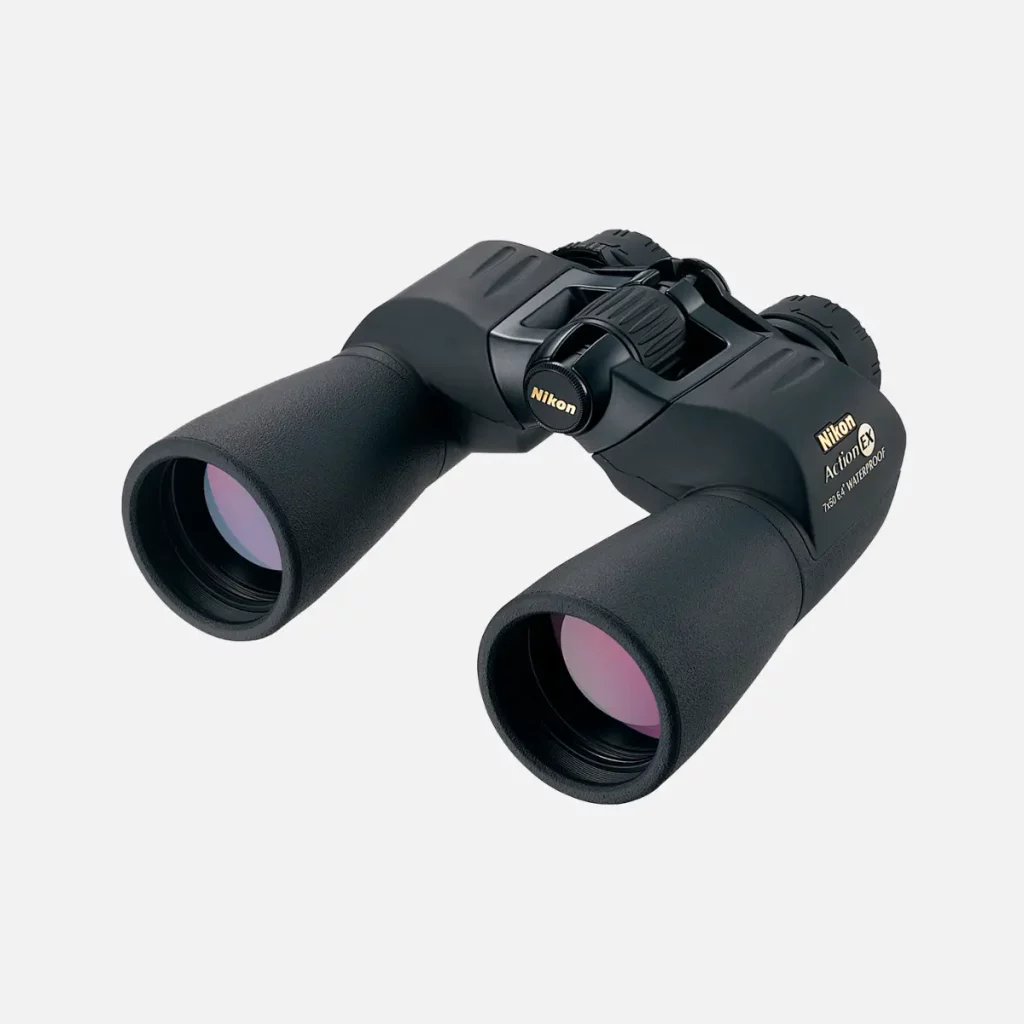 BaK4 prisms
Very good optics
Waterproofed polycarbonate body, a bit more durable than the usual
Comfortable twist-up eyecups
The Nikon Action Extreme 10x50s are identical to the Aculon 10x50s in optics, features, specs, and performance. The only difference is that these binoculars feature a polycarbonate body that is easy to hold and offers more protection against accidental drops compared to a standard rubber-coated housing, but they're actually heavier than the Aculon 10x50s.
While you can certainly spend more on 50mm binoculars, for astronomical use most of the features at price ranges above that of the Action Extreme 10x50s are irrelevant, and many premium binoculars have a narrower field of view. Your money is better spent on a good mount/tripod or monopod, or, alternatively, on larger aperture binoculars or a telescope.
What we don't like:
Kind of expensive
Rather cheap carrying case
Not really any better than cheaper 10x50s other than durability