The NexStar line by Celestron telescopes are some of the most classic and influential scopes to astronomers worldwide, as a stepping stone into more advanced visual observing with a Goto mount. 
The NexStar line of telescopes are made for astronomers with any level of experience and are simple enough for everyone to use while still having advanced features for advanced astronomers.
The NexStar Evolution line of telescopes are all in one systems, meaning that you can use the telescope as one unit out of the box. 
In this review, I will go over the specs of the telescope, the specs of the mount, and discuss the quality of the telescope. Of course, I will also be answering the question of whether this telescope is a good purchase.
*Rankings and ratings are calculated by comparing all telescopes on the same price range, in this case, $1000 to $1500.
What's a NexStar Evolution?
The NexStar Evolution is a type of all-in-one telescope, which is a telescope that includes a mount and tripod, so you can start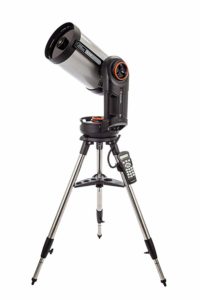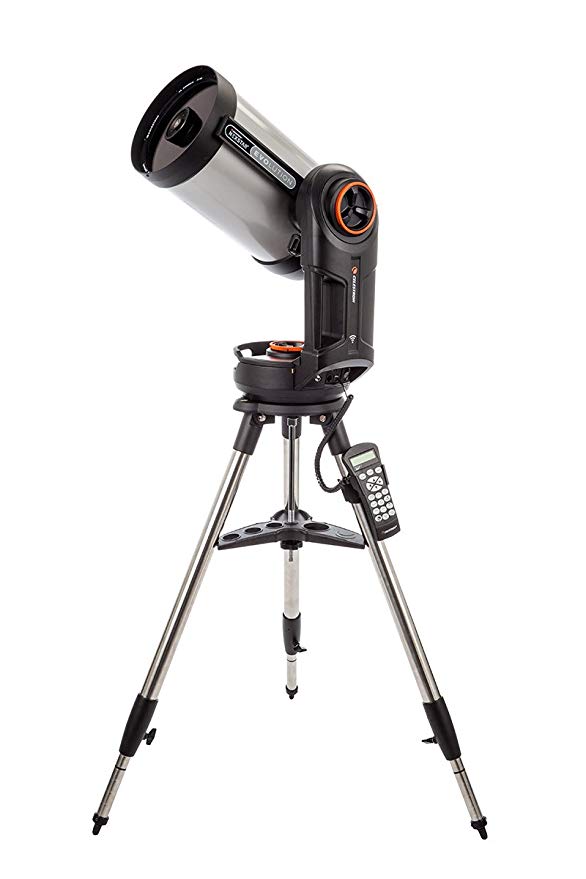 observing straight after you buy the telescope. With other telescopes, especially Goto telescopes, they are usually only a mount, not including the telescope. The mount is what the telescope sits on, and you would have to buy a telescope separately. This can be good or bad, as it means that the telescope and mount are built for the specific purpose, but you might face great difficulty when trying to change the telescope that sits on the mount due to size differences.
The NexStar is in my opinion meant for use by visual astronomers, as the mount is an Altitude-Azimuth (Alt/Az), you will most likely have a difficult time trying to take images with it due to the effects of field rotation. For visual use, Alt-Az telescopes are favored because of their ease of use, and simple directional pointing. The Alt-Az type mount also does not require polar alignment and only requires 3-star alignment to be able to use the telescope, slew, and track.
The NexStar Evolution 8 is a Schmidt-Cassegrain style telescope that is sat upon an Alt-Az mount as discussed before. It is important to know what you are getting into before you buy a telescope, especially when it comes to weight and aperture, so here is a list of some of the specifications of this combo.
The Telescope is a Schmidt-Cassegrain design. This is possibly the most common telescope design out there, as it is quite easy to manufacture. The SCT telescope uses a corrector plate in the front, an extremely fast f/2 primary, and a convex secondary mirror. This combination produces round stars. The advantage of an SCT telescope is that is extremely short thanks to the fast primary mirror, but the actual focal ratio is f/10 after reflecting off of the secondary mirror.

The Evolution 8 is as the name suggests an 8" or 200mm telescope. This is an ideal size for beginning astronomers or those who want something portable yet with a decent aperture. 8 inches is not likely to reveal great detail on dimmer objects, so this telescope is more suited to nebulae, star cluster, planets, etc which are all relatively bright objects.

The telescope has a focal ratio of f/10, making the focal length 2000mm. This is a very long FL for such a small telescope and is a great feature for planetary observing. This can make it tricky at times for widefield observing, as the long focal ratio produces a very narrow field, as such you require a low magnification eyepiece to go with the telescope.

The combined telescope and mount weigh 18.2 kilograms or 40 lbs. This, unfortunately, is quite heavy, as similar (non-goto) setups weigh far less. The mount makes up the bulk of the weight, but the telescope is detachable to make transport of the mount easier. The system as a whole can fit into a relatively small space as well, unlike other 8-inch Dobsonians. This makes this scope fairly easy to put in the car and take to your observing site.
The included features and accessories
As the name of the telescope suggests, the NexStar Evolution is an evolution from the older line of NexStar SE telescopes. This telescope, in my opinion, includes some amazing features that bring the computerized telescopes into the modern world, that astronomers have pretty much not seen before. Here are some of the great new features, and included accessories.
The mount features built-in wifi. This is one of the only all in one telescope systems to be able to be slewed from wifi WITHOUT an adaptor! What this means is that you will have an incredibly easy time being able to connect to the mount without any troubles or messing around with adaptors or complicated software. You can control the mount from any mobile device that has wifi from Celestron's app, SkyPortal. SkyPortal is based on the awesome SkySafari app, which I highly recommend, and as such it includes 100,000 targets, plus the ability to slew to any point in the sky, while also being tied in with the excellent planetarium software.

The mount includes a battery inside, which means there is no need for you to buy a typically very expensive external battery, and what's even better is that the battery lasts for up to 10 hours, which is plenty of time to cover any observing session. The battery also can charge USB devices, which can be useful if your device would not last a whole night.

The telescope includes two Plossl eyepieces, a 40mm, and a 12.5mm. These are decent, but being included eyepieces they are not of great quality. Being Plossls, they have a small apparent field of view, which means you will only see a small circle when looking through the eyepiece. Eyepieces with a larger field of view are typically more immersive, as the area filled with light is larger and takes up more of your sight. The included eyepieces may be able to get you started observing, but you would most likely want to upgrade fairly soon after you purchase the scope.
The Celestron line of Alt-Az telescopes have practically been perfected with how many telescopes Celestron has made, and that also means that the user experience is excellent. With the NexStar Evo 8, you are given the option of a hand controller but are also able to use the Sky Portal app, which is more intuitive in my opinion. The mount uses the Nexstar+ hand controller, which is in my opinion superior to the Skywatcher/Orion alternatives as it is easier to use.
The Nexstar+ hand controller includes over 40,000 objects in its database, an internal time clock which means that you do not have to enter the time and date every time you start up the mount if you choose to enable it. The pointing accuracy of the mount after a 3-star alignment is also excellent. The controller includes 9 slew rates for intricate and accurate slewing and pointing which means you can go from rate 9, which moves the mount several degrees per second to 1, moving at half the speed of the stars.
What is most likely more interesting is the included app, from which you control the mount. The app is as said before based on the Sky Safari software, which is what I use for my observing sessions. The mount, being an Alt-Az mount only needs to be roughly leveled. No polar alignment is necessary! The mount "finds" its position once you do a 3-star alignment from the app, which is fairly easy. You just have to center the star in the field of view, as the app slews to the star for you. After you align, you are pretty much ready to observe! All you have to do is click or search for the target you would like to go to, and the mount goes there all on its own. It is pretty spectacular if you ask me!
Now, what I have said about the mount may sound excellent and like I have a very high opinion of this scope; but the truth is I am not a fan. In my opinion, the telescope is too good to be true, and you may realize that when you see the price tag!
This telescope is EXPENSIVE – you are paying FAR more than pretty much any other 8-inch telescope on the market bar high-quality imaging scopes. In my opinion, this telescope simply does not live up to the expectations of the massive price tag. Some quality deficits will most likely make you question the price tag, and some features are missing from this very expensive telescope that you would find on even cheaper telescopes. Here is a list of some of the issues that I have with this mount.
The telescope has a fairly small 8" aperture. There is not much that you can do about this but buy another telescope, but at 8 inches aperture you are somewhat limited to brighter targets. With a focal ratio of f/10, you also face the problem of a very long focal length for the aperture of 8 inches – you may quickly find the magnification limit.

Celestron's modern optics manufacturing is subpar, to say the least. Celestron's optics used to be excellent around the '80s, but now it is a commonly known fact amongst astronomers that SCTs by Celestron have truly hit or miss qualities. At worst the images may be mushy at any power, and at best they would be practically perfect, but you will likely have optics that won't match premium telescopes, and specify around the "Diffraction Limit", where high magnification views start to break down.

The Telescope only accepts 1.25-inch eyepieces – this can be a huge issue for many astronomers that have a set of eyepieces and are used to using the large 2" format eyepieces. Typically 1.25" eyepieces are light, but unfortunately, are restrictive in apparent field of view. You have to buy a separate adaptor for 2-inch eyepieces which is a major annoyance and is unexpected at a premium price point. The eyepieces included are also hardly any good for the overall cost of the telescope, meaning that you will probably have to buy your own adding to the already high price point of the system.
Looking For a Better Option?
Celestron NexStar Evolution 8 is our most recommended telescope for someone with a budget between $1000 and $1500. 
If you have a flexible budget, you may choose to increase your budget and pick the best from our $1500 to $2000 telescopes' category.
In conclusion, I believe that the Celestron NexStar Evolution 8 is a fairly interesting telescope that includes great features to make using the telescope easy. The included Alt-Az mount is controllable with a great app, which makes using the mount incredibly intuitive.
It is an all in one telescope, meaning that you should not need to buy anything extra to use this telescope, and for the most part that is true. Unfortunately, all these features come at a great cost which arguably inflates the price point of the telescope unnecessarily. When you combine the price with spotty quality on the optics side of things, it makes this telescope a hard sell. 
Celestron NexStar Evolution 8 Awards
Based on positive ranking from our team of experts and telescope owners, the Celestron NexStar Evolution 8 has earned the following awards in our buyer's guides.