The Optical Tube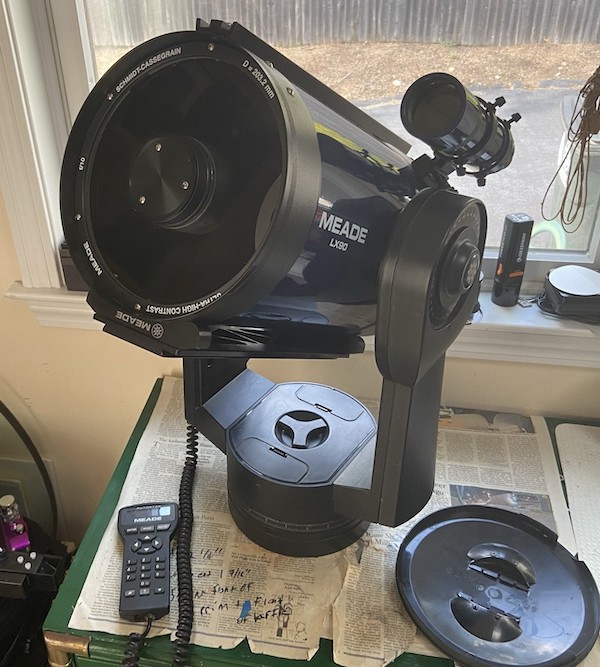 The Meade 8" LX90 ACF is an 8" (203mm) f/10 aplanatic Schmidt-Cassegrain telescope (SCT) with a focal length of 2032mm, identical to the Celestron C8 XLT in terms of specs and size. It includes a spherical f/2 primary mirror and a convex aspheric secondary mirror that "folds" the long focal length into its stubby tube, while its Schmidt corrector eliminates the otherwise severe spherical aberration from the primary mirror. The ACF design tweaks the curvature of both mirrors to reduce coma and field curvature near the edge compared to a standard SCT; however, it falls short when compared to Celestron's EdgeHD, which adds additional lenses for an even flatter field on top of other performance-enhancing features like cooling vents and mirror locks.
When the 8″ LX90 ACF is collimated properly, it provides great views of the Moon, planets, and many smaller deep-sky objects; however, its long 2032mm focal length reduces the field of view, and even when the scope is paired with a 2" eyepiece or f/6.3 focal reducer, you are limited to a true field of view no more than about 1.3 degrees across (or about 2.5 times the angular size of the full Moon). For comparison, a typical 8" or 10" Dobsonian is capable of reaching a field of well over 2 degrees.
Collimation of the 8" LX90 ACF can be adjusted by three small screws at the front of the telescope, while focusing occurs with a knob on the rear, which moves the primary mirror along an internal rod—this changes both mirrors' spacing and focal plane location. Your diagonal/eyepiece or camera adapter attaches to the back of the telescope with standard SCT read threads and remains fixed when the focus is adjusted.
A potential issue when focusing any Schmidt-Cassegrain telescope or other instrument with a moving-mirror focuser, including the 8" LX90 ACF, is "image shift." This term describes a phenomenon where wobble or any out-of-square alignment of the focusing rod causes the view to appear to bounce around as you turn the telescope's focus knob; likewise, "mirror flop" (wherein sagging of the focusing rod causes longer exposure astrophotos to become out-of-focus and often trailed) can also occur and wreck long-exposure astrophotos. Some more expensive Schmidt-Cassegrain telescopes, such as some of the other ACF optical tubes from Meade and Celestron's EdgeHD design, have mirror locks that help alleviate these issues and their effects on imaging; however, this feature is not found in any of the LX90 ACF models.
Accessories
The 8" LX90 ACF is sold with a basic set of accessories; at this high price, it is assumed that most users will buy extra items or already own them. The supplied kit includes a 9×50 finderscope, a 1.25" visual back, a 1.25" prism star diagonal, and a 1.25" 26mm Plossl eyepiece for 78x magnification with the telescope when it is used at its native f/10. It works fine, though the typical 52-degree apparent field of view can seem a little narrow, and it does not max out the possible field of view achievable with a 1.25" ocular.
The 9×50 finder has crosshairs and a 6° field of view (upside down), while its 50mm of aperture allows you to see stars and even bright deep-sky objects a few magnitudes fainter than with your naked eye alone—overkill for a GoTo telescope but convenient nonetheless. The finder attaches to Meade/Explore Scientific's unusual finder shoe rather than a more standard Synta/Vixen-style base.
Mount
The 8" LX90 ACF is equipped with an alt-azimuth GoTo fork mount that has adjustable clutches, however, without provisions for fine adjustment or the ability to manually aim with the scope powered on, its manual aiming capabilities are rendered useless. To switch out the 8" ACF optical tube for use on another mount, it must be unscrewed from the LX90 and bolted to a dovetail plate, which can be time-consuming and renders the two practically permanently attached to each other for all intents and purposes.
When dismantled, the 8" LX90 ACF consists of the tripod, accessory tray, and scope/forks combination. You just assemble/level the tripod, place the scope atop, and attach the tray; then it's time for alignment. The 8" LX90 ACF features numerous alignment options, but for most purposes, a 2- or 3-star alignment is the most accurate and convenient option. The 8" LX90 ACF comes with the Meade AudioStar controller, which has a rather simple (and arguably ugly) red LED display but can be used to output audio information about what the scope is pointed at or doing.  Users can also control the LX90 via their PC through a serial port adapter or by purchasing a WiFi adapter and using an app such as SkySafari.
Power is provided to the 8" LX90 ACF by an internal compartment for eight C batteries, or the provided AC cord. You can also run it off a suitable DC power supply. Leaving batteries in the compartment would be a good idea even if you do opt to run the LX90 off external power, as the batteries will provide backup if power is disconnected, avoiding the need to perform an alignment all over again.
Although the LX90 mount's built-in GPS unit automatically supplies location, date, and time information when setting up, which makes matters much simpler, it isn't especially useful for actual alignment or use of the telescope. Should it fail, not much would be lost apart from time wasted during setup.
Should I buy a Used Meade 8" LX90 ACF?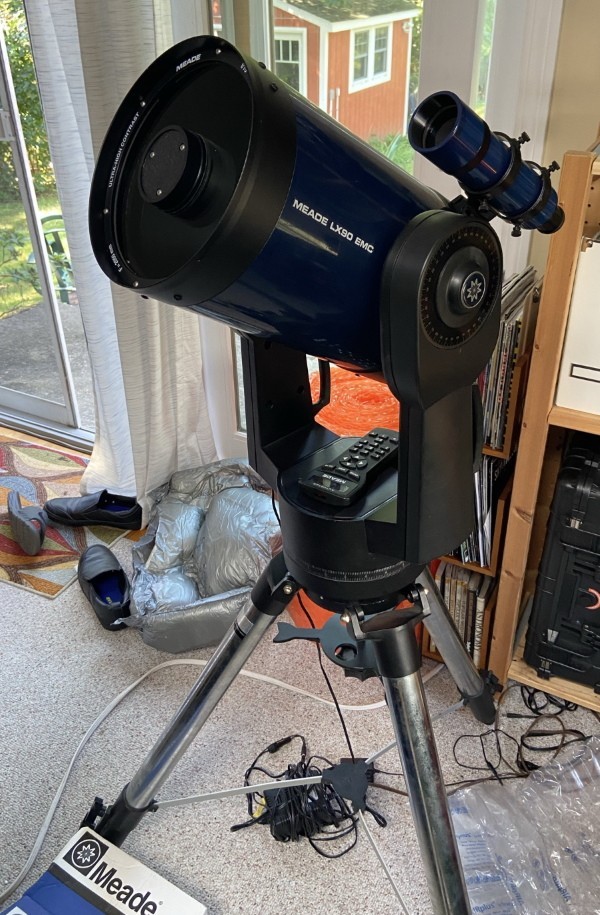 The Meade 8" LX90 is a decent telescope, and used ones come up at low prices quite frequently. The older EMC version lacks the gimmicky AudioStar, the unnecessary ACF optics, and sometimes the GPS unit, but for visual observation and planetary imaging, you'd be hard-pressed to notice any difference at all between the two variants. As always, remember that any damage to the optics requires replacing the whole set, so be sure to check that the corrector is undamaged and the mirrors are clean and reflective, as well as testing to make sure that the GoTo and tracking functions of the mount work flawlessly before purchasing.
Alternative Recommendations
The 8" LX90 ACF is far from our top pick in its price range, and numerous telescopes with equal or greater performance are available at lower or similar prices.
Under $1500
$1500-$3000
The Sky-Watcher 12″ Flextube Collapsible Dobsonian offers a convenient collapsible tube for storage/transport with the performance that can be expected of a humongous 12" instrument. A GoTo version with seamless manual aiming capabilities and Wi-Fi operability is also offered, though it is significantly heavier and harder to transport as well as more expensive than the manual model.
The Sky-Watcher 10″ Flextube GoTo Collapsible Dobsonian offers the same seamless GoTo and manual control options as well as the built-in WiFi adapter of the other Sky-Watcher GoTo Dobsonians but remains fairly lightweight and compact, partly thanks to its collapsible FlexTube design. As with any 10" Dobsonian, you get brighter and sharper views than the 8" LX90 ACF can achieve along with the bonuses of easy manual aiming, no tripod to worry about and a wider achievable true field of view.
The Celestron NexStar Evolution 8" duplicates many of the features of the 8" LX90 ACF but with a superior mount which uses a universal Vixen-style dovetail saddle, allowing you to detach the optical tube and swap it out for a different mount, a built-in lithium battery, and the ability to be controlled with either the included hand controller or your smartphone. You also get a pair of Plossl eyepieces to get started. The deluxe EdgeHD/StarSense variant adds Celestron's superior EdgeHD optical configuration and the StarSense AutoAlign for an even more pleasing observing experience, albeit at a significantly higher cost.
The Celestron Advanced VX 9.25″ Schmidt-Cassegrain GoTo package includes the versatile and easily transportable Advanced VX German equatorial mount that can be used to accommodate deep-sky imaging with smaller optical tubes or planetary imaging with the C9.25 optical tube, which itself delivers slightly greater light-gathering and resolving power compared to an 8" Schmidt-Cassegrain like the LX90 ACF.
Aftermarket Accessory Recommendations
As with almost any telescope, you'll want to set aside a bit of extra cash to purchase additional eyepieces and other accessories for the 8" LX90 ACF. A dew shield is practically mandatory to protect the corrector plate from condensation, and it also reduces glare and stray light inside the telescope as well as protecting it from pollen, dust, dirt, and debris blowing in the air.
In addition, buying a 2" dielectric star diagonal such as the Apertura screw-on unit will allow for more options with the telescope. For example, with the 2" 38mm Apertura SWA eyepiece, you can get 53x magnification as well as a 1.3-degree true field of view, or about the widest possible true field that the 8" LX90 ACF can achieve. A 21mm Baader Hyperion (97x) or Explore Scientific 18mm 82-degree (113x) makes for a good medium-power ocular, while additional shorter focal length eyepieces such as an Explore Scientific 14mm 82-degree (145x) or Baader 13mm Hyperion (156x) are good investments too. To max out your magnification under typical seeing conditions, we'd recommend a 9mm "goldline" or "redline" eyepiece (226x) and/or an Explore Scientific 8.5mm 82-degree (239x) or 6.5mm 82-degree (313x). The 8" LX90 ACF can handle up to 400x magnification under steady skies, but typical seeing conditions will often limit you to 300x or even less than 200x. 
The f/10 focal ratio of this telescope will allow you to get sharp images no matter what optical design or eyepiece line you choose. A Barlow lens may be a good idea in place of short focal-length eyepieces if you plan on doing planetary imaging, for which a Barlow is necessary.
For stargazing under light-polluted skies, we suggest investing in a good nebula filter, with our top pick being the Orion UltraBlock UHC (ultra-high-contrast) filter. This filter won't make the effects of light pollution disappear, and only works on a handful of objects, but it will enhance the contrast on nebulae like Orion or the Lagoon so that they can be seen better. The improvement is visible even under dark skies. The 2" model will work with any 1.25" eyepieces in a 2" diagonal by screwing onto your 2" to 1.25" adapter.
Lastly, some sort of power supply, such as the Celestron PowerTank Lithium, is recommended for running the 8" LX90 ACF if you don't have access to a wall outlet and don't want to go through piles of C batteries to use the telescope.
What can you see?
The 8" LX90 ACF provides stunning views of the night sky, even from light-polluted cities and suburbs. Splendid open star clusters such as the Double Cluster in Cassiopeia, the Wild Ducks (M11) in Scutum, and the Pleiades (M45) in Taurus can all fit in its field of view if you use an f/6.3 focal reducer or wide-angle 2" eyepieces. Additionally, bright globular star clusters like M13 will be visible under most conditions, and usually resolve into individual stars at high power, while many double stars can also be split with this telescope. Bright nebulae like Orion (M42) and the Lagoon (M8) look decent under light-polluted skies, and a UHC filter enhances the view, but the best sights are under dark skies far away from sources of light pollution. Planetary nebulae such as the Ring (M57) or the Cat's Eye appear as tiny dots with a variety of different colors ranging from blue to gray, green, and even yellowish, and some reveal their central white dwarf stellar remnants too.
Dark skies significantly expand the deep-sky viewing capabilities of any telescope, including the 8" LX90 ACF. Nebulae appear significantly more detailed, globular star clusters are easier to resolve, and open clusters have more sparkle to them. Galaxies like M31, M64, M65, and M82 appear with their dramatic dust lanes visible, while hints of bridges of gas and spiral arms are visible in some galaxies such as M51 or the Antennae. The Virgo Cluster of galaxies appears in the eyepiece as dozens or even hundreds of faint fuzzy dots.
The 8″ LX90 ACF telescope is an ideal choice for viewing Solar System objects. With it, you can easily discern the phases of Mercury and Venus, as well as any dust storms or polar ice caps on Mars. When Mars is at its closest approach to Earth biannually, dark markings on its surface also become visible with this telescope. Jupiter's equatorial cloud belts, festoons, storms, and the Great Red Spot are easy to see, along with its four large moons: Io, Europa, Ganymede, and Callisto, all of which appear as tiny disks when transiting in front of the gas giant and casting shadows behind them on a steady night.  Saturn's stunning rings, including the Cassini Division, can be seen in great detail with the 8" LX90 ACF. You may also catch faint views of some cloud belts on Saturn itself and up to a half dozen of its moons.
The 8" LX90 ACF will allow you to resolve Uranus' disk while one or two of its four largest moons might appear nearby too, although a larger instrument would be recommended if you want to have an easier time spotting them. Neptune appears only as a fuzzy, bluish star-like dot; however, Triton is fairly noticeable beside it, while Pluto is technically visible but challenging even for experienced observers in optimal conditions with only 8" of aperture.
Astrophotography
The 8" LX90 ACF can be converted to an equatorial mount, but this requires the purchase or manufacture of a wedge and precise polar alignment. The LX90's cheap DC servo motors and lack of direct autoguider port connection make for a troublesome setup with less-than-ideal performance compared to a quality stepper-driven German equatorial mount.
We generally don't advise using the 8″ LX90 ACF (or any fork-mounted telescope) for deep-sky astrophotography, as it may not yield the best results. A German equatorial mount is a more suitable and practical choice for beginners, since it offers better tracking/guiding accuracy and can be used with a smaller telescope to start off. An 8″ Schmidt-Cassegrain telescope is also less-than-ideal for beginner deep-sky imagers; it's expensive and has very high requirements for tracking accuracy, making it more likely to provide disappointing results and a frustrating user experience.
Fortunately, planetary astrophotography is much easier with the 8" LX90 ACF: all you need is a Barlow lens (2x or 3x) and a camera like the ZWO ASI224MC. You can achieve outstanding lunar and planetary images without too much time or work, though good seeing conditions and processing are important.