Your equatorial mount is the #1 most important item for astrophotography of deep-sky objects. The mount should always be the most expensive part of your setup. If you can afford nothing but a mount, just get an adapter and put your DSLR or lens on if you can, then upgrade to a scope later. The mount rules all.
Almost all the best astrophotography mounts sold today, apart from a few premium offerings outside the scope of this article, are computerized German equatorial mounts. These astrophotography mounts are the most lightweight, versatile, and inexpensive options available to amateurs.
Not perfect, but a jack-of-all-trades mount that's good enough to start astrophotography with or hold a rather heavy telescope for visual use.
Lightweight, well-made mount perfect for astrophotography.
Heavy-duty mount capable of holding almost any telescope.
Lightweight and advanced mount with decent payload capacity.
Best EQ Mounts For Astrophotography Reviewed
1. Sky-Watcher EQM-35 – Cheapest Choice (Under $1000)
The EQM-35 is a relatively new entry by Sky-Watcher in the world of astrophotography mounts. It's basically an Orion SkyView Pro/Celestron CG-4 mount with motors and GoTo installed.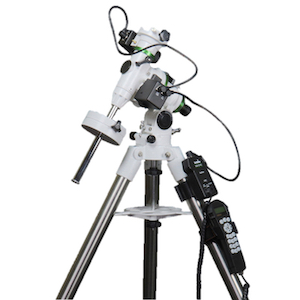 Inexpensive
Same basic features of bigger mounts e.g. autoguiding
Lightweight
The EQM-35's lightweight and low cost make it great for beginning astrophotographers. And just like more expensive equatorial mounts, the EQM-35 is fully compatible with autoguiders, PC control software, and anything else you need for imaging.
Sky-Watcher mysteriously claims a 22-pound weight capacity for the EQM-35, yet also doesn't recommend shoving anything remotely near that heavy onto it. I put a Celestron C8 (about 14 pounds) on the EQM-35 and it was not the steadiest for visual astronomy. So I'd wager that in practice, the EQM-35's weight capacity is closer to 15 pounds for visual use, and under 10 pounds for astrophotography. Thus, you are not going to be putting anything more than a telephoto lens or a small refractor on here for visual use.
If you're not concerned about outgrowing its capacity, the Sky-Watcher EQM-35 is a good choice for a budget astrophotography mount.
2. Celestron Advanced VX – Choice Under $1200
I'm probably going to get a lot of angry astrophotographers in the comments questioning how I dare recommend the "horrid AVX" to beginners, but I'm doing it anyway.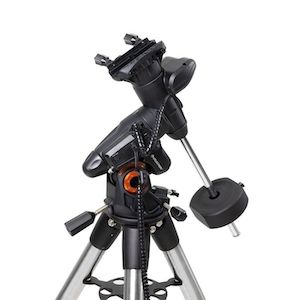 High weight capacity
Easy to use without plugging into a PC
Dual Vixen/Losmandy saddle
Despite all the hatred it seems to receive, the Advanced VX is a workable – if not perfect – mount. It uses servo motors rather than steppers, and the declination axis has no bearings whatsoever – the result is that it has lots of backlash when slewing the mount around the sky and during autoguiding. However, there are plenty of fine images taken with Advanced VX mounts. If you can swing the extra $250 to buy the Sky-Watcher HEQ5 Pro, I would definitely recommend doing so, but there is absolutely no shame in owning or using a VX.
I would not recommend loading anything over about 14 pounds for imaging on the Advanced VX. But for visual use, you can max out its 30-pound capacity with no issues — something to consider if you plan on using the mount with another telescope.
3. Sky-Watcher HEQ5 Pro – Choice Under $1500
This is the mount that I learned astrophotography on, and it is a really solid choice.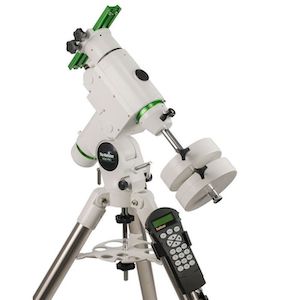 Accurate tracking and guiding
Lightweight and compact
Fairly easy to set up
The Orion Sirius is functionally identical to the HEQ5 Pro—the only difference is that Sky-Watcher has better customer support and there seem to be more users of the HEQ5 Pro version than the Sirius out there.
The HEQ5 Pro has excellent tracking and guiding accuracy – it often guides in under an arc second – and is still quite lightweight and portable. The HEQ5's 1.75" tripod legs are lighter than the Advanced VX, so it does theoretically suffer some minor payload capacity loss, but this is made up for by its increased tracking accuracy and other features. The HEQ5 is compatible with EQMod drivers and a variety of hardware accessories to allow you to get the most out of it and have plenty of room to grow, and there are some who have made the belt and tuning modifications to further improve tracking and guiding accuracy with this mount.
I would recommend putting a scope no heavier than 15 pounds or longer than 1200mm in focal length on the SkyWatcher HEQ5. It struggles with my 6" f/9 Ritchey-Chretien, for instance, which is right around those limits.
4. Sky-Watcher EQ6R Pro – Choice around $2000
The EQ6R pro is a big mount, with a correspondingly big price tag. It'll do virtually anything you want, but be prepared for a cumbersome setup.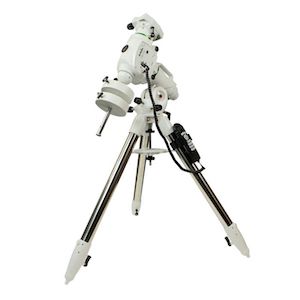 Huge weight capacity
Accurate tracking and guiding
Fairly easy to set up
The original EQ6 mount was more or less a scaled-up copy of the HEQ5. With the EQ6R Pro, however, Sky-Watcher has added a belt drive upgrade (previously only available as a warranty-voiding mod for skilled DIYers), improved polar alignment features, and ergonomic enhancements. The EQ6R's payload capacity is no slouch, either. For visual astronomy, you could load up to 44 pounds, while for astrophotography, you should be able to fit between 20-25 pounds before vibration and other issues start to occur.
Downsides? Weight. The mount head alone weighs 38 pounds, with the tripod coming in at another 16.5 pounds. Maneuvering the mount head onto the tripod is difficult, to say the least, and then there are the counterweights and your scope itself.
While the SkyWatcher EQ6R is certainly portable, it would be nice to store it on a dolly or in a permanent enclosure/observatory if possible.
5. iOptron CEM26EC – Choice above $2000
This mount isn't the beefiest, but it's a breeze to set up and quite efficient at carrying heavier gear.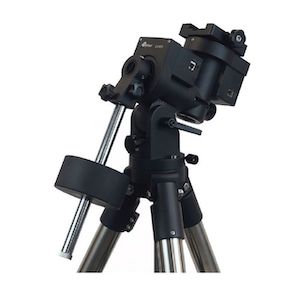 Built in polar alignment camera makes setup a breeze
Center balanced design means more weight capacity despite being a lightweight itself
Built in WiFi
The iOptron CEM26EC isn't the heaviest duty mount out there, but it has a built-in digital polar scope that you'd otherwise have to pay hundreds of dollars for to stick on as an aftermarket unit (such as the QHY PoleMaster). It also has built-in WiFi. As such, while capability-wise it's quite similar to the Sky-Watcher HEQ5, the convenience factor is much higher. Additionally, its center balanced design makes it rather lightweight given its payload capacity of 26 lbs.