Have you ever been to an exotic, tropical island and wished you had a telescope to stargaze with on the beach? Or perhaps you've gone aurora-watching in the far northern remote wilderness and would like to take a quick peek at the moon. Maybe you're visiting relatives and would like to give them a taste of the astronomy hobby. Or better still, perhaps you're planning an astronomy-oriented trip to the Atacama Desert of Chile or the Australian outback. Regardless of where you're going, if you'd like to bring a telescope to travel with, here are our picks for the best portable travel telescopes.
Best Travel Telescopes Overview
We'd highly recommend telescope e-retailers like High Point Scientific, especially if your order is worth $500 or more, because you'll get better technical and post-sales support, product range, and deals from online telescope retailers, as well as better assurance that you'll get what you ordered, as we have discussed in our '
Where To Buy Telescopes
' article. Your experience with them would be comparable or superior to that of your typical Amazon purchases.
Best Portable Telescopes For Traveling – Reviewed
1. Cheapest Recommended Travel Telescope: Zhumell Z100 Tabletop Dobsonian
In addition to being the cheapest and most compact telescope on this list, the Zhumell Z100 also offers an extremely wide field of view, rivaled only by binoculars.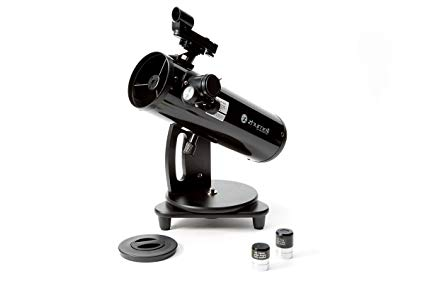 Inexpensive and simple
Extremely wide field of view
Attaches to a photo tripod
The Zhumell Z100 is a 4" f/4 tabletop Dobsonian, making the tube a mere 16" long and the entire scope weighing a mere 6.2 pounds (2.81 kg). It easily fits into a backpack or stows away in luggage, which makes it the best companion for traveling and camping.
The Z100 includes a pair of good-quality 1.25" Kellner eyepieces (providing 24x and 40x, respectively), and its red dot finder is more than adequate for aiming. However, you'll probably need additional eyepieces to get good views of the moon and planets.
The scope's base also sports a ¼ 20 threaded hole to attach to a photo tripod, or you can use the optical tube's supplied Vixen dovetail to attach it directly to a tripod or to a more sophisticated alt-azimuth mount. The Z100's base has a nice built-in carrying handle as well.
Downsides? The Zhumell Z100's optics are not the highest quality, and the primary mirror cannot be collimated without making some modifications. This means that you must treat it with care during transport, as the primary being knocked out of alignment will prevent one from getting usable images. The scope will probably arrive at your doorstep with an at least slightly misaligned primary mirror anyway, so it's really restricted to low-power use – below 60x.
2. Zhumell Z114 – Choice Between $170-$250
The Zhumell Z114 is one of the top telescopes we recommend for beginners. It's a great travel scope as well, thanks to its simplicity, lightweight design, and portability.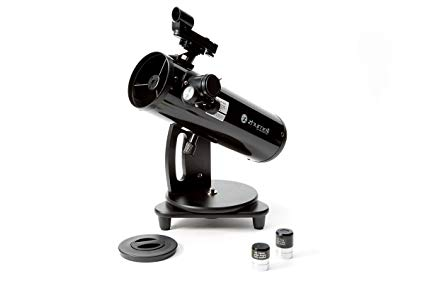 Sharp wide-field as well as planetary views
Easy to use
Stable tabletop mount
The Zhumell Z114 is a 4.5" (114mm) f/4 tabletop Dobsonian – essentially a slightly enlarged Z100. This translates to 25% more light gathering ability, and the high-quality optics (along with the ability to collimate them) in the Z114 means it punches a bit above its weight compared to smaller and cheaper instruments. As with the Z100, you get 1.25"-barrel 17mm and 10mm Kellner eyepieces providing 26x and 45x magnifications respectively, and a red dot finder for aiming.
The Z114 is easy to aim with its tabletop alt-azimuth Dobsonian mount, and it can be slid back in its tube cradle to minimize its physical dimensions, as well as to properly balance the tube and rotate the eyepiece into a comfortable position. Fitting the assembled Z114 in a backpack is a bit tough but can be done; a suitcase is no problem.
3. Sky-Watcher Heritage 130P Tabletop Dobsonian – 1st Choice Between $250-$325
The Sky-Watcher Heritage 130P packs a ton of performance into a portable, inexpensive, and convenient package.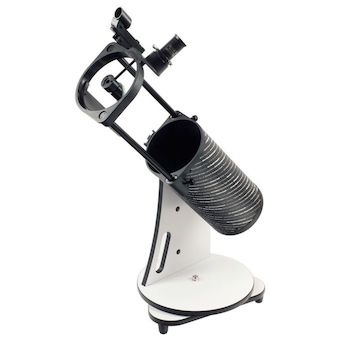 Sharp views and great accessories
A collapsible tube makes storage and transport easier
Good value for the price
Warning: There might be a severe backorder delay for the product.
Sky-Watcher Heritage 130P is a 130mm f/5 tabletop Dobsonian with a special feature—its collapsible tube. The collapsible tube of the 130P shortens its length to a mere 14.5" (37 cm)—about half the length of a solid-tubed comparable instrument such as the Zhumell Z130. This makes the scope lighter and able to fit into a smaller space, such as a backpack, storage shelf, or carry case. This is also why our otherwise highly recommended Zhumell Z130 has been replaced by the Heritage 130P as our portable travel telescope pick.
The only downside is that you will need to make a removable shroud of some sort to wrap around the struts and shield the telescope's optics from stray light, dew, or curious hands.
The optical quality is very good, and you can see a lot of stuff with a 130mm f/5 telescope like the Heritage 130P. 130mm of aperture means you get 30% brighter images than with a 114mm telescope, and 69% brighter than with a 100mm.
The Heritage 130P weighs only 14 lbs (6 kg)—only a bit more than the Zhumell Z114. It comes with two eyepieces (both 1.25"): a 25mm (26x) and a 10mm (65x), both of which are long-eye-relief designs based on the Konig optical layout. A collimation tool is included as well, as is a red dot finder to aim the telescope.

A fully computerized version of the Heritage 130P is available as the Sky-Watcher Virtuoso GTi 130P, which is identical apart from its motorized tracking.
4. Zhumell Z130 – 2nd Choice Between $250-$325
The Zhumell Z130 used to compete with the Meade Lightbridge Mini 130, but the Mini 130 has been discontinued.
The Z130 is comparable to the Sky-Watcher Heritage 130P, but the Z130 has a superior focuser, a closed-tube design, and isn't on backorder as often. That's why we usually recommend the Z130 over the Heritage 130P. But if portability is your primary concern, you're better off with Heritage 130P due to the reduced dimensions of 130P.
The Z130 comes with a tabletop-style Dobsonian mount, but unlike most other tabletop Dobs, it uses tube rings in addition to the Vixen dovetail. This allows you to slide the scope for precise balancing and rotate it to a comfortable position. As with the Z100, the Z130 has a nice built-in carry handle in the base.
The Z130 comes with 25mm (26x) and 10mm (65x) Kellner eyepieces, which work well enough with this telescope. There's also an eyepiece rack included for convenience. The red-dot finder is not permanently attached but instead has a Vixen/Synta-style shoe that allows you to easily remove it and swap it with a different finderscope at your leisure.
The 21-pound (9.52 kg) weight of the Z100 combined with the larger physical size means that it's getting a little too big for backpacks and needs a very sturdy table to accommodate it. However, the Zhumell Z130 still easily fits in a carry-on bag with plenty of room to spare.
5. Sky-Watcher Heritage 150P Tabletop Dobsonian – 1st Choice Between $300-$450
The Sky-Watcher Heritage 150P may not fit in a backpack, but it's still tremendously portable for its aperture and capabilities.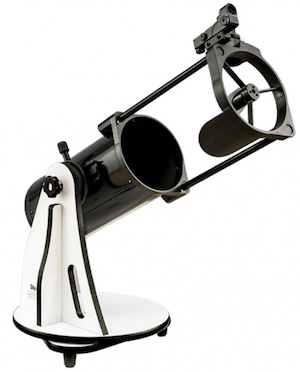 Collapsible tube makes even airline travel feasible despite a 6" aperture
Excellent value for the price
Good balance of aperture and convenience, not just for travel
Warning: There might be a severe backorder delay for the product.
The Heritage 150P is one of the largest tabletop Dobsonians available, and it borrows extensively from the smaller Heritage 130P. The same collapsible tube keeps the scope fairly compact, though the width of the 150P's base means it can be a bit more difficult to find a way to transport it on a plane, for instance. However, it's still very portable and lightweight.
The longer 750mm focal length of the Heritage 150P and its fairly tall, sturdy base mean that you can get away with elevating the 150P on something like a milk crate or even a storage container as opposed to a table or stool, which simplifies finding somewhere to set it.

As with the Heritage 130P, a pair of 1.25" eyepieces (25mm and 10mm again, yielding 30x and 75x respectively), a collimation tool, and a red dot finder are included with the 150P, though you'll want to invest in more eyepieces and construct some kind of shroud for the tube as soon as you can. A GoTo version of the Heritage 150P is also available as the Virtuoso GTi 150P Dobsonian, which is discussed below.
6. Sky-Watcher Virtuoso 90 Catadioptric – 2nd Choice Between $300-$450
The Sky-Watcher Virtuoso 90 won't blow you away with views of "faint fuzzies", but is an extremely convenient and capable instrument for lunar, planetary, and even solar viewing.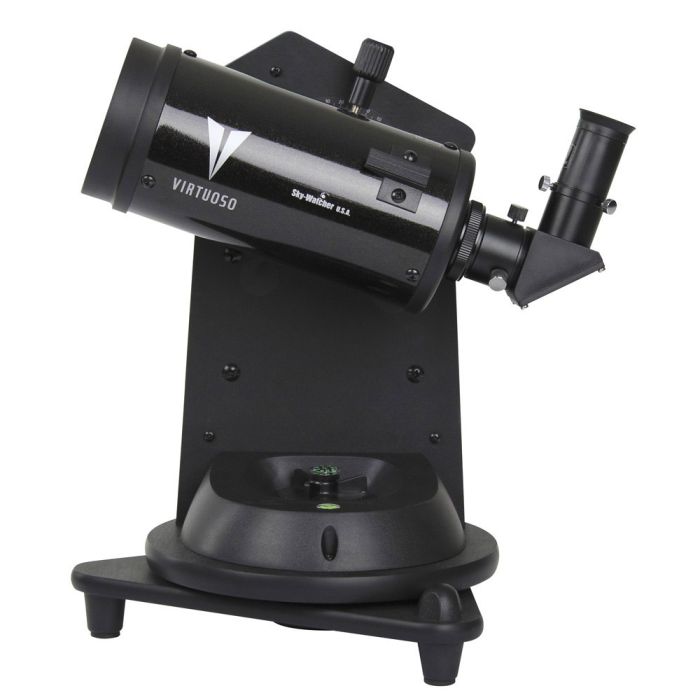 Maksutov-Cassegrain optics provide great views of bright targets
Included solar filter for viewing sunspots safely
Motorized tracking without the hassle of aligning a GoTo mount makes for a quick and convenient setup
The Virtuoso has the same optical tube as many of the 90mm Maksutovs offered by Celestron, Sky-Watcher, and Orion, but on a nice auto-tracking tabletop mount (which can also be attached to a photo tripod). This mount isn't capable of full GoTo without the addition of more hardware, but after being leveled and pointed north, it automatically tracks. A 90mm Maksutov with a 1250mm focal length like the Virtuoso 90 is hardly appropriate for deep-sky viewing anyway, and aiming the Virtuoso at the Moon and planets is hardly something that requires GoTo, so tracking alone is more than adequate.
The Virtuoso 90 provides splendid views of the Moon, planets, and other bright, small targets like double stars thanks to its high-quality Maksutov-Cassegrain optics, and there's also a solar filter included which will allow you to safely and easily view sunspots. A pair of eyepieces—25mm and 10mm 1.25" units yielding 50x and 125x magnification—are included and are really all you need. A 5×24 finder is included for aiming the scope and isn't exactly the highest quality, but it can be thankfully easily replaced.

The Virtuoso's limited field of view and tiny aperture mean it's only suitable for bright targets and simply won't satisfy you on deep-sky objects. Thus, if your goal is to view, say, the southern sky from a tropical island, it probably isn't a good choice (binoculars will be more exciting). However, for a portable telescope to bring to family, friends, or astronomy outreach events to get people excited about the rings of Saturn, the Virtuoso 90 is an excellent choice.
7. Sky-Watcher Virtuoso GTi 150P Dobsonian – 1st Choice Between $450-$600
The Virtuoso GTi 150P adds even more bonus features to the already-great Heritage 150P, and all at a great price.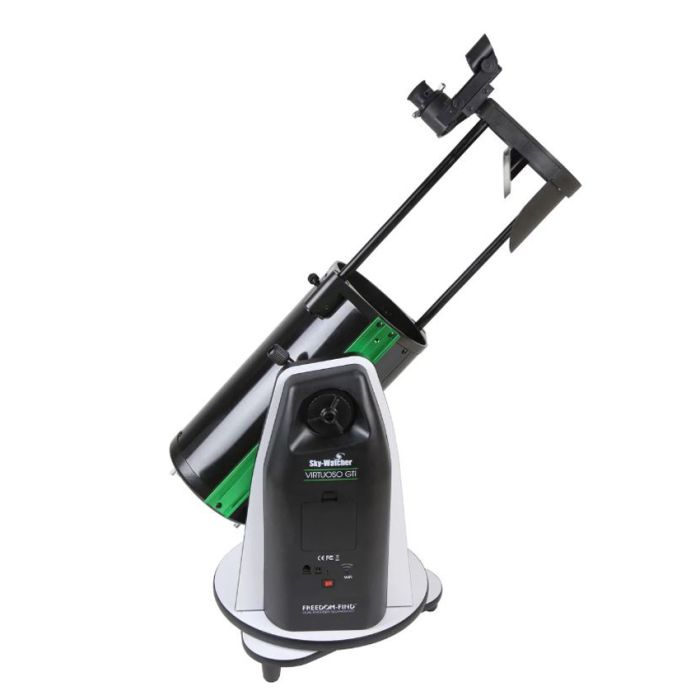 Collapsible tube allows for airline travel and easy storage
Fully motorized GoTo and tracking that can be used or switched off
A great balance of aperture, convenience, and price
The Sky-Watcher Virtuoso GTi 150P uses the same optics, basic construction, and is provided with the same eyepieces and accessories as the standard Heritage 150P. The Virtuoso GTi, however, adds fully motorized tracking and aiming capabilities, either using Sky-Watcher's free SynScan app or a more sophisticated astronomy app like SkySafari. You can also push the scope manually with the GoTo system activated without impairing the alignment thanks to Sky-Watcher's FreedomFind technology; this is not found on many other GoTo telescope mounts. The same 25mm (30x) and 10mm (75x) 1.25" eyepieces are included with a collimation cap and red dot finder.
8. Celestron Astro Fi 102 Mak GoTo – 2nd Choice Between $450-$600
The Celestron Astro Fi 102 isn't the biggest scope on our list, but it's extremely easy to use and low-maintenance too.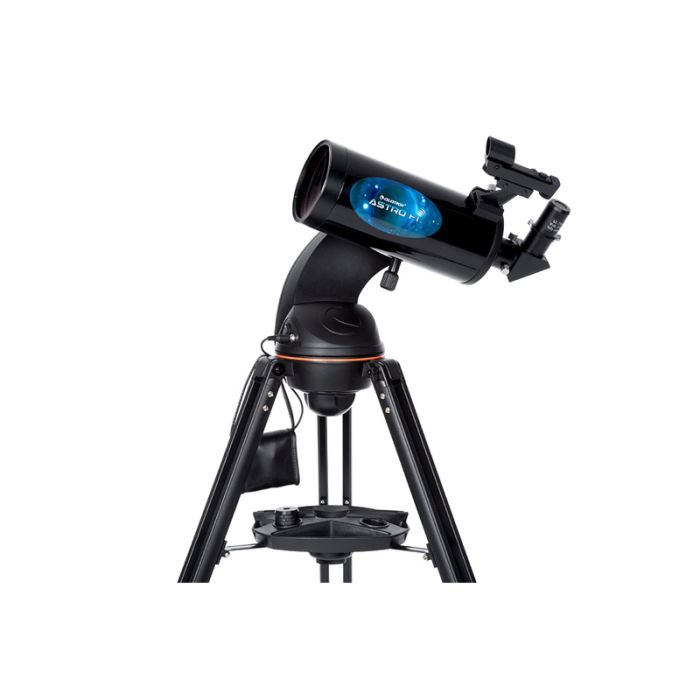 Maksutov-Cassegrain optics give excellent lunar, planetary, and double star views
Full-sized tripod and GoTo mounting
Easy to set up and use
The Celestron Astro Fi 102 is a Maksutov-Cassegrain design, providing a long focal length in a compact tube with no collimation needed – ever – and usually delivering extremely sharp images. The Astro Fi 102 includes a fully motorized GoTo mount which is set up and controlled via your phone or tablet. This is accomplished either with Celestron's free SkyPortal app or the more advanced SkySafari Pro app which gives you access to more targets and features.
Unlike the Sky-Watcher computerized scope/mount offerings, however, you cannot use the Astro-Fi mount manually regardless of whether it is powered up. While the tripod doesn't fit in a backpack, the telescope's optical tube and computerized mount head easily fit in a backpack or small carry case. The Astro-Fi 102 includes two 1.25" Kellner eyepieces – a 25mm yielding 53x and a 10mm providing 133x magnification respectively. These are probably all you need; a 1.25" prism star diagonal and red dot finder are also included.
9. Sky-Watcher 127 mm Skymax AZ-GTi Mak GoTo – 1st Choice Between $600-$1000
The Sky-Watcher 127mm Skymax AZ-GTi isn't our first pick in its price range, but it's still a solid choice for those looking for a travel telescope that's easy to use.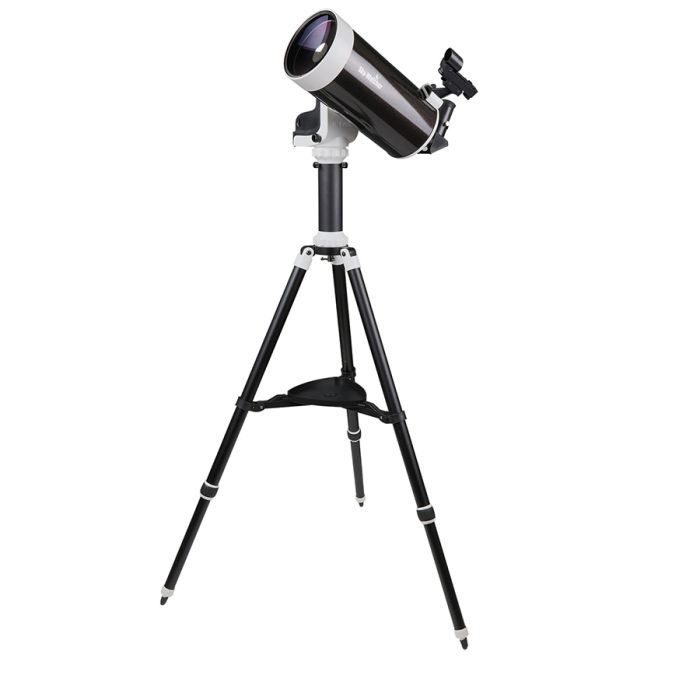 120mm Maksutov-Cassegrain optics provide nice views of Moon, planets, brighter deep-sky optics
Manual or GoTo hybrid mount/tripod fits in luggage with OTA
Lightweight, quick setup/assembly
While not actually a 127mm aperture (Sky-Watcher and Celestron's "127mm" Maksutovs are really stopped down internally to about 120mm in aperture), the 127mm Skymax is a bit more capable than the 102mm Maksutov-Cassegrain models, and the AZ-GTi mount is packed with features. It's a GoTo mount controlled with your phone or tablet, but as with Sky-Watcher's other GTi mounts you can move the scope manually with the mount powered on or off, with no effect on the alignment of the computerized mount thanks to the advanced encoders. The GTi can be converted to an equatorial mount for deep-sky astrophotography too, albeit with a different optical tube attached. You control the GTi mount either with the free SynScan app or a paid but more capable astronomy app like SkySafari Pro.
The 127mm Skymax AZ-GTi includes a 1.25" prism star diagonal, a red dot finder, and two 1.25" "Super" eyepieces – a 25mm unit providing 60x magnification and a 10mm unit providing 150x; these are really the only eyepieces you're likely to need with this telescope.
The 127mm Skymax AZ-GTi is ranked higher than the Celestron NexStar 5SE on our list here than our normal rankings pages as it's not exactly the best beginner scope and has a narrower field of view. However, for portability purposes it beats the 5SE.
9. Celestron NexStar 5SE – 2nd Choice Between $600-$1000
The NexStar 5SE is extremely portable and convenient but delivers enough aperture to keep you entertained, too.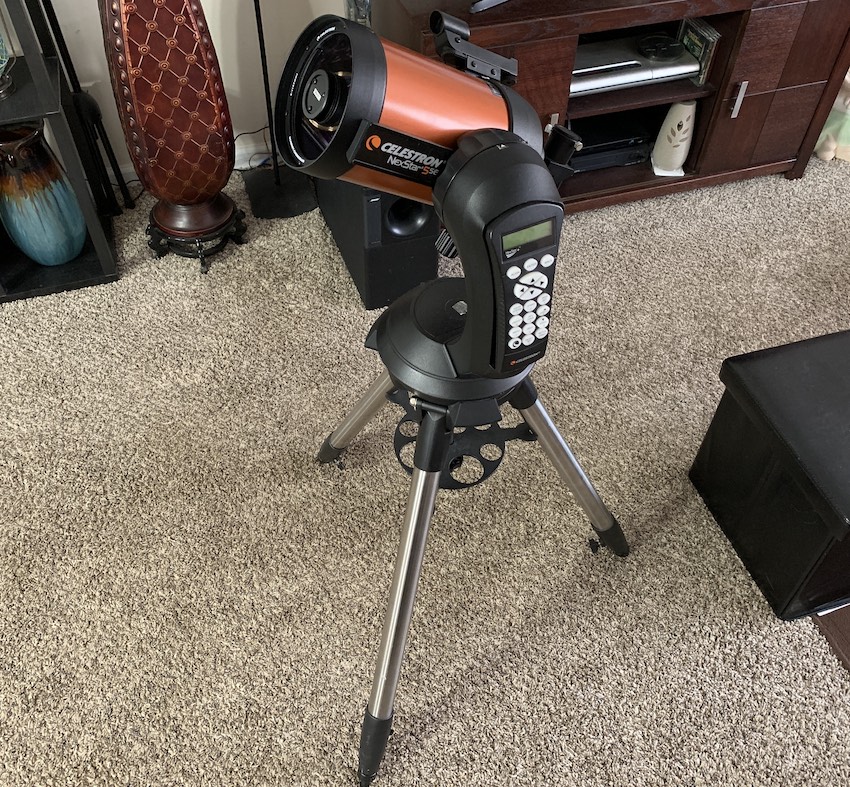 125mm Schmidt-Cassegrain optics ample for lunar, planetary, and deep-sky viewing
Heavy-duty GoTo mount and tripod
Mount head/tube combo fits in carry-on luggage or large backpack
The Celestron NexStar 5SE is a 125mm (5") Schmidt-Cassegrain; it's similar in light gathering ability to the Skymax 127 or a 114mm tabletop reflector. However, the scope boasts an impressively sturdy steel tripod, a solid GoTo mount, and it's able to fit in a backpack or suitcase when disassembled. The only downsides are that the NexStar hand controller is a little primitive and difficult to use compared to an app-based mount, and the telescope includes a single 25mm Plossl eyepiece (50x magnification) with no other accessories besides a basic 1.25" visual back, star diagonal, and red dot finder to get you started.
While you can do planetary astrophotography with the NexStar 5SE, its built-in wedge is useless for deep-sky astrophotography and the scope is not designed to be used with either an f/6.3 focal reducer nor the HyperStar f/2 system which are compatible with all of Celestron's Schmidt-Cassegrain optical tubes. Planetary images will also be a little less sharp compared to the 127mm SkyMax Maksutov or a larger telescope.
The Celestron NexStar 5SE is ranked lower than the 127mm Skymax AZ-GTi in this guide as it's significantly less portable and convenient to set up, though it's a bit more capable.
10. Celestron Nexstar 6SE – Choice Between $1000-$1500
The Celestron NexStar 6SE isn't cheap, but it's quite capable for viewing almost any target and can do astrophotography, too.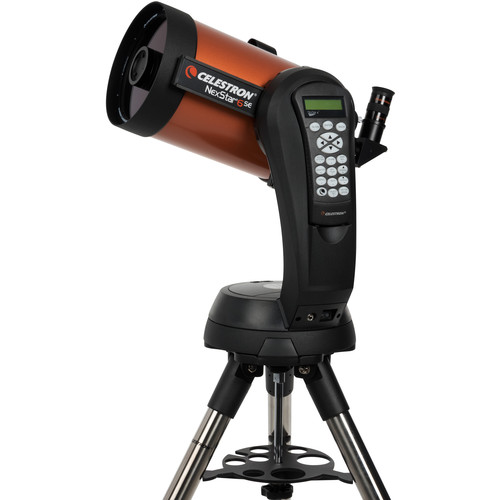 6" Schmidt-Cassegrain optics provide plenty of aperture for all targets
Well-designed, sturdy GoTo mount and tripod
Mount head/tube fits in carry-on luggage
Unlike the smaller NexStar SE models and many of the other GoTo tripod-mounted instruments Celestron sells, the NexStar 6SE actually has enough aperture for the scope's GoTo technology to be a useful utility rather than an inconvenient hindrance, and Celestron's 6" SCTs seem to boast some of the best optics of their already high-quality SCTs, with StarBright XLT full multi-coatings and water-white corrector lens glass. The 6SE can accept many of the various SCT accessories that Celestron and Meade offer, including a 2" star diagonal, an f/6.3 focal reducer, a T-adapter, and more. You can also use the scope for deep-sky astrophotography with a focal reducer or Starizona HyperStar provided you switch the OTA onto an equatorial mount, and the stock mount works great for planetary or lunar astrophotography.
Being a Schmidt-Cassegrain, the 6SE is incredibly compact, with the optical tube only 16" long and weighing 10 pounds/4.53 kg. The entire telescope, with the tripod, weighs only 28.8 pounds/13 kg.
As for downsides? The NexStar 6SE comes with a single eyepiece – a 25mm Plossl giving 60x – so keep in mind that you'll want some money left for more eyepieces. The scope also needs a dew shield, and the f/10 focal ratio means the field of view is rather limited compared to most Dobsonians of similar aperture. And such an expensive telescope can be a little scary to travel with due to the risk of theft or damage.
Celestron sells a carrying case for use with the 6SE, which we would highly recommend buying if you plan on flying with it, or you can put something together yourself out of any good pluck-foam case. The tripod can be checked in luggage, and the scope and mount can be carried on in their case.
Tips on Choosing & Using a Portable Travel Telescope
Flying? Don't Check Your Telescope!
Airline baggage handlers can drop your luggage more than ten feet onto conveyor belts and generally treat it roughly. This is obviously not good for a telescope with fragile glass optics. There is also the possibility of your telescope being stolen if it is recognizable, particularly if you're traveling abroad to remote locations. Thus, you should try to bring as much of your telescope in a carry-on bag with you on the plane as possible—or at least the optical tube, which is the most expensive and most fragile part of your telescope. If you must check your travel telescope, find out if there are any insurance policies or special handling options for it.
If you're taking your telescope to a dark site, you'll probably want to spend most of your time observing deep-sky objects, which necessitates a larger aperture. However, don't buy such a big telescope that you have to ship it ahead to your destination – or worse still, check it in luggage.
The more money you spend, the fewer fragile and inexpensive components your travel telescope will have. In a remote location without access to a hardware store or your backup accessories, this could mean the difference between using your telescope or not.
Flying with a telescope
Flying with a telescope is pretty much bound to be an infuriating, or at least stressful, process. Expect to get stopped in line at security. Always keep some sort of documentation with your telescope in case you're questioned. We also don't recommend checking your optical tube assembly in luggage, as it is very likely it will be dropped and smashed to pieces; mounts and tripods are more resilient and are usually safe in checked baggage, however.
One of the biggest considerations in flying with a telescope is exactly why you're bothering with it in the first place. With the exception of expensive or homemade custom travel Dobsonians, the largest telescope you can fly with is probably no bigger than 6" in aperture. If you want good wide-field views of deep-sky objects in your travels to a dark location, big binoculars are less of a hassle, and if you're going to be traveling to a place specifically for astronomy, it's probably easier to just borrow a telescope from a friend, talk to a local astronomy club, or even rent one at your destination. You could even just buy a used telescope and give it away or sell it before you go home. If you're not traveling specifically for astronomy purposes and just want to have a telescope, bear in mind that flying with it is going to be a pain and require some concessions as to what you bring.