Celestron's ExploraScope 114AZ represents yet another flawed inexpensive scope from Celestron's lineup. Once again a Bird-Jones with poor-quality eyepieces and a rather lacking mount, the only really good thing I can say about this instrument is that it's cheaper than the rest, the mount is better and a little more of the issues can be forgiven as a result…..
*Rankings and ratings are calculated by comparing similar telescopes, in this case, 12 telescopes between $100 and $175.
The ExploraScope 114AZ is a Bird-Jones 114mm f/8.8  – identical to the Celestron AstroMaster 114 and 114LCM. Basically a Newtonian with a spherical primary and a cheap Barlow/corrector lens installed in the focuser, these scopes are very difficult to collimate and even when collimated the images fall short of being sharp. Disturbingly, the ExploraScope manual neither tells one about the existence of collimation, nor how to do it or that the 114AZ needs it.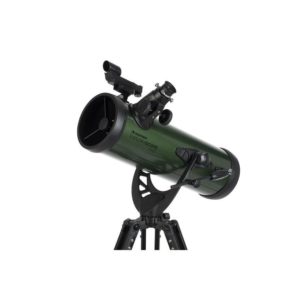 The secondary mirror on the ExploraScope is not collimatable, and the spider only uses 3 vanes, not the usual 4 that's present on most Newtonians. The secondary would rarely need to be collimated anyway, but the lack of adjustments does present a problem. If the secondary mirror needs alignment, you're completely out of luck.
The 3 vanes on the spider are actually arguably an improvement over 4 as they present much dimmer diffraction spikes on stars than a 4-vane would, due to the geometry of the arrangement.
The focuser on the 114AZ is a usable 1.25", nearly entirely plastic rack-and-pinion. It could probably use an additional shim or two on the drawtube as it seems to wobble a little during use, but it's functional as-is and this modification is very cheap and easy to do yourself.
Let's Look At The Accessories
Like the AstroMaster and PowerSeeker Newtonians, the ExploraScope 114AZ comes with a 20mm erecting eyepiece of a Kellner-like design, a 4mm Ramsden eyepiece which is of low quality and provides too much power for the scope to handle, and an outrageously bad 3x Barlow lens made entirely of plastic. Of these, only the 20mm is usable and it is not a great eyepiece – the cheap erecting design and low-quality coatings result in a lot of light loss and dim images as a result, the field of view is quite narrow at maybe 35 degrees or so, and the 50x it provides is a little much for a low-power eyepiece. The eyepiece also results in even fuzzier images than what is already provided by the Bird-Jones optics.
A 32mm or 25mm Plossl would be an order of magnitude better than the 20mm erecting eyepiece, as would a decent Plossl or even Kellner eyepiece for higher magnification. This stupid "erecting" eyepiece design is provided solely for the function of advertising the scope for terrestrial viewing, because Celestron has a habit of marketing their cheap scopes at "nature/science" stores and other places where the consumer's knowledge is basically limited to what the scope says on the box.
The StarPointer red dot included with the ExploraScope is ideal for such an instrument and works well. You can easily detach and reattach it with the two hand knobs that are provided if needed for transport.
Lastly, the ExploraScope is offered with a smartphone adapter which grips your phone and eyepiece and has adjustments to center your phone's camera. You can take some relatively sophisticated lunar photos with these, but the planets are difficult to shoot without a mount with tracking and a CCD/CMOS camera or DSLR would be arguably better for such a task.
The ExploraScope mount is an unusual, all-black alt-azimuth fork design on a lightweight (but sturdy) extruded aluminum tripod. Due to the way these mounts operate and the scopes they are designed for (long refractors) it is rather hard to get the desired fine motion capability with a very short optical tube like the 114AZ, but it does work fine. This mount is certainly a vast improvement in usability over the cheap photo-tripod, EQ1 and "CG-3" mounts supplied with many entry-level Celestron telescopes.
Looking For Better Alternatives?
Zhumell
Z114
Our expert's rating of 4.6
Meade
Infinity 90AZ
Our expert's rating of 4.4
Zhumell
Z100
Our expert's rating of 4.8
As it does command a much lower price than the AstroMaster 114EQ and other Bird-Jones instruments, the ExploraScope 114AZ definitely deserves more of a pass, and I would say it is definitely a usable beginner's telescope, unlike some of its brethren. However, I would still recommend a 4" or 4.5" tabletop Dobsonian or small refractor instead at its price range. Either will have much, much better images and come with far more usable accessories.
It's certainly ironic that Celestron markets this scope as being able to achieve the "brightest, most detailed views, day or night" of any of the ExploraScope line of telescopes. The 80mm refractor marketed under the ExploraScope line almost certainly beats the 114AZ at all of those and has a slightly better low-power eyepiece to boot – all at a lower price tag.