Optical Performance Of Starblast 4.5
The Orion StarBlast is a 4.5ʺ f/4 Newtonian. Originally designed to compete with the sadly-discontinued Edmund Astroscan, the StarBlast 4.5 excels as a wide-field telescope, offering a nearly 4° field of view (that's eight full moons across!), along with a 32 mm Plossl or 24 mm wide-field eyepiece (not included).
Meade's Lightbridge Mini 114 and Zhumell's Z114 are more or less copycats of the StarBlast, and use the same 114 mm f/4 OTA.
Despite being advertised as a telescope designed primarily for wide field, low-magnification usage, the StarBlast 4.5 does provide pretty good views at high magnification. But this is if you can collimate it well, which is not an easy task for a beginner with an f/4 telescope.
The included eyepieces are a cheap 17 and 6 mm Kellner. The 17 mm doesn't go to low enough power to get the most out of the wide field that the StarBlast can offer, and the 6 mm has a tiny eye lens that makes it basically unusable. Neither eyepiece is particularly sharp, the field of view is narrow, they don't include eyeguards, and I'm not even sure if either of them come with a cap.
The scope's focuser is also plastic, which, while annoying, is expected with this price.
In order to get the most out of your StarBlast, you'll need to purchase several eyepieces. You'll need a 32 mm Plossl, a 15 mm gold-line, a 6 mm gold-line, and a Barlow since even a 6 mm eyepiece only provides 76x, which less than half of what this scope is capable of achieving if properly collimated and cooled.
However, by the time you've bought these accessories, you'll have spent enough money to buy a better scope, like a 6ʺ Dobsonian. That being said, a 6ʺ Dob can't offer the wide fields that the StarBlast can.
The StarBlast's included red-dot finder is more than adequate, thanks to its extremely wide field of view.
The simplicity of this design has a caveat. You cannot attach either of its DSLRs and shoot photos. This scope's hardware is not designed for astrophotography.
Reviewing Mount Features
The Orion StarBlast 4.5 comes on a tabletop Dobsonian mount similar to other scopes in its price range.
Orion 10015 StarBlast 4.5 Astro Reflector Telescope
Price – Price not available
Orion Starblast 4.5 Astro's mount has a wider footprint than some competing models, which makes it more steady and less prone to being knocked over.
We earn a commission if you click this link and make a purchase at no additional cost to you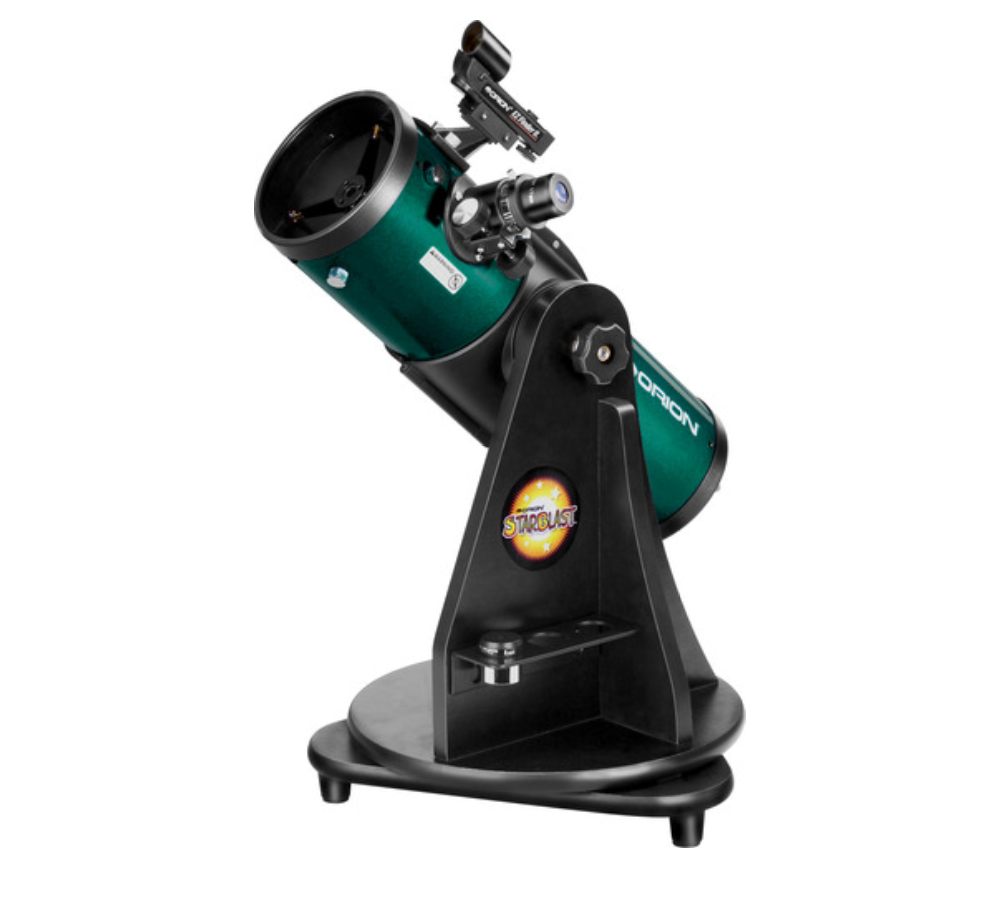 However, you'll need a milk crate and a chair to comfortably use it. A Rubbermaid bin or similar will also work as a stand, but hamper the scope's portability.
The telescope can't mount on a standard photo tripod. It was not designed that way. Unless you're creative.
Although it's a small touch, I like the positioning, size, and shape of the altitude tensioning knob. It makes the scope a little more friendly ergonomically.
The rotating tube ring isn't of huge importance with a tabletop scope, but it's also a welcome addition, as is the carrying handle.
What All Can Be Viewed?
The StarBlast is optimized for wide fields. Since it is a reflector type scope, it is suitable for deep-sky viewing. With a focal length of 450 mm, you can be sure its optical power is better than most other telescopes within the price range.
Even from the suburbs, the Veil Nebula is fantastic with an oxygen-III or UHC filter. The Milky Way is very fun to explore, in both summer and winter. Open clusters are a joy with this telescope. Under dark skies, the many dark nebulae that cross the summer Milky Way are great, challenging objects to hunt for with the StarBlast.
The Andromeda Galaxy's dust lane is an easy catch with a wide-field scope like the StarBlast, though few other galaxies will present any meaningful detail due to the StarBlast's small aperture.
With a good high-power eyepiece, Jupiter's Great Red Spot and cloud belts are no problem. You may just be able to spot Jupiter's moons and their shadows crossing the planet.
Saturn's Cassini Division is no problem, as are a few of its brightest moons. Venus' phases are easy, and Mars will show a few dark regions and the ice cap when it's at or near opposition.
Final Verdict
There are better options than the StarBlast below its price range, some even boasting a larger aperture, and by the time you take into account spending money on additional accessories(that's if you intend to), you'd be able to buy a 6ʺ Dobsonian. The StarBlast 4.5 isn't a bad scope by any means. Its wide footprint, light weight, carry handle and wide field of view make it great for a child to use, and it excels at both high-power and wide-field viewing. So if you're buying it for a kid, or simply nostalgic, by all means, get the StarBlast.