Optical Performance Of Starblast 4.5
The Orion StarBlast 4.5 Astro is a 4.5ʺ f/4 Newtonian with a focal length of 450mm. Originally designed to compete with the sadly-discontinued Edmund Astroscan, the StarBlast 4.5 excels as a wide-field telescope, offering a nearly 4° field of view (that's eight full moons across!), along with a 32 mm Plossl or 24 mm wide-field eyepiece (not included). Both the optical tube and mount of this scope are identical to the Zhumell Z114, which we also recommend.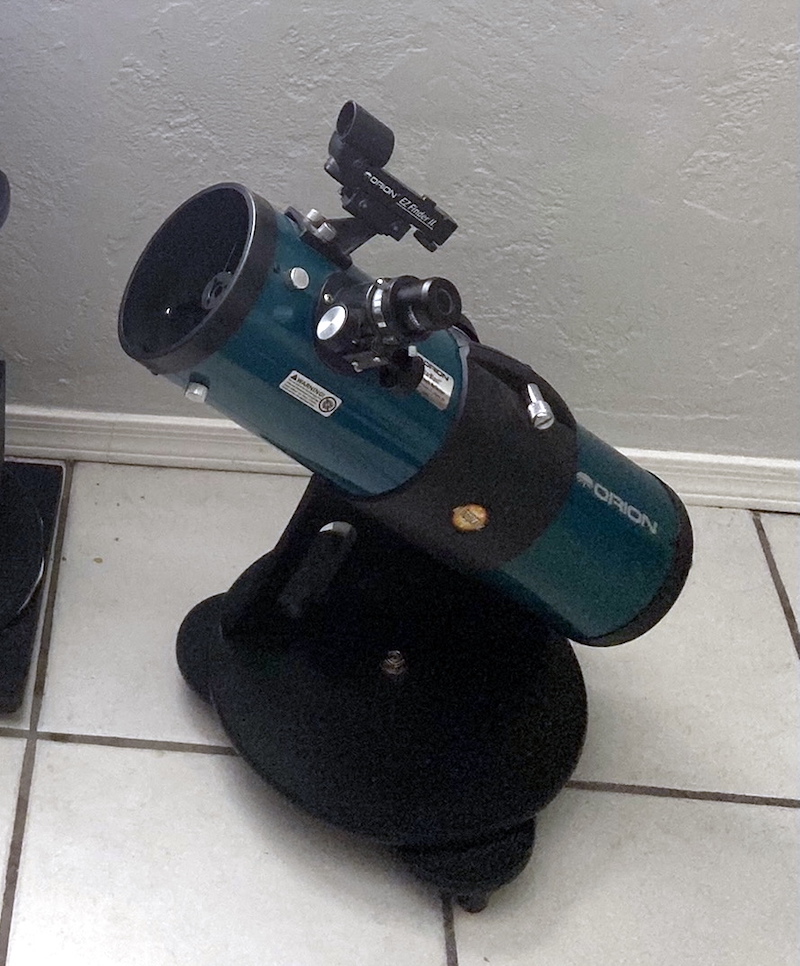 While primarily a wide-field instrument, the StarBlast performs pretty well on the Moon and planets, much better than the 60-90mm refractors often cited as good beginner scopes. And of course, it's no contest when it comes to deep-sky objects. It does need collimating, but that's an easy task. The focuser is a standard 1.25" rack-and-pinion unit.
The StarBlast attaches to its mount with a simple clamping tube ring, allowing you to slide the tube back and forth and rotate it. For mounting it on a full-sized equatorial or alt-azimuth mount, you'll need a pair of tube rings and a dovetail plate.
Accessories
The StarBlast 4.5 Astro includes two eyepieces: 20mm (23x) and 10mm (45x) oculars, seemingly of some variant of the Kellner or Plossl design. They work well, though you really need a short focal length eyepiece of 6mm or below to get reasonably good planetary views out of the StarBlast's short 450 mm focal length, and a wide-angle eyepiece in the 25mm range will give you a wider and slightly sharper view than the stock 20mm does.
As with most beginner scopes, the StarBlast 4.5 Astro is provided with a red dot finder for aiming—more than adequate given its ultra-wide field of view. A 13% transmission "Moon filter" is also included; this silly piece of glass does nothing but slightly blur and pointlessly dim your view of the Moon, which, while dazzling, cannot actually harm your eyes, even in a very large telescope.
Reviewing Mount Features
The StarBlast 4.5 Astro was a pioneering scope for introducing the tabletop Dobsonian mount to the world. While not a true "Dobsonian" due to the single-sided bearing, which doesn't use any Teflon pads, the tabletop mount of the StarBlast is lightweight, compact, easy to aim, and extremely cheap to construct.
Orion 10015 StarBlast 4.5 Astro Reflector Telescope
Orion Starblast 4.5 Astro's mount has a wider footprint than some competing models, which makes it more steady and less prone to being knocked over.
We earn a commission if you click this link and make a purchase at no additional cost to you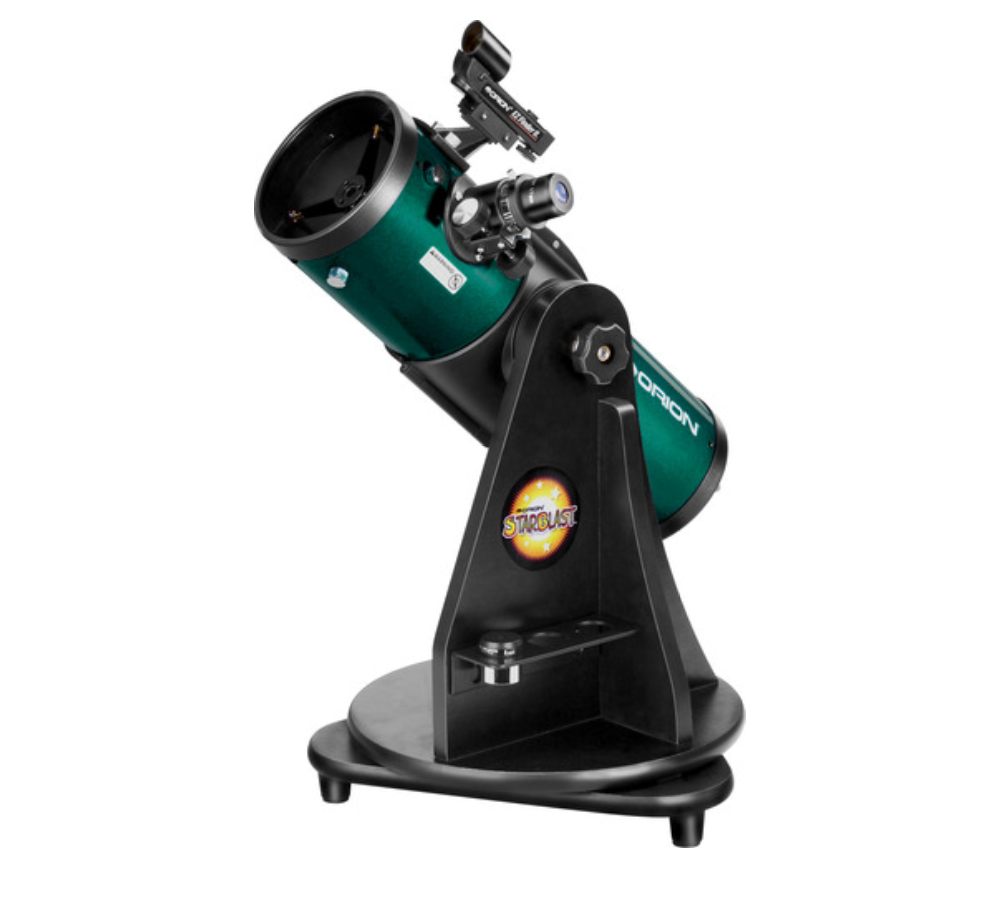 However, you'll need a milk crate and a chair to comfortably use it. A Rubbermaid bin or similar will also work as a stand, but it will hamper the scope's portability. Sticking the scope on top of a bar stool or car hood also works in a pinch, or you could make a custom stand/tripod for it pretty cheaply.
Alternative Recommendations
Besides the Zhumell Z114, which is essentially the same telescope apart from including slightly different eyepieces, there are a few other scopes you might want to consider in lieu of the Orion StarBlast 4.5 Astro if you're on a tight budget or looking to get a larger instrument.
The Sky-Watcher Heritage 150P offers considerably more light gathering and resolving power than the StarBlast 4.5 Astro and is easier to collimate at its f/5 focal ratio, while the collapsible tube helps minimize volume when the scope is not in use.
The Sky-Watcher Heritage 130P features a bit more light gathering and resolution ability compared to the StarBlast 4.5 Astro while also being easier to collimate at f/5, and just as compact as the StarBlast thanks to its collapsible tube.
Aftermarket Accessory Recommendations
A 6mm "gold-line" or "red-line" eyepiece (75x) would be ideal for augmenting your eyepiece collection for the StarBlast 4.5 Astro at the high-power end, and a 2x Barlow lens will allow you to double the power to 150x, which is about the limit of what the StarBlast can handle.
For low power, a 25mm Plossl provides 18x and a 3-degree field of view. A 25mm Agena Starguider, while expensive, will deliver sharper stars at the edges and extend the field out to about 3.3 degrees.
You could add in additional eyepieces in the 9–15 mm range to further extend your magnification options, but a good high-power eyepiece and a good 24-26mm eyepiece for the maximum possible field of view is all you probably need with the StarBlast.
Lastly, one other accessory you might want to pick up is Orion's UltraBlock UHC filter. It doesn't "filter out" light pollution but rather increases contrast on nebulae, making them appear brighter against the background and bringing out subtle detail. This filter works great with the StarBlast, which will show you huge swaths of sky containing regions like the North America, Veil, Lagoon, Trifid, Swan, and Eagle Nebula. Even under a dark sky, the UHC brings out more contrast by darkening the sky background.
What can you see?
The StarBlast is optimized for wide fields. It's primarily made for low-power viewing of nebulae and star clusters. That being said, it's a pretty good lunar and planetary instrument too.
Even from the suburbs, the Veil Nebula is fantastic with an oxygen-III or UHC filter. The Milky Way is very fun to explore, in both summer and winter. Open clusters are a joy with this telescope. Under dark skies, the many dark nebulae that cross the summer Milky Way are great, challenging objects to hunt for with the StarBlast. The Andromeda Galaxy's dust lane is an easy catch with a wide-field scope like the StarBlast, though few other galaxies will present any meaningful detail due to the StarBlast's small aperture. Bright emission nebulae like Orion, the Lagoon, and the Swan look magnificent, especially from dark skies or with a UHC filter.
At high magnification, Jupiter's Great Red Spot and cloud belts are no problem. You may just be able to spot Jupiter's moons and their shadows crossing the planet.
Saturn's Cassini Division is easy to spot on a night of good seeing, as are a few of its brightest moons. Venus' phases are easy, and Mars will show a few dark regions and the ice cap when it's at or near opposition. Uranus and Neptune, if you can find them, are little more than star-like bluish dots with the StarBlast.