Celestron's StarSense technology add-on for their computerized telescopes receives rave reviews and is extremely popular among hobbyists. But somehow, the company's attempt to integrate it as a built-in function to their SkyProdigy telescopes has been met with a huge lack of sales and overall backlash from the amateur community. As a matter of fact, as of the time of writing it seems that Celestron is in the process of discontinuing the SkyProdigy telescopes. Why are these scopes such a failure?
*Rankings and ratings are calculated by comparing similar telescopes, in this case, 12 telescopes between $400 and $600.
Reviewing The Optical Tube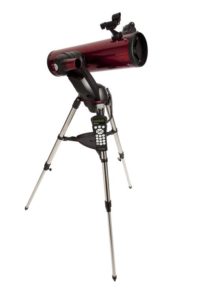 At first glance, the SkyProdigy 130 OTA seems like a rebadged NexStar 130SLT tube, and optically it is still a 130mm f/5 Newtonian using more or less the same components. The key difference is its focuser, which it shares with Celestron's Astro Fi 130.
The focuser on the SkyProdigy 130 is an all-plastic rack-and-pinion unit with a 2.5" drawtube and a combination 1.25"/T-adapter unit, unlike the 130SLT's mostly metal unit which has a true 2" drawtube. At this time Celestron doesn't sell a 2" adapter for either scope, so the SkyProdigy 130 is limited to 1.25" eyepieces only. This is a major disadvantage for an expensive telescope designed primarily for wide-field, low-magnification viewing.
Despite being all plastic, the focuser on the SkyProdigy works remarkably well. I found almost no drawtube wobble or collimation shift when testing mine with a laser, though focusing at high power can be a little difficult due to the coarseness of the rack.
How Good are the Accessories
The SkyProdigy 130 comes with two metal-housed, 1.25" Kellner eyepieces: A 25mm (26x) and a 9mm (72x). These are actually surprisingly good eyepieces, but a telescope costing over $500 should really be supplied with Plossls. The included Kellners don't even have rubber eyecups…..
Despite the StarSense autoalign arguably eliminating the need for a finder, Celestron still supplies their StarPointer red dot sight. This is in case the StarSense fails, which as we'll see later, happens frequently – if it does fail, manual alignment can be done on bright stars using the same alignment method as most GoTo telescopes.
Reviewing the SkyProdigy Mount
The SkyProdigy mount is very obviously heavily based on NexStar SLT components. In fact, it is more or less a NexStar SLT mount with red instead of orange trim and a StarSense hand controller and camera installed.
The tripod is inadequate, especially with the legs extended to any length – the scope flexes and wobbles due to the thin stainless steel used in the tripod's construction. However, this is a lesser concern compared to the StarSense camera's issues…..
The StarSense hand controller comes with a 10,000 object database, so for once a lack of objects isn't a concern here. But the StarSense itself has a whole host of problems.
For one, there's the simple concern of power consumption. The SkyProdigy 130 comes with a battery pack that takes eight AA batteries. A normal computerized scope will run these down in a night or two, but the SkyProdigy has to slew itself around the entire sky multiple times every time it's set up in order to figure out where it's pointing. This means you will burn through batteries far more quickly, especially during even a short observation session. An aftermarket DC power supply will help mitigate this, but expect to recharge it every time you go out.
More importantly, however, the SkyProdigy mount is unreliable. Unlike the StarSense addon which has been improved over the years, the SkyProdigy mounts still run on the same tech as they did when they came out over five years ago. The mount will frequently fail to align itself entirely and sometimes it won't let you do a manual alignment instead. Furthermore, the mount's camera is frequently misaligned with the telescope itself causing inaccurate slewing even if alignment is "successful". This is because rather than attaching to the scope's optical tube, the SkyProdigy's StarSense camera is built into the mount.
Furthermore, since you can't actually tell what the camera is seeing since the system is entirely self-contained, you have no way of knowing whether the whole system is properly lined up or not. Users have reported 10, 15, even 20-degree errors, and I have seen similar errors when using these scopes myself. I don't get why Celestron didn't opt to attach the camera to the tube or add a port to connect the camera to a display and check alignment, but the decision to do neither was a poor one.
If there was a large user base for the SkyProdigy scopes I would not be worried as much about the software and hardware issues, as there would probably be some official and third-party fixes out there for both. However, this is not the case as next to no one owns the SkyProdigy telescopes compared to Celestron's other products like the NexStars.
Looking For a Better Option?
Orion
StarBlast 6i
Our expert's rating of 4.7
Due to the unreliability and low quality of the SkyProdigy mount I cannot honestly recommend the SkyProdigy 130. If Celestron had worked out the bugs in the software and fixed the alignment issues of the camera, it would be a pretty decent telescope – even better if its mounting and accessory deficiencies were solved or its price lowered. Unfortunately, the SkyProdigy 130 as it is now is a malfunctioning, overpriced mess.