Refractors are what most people think of when they picture a telescope, having a glass objective lens at the front and the focuser and eyepiece at the rear. However, refractors come in many shapes and sizes, with different types of glass and different supplied mountings. They can be optimized for lunar/planetary, deep-sky, or astrophotographic use or with some overlap between them.
Compared to reflectors and catadioptrics, refractors offer a number of advantages:
Higher visual contrast: With no secondary mirror in the way and the ability to much more effectively control stray light, refractors offer much higher visual contrast than reflectors or catadioptrics, making them perform like a bigger telescope when used visually.
Convenience: Refractors require no cool-down time or collimation, and do not have mirror coatings that degrade over time if left unmaintained.
Tolerance of inexpensive eyepieces: Refractors do not have edge-of-field astigmatism or coma at low powers with cheap eyepieces like fast reflectors and catadioptrics do, meaning you can upgrade at a more leisurely pace and use cheaper eyepieces without sacrificing much view quality.
Wider fields of view: Small refractors tend to have wide fields of view and can achieve very low powers, making deep-sky objects easier to find. In addition, some deep-sky objects are so big and low in contrast that they are only visible through a small refractor.
Ease of use when astroimaging: During long exposures with a refractor when astro-imaging, you need not worry about collimation shift or mirror shift.
However, refractors offer a number of disadvantages as well, including:
Chromatic Aberration: Lenses without extra-low-dispersion (ED) glass or extra lens elements cannot focus all colors to the same point. The result is chromatic aberration, which produces fuzzy images and purple halos around bright targets. This worsens with larger lenses and with faster focal ratios.
Cost & nonavailability at large apertures: Refractors are much more expensive to get than equivalent-aperture reflectors or catadioptrics. Furthermore, due to the difficulties and cost of making a large lens and properly mounting such a massive telescope, refractors are very seldom found above 6" in aperture, and those that are tend to be extremely expensive and bulky instruments.
Dew: Refractors have objective lenses that can dew up – though not as easily as the corrector lens on a catadioptric, thanks to their built-in dew shields.
This being said, a refractor, particularly a small one on an alt-azimuth mount, is unmatched in convenience. Finding objects is no problem thanks to the wide field, and even on a chilly night, you can be out and observing in minutes or mere seconds. I myself always keep a small refractor by the back door of my house for spur-of-the-moment observing.
Ranking the Best Refractor Telescopes According to Price & Features
2022 Update
: Almost everything decent is out of stock due to the pandemic. So if you want a scope, you'll have to place a backorder and wait several weeks to months, sadly. We'd also highly recommend telescope e-retailers like High Point Scientific because you'll get better technical and post-sales support, product range, deals from online telescope retailers, and also, better assurance that you'll get what you ordered as we have discussed in our '
Where To Buy Telescopes
' article. Your experience with them would be comparable to that of your typical Amazon purchases.
The FirstLight AR80 is the cheapest scope on our list, and a versatile, if simply equipped, telescope.
The StarSense Explorer LT80AZ gives you a "computerized" instrument for a low price tag – and a decent set of accessories to go with it.
The FirstLight 80mm EQ3 is a great planetary instrument, if a little smaller and more complex than some.
The StarSense Explorer DX 102mm has a phone-assisted mount, a decent amount of aperture, and a plethora of accessories to go with it.
The Astro-Fi 90mm Refractor's mount isn't just assisted but instead outright controlled by your phone, making it easy to use and with the bonus of hands-free tracking – but your money is going into that mount, not the telescope itself.
The StarTravel 80 is a tiny scope with a lot of cool features in a really convenient package.
The FirstLight 80 and iEXOS is basically a star tracker with a telescope on top – not really ideal as a whole, but great separately.
The StarTravel 102 is a great scope for deep-sky viewing or casual lunar and planetary observation, with a conveniently designed mount to boot, but it suffers greatly on planets.
The FirstLight 102 is a superb telescope for all types of objects, and with great optics and a well-made mount too.
Celestron Omni XLT 120 Refractor Equatorial Telescope – Choice B Between $650-$800
The largest refractor on our list; a bit bulky but with unmatched power and build quality.
Recommended Best Refractor Telescopes Individually Reviewed
1. ES FirstLight AR80 w/Twilight Nano – Choice A Under $250
The FirstLight AR80/Twilight Nano combo is one of the better cheap 80mm telescopes out there, if a bit lacking in accessories.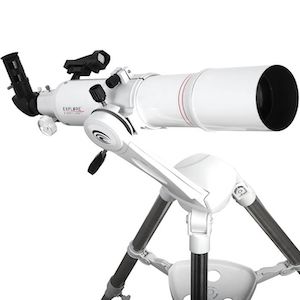 Lightweight and portable
Easy to use
Not too much chromatic aberration
The ES Twilight Nano 80mm is a pretty small scope, but it can show you a fair number of things. Its focal ratio of f/8 means you can still get a fairly wide field of view at low power (2.1 degrees at 26x with the included 25mm eyepiece) and also get good planetary views without too much in the way of chromatic aberration.
To get those planetary views, however, you're going to need additional eyepieces. The 26x with the included 25mm Plossl eyepiece will hardly show you Saturn's rings, let alone much else in the way of planetary detail. The included eyepiece, red dot finder, and star diagonal are acceptable, but not fantastic – but given the low price of the scope, it's not worth spending too much to upgrade. There's also a smartphone adapter that attaches your phone to the eyepiece using suction cups, a functional, if perhaps slightly unnerving, method to use in the dark.
As the name implies, this telescope is mounted on Explore Scientific's Twilight Nano alt-azimuth mount. The scope attaches to it via a standard Vixen-style dovetail plate, so in theory, you could put it on another mount or reuse the mount for another telescope. The Twilight Nano is basically maxed out with the 80mm optical tube, however, and lacks any fine pointing adjustments, but it works fine for its intended purpose.
2. Celestron StarSense Explorer LT 80AZ Refractor Telescope – Choice B Under $250
The StarSense Explorer LT 80AZ gets you a lot for your money, bearing in mind that it's still an 80mm refractor and a mediocre one at that.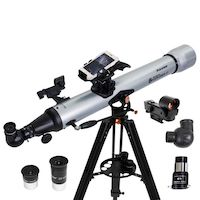 StarSense Explorer app assists in pointing the telescope at faint deep-sky objects.
Lots of accessories
Fairly good optics
The StarSense Explorer LT 80AZ is a fairly standard 80mm f/11 refractor, mounted on a pretty poorly constructed alt-azimuth fork mount. However, it's unique in that it includes Celestron's StarSense Explorer technology. The StarSense Explorer uses a special mounting adapter and your smartphone camera to aim the telescope at targets without any additional hardware, alignment, or power and will put targets within the field of view at low power. Its accuracy is limited by the gyroscope and other hardware in your phone, but it's better than nothing and quite impressive considering how it actually manages to work.
In addition to its StarSense mounting bracket, a red dot finder, and a 1.25" prism star diagonal, the LT 80 AZ also includes two eyepieces—25mm and 10mm Kellners providing 36x and 90x, respectively, along with a 2x Barlow lens to get 72x and 180x with the included eyepieces. These are probably all you need, so there's no sense in shopping for additional accessories for this telescope.
Given its long focal length and small aperture, we question the purpose of the StarSense Explorer tech on this telescope. However, it is nonetheless a pretty good deal for the price, with or without it, and thus gets our recommendation.
3. Explore Scientific FirstLight 80mm Refractor with EQ3 Mount – Choice Between $250-$350
The FirstLight 80mm EQ3 isn't much of an upgrade over its smaller, alt-azimuth mounted sibling, but offers slightly better views of the Moon and planets thanks to its longer focal ratio.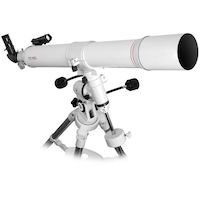 Long focal ratio means low chromatic aberration
High optical quality
Decent equatorial mount
At first glance, the FirstLight 80mm EQ3 might seem nearly identical to the Twilight Nano-mounted version, but it's actually completely different optically, with a focal ratio of f/11.25 and a resulting focal length of 900mm. This gives it higher magnification with a given eyepiece and lower chromatic aberration at the expense of a narrower field of view and, of course, a longer tube.
The included EQ3 mount is hardly what conforms to the usual standard of an "EQ3" and is not able to carry anything much heavier or longer than the provided 80mm optical tube, which is why the 102mm FirstLight-EQ3 combo is not on our list here. However, for an 80mm refractor, it suffices and is pretty easy to use.
Like the other FirstLight telescopes, the FirstLight 80mm EQ3 includes a single 25mm Plossl eyepiece (36x), a red dot finder, a 1.25" mirror star diagonal, and a basic smartphone adapter. You'll want to obtain more eyepieces and potentially swap out the diagonal for a higher-quality one at some point.
The EQ3 mount will fit many of the single- and dual-axis motor drive kits sold by companies like Celestron and Orion with no additional modifications, should you decide you prefer motorized tracking.
4. Celestron StarSense Explorer DX 102 mm Refractor Telescope – Choice A Between $350-$550
The StarSense Explorer DX 102mm fixes many of the issues of its smaller cousin, and it's one of our favorite grab-and-go telescopes – though the mount isn't the best.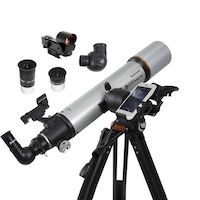 StarSense Explorer tech makes aiming a breeze
Good optics can provide decent planetary and deep-sky views
Decent accessories
The StarSense Explorer DX 102mm features the same mount as the old Omni XLT 102 AZ that we used to recommend, but with the improvement of the StarSense Explorer technology. The bracket on the DX mount is a little better designed than what's provided with the LT and is a little more accurate. Aiming the scope at most of the brighter deep-sky objects with your phone attached is pretty easy and straightforward.
At f/6.5, the DX 102 does have some chromatic aberration, but it's still reduced enough to give decent planetary and lunar views without being total mush – though the purple halos around bright objects are admittedly an eyesore.
While the focuser on the StarSense Explorer DX 102 is technically a 2" (and a fairly good one at that), the included mount is not exactly up to the task of handling heavy 2" eyepieces and a beefy diagonal. As for the diagonal included with the scope, it's a 1.25" erecting prism design, not the best, but usable. You might want to swap it out for a regular mirror or prism diagonal at some point.
The DX 102 comes with a set of two 1.25" Kellner eyepieces—25mm and 10mm—providing 26x and 65x, respectively. You'll almost certainly want to purchase additional eyepieces to get the most the DX 102 can offer. A red dot finder is also included for aiming the telescope.
5. Celestron 90 mm AstroFi Refractor Telescope – Choice B Between $350-$550
The Astro-Fi 90mm is one of the few beginner GoTo telescopes that is easy to use, though the usefulness of GoTo with this telescope is debatable.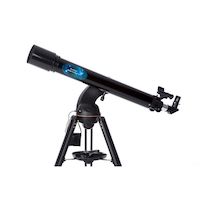 Good optics
Easy-to-use GoTo system runs off your smartphone
Good accessories
The Astro-Fi 90 is another one of Celestron's smartphone-focused telescopes. It uses your phone as a replacement for the outdated, clunky calculator-like hand controllers that many GoTo telescopes are still supplied with. After a simple alignment process that is explained on your phone, you can aim the telescope at any target you want with the push of a button, and the SkyPortal app will display information about the object too. More advanced users can switch to running the telescope with SkySafari, which provides more information, more targets, and more display options.
The telescope itself is a fairly standard 90mm f/10 refractor – at this focal ratio, there's some chromatic aberration, but not enough to be a nuisance. The included star diagonal is a high-quality prism unit, and the included 25mm and 10mm Kellner (36x and 91x) eyepieces are pretty good to get you started, though you may want another eyepiece or two.
6. Sky-Watcher StarTravel 80 AZ-GTe Refractor Telescope – Choice C Between $350-$550
The StarTravel 80 doesn't have the most aperture or capability of the scopes in its price range, but offers unmatched convenience.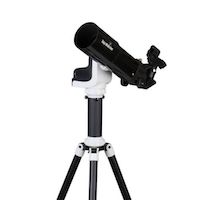 Wide field of view
Can be used manually or GoTo
GoTo functionality runs off your smartphone
The StarTravel 80 is one of the few 80mm f/5 refractors still floating around on the market. While borderline unusable for the planets due to its high amount of chromatic aberration, the small size and the sheer convenience of the AZ-GTe mount make it a pretty nice scope.
The AZ-GTe mount is not to be confused with the more expensive GTi. The GTe can be used manually when turned off or converted to a smartphone-operated GoTo mount when powered on, but you cannot use the mount manually once it is powered up without ruining the alignment. Thanks to its Vixen-style dovetail saddle, you can also swap the 80mm refractor for different telescopes.
The StarTravel 80 AZ-GTe includes two eyepieces, a 25mm Kellner providing 16x and a 10mm Kellner providing 40x. These are all you really need to use this scope, as it is severely limited at high magnifications. A 1.25" prism star diagonal and a red dot finder are also included.
7. Explore Scientific FirstLight 80 mm Refractor with iEXOS Equatorial GoTo Mount – Choice D Between $350-$550
The FirstLight 80 and iEXOS package is somewhat complex, but can allow you to do some basic astrophotography.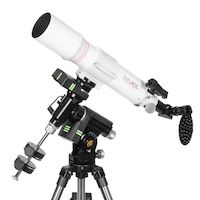 iExos mount works great for basic astrophotography, at least with a DSLR and lens
Decent optics
Scope is essentially thrown in free with the mount
The FirstLight 80/iExos combo package is just the same telescope and accessories as the much less expensive AR80/Twilight Nano telescope, also on our list, but with the iExos PMC-8 GoTo mount. The iExos is a high-quality equatorial GoTo mount made primarily for astrophotography, controlled via either your smartphone, tablet, or PC. It's marketed as being useful with a telescope for astrophotography, but you should really think of it as more of a glorified star tracker, able to hold a DSLR and lens, or maybe a small (<80mm) apochromatic refractor. You can use it with the AR80 optical tube provided, but keep in mind that chromatic aberration is far worse in photos and may be a bit of a nuisance.
As with the other FirstLight telescopes, the included 25mm Plossl and 1.25" star diagonal are acceptable, the included red dot finder is a little iffy, and the smartphone adapter is somewhat terrifying to use with a heavy phone, but it all works reasonably well.
Think of this package as a camera tracker with a decent 80mm refractor for visual use thrown in, and you won't be disappointed.
8. Sky-Watcher StarTravel 102 AZ-GTe Refractor Telescope – Choice A Between $550-$650
The StarTravel 102 makes a great grab n' go telescope, though it's not the best for planetary viewing.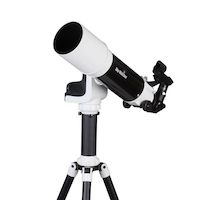 Decent aperture and wide field of view make for great deep-sky views
Nearly unmatched convenience – manual or GoTo
GoTo functionality controlled easily via your smartphone
Like the StarTravel 80, the StarTravel 102 AZ-GTe features a mount that can be used manually when powered off and functions as an advanced GoTo system controlled by your smartphone or tablet when powered on. Its 102mm f/5 optics will have a ton of chromatic aberration (even more so than an 80mm f/5), and thus it's really more of a low power, deep-sky instrument. You'll have great views of open star clusters, nebulae, and the brightest galaxies, but pump the magnification up and you'll probably be disappointed.
The StarTravel 102 AZ-GTe includes a 1.25" star diagonal, a red dot finder, and, of course, Kellner eyepieces—25mm and 10mm—providing 20x and 50x, respectively. You can probably push the scope up to 80x before the image starts to degrade, and as low as 16x before the exit pupil is too large to be useful.
As with all of the StarTravel scopes, the optical tube and mount use Vixen-style dovetail plates and can be interchanged easily.
9. Explore Scientific FirstLight 102mm Doublet Refractor w/ Twilight I Alt/Az mount – Choice A Between $650-$800
A personal favorite of mine and one of my first telescopes, the FirstLight AR102 w/Twilight I is an absolutely fabulous instrument.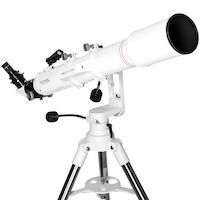 Great optics
All metal construction.
Decent aperture
The FirstLight 102 optical tube is absolutely flawless in its construction. Not only does it resemble the beautiful Japanese equatorial-mounted refractors of yore, but it has some of the best stray light control we've seen on any sub-$2000 refractor. The tube has many well-placed baffles on the interior, and the dew shield is lined with a rubbery substance that even smells like a new car. The 2.5" hexagonal focuser is overkill for this telescope, and equally well-made.
Optically, the FirstLight 102 is extremely high-quality. Chromatic aberration is really only present on the Moon, Jupiter, Venus, and stars of first magnitude or brighter, and it doesn't significantly affect sharpness. Deep-sky views are very high in contrast with pinpoint stars.
The Twilight I mount is an extremely high-quality mount that can easily hold up to a 6" Newtonian or catadioptric, or a 4" refractor, so the FirstLight 102 is about the largest telescope you can mount on it without vibration problems (Explore Scientific sells a 5" on the same mount, but we do not recommend it). Motions are incredibly smooth, and you can adjust the arm to be on either side or at any angle, as well as adjust the position of the slow-motion cables.
The only downside to this scope is the accessories. It comes with a 2" mirror diagonal, a 25mm Plossl eyepiece, a red dot finder, and a suction-cupped smartphone adapter for lunar photography through the eyepieces. The diagonal is pretty good, and will work fine for a beginner.
10. Celestron Omni XLT 120 Refractor Equatorial Telescope – Choice B Between $650-$800
The Omni XLT 120 is a beefy, high-quality instrument that might intimidate beginners, but is certainly worth it.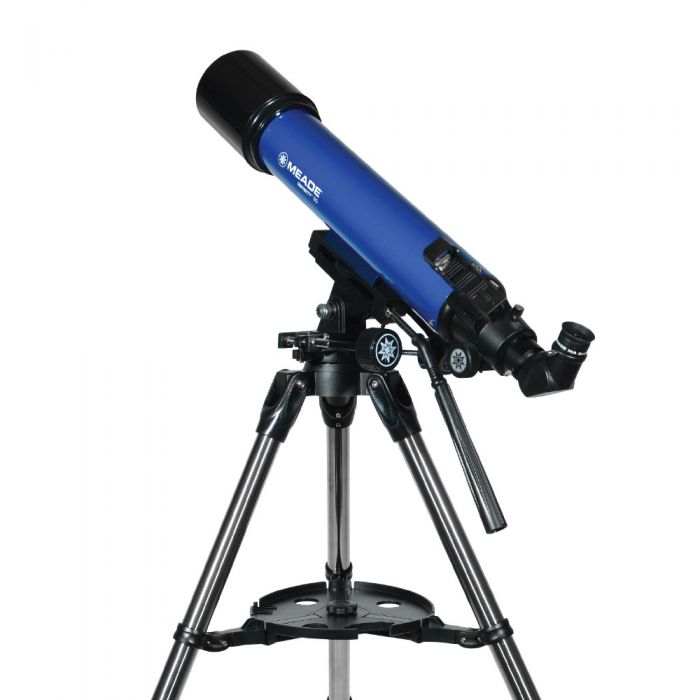 Fairly large aperture gives sharp and bright views of the Moon, planets, and deep-sky objects
Equatorial mount can be motorized for hands-free tracking
High mechanical build quality
The Celestron Omni XLT 120 is the largest refractor on our list, and while a 120mm (4.7") telescope sounds small, with a refractor it's anything but. The XLT 120's optical tube is a chunky 13 pounds and it's about 1 meter long. This scope is pushing the limits of the included CG-4 mount somewhat, but works well. With a focal ratio of f/8.33, there is a moderate amount of chromatic aberration but it's not a show-stopper for planetary and lunar viewing altogether. It has a 2" focuser, so you can add a 2" diagonal and eyepieces on for the widest possible low-power field of view.
The included CG-4 mount is high-quality and made solidly of aluminum and steel, with 2 counterweights needed to balance the massive 120mm optical tube. You can easily install a motor drive for push-button fine tuning of the mount's positioning along with hands-free tracking, or make do with the included slow-motion cables.
The Omni XLT 120 includes a high-quality 1.25" prism star diagonal giving an upright but left-right inverted view. There's also an adequate if perhaps small 6×30 finderscope included, and a single 25mm L.E.T. eyepiece (providing 40x) which seems to be a variant of a Plossl. This eyepiece is sharp and has a lot of eye relief, but some people find it uncomfortable to use. Regardless, you'll want to shop for at least a few additional eyepieces for this telescope to get the most it has to offer.
Tips on choosing a refractor telescope
Achromats at or below f/6 are guaranteed to have enough chromatic aberration to render them near-useless for high-power lunar and planetary views. So if you're in the market for a refractor, only buy a fast achromat if you're interested in wide-field views of star clusters and nebulae—not the Moon and planets.
Achromats, Apochromats, and ED Doublets
Achromatic refractors pretty much always come with crown and flint glass lens elements. These work acceptably at longer focal ratios and with smaller instruments, but with fast focal ratios and large apertures – or for good astroimages – consider an ED doublet or apochromatic refractor. ED doublets, also known as semi-apochromats, use FPL-51, FPL-53, or FCD100 glass in one lens element to reduce chromatic aberration to an acceptable level (although not nonexistent), although at higher prices.
Apochromats use 3 or sometimes more lens elements in their objective, usually with at least 1 ED lens element. In addition to color control, adding more lenses can control edge-of-field aberrations better and lead to more pleasing astroimages with less field curvature and other issues that are particularly evident with large CCD chips.
Flourite doublets are seldom seen anymore and are very expensive, but they offer near-perfect color control without the high weight of an apochromatic triplet or quadruplet by using a fluorite lens element. However, they are very expensive, and the fluorite element is more fragile than regular glass.
You Get What You Pay For
Cheap refractors are going to have more chromatic aberration, cheaper accessories, cheaper mounts, and lower build quality than a more expensive instrument. Some people pay five to ten thousand dollars – sometimes more – for apochromatic designs and fluorite doublets for perfect chromatic and other aberration control from the likes of Stellarvue, Astro-Physics, and Takahashi. However, for the hobbyist on a budget, a long achromat, ED doublet or inexpensive apochromatic triplet will more than suffice for visual use or photography with a DSLR or modest CCD camera.