The Powerseeker 70mm Optical Tube Overview
The PowerSeeker 70 is a 70mm f/10 achromatic doublet refractor. 70mm of aperture with the old 2x per millimeter rule of thumb for maximum magnification means that you can't use the scope for more than 140x without having a fuzzy, broken-down image – contrary to the claims of 525x Celestron says you can achieve (and should supposedly use) with the scope.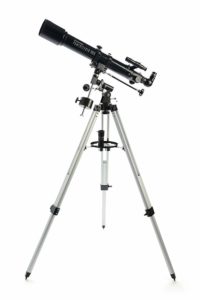 At f/10, there is some chromatic aberration but nothing significant enough to ruin high-power views with this telescope. The optical quality of the Powerseeker 70 is quite good.
The scope's focuser is a 1.25" rack-and-pinion made mostly of plastic. This is to be expected with a scope in this price range, and it functions just fine. The focuser even includes a tension adjustment knob, should you find the focuser to be too loose or too tight.
The 70EQ's tube attaches to the EQ-1 mount with a pair of hinged, felt-lined tube rings which bolt to the mount saddle.This is more primitive than the Vixen-style dovetail rail system supplied with more expensive telescopes, but it used to be the norm for most instruments and works just fine.
Accessories
The accessories of the PowerSeeker 70EQ are really its main weakness, which is nothing to really be surprised by.
The finderscope with all Powerseekers is a 5×24 unit with a stopped-down plastic lens and a simple bracket that makes it impossible to align well. As a result the finder is nearly useless and makes finding anything besides the Moon extremely frustrating.
Like all decent refracting telescopes, the PowerSeeker 70 includes a star diagonal which deflects the image by 90 degrees for more comfortable viewing. Conveniently, this diagonal is designed to be ergonomically pleasing for use as a handle – Celestron saw during product testing that people like to grab the diagonal to use this way, and so they designed it with that in mind. Unfortunately, it is a cheap Amici erecting prism unit. While an Amici prism is nice for terrestrial viewing as it makes images correct left-right and up-down, there's no up or down in space and the design of the prism causes stars and other bright objects to have an annoying, distracting and bright spike running through them. It also absorbs a fair amount of the light entering it, dimming your view.
The PowerSeeker refractors all include two eyepieces: A 20mm Kellner providing 35x with the 70EQ and a 4mm Ramsden providing 175x. The 20mm Kellner is usable and of decent quality, but 35x is a bit much magnification for low power with a 70mm instrument – a 25mm eyepiece providing 28x or a 32mm providing 22x would be better. The 4mm Ramsden is impossible to see anything through, provides a narrow field of view and fuzzy images, and 175x is too much for the telescope to handle, so it's basically useless apart from serving as a backup dust cap.
The 3x Barlow lens supplied with the PowerSeekers is an utterly rubbish all-plastic unit that costs Celestron maybe a buck to produce. Toss it.
The EQ-1 Equatorial Mount
While inexpensive, the EQ-1 mount supplied with the 70EQ is actually a good match for it. The motions are reasonably smooth, the mount's extruded aluminum legs are quite steady with such a lightweight tube. Furthermore, the whole setup is pretty light at about 14 pounds. You can also equip the mount with Celestron's "Logic Drive" for hands-free, motorized tracking.
Obviously, the little EQ1 is incapable of any deep-sky astrophotography, but that's to be expected at this price point. If you slapped the Logic Drive on and bought/made an adapter to put just the camera on the mount, however, you could get some decent tracked shots with just a short to medium focal length (<300mm) telephoto lens and moderate exposure times.
My only complaint with the EQ1 is its uber-simple clutches, which literally consist of thumbscrews in holes tapped into the mount axes which put friction on the bearings.
Final Verdict
If it weren't for the fact that the accessories are almost entirely worthless junk, I'd be giving the Powerseeker 70EQ 4 or even 4.5 out of 5 stars. If the accessory issues are solved, it's actually a really nice instrument, even as a grab n' go once you have bigger and better scopes to play with. Unfortunately, buying replacement accessories separately is going to cost you at least $50 for the basics and with that money, you could just go and buy a better telescope which won't require immediately purchasing any aftermarket accessories.