Celestron's Omni XLT telescopes all offer nice bang for the buck, and the 120mm f/8 Omni refractor is no exception. The 120mm f/8 is a nice compromise between the long 102mm f/10 model which is primarily intended for planetary use and the 150mm f/5 refractor which is really only usable for deep-sky viewing due to its short focal ratio and high amount of chromatic aberration.
*Rankings and ratings are calculated by comparing similar telescopes, in this case, 12 telescopes between $400 and $600.
The Omni XLT 120mm Optical Tube Performance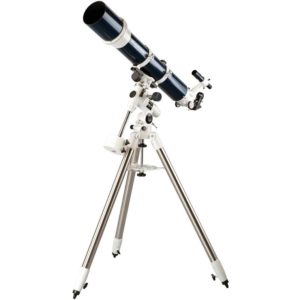 The Omni XLT 120 is a 120mm (4.7") f/8.3 refractor. At this aperture and focal ratio there is a somewhat-significant amount of chromatic aberration, but lunar and planetary views are still excellent. You will notice color fringes on anything brighter than 3rd magnitude, but high-power views are no problem and images will not break down the way they do with faster/cheaper achromats.
The optical quality is top-notch, especially for an inexpensive achromat. The lens cell is also collimatable should the need arise. There is zero plastic anywhere in the scope.
The Omni 120 has a 2", all-metal, single-speed rack-and-pinion focuser. While adequate, it is often a bear to focus precisely at high magnifications and can slip when carrying heavy loads. I would recommend replacing it with a GSO Crayford focuser, or even a Moonlite or Feathertouch focuser.
The Omni 120 attaches to its CG-4 mount using a pair of hinged tube rings and a Vixen dovetail bar. You can piggyback your DSLR or point-and-shoot camera (does anyone still own those?) using the included ¼ 20 captive screw/knob on one of the rings and shoot wide-field astrophotos if the CG-4 mount is equipped with a motor drive.
Should you Buy Separate Accessories
The Omni XLT scopes are all fairly Spartan when it comes to the included accessories – simply a 25mm Plossl and a 6×30 finder, as well as a 1.25" prism star diagonal in the case of the refractors. The 25mm Plossl is a special long eye relief design and works pretty well for low power, while the 6×30 is uncomfortable to use and provides rather dim images. The included star diagonal is really nice and is all you need if you want to stick with 1.25" eyepieces.
These will get you started, but a 2" diagonal, larger finder, and more eyepieces would all certainly be good purchases.
About the Omni CG-4 Mount
Not to be confused with the older, black CG-4 which uses extruded aluminum legs and cheap plastic parts, the Omni CG-4 is a professional-quality mount based on the Advanced VX. It is more or less an Advanced VX stripped of electronics and with thinner tripod legs (1.75" vs 2"), and since the electronics are the main thing people complain about with the VX, what you are left with is a high-quality, all-metal mount capable of carrying up to 20 pounds of payload. I trust my premium Takahashi FC-76 refractor on this mount, and it is really one of the best bargains you can get on a manual mount these days.
You can upgrade the CG-4 with single-axis or dual-axis motors for hands-free tracking and slewing, as well as a polar scope for precise polar alignment. There are even kits out there to add GoTo and autoguiding capability to the CG-4 so you can use it with a small apochromatic refractor for astrophotography if you desire.
The CG-4's only flaw is the short tripod legs. With a much shorter refractor (such as my FC-76) the eyepiece is a little low even with the tripod legs extended all the way, and with the Omni 120 it's near the ground. You can, however, buy or make a mount pier extension which will greatly increase comfort at the expense of a slight weight increase and of course a decrease in portability/convenience.
Astrophotography Capabilities of the Omni XLT 120
While the chromatic aberration of the Omni 120 isn't severe, it would certainly be a nuisance for imaging, particularly deep-sky astrophotography – you would be much better off for either. And even with dual-axis drives and autoguiding, the CG-4 cannot track accurately enough for deep-sky astrophotography with the Omni 120 optical tube, mostly due to the strain placed on it by the high weight (12.5 pounds for the OTA plus at least 5 for the camera/guidescope, and the mount only has 20 pounds of capacity). So this is really not an astrophotography telescope.
Looking for a better option?
For visual deep-sky viewing and lunar/planetary observation, the Celestron Omni XLT 120 is a fabulous choice. I would definitely recommend it to the beginning or experienced astronomer, with the caveat that you will need to buy some essential accessories to use it effectively, and it is a little heavy - particularly with a pier extension, which could bring the weight to over sixty pounds. If you don't mind this, however, then the Celestron Omni XLT 120 is for you.