Astronomy is a hobby that many people enjoy – both kids and adults – and some people have even managed to turn what once was a childhood passion into a lifelong career. However, some folks are interested in the stars and the sky and want to learn more about astronomy but lack the financial means to get themselves proper equipment so that they can begin to delve further into the hobby.
Luckily enough for all young astronomer enthusiasts out there, a variety of budget telescopes are available for purchase.
The Celestron PowerSeeker 70AZ is one such telescope that despite its low cost, provides a view of the night sky that's more than worth the price. This PowerSeeker 70AZ review will help you decide.
The Celestron PowerSeeker 70AZ is a simple, inexpensive, and easy-to-use refractor telescope good for families and children. Being a budget telescope, this model is guaranteed to cost less than $100 but can still provide detailed views of celestial objects.
It's easy to unpack and setup right out of the box and no special tools are required. It's a great telescope to buy for someone who wants to give astronomy a try but doesn't want to spend too much.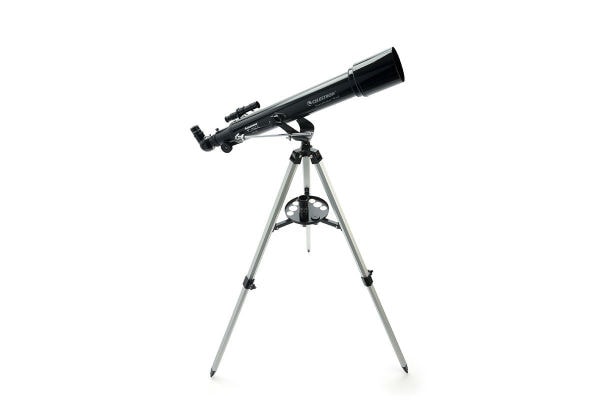 Its scope has a 70mm aperture and comes with two eyepieces – 20mm and 4mm. The included Barlow lens can be used to triple the magnification power. These specifications are more than enough to view celestial objects, details of craters on the Moon or planets, and are decent enough for deep-space observations.
An example of some good targets is the Moon, the Rings of Saturn, Jupiter, Saturn and its rings. Besides astronomical observation, the PowerSeeker 70AZ also excels at terrestrial observation, meaning you can get a great view of object here on Earth when performing observation during the daytime.
However, one of its downsides is with its mount. Since it uses an AZ (alt-azimuth) mount instead of an EQ (equatorial) mount, you can't automatically track celestial objects that are under observation due to their constant movement across the night sky.
For intermediate users, this might be a bit of a disappointment, but children probably won't mind. You can still manually use the turning knobs on the mount to track the objects, but it'll take more effort on your part.
The SkyX Planetarium is Celestron's patented software that comes free when you purchase this telescope. It comes in the form of a disc that you can insert into a computer in order to install and access a database of 10,000 celestial objects which will help you find the most awesome galaxies and nebulae. Printable sky maps and over 75 enhanced images are also included.
Its included aluminum tripod is nothing special, being rather flimsy and not very good for use during windy or rainy weather. But then again, if you're going to buy this for children, it's not really a big deal as they won't be doing that kind of hardcore astronomy.
As with most telescopic tripods, this one also comes with an accessory tray where the eyepieces and other small parts can be stored if need be.
The scope might be challenging to put together without any aid. However, an instruction guide is included in the package to ensure that you don't run into any trouble. You should be able to get everything up and running in a matter of minutes after unboxing the product.
Being a refractor telescope, there's no need to do any alignment or collimation since the lenses should arrive ready-to-use.
Another potential downside which may discourage an intermediate user from purchasing the Celestron PowerSeeker 70AZ is the fact that most of the pieces are made of plastic instead of a more durable material such as stainless steel or even aluminum. This is actually expected, given the low cost of this particular model.
It's worth noting, though, that Celestron provides a 2-year warranty with the telescope so you shouldn't have any issues with getting a replacement if worse comes to worst.
Basically, the Celestron PowerSeeker 70AZ makes a great gift for anyone that wants to spend a little time gazing at the stars each day. But is it good for someone that wants to start taking astronomy seriously? The verdict is: no; there are other more durable telescopes with better features that can be used to take your passion of the hobby to the next level.
It looks and feels good, can easily spot terrestrial objects and celestial objects, but may not be able to clearly discern very distant deep-space objects. The alt-azimuth mount makes it difficult to track the stars and you'll need to keep manually rotating the scope.