Backpack
The backpack is of low quality but functional. Everything fits nicely inside. The backpack would work well for a child, teen. I believe most average adults could probably get enough room in the straps to use the backpack. I am over 6 feet tall and the straps were too short for me. I ripped one of the straps out trying to put it on with both straps fully extended.
Eyepieces Of Travel Scope 50
As a daytime spotting scope it produces a fairly dim image with a cloudy edge around the field of view using the included H20 mm eyepiece which provides 18X. As long as you are not too fussy about color and clarity this arrangement is at least useable in bright sunlight. The central 50% of the image can be brought into fairly sharp focus.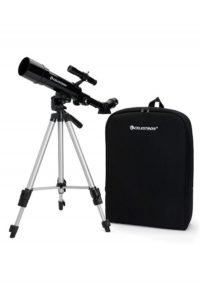 When fitted with the 8 mm eyepiece, 45X, the image is just awful. It is dark, difficult to focus, with significant color aberration, even in bright sunlight. I consider this eyepiece unusable for spotting scope service.
The eyepieces appear to be very low-quality Huygens and Ramsden designs. So I pulled out two of my Plossl eyepieces which are much better quality and tried those. With a 26 mm Meade Plossl, 13.8X, the image was significantly better than the stock 20 mm but still not great. The Plossl eyepieces provided a sharper and wider field of view but could not clear up the cloudy edges which I expect were being caused by the prism in the correct image 45 degrees diagonal.
A 10 mm Plossl was again, better than the 8 mm eyepiece provided with the scope but the image was still dark and barely acceptable at 36X. Note that these eyepieces, taken as a pair, cost almost as much as the whole travel scope package. If you had this scope and had these eyepieces on hand, I would recommend them over the included eyepieces, but I would not recommend buying eyepieces for this package.
So, as a spotting scope, I would give it 2 of 5 stars based on the package but the optics are not great and the included eyepieces are very low quality.
As an astronomical telescope, this package fails in so many ways. I give it 1 star out of 5 as an astronomical telescope.
The 45-degree correct image diagonal does not work well for astronomy in this or in any scope. To view a target that is more than 40 degrees above the horizon you have to get into a very awkward position. You could buy a 90-degree star diagonal but I would not recommend investing in that with this scope.
With the included eyepieces you could view the Moon but typically bright star clusters were very dim and the image was not clean anywhere outside of the center 50% of the field of view with the included eyepieces. Again, my Plossl eyepieces provided an improvement, but the limited aperture is really too small to support much above 50X.
Optical Tube
Examining the optical tube, I see that there is significant internal baffling which is usually there to control light scatter and internal reflections. I did not measure it, but that could be essentially stopping down the useable aperture which would contribute to the dim image at even medium power.
You would not use the 3X Barlow during the day as the magnification would be too high. And the scope doesn't have enough aperture to use it at night. So the included 3X Barlow lens is really a waste. A 2X might have provided some value, but only with upgraded eyepieces.
By the way, the 3X Barlow lens I received with my scope didn't work. I tried it in this scope and two of my other scopes. I could not bring the included eyepieces to focus nor the higher grade Plossl eyepieces.
To Celestron's credit, when I contacted them about the defective Barlow, they immediately sent me a new one. This one worked, but the scope can't handle the magnification that the Barlow provides with the included eyepieces.
The tripod is very lightweight but adequate to the weight of this lightweight plastic scope. It could be used to hold a lightweight camera.
Final Verdict
Bottom line is that I can't recommend this package as more than a child's toy. Every corner has been cut and the results are a scope that disappoints in every way. There are better options available at similar prices.