Optical Performance Overview of ETX 90
The ETX-90 has always been a 90 mm Maksutov-Cassegrain with a focal length of 1,250 mm, which is identical to the Questar and Celestron C90.
In fact, rumors abound that the Observer is produced on the same assembly line as the C90 – a fact that isn't very hard to believe since they have the exact same specs and appear exactly the same.
The ETX-90 has always performed well optically, and the Observer is no different. Unlike earlier models, the focus knob is ergonomically pleasing, big, and it suffers from far less image shift (when the primary mirror flops around when focusing).
Like all ETX versions and the Questar, the Observer has a port on the back, which allows you to attach a DSLR camera or a correct image prism for daytime terrestrial viewing.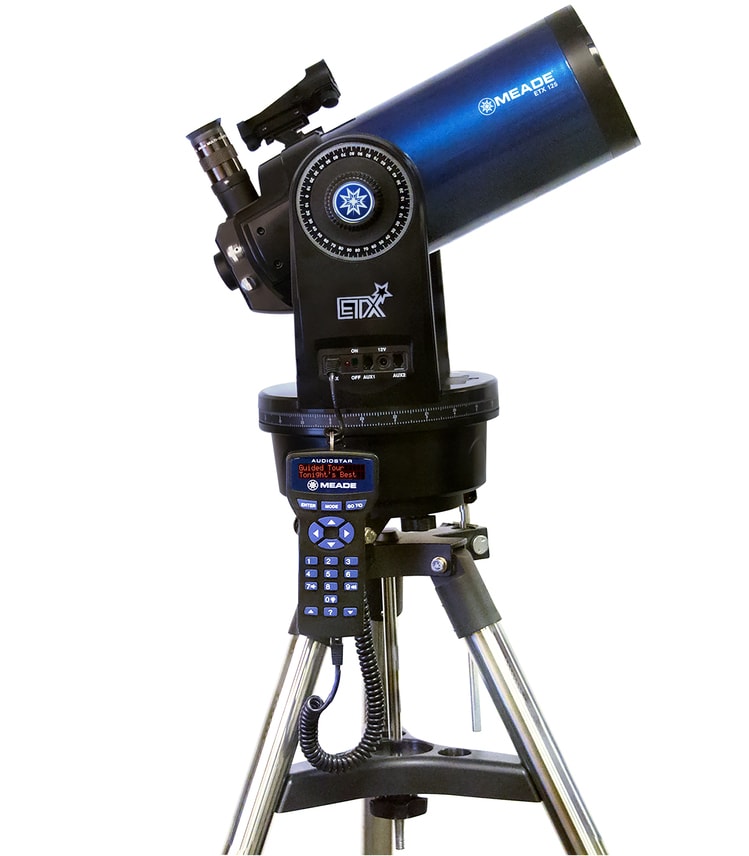 The ETX-90EC features UHTC coatings which allow you to get the lightest grasp out of the scope's 90 mm aperture. However, it is still a 90 mm telescope. You are simply not going to get much out of it deep sky-wise. But it is useful for outdoor activities like camping, hiking, and target shooting as well.
It has a built-in flip mirror mechanism, which allows you to do a 90° observation of land and sky objects, viewing using a 45° erecting prism, or just taking photos using the optional T-adapter with a 35 mm camera.
But be sure to tone down your expectation for photos, as its mount and drive system are not made for them, but rather for tracking and slewing for viewing pleasure.
The ETX-90 Observer comes with 26 mm (48x magnification) and 9.7 mm (129x) Plossl eyepieces that are made of mostly plastic, and also have low quality. For a telescope that is over $400 this is rather disappointing. But you can still up the magnification to 325x by purchasing additional eyepieces or perhaps a Barlow lens.
As with any Maksutov-Cassegrain, the adjustment to outside temperature tends to take a bit longer due to thicker corrector lens.
The optical coatings are made of Ultra-High Transmission Coatings in order to maximize the light transmission, ensuring the brightest images and the highest contrast.
The included red dot finder is terrible, but that's excusable as you only need it to align the GoTo.
Does the Mount Sucks?
Unlike previous versions, the ETX-90 Observer has a Vixen dovetail, so one can in theory put the OTA on other mounts or put other OTAs on the ETX mount. Unfortunately, this is all rather pointless, because …
… the mount sucks!
The ETXs have always been made of plastic, but the Observer takes it to a whole new level. Almost everything but the tripod legs are … plastic. Even the tripod spreader is plastic. The gears inside the fork are plastic. It screams cheap … except that this telescope is anything but cheap.
You can do a cordless operation with its dual axis motor drive system and push button electronic hand controller. The catch is that you need eight AA batteries to last forty hours. So you know the drill; get an external power source for an uninterrupted viewing experience.
I haven't had trouble with some of the sophisticated features such as the AudioStar system, which is pretty simple to use – if pointless for a 90 mm telescope – but many experienced users have reported ridiculously bad accuracy and a refusal to align.
The scope is incredibly loud and consumes power faster than any other telescope I have ever used. And if that wasn't bad enough, the AudioStar controller also talks in a blaring and robotic voice. This is supposed to be a "feature," which is difficult to turn off.
The built-in wedge has no fine altitude or azimuth adjustability, so consider it worthless.
What's The Bottom Line?
Meade has been making unusable, bad GoTo telescopes since the dawn of GoTo telescopes. Unfortunately, the last of their affordable GoTo lines has now succumbed to the shoddy, plastic construction that is beginning to define Meade as a whole as the brand slowly shifts towards "department store quality" instruments.
To conclude this review, I would highly recommend that you not buy an ETX-90 Observer under any circumstances. It is cheaply made, costs more than it ever should, and is nearly unusable.