Have you ever been to an exotic, tropical island and wished to have a telescope to stargaze with on the beach? Or perhaps you've gone aurora-watching in the far northern remote wilderness and would like to take a quick peek at the Moon. Maybe you're visiting relatives and would like to give them a taste of the astronomy hobby. Or better still, perhaps you're planning an astronomy-oriented trip to the Atacama Desert of Chile or the Australian outback. Regardless of where you're going, if you'd like to bring a telescope to travel with, here are our picks for best portable travel telescopes. 
Best Travel Telescopes Ranked According To Price
Meade Lightbridge Mini 114
Minimum telescope I recommend for real
Only Amazon-available 130mm tabletop scope in the US
Computerized, the only refractor, and the only one below 100mm in aperture under $400
Largest tabletop Dobsonian available, but still light
Very lightweight option at 12 pounds
Can show you plenty of deep-sky objects and a wealth of detail on the Moon and planets
Explore Scientific AR102 w/Twilight I
Great scope for even the serious astronomer with absolutely no mechanical or optical compromises
One of the best products Celestron offers
Celestron NexStar Evolution 6
Same build as NexStar 6SE, but offers a number of advantages over it.

Celestron NexStar Evolution 8
Yet another upgrade from the Evolution 6
Best Portable Telescopes For Traveling - Reviewed
1. Zhumell Z100 - Lowest Price, Choice Under $110
In addition to being the most inexpensive, the Z100 is the lightest and compact telescope on this list. The Zhumell Z100 is a 4" f/4 tabletop Newtonian, making the tube a mere 16" long and the entire scope weigh a mere 6.2 pounds/2.81 kg. It easily fits in a backpack or stows away in luggage, which makes it a best companion for traveling and camping. 

The Z100's included eyepieces are acceptable 17mm and 10mm Kellners, and it sports a red-dot finder. The scope's base also sports a ¼ 20 threaded hole to attach to a photo tripod, or you can use the optical tube's supplied Vixen dovetail to attach it directly to a tripod or to a more sophisticated alt-azimuth mount. The Z100's base has a nice built-in carrying handle as well.
Downsides? The Zhumell Z100's optics are not the highest in quality, and the primary mirror cannot be collimated without making some modifications. This means that you must treat it with care during transport, as the primary being knocked out alignment will prevent one from getting usable images. The scope will probably arrive at your doorstep with an at least slightly misaligned primary mirror anyway, so it's really restricted to low-power use – below 60x.
2. Meade Lightbridge Mini 114 - Choice Between $110-$170
The Lightbridge Mini 114 is the absolute minimum portable telescope I recommend for real, serious astronomical use. It's only a few pounds heavier (10.8 lbs/4.9 kg in all) and a few inches longer than the Z100, but sports real, quality collimatable primary and secondary mirrors, and two MA eyepieces (a 25mm for 17x and a 9mm for 50x), as well as a rather cheaply made red dot finder. It has the same focal ratio (f/4) as the Z100 but is half an inch larger in aperture, which translates to 26% more light-gathering power. It still fits in a backpack or carry-on luggage with ease.
The Lightbridge Mini 114 is good enough to spend plenty of extra money on upgrades for it, and its wide field, convenience, and quality optics make it a telescope you'll never outgrow.
Like the Zhumell Z100, the scope's included Vixen dovetail allows you to put it on a full-sized equatorial or alt-azimuth mount, or simply attach it directly to a photo tripod – though the former and latter will put the finderscope in a rather odd position. The Lightbridge Mini 114 is really best suited for an alt-azimuth mount or its included tabletop Dobsonian mount.
3. Zhumell Z130 - Choice Between $170-$270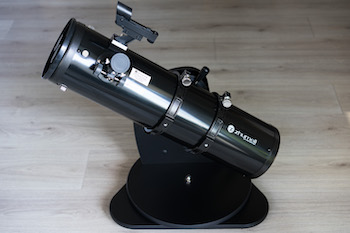 The Zhumell Z130 used to compete with the Meade Lightbridge Mini 130, but the Mini 130 has been discontinued leaving the Z130 the only Amazon-available 130mm tabletop scope in the US. The Z130 is comparable to the Astronomers Without Borders OneSky, but the Z130 has a superior focuser, closed-tube design, and isn't on backorder as often.
The Z130 comes on a tabletop-style Dobsonian mount, but unlike most other tabletop Dobs it uses tube rings in addition to a Vixen dovetail. This allows you to slide the scope for precise balancing and rotate it to a comfortable position. As with the Z100, the Zhumell Z130 has a nice built-in carry handle in the base.
The optical quality is very good, and you can see a lot of stuff with a 130mm f/5 telescope like the Z130. 130mm of aperture means you get 30% brighter images than with a 114mm telescope, and 69% brighter than with a 100mm.
The Z130 comes with 25mm (26x) and 10mm (65x) Kellner eyepieces, which work well enough with this telescope. There's also an eyepiece rack included for convenience. The red-dot finder is not permanently attached but instead has a Vixen/Synta-style shoe that allows you to easily remove it and swap it with a different finderscope at your leisure.
The 21-pound/9.52 kg weight of the Z100 combined with the larger physical size means that it's getting a little too big for backpacks, and needs a very sturdy table to accommodate it. However, Zhumell Z130 still easily fits in a carry-on bag with plenty of room to spare.
4. Meade ETX-80 - Choice Between $270-$320
Of the sub-$400 telescopes we recommend, the Meade ETX-80 Observer is the odd one out, being the only computerized one, the only refractor, and the only one below 100mm in aperture. However, the ETX-80 is very portable and its features lend it well to travel. Thanks to being a refractor, the small aperture is not as bad as it would seem, with the ETX-80 being about on par with a 100mm Newtonian reflector in terms of detail on deep-sky objects.
The ETX-80 includes two eyepieces – a 26mm Plossl for 15x and a 9.7mm eyepiece for 41x. The ETX also sports a built-in Barlow lens which can be activated with the flip of a switch, allowing for 30x with the 26mm and 82x with the 9.7mm, the latter being about the upper limit magnification-wise for this telescope.
The ETX-80's tube may look a little long, but that extra black portion is a thread-on dew shield extension which is easily removed and reattached.
Being a GoTo, the ETX-80 is not necessarily easier to set up than a manual telescope, but it allows one to find and observe objects quickly once the complicated alignment process has been completed. However, it does require 6 AA batteries to function – or you can buy an AC wall socket or DC cigarette lighter adapter and power it from your wall, a portable rechargeable DC power source, or your car.
The ETX-80 not only fits in a backpack, but it in fact comes with one which makes it one of the top travel oriented telescopes.  Being a refractor, it also lends itself well to terrestrial observing, and Meade has included a 45-degree diagonal that threads onto the scope's rear port to accomodate that. The scope's optical tube can be removed from the mount to attach directly to a photo tripod, and in a pinch the scope's clutches can be unlocked and the whole thing can be used manually – which is handy for terrestrial use or if your batteries are dead or have been misplaced. Lastly, the ETX mount can be decoupled from the tripod not only for transport but also for use on a table top.
Cons? The tripod is a little lightweight – though Meade sells a heavier-duty one, and being an f/5 refractor it will show a lot of chromatic aberration – limiting lunar and planetary views, and preventing one from going much above 85x as I mentioned earlier. Also, as I've said, the GoTo is convenient once it's aligned but it makes setting up the scope a little time-consuming.
For more info on the ETX-80 Observer, read our in-depth review.
5. Orion StarBlast 6 - Choice Between $320-$350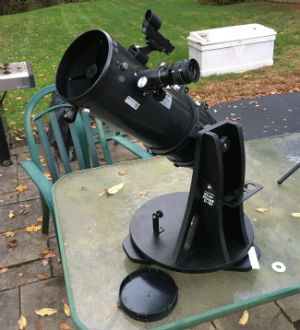 The StarBlast 6 is the largest tabletop Dobsonian available. Like the Zhumell Z130, it sports a pair of tube rings, but there's no Vixen dovetail.
At 23.5 pounds/10.66 kg, the StarBlast 6 is not the lightest tabletop scope, but it's still light enough to carry fully assembled and the scope will fit in a carry-on bag. The included Sirius Plossl eyepieces – 25mm and 10mm, giving 30x and 75x respectively – work very well.
The StarBlast 6's focuser is a little cheap for something of its size and price. Orion could've put a 2" Crayford focuser on, but opted not to. The 1.25" plastic focuser they used works okay but it's prone to damage.
The tabletop Dobsonian mount supplied with the StarBlast 6 has built-in carrying handles for convenience, as well as an eyepiece rack. The scope's optical tube has a small aiming knob on the end as well, a nice touch.
Orion sells the StarBlast 6 for an additional price with its Intelliscope digital setting circle system as the StarBlast 6i, and you can upgrade the regular StarBlast 6 with the Intelliscope later on if you wish, but the system is not particularly useful or needed with a wide-field 6" f/5 telescope like the StarBlast 6.
For more information, read our review of the StarBlast 6 and our review of the StarBlast 6/6i.
6. Celestron NexStar 90SLT - Choice Between $350-$390
At 12 pounds/5.44 kg, this is certainly a very lightweight option. The SLT (Star Locating Telescope) mount is big enough that it has to be put in luggage if you plan on flying with it, but the good news is that the optical tube assembly is tiny – small enough to bring in a purse, handbag, or backpack with plenty of room to spare. The OTA is the same as Celestron's C90, famed for its high quality optics and compactness at an affordable price.
The NexStar 90SLT comes with 2 eyepieces – a 25mm Kellner for 50x and a 9mm Kellner for 139x. They work pretty well, though higher quality eyepieces would definitely boost the scope's performance.
The only downside is that the 90SLT being a small Maksutov means that you aren't going to be doing much deep-sky viewing, and deep-sky viewing is one of the main allures of astronomy travel after all.
7. Celestron NexStar 130SLT - Choice Between $390-$500
The NexStar 130SLT is identical optically to the Zhumell Z130, but with a 2" rack-and-pinion focuser, different accessories, and a GoTo mount. It comes with 25mm (26x) and 9mm (72x) Kellner eyepieces – not my favorite, particularly at this price point, but usable enough.
As with the 90SLT, you should probably pack the mount in luggage and bring the scope as a carry-on.
Like the Z130, the NexStar 130SLT can show you plenty of deep-sky objects and a wealth of detail on the Moon and planets. The GoTo takes a while to set up, but is somewhat helpful once you've done so.
The 130SLT's only major flaws are that the focuser is a little coarse and difficult to use, and the mount isn't perfectly steady, but it works fine otherwise, and those issues don't stop me from recommending it.
8. Explore Scientific AR102 w/Twilight I - Choice Between $500-$700
A rock-solid instrument on a rock-solid mount, the Explore Scientific AR102 is a great scope for even the serious astronomer with absolutely no mechanical or optical compromises. The AR102's wide field of view, high-quality dual-speed Crayford focuser, premium star diagonal, as well as the relatively low chromatic aberration the scope displays considering the f/6.5 focal ratio, lends it well to deep-sky and some lunar and planetary viewing. The Twilight I mount is rock-solid and an absolute steal for the price.
There are also various aftermarket cases available for the AR102 to carry it on an aircraft or similar.
While it does include a decent 50mm straight-through finderscope, the AR102 does not come supplied with an eyepiece, and you'll need to obtain one separately.
For more information on the AR102 optical tube, read our review.
9. Celestron NexStar 6SE - Choice Between $700-$1100
The NexStar 6SE is one of the best products Celestron offers nowadays. Unlike the smaller NexStar SEs it actually has enough aperture for the scope's GoTo technology to be a useful utility rather than an inconvenient hindrance, and Celestron's 6" SCTs seem to boast some of the best optics of their already high-quality SCTs, with StarBright XLT full multi-coatings and water-white corrector lens glass. The 6SE can accept many accessories that Celestron and Meade offer, including a 2" star diagonal, f/6.3 focal reducer, T-adapter, and more.
Being a Schmidt-Cassegrain, the 6SE is incredibly compact, with the optical tube only 16" long and weighing 10 pounds/4.53 kg. The entire telescope, with the tripod, weighs only 28.8 pounds/13 kg.
The only major gripe I have with the NexStar 6SE is that it comes with a single eyepiece – a 25mm Plossl giving 60x – so keep in mind that you'll want some money left for more eyepieces.
Celestron sells a carrying case for use with the 6SE, which I highly recommend buying if you plan on flying with it. The tripod can be checked in luggage, and the rest carried on.
10. Celestron NexStar Evolution 6 - Choice Between $1100-$1500
The NexStar Evolution 6 builds on the features of the NexStar 6SE, but offers a number of advantages, including a built-in rechargeable battery, better gearing, and the ability to control the telescope with your phone, tablet, or other smart device.
Thanks to the rechargeable battery, which provides about 10 hours of power, there's no longer the hassle of burning through AA batteries or having to lug a portable DC power supply and cords which quickly wrap around your telescope and cause a tripping hazard.
The NexStar Evolution 6 comes with two eyepieces: A 40mm Plossl (38x) and a 13mm Plossl (115x). Both are decent enough to get you started, though you'll definitely want to invest in more eyepieces and either an f/6.3 reducer or 2" star diagonal.
As with the NexStar 6SE, a carrying case is available.
11. 
Celestron NexStar Evolution 8 - Choice Between $1500-$2000
The NexStar Evolution 8 is yet another upgrade from the Evolution 6, boasting a whopping 8" of aperture for 78% more light-gathering power and 33% more angular resolution. Apart from the aperture, the mechanics are more or less the same. The entire scope weighs only 40.6 pounds/18.4 kg, and thus it's still reasonably lightweight and portable. Like the Evolution 6, the NexStar Evolution 8 comes with a 40mm Plossl eyepiece (51x) and 13mm Plossl eyepiece (156x).
As for transporting it safely – Celestron sells a rolling case that will fit the entire scope, but it is too big for an airline carry-on. If you plan on flying with the Evolution 8 I would recommend buying their smaller case and just carrying the optical tube aboard, and checking the mount and tripod.
This scope is basically identical to the Zhumell Z100 but with an inferior focuser, without the handle, and with the eyepiece in a different position, the latter being more comfortable or less comfortable depending on who you ask and what platform you use the scope on.
This scope is similar to the Meade Lightbridge Mini 114. Unlike the Mini 114, the Z114 has a tube ring – but no dovetail. The base has the same handle cutouts as the other Zhumell Z series tabletop Dobsonians. The eyepieces, however, are 17mm and 10mm Kellners – a little inferior to the MAs supplied with the Mini 114.
Orion StarBlast Astro 4.5
I'd call this telescope yet another Lightbridge Mini 114 copycat, except for the fact that the StarBlast came first. The StarBlast sports the same tube ring/no dovetail as the Zhumell Z114 but the mount lacks a handle, and it's more expensive. Furthermore, the passable 10mm Kellner has been replaced with an all-but-useless 6mm Kellner, which has a tiny eye lens, zero eye relief, and crummy optics.
This telescope is the same optically as the ETX-80, but without the flip mirror or Barlow. It also lacks the dew shield extension of the ETX-80. It comes on a decent, albeit heavy in plastic, alt-azimuth mount and tripod.
However, the accessories supplied with the Infinity 80 do not allow the optical tube to live up to its full potential and replacing them would cost almost as much as the entire unit, thus I recommend getting a tabletop Dobsonian instead.
The Virtuoso has the same optical tube as the NexStar 90SLT, but on a nice auto-tracking tabletop mount (which also can be attached to a photo tripod). It comes with the same eyepieces and a really cheap, almost useless 5×24 finderscope, as well as a white-light solar filter. If you don't mind the hassle of obtaining a tripod and replacing the finder, it's an excellent choice.
Explore Scientific FirstLight 100mm w/Twilight Nano
This scope has very good optics and is quite lightweight, but the supplied eyepiece, star diagonal, and red dot finder are utter garbage. The mount also lacks slow-motion controls. If you replace the accessories and brace the mount with something, however, it's a fine telescope.
This was my first telescope. It's really heavy for its aperture at 21 pounds/9.52 kg. Not a terrible choice, but one of the larger NexStar SEs or the NexStar SLTs would likely suit you better.
Vixen R130SF w/Porta II Mount
If you liked the Zhumell Z130 but wished it came on a full-sized manual alt-azimuth mount and tripod, this scope is for you. The Vixen Porta II is an excellent mount and will serve you well. However, the R130SF is significantly more expensive than the Celestron NexStar 130SLT, which offers GoTo capability and a 2" focuser.
The ETX-125 is not as versatile due to its super-long focal length, and it is rather expensive for its aperture, but it is overall a pretty good choice for the seasoned travelling observer.
Tips on Choosing & Using a Portable Travel Telescope
Flying? Don't Check Your Telescope!
Airline baggage handlers can drop your luggage more than ten feet onto conveyor belts, and generally treat it roughly. This is obviously not good for a telescope with fragile, glass optics. There is also the possibility of your telescope being stolen if it is recognizable, particularly if you're traveling abroad to remote locations. Thus, you should try to bring as much of your telescope in a carry-on bag with you on the plane as possible – or at least the optical tube, which is the most expensive and most fragile part of your telescope. If you must check your travel telescope, find out if there's any insurance policies or special handling options for it.
If you're taking your telescope to a dark site, you'll probably want to spend most of your time observing deep-sky objects, which necessitates larger aperture. However, don't buy such a big telescope that you have to ship it ahead to your destination – or worse still, check it in luggage.
The more money you spend, the less fragile and inexpensive components your travel telescope will have. In a remote location without access to a hardware store or your backup accessories, this could mean the difference between using your telescope or not.