The ETX-125 Optical Tube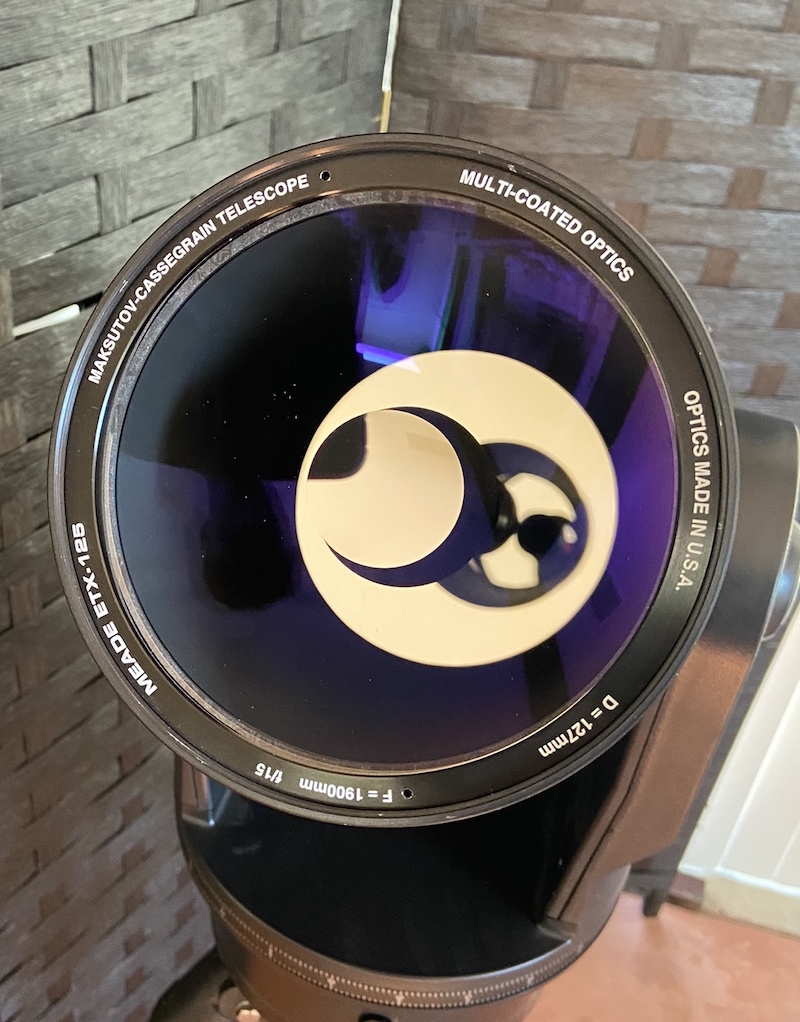 The Meade ETX-125 has had some slight variations in optical specs over the years, but the old and new AT versions are 127mm (5" in aperture with an f/15 focal ratio, producing a 1900mm focal length. Unlike the Synta (Skywatcher/Celestron, and formerly Orion) "127mm" Maksutovs, which are in fact around 118-120mm in clear aperture, there is no internal stopping down of the ETX-125 internally, and it is a true 5 inches in clear aperture. This gives it about a 5% increase in resolution and a nearly 20% light-gathering increase when combined with the ETX-125's UHTC multi-coatings on the optics.
The ETX-125's f/15 focal ratio, considered extremely "slow," offers several advantages, such as easy focusing due to its considerable depth of field, sharp star images even with budget eyepieces, and the capability to reach high magnifications without the need for extremely short focal length eyepieces or Barlow lenses. A 5″ telescope with near-perfect optics like the ETX-125 can accommodate up to around 250x magnification, or a 7-8mm focal length eyepiece, before reaching the limit of its resolving power. However, the most impressive planetary views with this telescope are usually achieved at slightly lower powers, usually around 150-220x magnification. This is a fabulous telescope for the Moon and planets or splitting double stars, and 127mm of aperture is enough to start to resolve globular clusters into stars and view details in galaxies, though not as well as a larger telescope will.
The ETX-125's modest aperture and 1900mm focal length, of course, hinder its performance in observing deep-sky objects somewhat. Although a 127mm telescope isn't the most powerful option for deep-sky viewing at this price range, refractors and reflectors of similar size, equipped with short focal lengths and/or 2″ focusers, can at least deliver a wide field of view suitable for observing large open star clusters and nebulae. The ETX-125's 1900mm focal length, compatibility with only 1.25″ eyepieces, and physical stops within the telescope's baffle tube limit the maximum achievable field of view to just 0.85 degrees, or roughly 1.75 times the angular diameter of the full Moon. This rules out larger open clusters and nebulae from fitting in the field whatsoever.
The ETX-125's built-in flip mirror diagonal works, but you'll need an adapter to put a visual back or camera adapter on the back of the scope, and the scope will not be able to reach the zenith/pole (depending on whether it's used in alt-azimuth or equatorial mode) because whatever you have attached will actually hit the base of the fork. For safety, you'll also have to go into the scope's settings to set an altitude limit so that the scope doesn't accidentally crash your camera/erecting prism/etc into the mount when slewing. Forget putting a DSLR camera on for anything but terrestrial photography – you won't have the clearance. The flip mirror also tends to have a shifted image relative to the focal plane when using the telescope, and you're almost guaranteed to have to refocus when switching between the main port and the rear port, which further complicates using it. Also, there's nothing stopping you from plugging your planetary camera or DSLR onto the regular eyepiece port. All of this makes the flip mirror a colossal waste of time, money, and funds and it is little more than a nice added gimmick you can brag about to your friends who don't have an ETX.
Accessories
Over the years, the ETX-125 has consistently included a 26mm "Super Plossl" 1.25″ eyepiece, and with the 2023 AT version, this remains the sole eyepiece provided. Boasting a 52-degree apparent field of view, this eyepiece offers acceptable eye relief for those wearing glasses and delivers 73x magnification with the ETX-90, translating to a true field of view slightly over 1 degree, or about double the angular diameter of the full Moon. Although the 26mm Super Plossl yields sharp views to the edge of the field, its 52-degree apparently field of view is not exceptionally immersive, and the 73x magnification it provides is not ideal for viewing larger deep-sky objects. It would be nice if Orion/Meade had bothered to include another eyepiece or two.
The ETX-125 AT comes with a standard battery-powered red dot finder, which is mounted on the scope using a non-standard bracket. For aligning the GoTo system or targeting bright objects, it functions adequately, though with a 1900mm focal length, a red dot is certainly not the most precise option for aiming.
Included with the ETX-125 AT are a smartphone adapter and a "moon filter". The basic adapter securely clamps onto the supplied 26mm Plossl and similar eyepieces, enabling lunar photography, although it is not particularly sturdy or high-quality and may not be able to hold heavier phone swells. The bundled "moon filter", a low-cost piece of tinted glass, does little more than blur or dim the view and is generally not needed with the ETX-125 or really any telescope.
Mount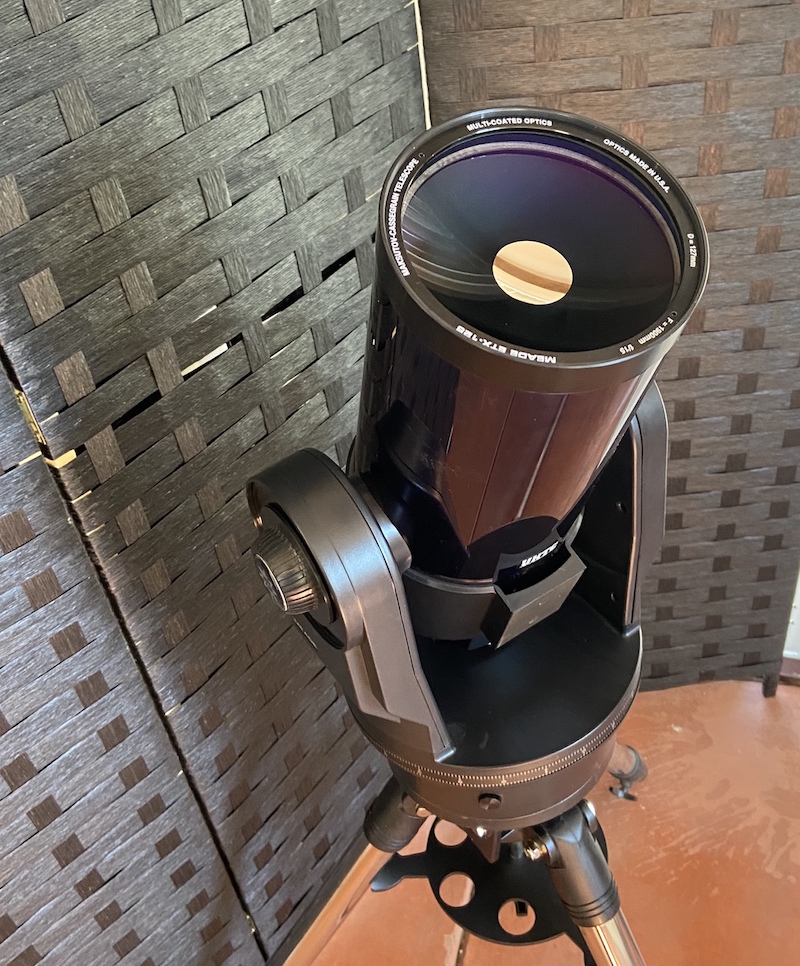 The ETX-125 AT's mount is a computerized alt-azimuth fork design powered by Meade's AudioStar hand controller. The AudioStar is a rudimentary GoTo hand controller similar to the AutoStar, except for an added voice feature that you may never actually want to use.
The ETX-125 AT does have adjustable clutches on its fork mount, theoretically enabling manual aiming. However, this feature is practically useless, as there is no fine adjustment knob on either axis – a must for a telescope with this long of a focal length – and manual aiming disrupts the alignment and accuracy of all GoTo and tracking functions. The scope is mounted on Meade's #884 tripod, a robust steel tripod with an integrated "wedge" to convert the scope into an equatorial configuration. But due to the lack of fine adjustments and the ETX-125 optical tube and mount being unsuitable for deep-sky imaging, there is limited utility in using this feature anyhow.
Should I buy a Used Meade ETX-125 AT?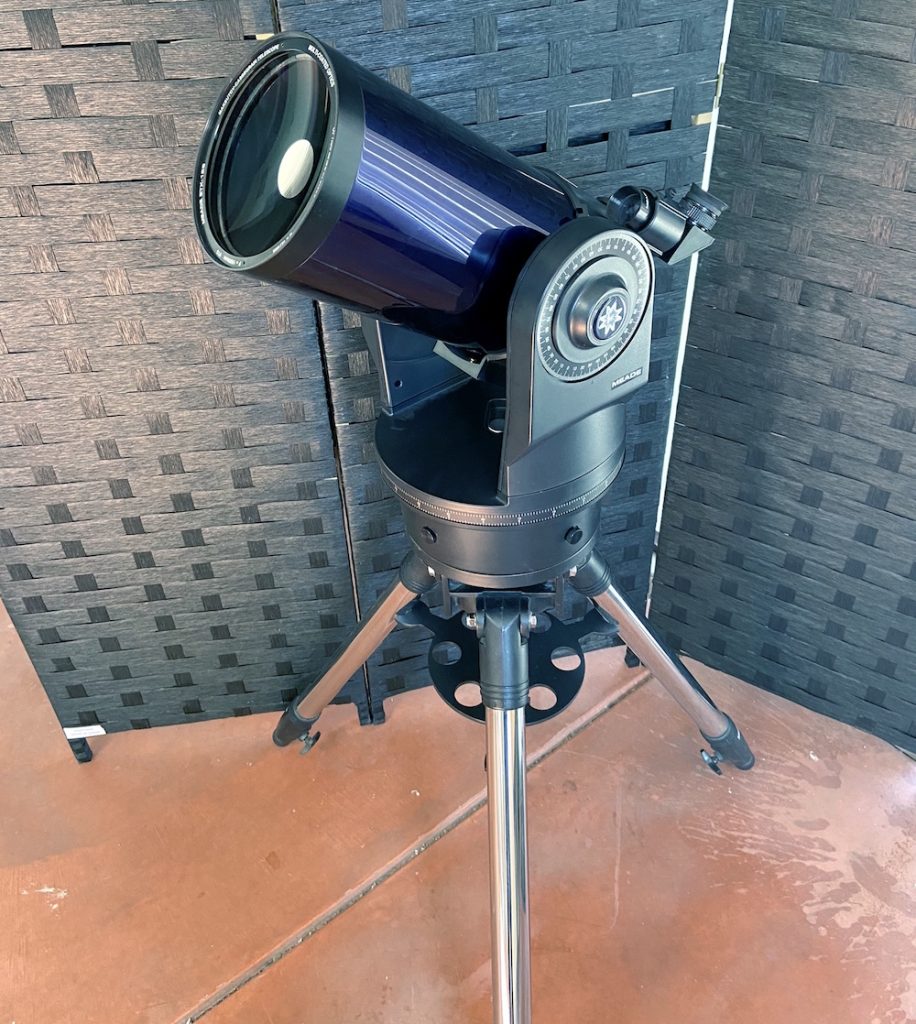 If you're set on owning an ETX-125, older ETX-125 models can provide the same features at a reduced price and in a more compact size. The older "PE" ones actually have metal gears and a superior GoTo alignment system to the AT and "Observer" models. Of course, when purchasing any used catadioptric telescope such as the ETX-125, ensure that the corrector is intact (as it's virtually irreplaceable) and that the focus mechanism operates smoothly. Additionally, inspect the mirror coatings for good condition – recoating a Maksutov's secondary "spot" is virtually impossible, so any damage to the coating is more or less irreversible. If feasible, you should also try to test the mount's drives and the AutoStar/AudioStar system for smooth operation.
Alternative Recommendations
The ETX-125 is a nice scope, but it's of course limited to brighter targets and there are much larger instruments available at equal or lower prices. The Celestron NexStar 6SE offers many of the same features as the ETX-125 and similarly great planetary performance but with a better mount and more capabilities for both viewing and imaging, while various Dobsonians and other tripod-mounted options are also worth investigating.
Under $550
The Sky-Watcher Virtuoso GTi 150P provides a substantial 64% increase in light-gathering capacity compared to the ETX-125, and like the latter, it comes with fully motorized tracking and GoTo capabilities. However, instead of using a hand controller, it is controlled via your smartphone or tablet, and you can manually move the telescope around the sky. The collapsible tube of the Virtuoso GTi 150P makes it as compact as the ETX-125, while its tabletop mount ensures a swift setup. Its shorter focal length enables a wider true field of view, perfect for observing deep-sky objects. To fully enjoy its capabilities, you'll need a stable surface or a compatible tripod. In return, you'll have a wider field of view than the ETX-125 and the convenience of smartphone/tablet control. Sky-Watcher also offers the Heritage 150P, an all-manual version of the Virtuoso GTi 150P.
The Sky-Watcher Virtuoso GTi 130P is a slightly smaller version of the GTi 150P. However, considering the minimal differences in size, weight, and cost, the 150P is really what we'd recommend for the additional capabilities its extra inch of aperture provides. The 130P is also available as a manual-only telescope for a lower price, the Sky-Watcher Heritage 130P.
The Celestron Astro-Fi 102 has a slightly smaller aperture than the ETX-125, but its user-friendly Astro-Fi mount with smartphone/tablet control and substantially lower price tag make up for the difference. If you prefer a Maksutov-Cassegrain telescope but want to avoid some of the ETX's compromises, the Astro-Fi 102 is a great alternative.
$550-$900
The Apertura AD8/Zhumell Z8/Orion SkyLine 8 easily outperforms the ETX-125 in terms of light-gathering and resolving power, and can achieve a much wider field of view on account of its 2" focuser and shorter focal length. With features like a dual-speed Crayford focuser, built-in fan, and numerous included accessories, it is an excellent choice and our top pick in its price range.
The Celestron StarSense Explorer 8″ Dobsonian provides computerized pointing assistance through its StarSense Explorer technology, which connects to your smartphone. It also features a lighter and more portable base compared to the AD8/Z8, but with fewer bonus features or included accessories.
The Celestron Astro Fi 130 offers about the same aperture as the ETX-125, but at a significantly lower price point and with the bonuses of a super-wide field of view and the ability to be controlled from your smartphone or tablet.
$900+
The Apertura AD10/Zhumell Z10/Orion SkyLine 10 shares the same fantastic accessories, features, and value for money as its smaller aperture counterpart. With a 10" primary mirror, you get twice the resolution and 4x the light-gathering power of the ETX-125 AT's 5" aperture. The 10″ optical tube and base weigh just slightly more than the AD8/Z8's and are not much more challenging to store or transport, despite offering considerably more light-collecting and resolving power.
The Celestron StarSense Explorer 10″ Dobsonian delivers all of the fantastic performance of a high-quality 10″ Dobsonian with the added benefit of Celestron's StarSense Explorer technology for helping with aiming and the same ergonomic improvements of its 8" counterpart.
The Celestron NexStar 6SE offers a wider possible field of view, larger aperture and an easier-to-use mount than the ETX-125. The more expensive NexStar Evolution 6" model features identical optical performance but adds a built-in lithium battery and WiFi dongle to the already well-designed basic form of the 6SE.
The Sky-Watcher 10″ Flextube GoTo Collapsible Dobsonian provides the same seamless GoTo and manual control options while remaining relatively lightweight and compact, partly due to its collapsible FlexTube design. As with any 10″ Dobsonian, you can also enjoy much more impressive views of deep-sky objects with this scope than the ETX-125 can possibly provide, along with the benefits of easy manual aiming without disrupting GoTo/tracking, no need for a tripod, and a wider achievable true field of view.
Aftermarket Accessory Recommendations
Investing in a dew shield for the ETX-125 can help keep stray light and moisture at bay, preventing condensation from forming on the scope's front corrector plate and minimizing glare intruding into your views.
A 32mm Plossl eyepiece is an excellent addition to the ETX-125, as it provides a slightly lower magnification of 59x and a broader field of view compared to the stock 26mm eyepiece – about 0.85 degrees in total, or a bit over one and a half times the angular diameter of the full Moon or Sun in the sky. This is the primary supplementary eyepiece we recommend for the ETX-125.
For higher magnification lunar, planetary, and double star observations with the ETX-125 AT, we suggest acquiring a 15mm (127x) goldline or redline eyepiece, as well as a 9mm (211x) goldline/redline. Alternatively, high-end eyepieces like the Agena Starguider, Baader Hyperion, or Explore Scientific 62 and 82-degree series oculars are compatible with the ETX-125, although they come at a higher cost.
Additionally, a compact rechargeable power supply such as a TalentCell power pack or Celestron PowerTank Lithium ensures that you won't have to worry about depleting AA batteries and can save you money in the long run if you frequently use your ETX-125 AT.
What can you see?
5" of aperture plus a super long focal length and GoTo don't yield the greatest results when it comes to deep-sky observation, though the ETX-125 can still show you the basics. Galaxies are, for the most part, disappointing due to the ETX-125's small aperture and narrow field of view. Brighter galaxies like M65, M82, and M104 show their dust lanes, but this can be challenging if you are in a light-polluted environment. Additionally, you won't be able to take in all of the Virgo Cluster or Andromeda (M31) at once on account of the ETX-125's limited field of view. The Orion Nebula (M42) of course delights, however, as do smaller open star clusters like M35 or M11.
The ETX-125 AT also does pretty well on globular star clusters. It'll show you most of the ones in the Messier catalog, but it kind of lacks the resolving power to bring out many individual stars in the dimmer globulars – M13, M3, and M15, for instance—which are no problem for the ETX-125 AT to resolve at higher magnifications. The AudioStar controller's extensive double star database allows you to find pretty much any double you want with it, and the scope's optical quality, long focal length, and lack of a diffraction-inducing spider holding the secondary mirror make it especially suited for the task of splitting double stars. This is an area where GoTo is actually pretty useful.
The Moon and planets are where the ETX-125's long focal length and high-quality optics really shine. The Moon will show thirty craterlets in Clavius and the one in Plato on a night of good seeing, along with countless valleys, ridges, flatlands, mountains, and of course craters. Venus is a beautiful crescent, Mars shows a fair amount of detail at opposition, Jupiter's Great Red Spot and cloud bans are fantastic (though the moons still remain pinpoints), and the Saturnian clouds, rings, Cassini division, and its family of moons are visible. Uranus and Neptune are nothing more than colorful, star-like dots; the ETX-125's meager aperture is insufficient to reveal their moons.
Astrophotography
The ETX-125 is a little small in aperture for planetary imaging, but fantastic lunar and planetary images can be achieved with the scope and a high-speed CMOS planetary camera like the ZWO ASI224MC. At f/15, image scale is already decent enough, but a 2x Barlow lens to boost the scope to f/30 might be ideal for Mars, Jupiter, Saturn, and small details on the Moon.

Of course, deep-sky astrophotography is not possible with the ETX-125 AT due to the mechanical limitations of the telescope and its mount, as well as its ultra-long f/ratio.