Optics
The Celestron SkyMaster 25x100s' objective lenses are standard 100mm (4″) achromatic lenses, akin to those used in a refractor, but with a fast f/ratio of f/4.17. This design choice implies that they were not intended to provide sharp images at high power without substantial chromatic aberration, which is acceptable since the magnification of these binoculars is fixed at 25x anyway. Eye relief with these binoculars is a rather short 10 mm, not the best if you wear glasses but fine otherwise for most users.
The SkyMaster 25×100 binoculars, as well as most high-quality binoculars, utilize prisms made from BaK-4 crown glass, surpassing the quality of the more prevalent BK7 prisms found in less expensive products. BaK-4 prisms are manufactured to higher standards than their BK7 counterparts, and binoculars featuring these prisms typically do not have undersized prisms that can cause field of view clipping or vignetting. The SkyMaster 25x100s' exit pupils are nearly perfect circles, and the binoculars' aperture is a genuine 100mm, with only minimal clipping on one exit pupil edge, which does not affect the views.
The true field of view provided by the SkyMaster 25x100s is 2.6 degrees, a smidge over five times the angular diameter of the full Moon. With a 25x magnification, this translates to an apparent field of view of 65 degrees, offering a considerably wide and immersive experience when observing large deep-sky objects. However, the simplistic wide-angle eyepiece design combined with the extremely fast f/ratio of the SkyMaster 25x100s' objective lenses unavoidably leads to some sharpness loss towards the field of view edges. The outer perimeter of the field of view may appear slightly fuzzy, but this is likely to go unnoticed.
A pair of 100mm binoculars like these are roughly equivalent to a 6" or slightly larger telescope in terms of their total light-gathering ability. However, unlike a telescope, they cannot provide high-power views of globular clusters, small galaxies, the moon, or planets. These binoculars are primarily suitable for observing open clusters and large nebulae. The SkyMaster 25x100s exhibit a moderate amount of chromatic aberration on bright stars, the moon, and planets, but this does not significantly impede the views.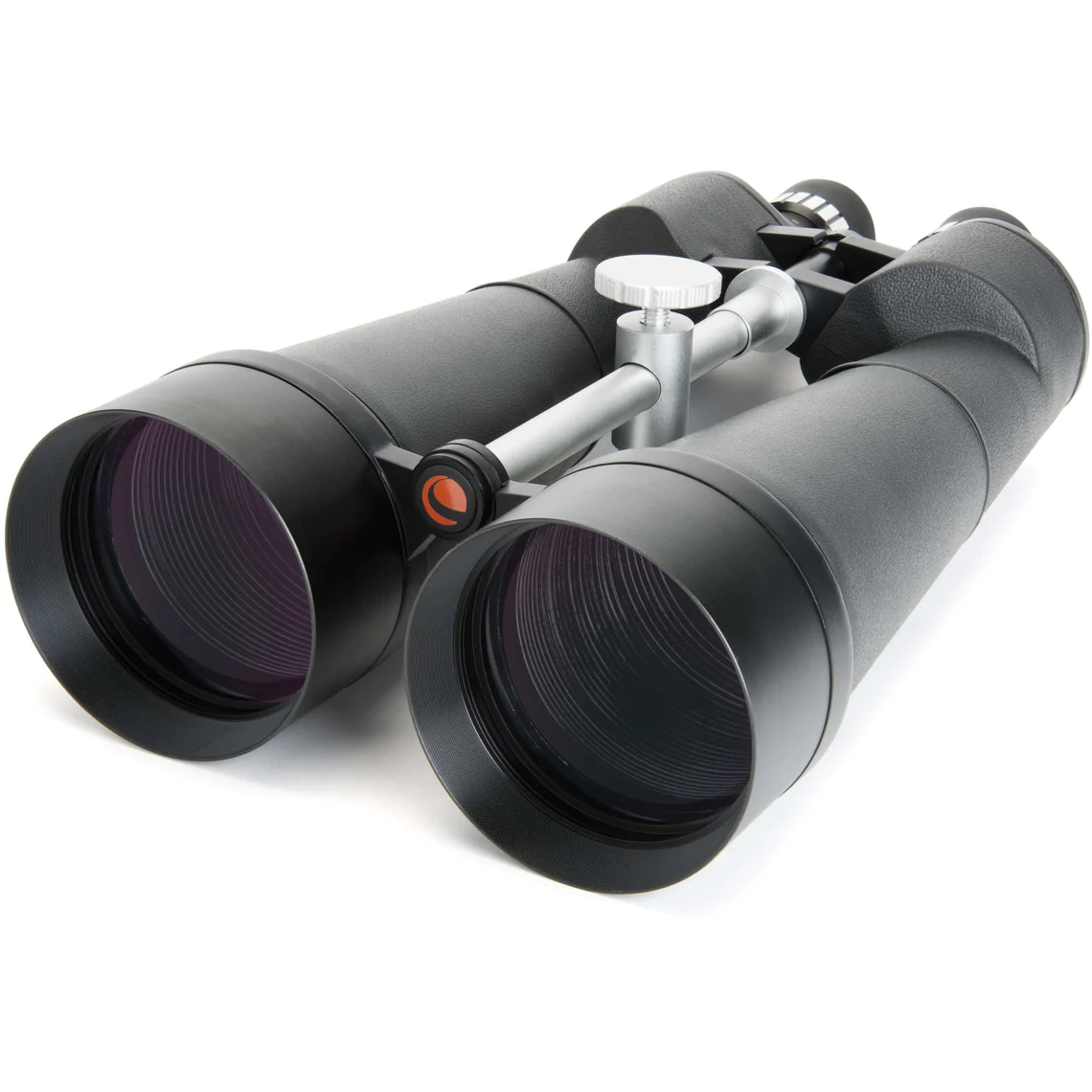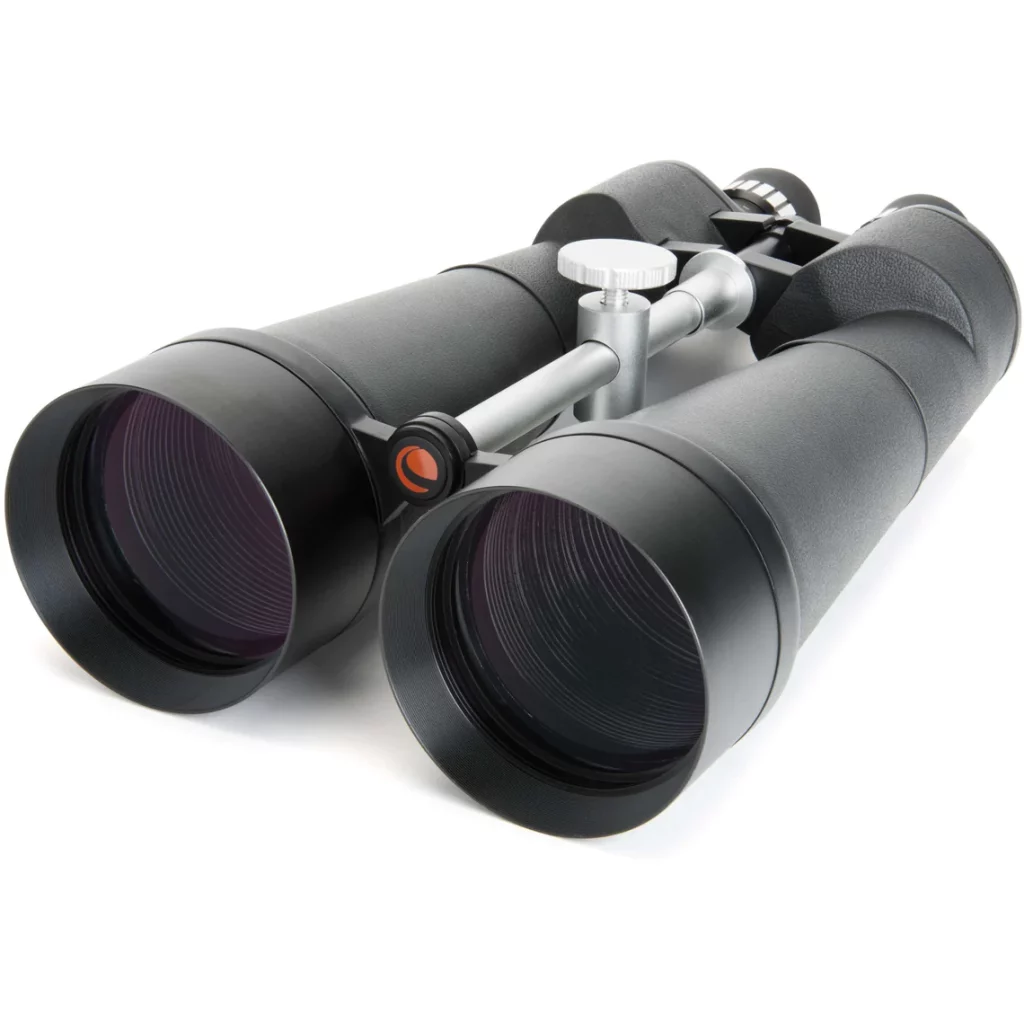 Mechanics
The Celestron SkyMaster 25x100s' focus is adjusted independently at each eyepiece. This gives you near-unlimited diopter adjustment if needed, though it can be a bit confusing if you're used to standard center-focusing binoculars. Given their substantial size and a close focus distance of 80 feet, they are not suited for general-purpose birding, making fast center focusing unnecessary.
The SkyMaster 25×100 binoculars are massive instruments, and their weight and magnification necessitate the use of a mount or tripod. A sturdy metal rail between the two halves enables connection to a tripod featuring a 1/4 20 socket, which accommodates standard photo tripod head screws. The socket can be shifted along the rail for balance adjustment, depending on the tripod head design and binocular attachment point. Additionally, the rail allows for the attachment of a standard red dot finder or reflex sight. In terms of durability, these binoculars boast a solid and robust construction. Nevertheless, it is advisable to avoid subjecting them to impacts, as the larger optics are a bit more fragile when combined with these binoculars' hefty 10-lb weight. In any case, dropping them may put the optics out of alignment, making them require collimation, involving either sending them back to Celestron—an inconvenient procedure—or attempting a DIY approach.
Mounting Recommendations
When selecting a tripod or other support for the Celestron SkyMaster 25x100s, ensure it can accommodate the binoculars' weight with at least a 50% margin or more. A monopod is inadequate for binoculars of this size, and many budget-friendly tripod options may not offer enough stability or maximum height for comfortable, wobble-free viewing. A tripod that extends to six feet or higher is recommended to facilitate the observation of objects higher in the sky. Alternatively, a dependable parallelogram mount is ideal for any astronomy binocular, including the SkyMaster 25x100s.
Related Product Guide: Best Tripod for Binoculars
Should I buy Used Celestron Skymaster 25×100 Binoculars?
The primary concern when purchasing used Celestron SkyMaster 25x100s or any binoculars is the potential for them to be out of collimation or have interior fungus or corrosion. It is not recommended to buy a pair that you cannot examine and test in person. Miscollimated binoculars typically display a noticeable double image on terrestrial objects at moderate distances, making it easy to identify this issue if you can have a look through them. And of course, you should always avoid purchasing used binoculars with signs of fungus or other deterioration, particularly if it is on inaccessible interior optical surfaces that are harder to clean or closely examine.
Alternative Recommendations
The Orion GiantView 25×100 Astronomy Binoculars are more or less identical to the SkyMaster 25x100s, while other options for premium 100mm or smaller aperture binoculars exist. You may also want to consider looking at a Dobsonian telescope or choosing another such instrument from our rankings.

Here are a few binoculars we might recommend instead of the Celestron Skymaster 25x100s:
The Celestron SkyMaster 20x80s are less demanding in mounting requirements than the 25x100s but similarly well-built. The SkyMaster Pro 20x80s are a bit more well-designed and feature sharper optics.
The Celestron SkyMaster Pro 15x70s can be used atop an ordinary monopod and still put up fantastic astronomical views with their 70mm of aperture, as well as being a lot more portable.
The Celestron SkyMaster DX 8×56 binoculars cater to individuals who may find it difficult to justify the purchase of higher-power binoculars which require a monopod or tripod but still desire more than 50mm of aperture. The additional 6mm of aperture compared to a 50mm model significantly enhances light-gathering ability, yielding sharp views and comfortable eye relief. However, they are nowhere near as capable as 70mm and larger aperture giant binoculars.
Alternatively, there are a few telescopes in the price range of the SkyMaster 25x100s you might also want to take a look at that boast similar capabilities for deep-sky viewing and, of course, easily outclass it for high-magnification views of smaller targets:
The Sky-Watcher Heritage 130P boasts a 130mm (5.1″) aperture, offering sharp high-power views with only slightly less light-gathering power than the SkyMaster 25x100s, and comes with a pair of excellent eyepieces and a collimation tool. Its unique collapsible tube design enables it to fit into smaller spaces, too.
The Sky-Watcher Heritage 150P is essentially an upscaled version of the 130mm Heritage, featuring the same user-friendly tabletop Dobsonian mount and collapsible tube but with enhanced light-gathering capability. Boasting an impressive 6" of aperture, it offers remarkable views while remaining compact enough to fit in most vehicles, storage spaces, or containers. The computerized Virtuoso GTi 150P offers the same great features with the addition of motorized GoTo/tracking and a built-in tripod adapter.
The Orion StarBlast 4.5 Astro comes equipped with a 4.5″ primary mirror that delivers outstanding performance across all magnification ranges, a straightforward Dobsonian mount, and top-notch accessories. This makes it one of the finest beginner and wide-field telescopes on the market, alongside similar models such as the Zhumell Z114.
What can you see Celestron SkyMaster 25×100?
What you can observe with the Celestron SkyMaster 25x100s, given that they are mostly designed for deep-sky observation, is strongly linked to the quality of your night sky. Even under light-polluted conditions, open star clusters appear stunning with these binoculars. You can see the colors of the brightest open clusters, like M11, the Wild Ducks, or M35, or the Double Cluster. The Pleiades also look impressive; under dark skies, the ghostly nebulosity in which the cluster is embedded can be spotted as well.
Under light-polluted skies, the SkyMaster 25x100s struggle to reveal much detail in galaxies beyond their bright cores and the high-contrast dust lanes in luminous galaxies such as M31, the Andromeda Galaxy, or M82, the Cigar Galaxy. However, under dark skies, you can begin to discern the spiral structure in many of the brightest galaxies in the Messier catalog, such as M33, M51, and M101, though the 25x magnification limits your resolving power with smaller details. With the SkyMaster 25x100s, you can also see dozens of galaxies in the Virgo Cluster, as well as Andromeda's elliptical galaxy companions, M32 and M110.
At 25x magnification, the SkyMaster 25×100 binoculars enable you to distinguish Saturn's rings and its largest moon, Titan; observe the phases of Venus; and effortlessly detect Jupiter's moons and equatorial cloud belts. The Moon's more prominent features, such as craters and extensive mountain ranges, are also visible, although chromatic aberration may be a nuisance. Moreover, these binoculars can separate some wide double or multiple-star pairings, such as Albireo. Nonetheless, a quality telescope, even with less light-gathering power, is typically more appropriate for examining small and bright targets like these, and can reveal the phases of Mercury, intricate details in galaxies and planetary nebulae, the Cassini Division in Saturn's rings, Jupiter's Great Red Spot, surface features on Mars, and numerous other celestial details that astronomy binoculars cannot do with a mere 25x.