Optics
The objective lenses of the SkyMaster 20x80s are standard 80mm achromatic lenses like what would be used in a refractor, though with a fast f/ratio of f/4.11, meaning that they were not designed for the ability to deliver sharp images at high power without a lot of chromatic aberration – which is fine, since the magnification is fixed at 20x.

The glass for the prisms employed within all of the SkyMaster binoculars, and indeed most high-quality binoculars, is of the BaK-4 crown glass variety, which surpasses the quality of the more commonly found BK7 prisms in less expensive or substandard products. These prisms are generally made to a higher standard of quality, and most binoculars using BaK-4 prisms will not have undersized prisms, which can cause clipping or vignetting of the field of view. The exit pupils are perfectly circular, and the aperture of these binoculars is a true 80 mm.
For eyeglass wearers, these binoculars offer a generous 18mm eye relief, allowing you to hold them at a comfortable distance from your eyes while still enjoying the full field of view. The true field of these binoculars is 3.7 degrees, which is about 7.5 times the angular diameter of the full Moon. At 20x magnification, this translates to an apparent field of view of 66 degrees, which is quite respectable and immersive, though the simple wide-angle design of the eyepieces inevitably leads to some sharpness loss towards the edges of the field of view. Chromatic aberration and other issues are fairly well controlled in the SkyMaster 20x80s, and stars are sharp across the majority of the field of view.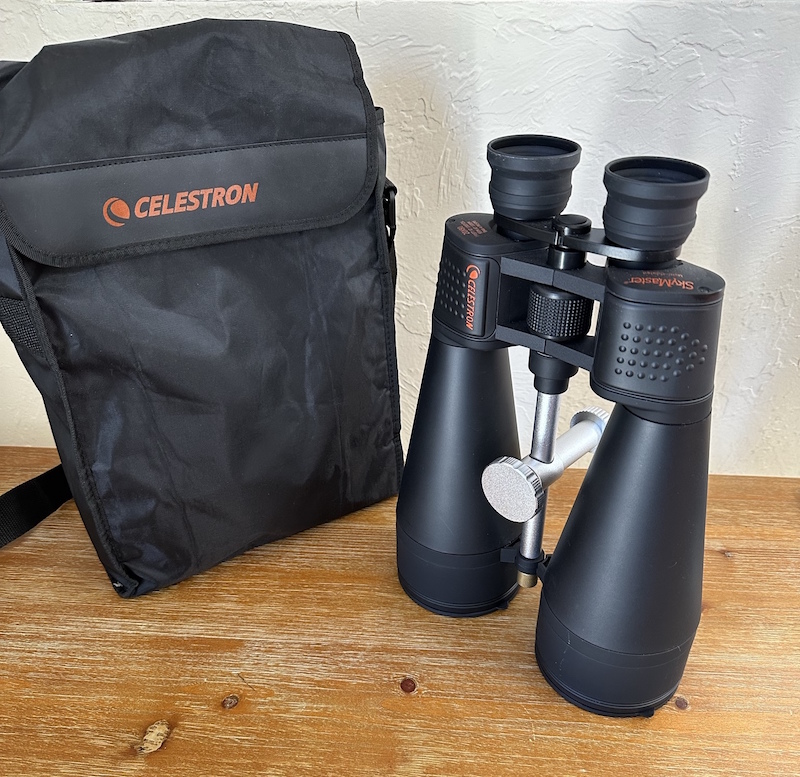 Mechanics
The Celestron SkyMaster 20×80 binoculars are colossal instruments, and their size is a testament to their power. A substantial rail between the two halves permits attachment to a tripod, a necessity given the 20x magnification and significant weight (4.7 lbs) of these binoculars, which make handheld use virtually impossible. The rail also allows for the attachment of a standard red dot finder or reflex sight.

In terms of durability, these binoculars are robust and well-constructed. Although it is always best to avoid subjecting them to any form of impact, they are likely to endure accidental mishaps. However, if they are dropped, collimation may be required. This might require sending them back to Celestron, which can be annoying. Unlike the 15×70 SkyMaster binocular units, which commonly ship out with miscollimated prisms, the SkyMaster 20x80s rarely seem to have collimation issues out of the box.
The SkyMaster 20x80s' eyecups, which fold down rather than twist up, have a 50mm (2-inch) diameter. The interpupillary distance (IPD) of these binoculars can be adjusted between 56mm and 70mm, although the hinge may feel somewhat rigid and challenging to manipulate. The focus is adjusted at the central knob of these binoculars, while the right eyepiece has a diopter adjustment ranging from -4 to +8 to compensate for vision differences between your left and right eye.
Mounting Recommendations
If you're looking at buying a tripod for the Celestron SkyMaster 20x80s, be sure to buy one that's capable of supporting the weight of these binoculars. Many readily-available or affordable options may not be sufficient in either stability or maximum height for a comfortable, wobble-free view. It's a good idea to buy a tripod that can extend to six feet or more in height, as that will make it easier to observe objects that are higher in the sky with binoculars. Alternatively, a good parallelogram mount is an ideal mounting for any pair of astronomy binoculars.
For a tripod, we recommend the Celestron Ultima Pan Tilt Head Tripod, while our favorite parallelogram design is the Orion Paragon-Plus. Other options may also fit your needs, including a DIY parallelogram, which may be the only solution if the few parallelogram mounts out there are subjected to stock issues again.
The Orion Paragon-Plus Binocular Mount represents a premium choice for individuals seeking to invest in a reliable and adaptable mount for their binoculars, even though the cost may exceed that of the SkyMaster 20×80 binoculars themselves unless you already have a sturdy tripod and just need the parallelogram head part. The parallelogram design of this binocular mount facilitates effortless height adjustment, enabling the binoculars to be raised to a maximum of 7'7″ or lowered to 2'7″ without altering their aim in the sky. This feature proves invaluable when sharing views with others and helps alleviate neck and back strain when gazing at objects high in the sky.
The Ultima Pan Tilt Head Tripod boasts a weight capacity of up to 8.8 lbs, easily enough for holding the SkyMaster 20x80s. The pan and tilt head ensures smooth and straightforward movement, allowing for seamless tracking of celestial objects. Additionally, the tripod's legs are equipped with spiked feet, providing stability on uneven surfaces by anchoring into the ground.
Related Product Guide: Best Mounting for Astronomy Binoculars
Should I buy Used Celestron Skymaster 20×80 Binoculars?
The biggest concern with buying a used pair of Celestron SkyMaster 20x80s or any inexpensive binoculars is that they could be out of collimation, which with a used unit will require you to figure out how to fix them on your own. We would not recommend purchasing a pair that you cannot try out in person. Miscollimated binoculars' double image is usually pretty obvious on terrestrial objects at a moderate distance, so checking for this issue should be easy enough. You should also avoid used binoculars with any signs of fungus or other deterioration, particularly if it is on the inaccessible interior optical surfaces.
Alternative Recommendations
The Celestron SkyMaster 20x80s are excellent binoculars, but you may want to go for something with less magnification and a wider field instead.
The Celestron SkyMaster Pro 15x70s are a high-quality option with a sharp, wide field of view. They address the quality control concerns of the more affordable SkyMaster 15x70s and can be comfortably handheld if you observe from a seated position.
The Celestron SkyMaster DX 9×63 and Orion Mini Giant 9×63 binoculars are optimal for maximizing the capability you can get out of a pair of binoculars for handheld use thanks to the low 9x magnification coupled to their large 63mm aperture. These binoculars are a lot more comfortable to use as well as more portable than binoculars with larger apertures and higher magnifications without sacrificing too much capability.
The Celestron SkyMaster 12x60s are usually comfortable for handheld use. Featuring BAK-4 prisms and multi-coated optics, these binoculars provide optimal light transmission, field of view, and eye relief without being too bulky.
The Zhumell 12×70 Astronomy Binoculars boast a large 70mm aperture and can be used handheld if braced properly. In comparison to 15×70 or 20×80 binoculars, 12x70s like the Zhumells are more tolerant of collimation problems, need a less steady mount, and offer a slightly wider 4.6-degree field, but still boast plenty of light-collecting power.
The Bushnell Legacy WP 10x50s provide a wide 6.5-degree true field, are easy to use handheld, and are both waterproof and fog-resistant. With 20mm of eye relief, twist-up eyecups, and eyepiece caps that remain attached to the neck strap, these binoculars offer comfort, durability, and sharp views.
What can you see with Celestron SkyMaster 20×80 binoculars?
The Celestron SkyMaster 20×80 binoculars, while certainly not the most wide-field option, excel at presenting views of expansive open star clusters, including the Pleiades, the Double Cluster, and various others, as well as prominent asterisms like the Coathanger and captivating nebulae like Orion (M42) and the Lagoon (M8) under acceptably dark skies. The SkyMaster 20x80s enable easy identification of globular clusters, which can be readily distinguished from stars at a 20x magnification, and you might even observe a hint of a grainy appearance.
These binoculars can also show you a few galaxies, such as M31 and M33, though urban light pollution might impede the visibility of fine details or completely conceal these "faint fuzzy" objects. Under dark skies, M31's dust lanes and companion galaxies, along with subtle suggestions of M33's spiral arms, are fairly easily spotted with the SkyMaster 20x80s, along with details and companions to some other galaxies such as the Leo Triplet or M81/M82, though a telescope provides a more close-up view, and one with a 5-6" or great aperture likely resolves more detail overall than the SkyMaster 20x80s.
At 20x, you can tell that Saturn has rings and spots its largest moon, Titan; resolve the phases of Venus; and you can see the moons and equatorial cloud belts of Jupiter easily. The Moon also reveals many of its more prominent details, though these binoculars' chromatic aberration is sure to be a bother. Likewise, some wide pairings of double or multiple stars, such as Mizar and Alcor or Albireo, can be split with these binoculars. However, a telescope, even one with lesser light-collecting power, is usually a better choice for viewing these targets and will show you things like the phases of Mercury, the Cassini division in Saturn's rings, Jupiter's Great Red Spot, surface features on Mars, and many other things that a pair of astronomy binoculars simply cannot.