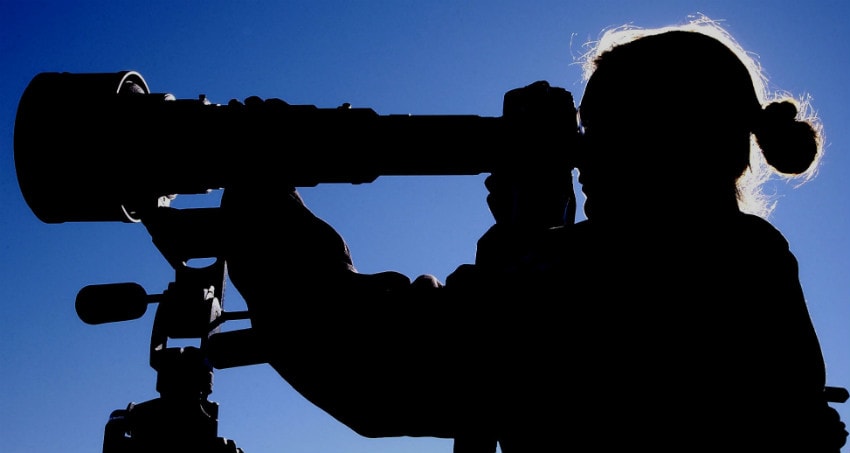 Okay, you might have already decided that the Celestron NexStar 8SE is the best telescope you have ever owned. It was so good you can't get your hands and eyes off it.
You want to carry it everywhere you go. But the problem is, it is too heavy and too bulky. What do you do?
One simple solution springs to mind; find its junior! Look no further as I am bringing you this Celestron NexStar 5SE review.
With its compact design and reasonably large aperture, it's just large enough to begin delving into the deep-sky objects which GoTo makes so easy to find.
However, GoTo is still of little use at this aperture and the telescope's features are either gimmicky, useless, or outdated.
What I love about this series of Celestron is that the set-up is like downing a piece of cake, "no fork required".
The Celestron NexStar 5SE is based around the C5 optical tube, a telescope with 45 years of heritage which has flown on Space Shuttle missions.
The C5 is a Schmidt-Cassegrain. This means it does have a long focal ratio (f/10) and thus a narrow field of view with 1.25" eyepieces, but this can be alleviated with Celestron's f/6.3 reducer/corrector.
A 2" diagonal can be attached to the 5SE, but wide-field 2" eyepieces will vignette to the point that it's not really worth the bother.
The 5SE improves on the original C5 with Celestron's Starbright XLT multi-coatings, which significantly improve transmission and thus light gathering ability, particularly with smaller telescopes such as the 5SE.
The 5SE comes with a single 25mm 1.25" Plossl eyepiece with 50x magnification, which is good for low power, though you may want a 32mm Plossl or the aforementioned reducer-corrector for the widest field of view. Additional medium and high power eyepieces of shorter focal length would be good to get the most out of your 5SE.
The 5SE's 5" aperture is enough to show a fair amount of detail on the Moon and planets.
However, its large secondary mirror, which obstructs 38% of the diameter, severely hampers resolution and contrast compared to a 5" Newtonian or Maksutov-Cassegrain, let alone a refractor. It also does reduce the light gathering ability (already fairly small) by a fair amount.
The optics are still of high enough quality that you can use up to 250x, a fairly reasonable cap for a good 5".
The NexStar catalog contains 40,000 objects, a number which means almost nothing due to the 5SE's small aperture being unable to show most of them. The number is merely a marketing gimmick.
The only use of such a large catalog is in using the massive stellar database to locate asteroids, which one does by finding a star in the same field of view of the said asteroid in a planetarium app then entering said star into the hand controller, and for locating variable and double stars. Even then, the "40,000 objects" is really just a gimmick. 
Mount Features - How Good Is It?
The NexStar SE mount is an upgraded version of the original NexStar 5's mount, which was first released in the early 2000s.
The 5SE mount is fairly steady, and the C5 tube does have a Vixen dovetail so it can be put on other mounts.
However, it is very much antiquated. The hand controller's small buttons make it all too easy to push the wrong one, especially with gloves or simply large fingers. It consumes batteries very quickly – you'll need a 12-volt power supply for this scope. Lastly, entering the time and date is required on every boot of the mount.
The SE mount is steady, but it can still be bumped. If this happens, one must re-boot and re-align the mount. This is incredibly annoying given the complex boot and alignment problems I've already mentioned.
The 5SE comes with a built-in wedge, so in theory, one can polar align it and do long-exposure astrophotography. However, the wedge has no fine adjustments and cannot be adjusted in azimuth, so it is basically useless. 
Also, the mount is inaccurate due to the cheap gears (a limitation based simply on cost, which I forgive Celestron for), so even if you did polar align it somehow, long exposures would require autoguiding (which the 5SE does, in fact, have a port for).
I hope you don't find my review of NexStar 5SE of a highly promotional nature.
While GoTo telescopes have its own advantages, we never really recommend anyone to buy them unless they have a sound budget which is $1000+. 
For the same reason, 5SE is NOT our recommendation in the price range.
But of course, whatever floats your boat. If you have decided on the 'GoTo' feature, 5SE is definitely two-thumbs up for me.