Autoguiding with modern astrophotography gear is really quite simple. You basically just need to get your guide camera and scope, attach the guide scope and focus it, and plug everything in. Then guiding is as simple as opening up the PHD 2 software, calibrating and selecting a guide star, and then start guiding. It's really simple!
Without autoguiding, exposures lasting longer than 20–30 seconds with most telescopes and mounts will turn into a blurry, smeared mess.
Astrophotography Guide Cameras
A guide camera automatically tracks a target star to compensate for tiny amounts of drift and tracking errors that almost any mount will produce. You typically use the free software PHD2 to do this.
Guide cameras are usually best if they're monochrome, but a color camera can work just fine too. I personally use a color camera for autoguiding.
Guide cameras must always have both USB and ST-4 ports to plug into your computer and telescope mount, respectively. Some people ditch the ST-4 port using specialized software, but most imagers don't, and the complications are not worth the savings.
Top 2 guide cameras for astrophotography
ZWO ASI 120MC-S (choice around $150) – Lowest price, and also a decent color planetary camera for beginners.
ZWO ASI 120MM Mini (choice between $150-$200) – Cheap, monochrome design, better for guiding, small size.
Guide Scopes
A guide scope is nothing more than a small refracting telescope that piggybacks on top of your main telescope optical tube and rides in an adjustable bracket to align it with your telescope. It's basically a finderscope but typically larger and without an eyepiece.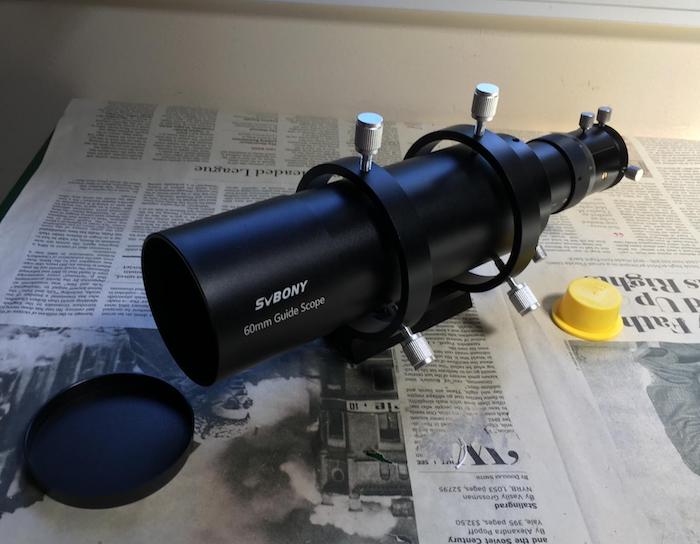 Guide scopes are best when they're as large in aperture and long focal length as possible. However, budget and the weight capacity of your mount are going to limit how far you can go with this.
Off-axis guiding, which uses a small prism to guide directly using the light of your main telescope, is not recommended by us for beginners due to the higher cost and the difficulty of focusing both the guide cam and the main camera at the same time, among other issues.
Large guide scopes (>50mm) are typically meant to be piggybacked on top of your main telescope using plates/clamps/rails and other hardware, but all the ones listed here fit the standard finderscope shoes on most telescopes.
All of the cheap guide scopes sold nowadays are really the same, even if they have weird or generic brand names. We've selected the following ones to give you the best deals without sacrificing quality.
Best 3 guide scopes for astrophotography
It's the cheapest one and will work with scopes up to around 800mm in focal length—despite what the advertisement says, it's not great for scopes longer than that. Above 800 mm, you will need a bigger/longer guide scope. The 50mm Mini works just fine, but beware that there is no focusing system and you focus by pulling the camera out of the drawtube and installing a small metal parfocalizing ring – primitive, but functional.
The larger aperture of this guide scope allows you to guide on fainter stars, and the longer focal length allows you to guide accurately with scopes up to about 1200mm of focal length, which is where it usually caps out in my experience. Unlike the Meoptex 50mm, this guide scope has a real helical focuser and guide rings, and has a longer bracket to allow it to be piggybacked on top of clamping systems and rails. I personally use this model.