Orion's SkyQuest XT4.5 is the smallest of their XT-series Dobsonians. While arguably my least-favorite scope in the XT line, the XT4.5 has a number of features that make it appealing, particularly to children.
Overview Of Orion SkyQuest XT4.5
Unlike most other tabletop scopes the XT4.5 is tall/long enough that it doesn't necessarily need a table, per se. Small children can use it without raising the scope at all, and most kids and adults can elevate the scope to a proper height for seated use with just a milk crate (which is also ideal for transporting accessories) or a suitably flat/steady bench, chair, bar stool, or rock.
Telescope's Rank In Category - 3/10
Optical Tube Rating - 4.5
The XT4.5 is a 114mm f/7.89 Newtonian reflector, optically identical to the Celestron PowerSeeker 114 scopes. However, the XT4.5's tube boasts a superior mounting and accessories, which allow you to get the most enjoyment possible out of it.
Compared to the shorter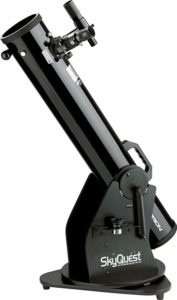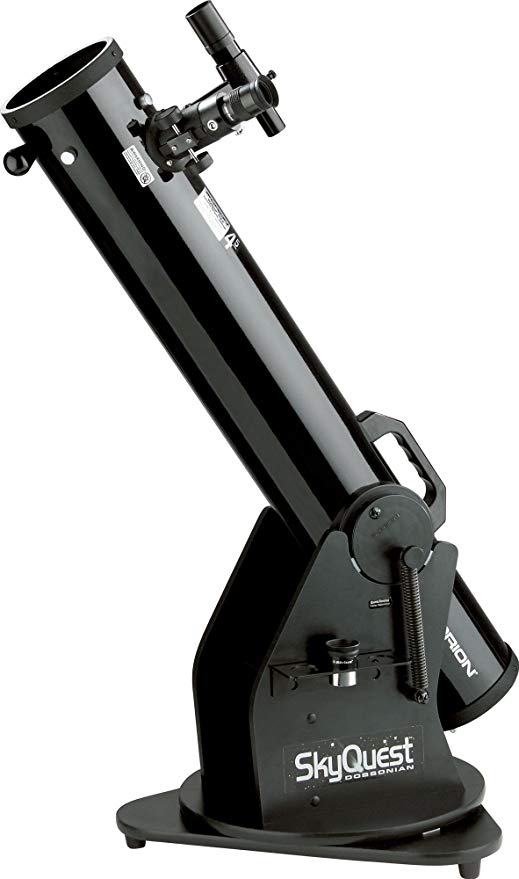 tabletop telescopes like the Meade Lightbridge Mini, Orion StarBlast, AWB OneSky and Zhumell tabletop Dobsonians, the XT4.5 offers vastly higher collimation tolerances, and slightly sharper images. The 910mm focal length also makes achieving high magnifications possible without super short focal length eyepieces or a Barlow. If you are especially interested in observing the Moon and planets the XT4.5 definitely has an edge.
However, keep in mind that the scope's 910mm focal length means your maximum true field of view (achievable with a 32mm or 40mm Plossl, for instance) will only be about 1.8 degrees, compared to about 3.6 degrees with a 4.5" f/4 scope like the StarBlast, Mini 114 or Z114. This is important if you are concerned about being able to find things easily, or wish to view very large star clusters and nebulae.
The focuser on the XT4.5 is a standard, run-of-the-mill 1.25" rack-and-pinion unit, made largely of plastic. People complain about these focusers a lot; I don't love them but they do the job and I've never had one break.
The scope has a small knob on the front of the tube so you can grab it and use it as a lever to move the whole scope around. Personally I find the knob too small for my hands but kids will love it. There's also a convenient carry handle bolted to the tube which I wish was on the larger XT models.
Being about 36" long, the XT4.5's optical tube will not fit in carryon luggage or a backpack like shorter tabletop Dobsonians, and the base is also not the most compact, though it can be broken down. If you plan on observing in places inaccessible by cars on a frequent basis (or just don't own a car), a more compact telescope like the Orion StarBlast Astro or Zhumell Z100 may be a better choice.
The XT4.5 comes with two Sirius Plossl eyepieces: a 25mm (36x) and 10mm (91x). These are quite a cut above the Kellners or mostly-plastic "Super" eyepieces supplied with many entry-level scopes. For higher magnification you could probably get a lot out of a 6mm "goldline" planetary eyepiece (for 150x) but the stock 10mm Sirius is good to start out with. A wider field of view can be achieved with a 32mm Plossl eyepiece (sold separately). A collimation cap is included as well.
The XT4.5 also comes with a 6×26 erect-image finderscope. In my opinion this finder is the weak link of the entire telescope. While significantly better than a plastic 5×24 like the ones oft-supplied with cheap starter telescopes, the Orion 6×26 just doesn't have enough aperture to show you much, and the already-dim image is dimmed further by the erecting prism in the finderscope. A red dot finder, while not ideal, is arguably superior as is a 6×30, 8×40, or 9×50 finderscope or a Rigel Quikfinder – the lattermost would be my personal recommendation for the XT4.5 but your results may vary.
You can buy the XT4.5 with a kit that also includes a 2x Barlow, a cheap red flashlight, a Moon map, a planisphere, and an observing guide. These are all mildly useful at best and you would probably be better off buying a dedicated flashlight and short focal length eyepiece separately.
The XT4.5 comes on a spring-tensioned Dobsonian mount which is basically just a miniature of the mount supplied with the larger XT Classic Dobsonians. The only major difference is that it is made out of ½" as opposed to ¾" thick particle board, making for an inexpensive setup, though the base is definitely heavier than it looks. Assembly is accomplished in a matter of minutes.
The feet on the XT4.5 are spread out a bit wider than the upper part of the base. This can make it troublesome to fit the scope securely on top of some milk crates and plastic bins; however, it does increase the overall stability of the scope.
Looking For Better Alternatives?
I really like the Orion XT4.5. My only major complaint would probably be the price – it costs a fair amount more than other 4.5" and 5" tabletop Dobs and for just a little more you could buy a 6" Dobsonian. Overall the scope is probably best for kids, those on a budget, or those with severe space limitations.
Orion SkyQuest XT4.5 Awards
Based on positive ranking from our team of experts and telescope owners, the Orion's SkyQuest XT4.5 has earned the following awards in our buyer's guides.