Orion's AstroView 90 is the last decent inexpensive refractor that they seem to sell. Almost every other non-premium refractor Orion offers nowadays is plastic, cheaply-made garbage, so I suspect the AstroView 90 may soon be phased out and replaced with a new, lower-quality scope. But in the meantime, it's a pretty nice instrument. 
*Rankings and ratings are calculated by comparing similar telescopes, in this case, 10 telescopes between $225 and $300.
The Optical Tube Performance Of Astroview 90mm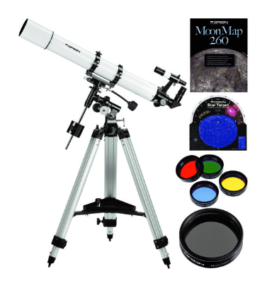 The AstroView 90 is a 90mm f/10.1 achromatic doublet, using crown and flint glass in the standard Fraunhofer configuration. As a result of the f/10.1 focal ratio, it does have some easily visible chromatic aberration, but not enough to impact the sharpness of the views by a measurable amount.
The optics in the AstroView 90 are exceptionally good – a cut above a lot of the cheap achromatic refractors. I have been impressed by the views through these scopes. The AstroView 90 is also well-baffled and has decent interior paint, along with an ample-length dew shield. Stray light and glare are not issues.
The focuser on the AstroView 90 is a 1.25" rack and pinion unit made largely of metal, but with plastic knobs. I don't like these knobs because they kind of dig into your fingers, but they continue to persist on a lot of scopes for whatever reason. The OTA has absolutely zero plastic parts besides these knobs.
Like a lot of equatorially mounted, inexpensive scopes seem to, the AstroView 90 has a captive ¼ 20 threaded knob on one of the rings to allow for piggybacking a DSLR camera. Forget using this, though, because the EQ2 mount supplied with the scope cannot handle the weight of a DSLR added on top of the scope.
The AstroView 90 comes with two eyepieces: A 25mm Plossl supplying 36x and a 10mm Plossl supplying 91x, both branded as part of Orion's "Sirius" line – in reality they are identical to pretty much every good Chinese or Taiwanese Plossl sold on the market, as all are made in the same one or two factories. These are of high quality and you don't need to really replace them, but a 6mm gold-line eyepiece will allow you to get the most magnification the scope can handle and a 32mm Plossl will allow for a slightly wider field of view and lower magnification than the 25mm.
The AstroView 90 has an inexpensive 6×30 finderscope. This does work, but it is often uncomfortable to look through and doesn't have particularly bright images. A red dot would've been preferable, as you really don't need anything more for a 90mm telescope targeted at beginners.
The AstroView 90's star diagonal is a metal, regular 90-degree prism unit which is of high quality, unlike the cheap, plastic Amici prism diagonals supplied with a lot of other cheap refractors meant to allow for terrestrial viewing, which produce a fuzzy image and diffraction spikes on bright objects.
How Good Is The EQ2 Mount?
The AstroView 90 comes on a fairly generic EQ2 mount, simply referred to by Orion as the EQ2. The EQ2 mount is adequate for a 90mm f/10 refractor but it is definitely on the lean side. It really has no extra capacity for piggybacking a camera.
The AstroView 90 optical tube and EQ2 lack any sort of dovetail system – the rings bolt directly to the mount. As a result, dismantling and transporting the scope is a bit of a pain because either a) you have to leave the rings on or b) you have to dismantle it using tools. Neither option is particularly convenient or appealing.
The EQ2's tripod is thin-walled extruded aluminum, designed to be as lightweight as possible. Unfortunately, this stuff tends to be flimsy and easily damaged. The tripod also has a lot of plastic components, again adding to the overall flimsy feeling to it.
The mount head is all metal and comes with flexible slow-motion control knobs, and I like it. It just feels (and in fact simply is) a little small for the 90mm refractor optical tube.
The EQ2 mount can be upgraded with a single-axis or dual-axis motor drive for hands-free battery-powered tracking, but its limited extra weight capacity means there is no way you can piggyback a camera on top of the OTA.
A 90mm f/10 refractor is really a lunar, planetary, and double star instrument, but the AstroView 90 can show you a fair amount of star clusters, a handful of galaxies and of course the Orion Nebula. Just don't get your expectations too high about any deep-sky views, as most objects are going to appear fuzzy and dim, particularly due to the scope's small aperture.
The entire AstroView 90 telescope, fully assembled, weighs only 24 pounds, and being a refractor it, of course, doesn't need collimation, so you can pick it up and easily move it around in one piece to dodge trees and other obstructions if need be, or keep it fully assembled and ready to use at a moment's notice – the scope needs little time to cool down even at low outdoor temperatures thanks to its small size.
As to astrophotography, the scope's small size, long focal ratio, and somewhat undersized mount limits you to smartphone shots of the Moon and maybe the planets.
Looking For Better Alternatives?
Sky-Watcher
6" Dob
Our expert's rating of 4.9
Orion
StarBlast 6
Our expert's rating of 4.7
While under most circumstances a 6" Dobsonian will beat the AstroView 90 in almost every way except for a slight convenience factor, I commend the Orion AstroView 90 for its good optics, decent accessories out of the box, adequate mounting, and being an overall lightweight and convenient package.