Reviewing the Optical Tube Of Orion XT6


The XT6 – and its Plus variant – is a 6" f/8 reflector, a common standard of telescope for the past century. The reason the 6" f/8 has been so ubiquitous and is perhaps the perfect beginner's telescope, is because it works. A 6" f/8 parabolic primary mirror is very easy to make, and the tube of a 6" f/8 is only 48" long, making it fairly portable and keeping the eyepiece at a comfortable height. Lastly, at f/8 there's no need to worry about ultra-precise collimation or the aberrations caused by using inexpensive eyepieces.
The XT6 can be easily collimated, though adjusting the secondary mirror does require tools – namely, a small hex/Allen key. However, you're unlikely to need to align the secondary mirror very often or at all.
The focuser on the XT6 is an all-plastic 1.25" rack-and-pinion. While functional, the focuser is easily damaged and Orion doesn't sell a drop-in replacement – nor do any aftermarket vendors.
About the Accessories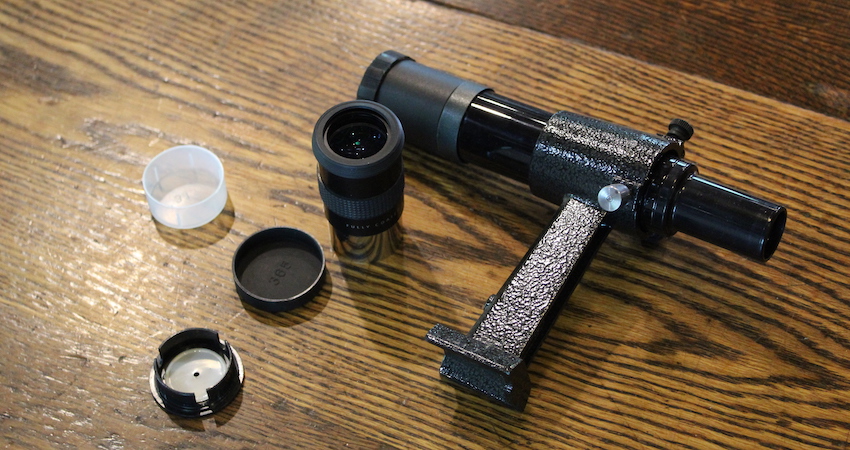 The base XT6 comes with a single eyepiece – a 25mm Plossl(48x magnification). While nice, you do need a high power eyepiece or two to get the most out of the telescope, which is of course an additional investment you should factor into your budget.
The included red dot finder works adequately but a 9×50 finderscope or Telrad is a vastly better choice if you plan on much deep-sky observing. However, either is going to cost you some money that could also go towards another eyepiece.
Lastly, the XT6 includes a collimation cap, which is really all you need to collimate this telescope. Our collimation guide explains in detail how to use one.
How Good Is The Mount?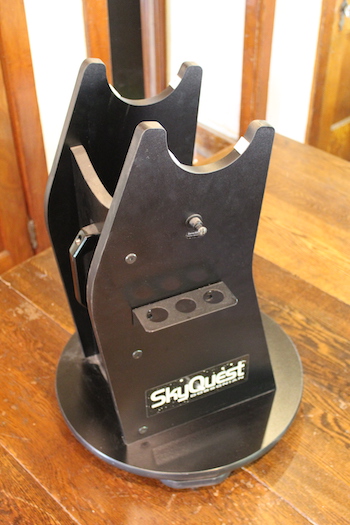 The XT6 uses a fairly standard Dobsonian mount with plastic altitude bearings supported by Orion's spring tensioning system, which prevents the scope from swinging around the sky when you swap out eyepieces or use heavy accessories on the front of the scope that would otherwise cause its balance point to shift. Besides attaching the springs, there is no additional setup required for the mount – just plop the scope on, attach the springs to their holders on the base and you're ready to go. Like almost all Dobsonians, there are no clutches or slow-motion controls – just grab the tube and swing it around the sky.
The XT6's base is made from particleboard overlaid with melamine. Not only is it heavy, but if the melamine is damaged the whole thing will quickly warp and rot. Thankfully, you can easily make your own base out of ¾" plywood or buy one from a third party should this ever become an issue. However, provided you take care of it and don't mind the weight the stock base is just fine and conveniently assembles out of the box in just a couple of minutes with the included Allen key and screws.
Should I buy a used Orion SkyQuest XT6?
There are XT6 units floating around that are close to 20 years old now – older ones have a 6×30 finder which is nearly useless, and a metal focuser that is arguably superior to the current one, but otherwise there have been no changes. Provided the mirror coatings are in good condition there is little to go wrong with a used one. If the base is damaged or missing, it can easily be replaced with a homemade plywood one that requires just a few tools.
Alternative Recommendations
There are two decent alternatives to the SkyQuest XT6 in its price range:
The Sky-Watcher 6" Traditional Dobsonian is basically the same telescope as the XT6 but comes with a 2" focuser and two eyepieces instead of one, along with a 6×30 finderscope.
The Orion StarBlast 6 offers similar views to the XT6, but in a more compact package and with more challenging collimation requirements. It can also be easily upgraded to the StarBlast 6i version with the purchase of an upgrade kit, giving you computerized pointing capabilities.
What can you see?
Even from the suburbs, a 6" telescope can be an absolute powerhouse.
Neptune's moon Triton can be spotted, Saturn's bands, Cassini Division, and several moons are easy, and Jupiter's moons become disks rather than pinpoints. The smallest craters on the Moon visible are around a mile in size. Mars at opposition shows several dark markings and its ice cap.
The Orion Nebula begins to show a slight greenish coloring with a 6", and globular clusters are somewhat resolvable. Many planetary nebulae, some showing a slight greenish or bluish tint, can be spotted. Under dark skies, M51's spiral arms can be seen, along with several hundred other galaxies – a few dozen of which display considerable structure. But keep in mind that for deep-sky objects, your skies will be the limiting factor of what you can see. If you can't see the Milky Way with your naked eye, galaxies are likely to be quite disappointing in the XT6 as only their oval centers are bright enough to be seen through strong light pollution. Globular clusters and open star clusters are, thankfully, significantly less but still somewhat affected by light pollution.