Best Telescopes For Kids 2018 – Reviews and Buyer's Guide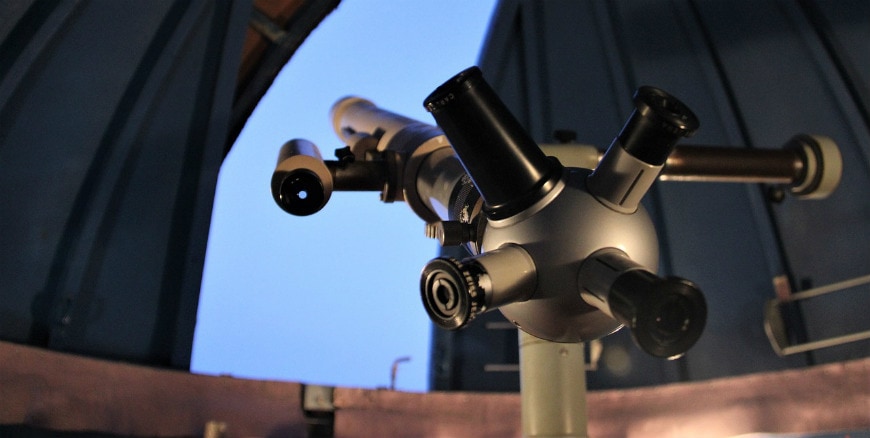 I would often wonder if kids would really enjoy telescopes as much as adults do. I mean, for sure, they'd be as excited when using it for the first time and perhaps the anticipation would probably be greater in terms of intensity.
But can they really sustain the interest for a long time? If you have children that could, then it's really high time you seriously consider getting them one that they could certainly call their own.
Out of all the beginner scopes in the market today, each one promising to give features and functionality that could give the more advanced and definitely more expensive scopes a run for their money, how do you decide?
Let me help you narrow down the choices.
Being a child at heart, and of course, having a child around the house who is old enough to appreciate a real telescope, I believe it's time to come up with my own list of top telescopes for children.
This list includes only "real" telescopes. I've specifically excluded those kiddie telescopes because of their very limited capabilities plus of course, I don't own and have never tried one ever. Fair enough?
Without further ado, here is my list of best telescopes for children, in no particular order.
Celestron 21035 70mm Travel Scope
First on the list is this highly portable travel scope from Celestron. And when I say portable, it is in fact very light and comes with a backpack.
Kids would definitely enjoy carrying this to camping or any night school activities where they could do stargazing on the side.
It is a refractor scope which is ideal for kids because they surely can't be bothered with collimation unless you are with them all the time to assist. It has a 70 mm aperture or about 2 and ¾ inches that is wide enough to have a decent view of the moon, Jupiter, or even Saturn's rings as well as the Milky Way.
Kids can view images right side up, thanks to its erect image diagonal so they can enjoy using it for land and mountain viewing aside from using it at night sky.
It has a focal length of 40mm so it is a fast cope which the kids would very much appreciate especially when exploring star clusters and nebulas due to its wide field of view.
It is for the same reason that it could welcome the use of Barlow lens which can double or triple the magnification of any eyepiece which the children can definitely enjoy when they want more detailed views of the object they are targeting.
VERDICT: If you're an adult and always on the go but really can't leave a habit behind, then you can borrow this scope from your kids from time to time. That is if they would ever let you get a hand on this scope.
Celestron 21061 AstroMaster 70AZ Refractor Telescope
This is another refractor telescope within the Celestron's long list of beginner's scope. Due to refractors' nature of easy setup, kids would definitely enjoy unboxing and putting it up all by themselves.
It comes with a detailed manual to guide kids, including adult novices on the ins and outs of telescopes. And because of its weight of only 18 pounds, it is easier to move around for kids, which is definitely a plus especially when used for camping.
What's nice with this telescope is that it's very easy to use because it sits on an altazimuth mount making it very straightforward. All it takes is to point at any object using its red dot finder and view as long as you want.
The 70mm aperture is powerful enough for kids to appreciate the moon, star clusters and nebulas, Jupiter, and even Saturn's rings although with somewhat limited details. But despite the limitations, your children can enjoy views in highest possible clarity, thanks to its fully-coated optical components.
But your kids would definitely enjoy this scope more as it comes with The Sky CD-ROM that has 10,000 object databases that can guide them to whatever sky objects they want to locate and view as well as the Celestron Night Vision Red LED Flashlight as an added accessory.
VERDICT: This is the perfect scope if you want to go easy on introducing a telescope to your kids as you don't want to overwhelm them the first time.
Meade Instruments Infinity 60 AZ Refractor Telescope
If I am going to base my suggestion on its Amazon rating alone, there'd be no more explanation needed. But still, let me do my job.
This 60mm refracting telescope is guaranteed to give your little ones the satisfaction of viewing bright images, be it celestial or terrestrial use. It includes two eyepieces and even comes with a Barlow lens that doubles the magnification if your children want to see more detailed views.
It sits on an altazimuth mount with slow motion control that will surely thrill the kids tracking night sky objects as they move across the sky.
Wanting more spectacular views than the two eyepieces that comes with it can give? Then the 2x Barlow lens can give you just that; 2x magnification of any eyepiece you wish to use.
Just take note of the highest useful magnification of this telescope when using the Barlow lens so you don't have to worry having to take the bitter end of a disappointed pocket rocket because of a blurred view.
What's more is that it also comes with a bonus in the form of the Auto Star Suite Astronomer Edition Software on DVD with more than 10,000 celestial objects in store.
VERDICT: This is probably the best alternative to Celestron and Orion when trying to introduce kids to telescopes. With the slow motion control being a plus feature, I think they'll be enjoying this scope longer than expected.
Orion 10034 GoScope II 70mm Refractor Travel Telescope
This particular scope from Orion can be considered for more advanced viewing and therefore we would be swaying a bit away from the beginner scopes we intend our kids to have; but of course, with a very good reason.
Who wouldn't want to treat your young ones the opportunity to give a child a chance to view a notch higher than they would ordinarily have without sacrificing the uncomplicated makeup of a basic telescope especially if you don't have to make a big adjustment on the budget.
Like most 70mm aperture telescopes in the market, expect nice views of the basics that include the moon, Jupiter's cloud formation, Saturn's rings and some star clusters.
But being a fast scope, expect this to give wider view of the night sky which the kids would very much appreciate when viewing Nebulas and galaxies. If they want more details of the moons and planets, a Barlow lens can come in handy.
It is definitely lightweight and comes with the Orion Moon Kit that is comprised of moon filters and map that will definitely encourage children to explore Earth's natural satellites.
With a very user-friendly operation, everyone would definitely enjoy this one of the cheapest scopes in the Orion lineup.
VERDICT: Who says you can't expect much from a travel scope? Here is a living proof that lighter scopes can be at par with the heavyweights of night sky viewing.
TwinStar AstroMark 50mm 75x Power Refractor Telescope
Despite being tagged in some online shops as "toys for astronomy" this "point and shoot" scope definitely is a full-featured telescope perfect for beginners especially the kids. And don't ever think your young ones will ever be shortchanged with this seemingly very simple scope.
As expected, the assembly as well as dismantling this scope would be chicken feed for the kids so you never have to worry leaving it in the care of kids. And because it's cheap, you probably wouldn't mind getting it broken either; at least not as much as when an 8" or 10" scope gets smashed or something.
Your kids will enjoy great views of the moon, the Saturn's rings, and several star clusters.  It's even capable of some deep sky viewing such as Beehive star clusters, Orion Nebula, as well as binary star systems. 
What's more is that it can be enjoyable when used for bird watching, mountain viewing, etc.  And if you live in a high-rise building, scanning the city may suddenly become a habit for your mini-me's.
You'll never have to worry if the kid is taller than average as the aluminum tripod is fully adjustable that even adults can use without having to crouch down uncomfortably, something you don't always see in most beginner's scope.
And even if the information in the instruction manual is limited, the manufacturer provides an online full-color photograph, step-by-step assembly guide.
VERDICT: Cheap in price but definitely not in features. With the adjustable tripod suiting almost every age bracket, you wouldn't mind having to borrow this from time to time for your own viewing pleasure. And by time to time, I mean if the kids are asleep!
If you are curious about how I picked which makes it to the elite list, let me discuss them one by one below:
This is probably what most people think is the gauge to know if something is right for kids – if it's cheaper. I know it might sound unfair to these innocent ones, but I would like to believe it's more of being on the practical side than just wanting to spend less for a kid.
Let's face it. Are we sure kids have that long attention span that we expect them to go gaga over it for a long period of time? That's next to impossible. Kids' interest shifts as quickly and as often as they switch channels from Disney Channel to Nickelodeon.
That's a reality. And it would be impractical to buy them something a bit expensive that we expect to be in the storage room after a few weeks or even days. Unless we can use it ourselves, we would rather be called frugal than spend on something that won't be used after a first few try.
We should ensure that the telescope's features can be appreciated by kids that they'll likely enjoy it for a span of time.
Surely, there would be kids who would enjoy tinkering things. But you cannot expect everyone to have the same interest and attention. So, the simpler the setup, the more kids would likely give it more time.
Kids would likely enjoy any gadget as long as they can carry them around or at least they can move it from one place to another by themselves.
All of these taken into consideration, I am pretty sure you will never go wrong with any of these choices. Unless, of course, you mess up the process by including your own "adult" expectations.
The world of astronomy can be breathtaking but can be perplexing to some as well. In other words, telescopes are not for everybody.
How to know if your kids like telescopes?
Test the waters first. It's easy to gauge children's interests; if they talk about it all the time, if they ask questions, and when they directly ask you to buy them one.
That being said, before buying your kids a telescope, make sure they are really interested. Don't just assume that because you love the hobby, they do as well. This costly assumption will just potentially add junk to your attic.
Trust me! No matter how other people tell you that fruits don't fall far from the tree, they sometimes do!
*Pictures are taken from respective manufacturers' website or from free image distribution services.