Typically, you would want your child to own a light weight, compact and portable kid's telescope that has the capability to see our closest companion, the moon clearly. 
But most of the cheap telescopes priced below $75 fails miserably in viewing anything other than the moon. Even for the moon images, don't expect superb clarity. 
Some parents would be willing to spend a little more to get one which can be used to view more than just the moon. If I were you, I wouldn't spend anything less than $100.  In fact, that's what we recommend because upgrading a cheap telescopes in the future can be a bit difficult, especially the accessories.
The following list of ours is targeting both groups of parents, the ones who just want to test the water with their kids and the ones who want to buy one that covers life-time usage including the present. It includes one kiddie telescopes with limited capabilities along with a three "real" telescopes, which can help your kid explore more of the universe once they are 'bored' with viewing just the moon. 
It needs to be mentioned that almost all kid telescope manufactures have recommended a minimum age of 3 years to avoid kids from having chewing accidents. In our opinion, kids below the age of 5 hardly find stargazing interesting.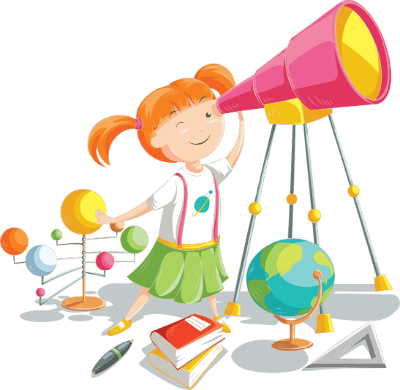 Ranking Popular Telescopes For Children
MaxUSee 70mm Refractor Telescope For Beginners

70 Reviews
Well, if you belong to the group of parents who aren't willing to spend $100+, MaxUSee 70mm Refractor is the best you can get. It can be called as a 'toy telescope'. Surprising, the telescope has extremely good rating on Amazon. But that's not a factor for us because those reviews are done by beginners who don't know better. 
We are not recommending you to buy this if you can up your budget by at least $40. 
If you can't, these are what you can expect from the scope. 
Cheap and best deal at first look, but not really the case. 
Portable, light, and comes with a backpack. 
Best suited for children's height. 
Can be used by adults if you can mount it on a table. 
Comes with a moon and solar system map. 
All that's said sounds good. But the problem starts when you look at the moon. The details would be better than with plain eye, but not anything majestic. Even while using the best lens provided, zooming won't be close enough. Again, that's what you call as a compromise when budget is of an issue. 
Except the moon, it doesn't offer spectacular views of any stars or planets. You'll be confined to just moon, just like almost any telescopes that are priced below $100. 
In our opinion, if you don't offer your kid an A+ experience the first time itself, they would probably end up being uninterested and would choose to leave. If your budget is below $100, we would in fact suggest you to get a binocular instead of a cheap telescope. 
Also, as a kid's equipment, we would normally expect the parts to be strong to avoid breakage, but that's not the case of tripod which is made of cheap plastic. 
1. Zhumell Z100 Portable Altazimuth Reflector

5 Reviews
Zhumell Z100 is the cheapest reflector kid's telescope that we recommend. In our opinion, any telescope below the price of Zhumell Z100 is same as having no telescope. Zhumell listed Z100 on Amazon only by mid-2018 and that's the reason for less number of reviews. 
It's to be noted that most of the other telescopes in this price range are garbage. But surprisingly, reviews on Amazon doesn't reflect that as most of the beginners that rate them have no experience using better telescopes. 
Its weight is only 6.2 pounds which makes it easier to move around for kids, which is definitely a plus especially when used for camping.
The Zhumell Z100 is powerful enough for kids to appreciate the moon, star clusters and nebulas, Jupiter, Saturn's rings and even its brightest moon although with somewhat limited details. It'll give average quality optics, but well worth its price.  
Despite the limitations, your children can enjoy views in highest possible clarity, thanks to its fully-coated optical components and 100mm parabolic primary mirror. 
What's nice with this telescope is that it's very easy to use because it sits on an altazimuth mount making it very straightforward. All it takes is to point at any object using its easy-to-use red dot finder and view as long as you want.
Only time you'll feel that you're using a cheaper telescope will be when you notice some contrast issues. It's because of its smaller aperture. You can buy planetary eyepieces or barlow lens to lower the contrast a little, even though it's not necessary. 
We're not saying that it's the best of the best. But Z100 really is the best telescope for kids in its class. For better optic quality, we'll provide you better recommendations in the following sections.  
2. Orion 10015 StarBlast 4.5 Astro

125 Reviews
If you intend your child to use the scope for viewing planets, Orion Starblast will work FAR better than the above mentioned Z100. There is a price difference of around $100 between Z100 and Orion Starblast. But that $100 difference will make a stellar difference in the optics quality. 
This reflecting telescope is guaranteed to give your little ones the satisfaction of viewing bright images, be it celestial or terrestrial use. It includes two eyepieces and even comes with EZ Finder II to aim objects. 
It sits on an altazimuth mount with slow motion control that will surely thrill the kids tracking night sky objects as they move across the sky.
What's more is that it also comes with a bonus in the form of Starry night astronomy software which you can use to identify stars, planets and constellations. 
Orion Starblast would be a compromise between the sub-par performance of Z100 and stellar performance of the expensive Skywatcher 6″ which we'll discuss next. 
3. SkyWatcher S11600 Traditional Dobsonian 6-Inch

31 Reviews
This particular scope from SkyWatcher can be considered for more advanced viewing and therefore we would be swaying a bit away from the beginner scopes we intend our kids to have; but of course, with a very good reason.
Who wouldn't want to treat your young ones the opportunity to give a child a chance to view a notch higher than they would ordinarily have without sacrificing the uncomplicated makeup of a basic telescope especially if you don't have to make a big adjustment on the budget.
Like most telescopes in the same class, expect nice views of the basics that include the moon, Jupiter's cloud formation, Saturn's rings and some star clusters.
But being a fast scope, expect this to give wider view of the night sky which the kids would very much appreciate when viewing Nebulas and galaxies. If they want more details of the moons and planets, a Barlow lens can come in handy.
It is really lightweight as the weight count is at around 33 pounds. It's also on the expensive side. But once you've bought this, you won't have to think about upgrading in the future. 
You can even sell a refurbished SkyWatcher S11600 for $150 later, and thus get back a portion of what you spend. But if you wants to keep it, it will live a life-time. 
If you are curious about how I picked which makes it to the elite list, let me discuss them one by one below:
This is probably what most people think is the gauge to know if something is right for kids – if it's cheaper. I know it might sound unfair to these innocent ones, but I would like to believe it's more of being on the practical side than just wanting to spend less for a kid.
Let's face it. Are we sure kids have that long attention span that we expect them to go gaga over it for a long period of time? That's next to impossible. Kids' interest shifts as quickly and as often as they switch channels from Disney Channel to Nickelodeon.
That's a reality. And it would be impractical to buy them something a bit expensive that we expect to be in the storage room after a few weeks or even days. Unless we can use it ourselves, we would rather be called frugal than spend on something that won't be used after a first few try.
We should ensure that the telescope's features can be appreciated by kids that they'll likely enjoy it for a span of time.
Surely, there would be kids who would enjoy tinkering things. But you cannot expect everyone to have the same interest and attention. So, the simpler the setup, the more kids would likely give it more time.
Kids would likely enjoy any gadget as long as they can carry them around or at least they can move it from one place to another by themselves.
All of these taken into consideration, I am pretty sure you will never go wrong with any of these choices. Unless, of course, you mess up the process by including your own "adult" expectations.
Buying Tips For Kid Telescopes
The world of astronomy can be breathtaking but can be perplexing to some as well. In other words, telescopes are not for everybody.
How to know if your kids like telescopes?
Test the waters first. It's easy to gauge children's interests; if they talk about it all the time, if they ask questions, and when they directly ask you to buy them one.
That being said, before buying your kids a telescope, make sure they are really interested. Don't just assume that because you love the hobby, they do as well. This costly assumption will just potentially add junk to your attic.
Trust me! No matter how other people tell you that fruits don't fall far from the tree, they sometimes do!