The StarBlast 6 Overview
The Orion StarBlast 6 is a 6-inch (actually 150mm) Newtonian reflector telescope on a simple altitude-azimuth mount. With a focal length of 750mm, the focal ratio is a fairly fast f/5. The tube is only 28 inches long.
The focuser on the StarBlast is a 1.25" plastic rack-and-pinion unit, which is sturdy enough but easy to damage and hard to replace. As with any decent Newtonian reflector, the StarBlast is fully collimatable, which you should expect to at least check every time you use it, as an f/5 telescope is more sensitive to collimation inaccuracies than a longer instrument.
The scope attaches to its mount with a pair of tube rings. You can bolt these tube rings to a dovetail plate and use the StarBlast 6 optical tube on nearly any other mount you want.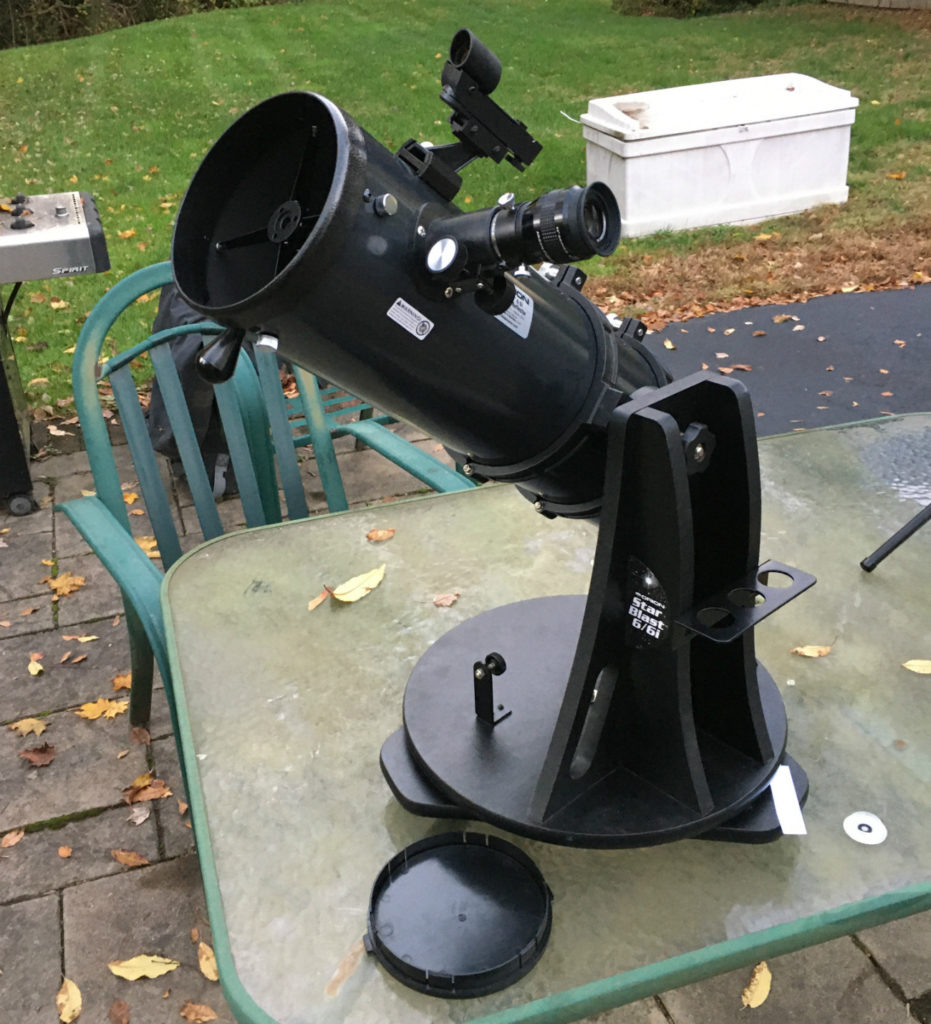 Accessories that come with the Starblast 6i
As equipped, the StarBlast 6i comes with two of the standard Orion Sirius Plössl eyepieces (25mm and 10mm, providing 30x and 75x respectively) and red dot sight. These eyepieces are adequate enough to get you started and the red dot sight is all you need to aim the StarBlast – especially with the help of the Intelliscope system – but you will of course want additional eyepieces for higher magnifications.
A Stable Mount
The mount itself is a common simple altitude-azimuth mount. Though it's often described as a "table-top Dobsonian," it is not, in fact, a Dobsonian. Dobsonian telescopes are Newtonians with alt-az mounts, as the StarBlast is. But a Dobsonian mount is a somewhat different design.
This mount is closer to a single-arm fork design. Regardless of what you call it, it is very easy to use and fairly sturdy and stable. Users generally will want a table or stool to set it up on, but it otherwise provides a good platform for the scope.
One of the best things about StarBlast's tabletop mount is its stability. Lighter mounts, especially the low-end EQ-1 style German equatorial mounts that many scopes in this size come on, don't offer the stability a scope like this needs.
The table-top alt-az mount that the StarBlast comes with beats those other mounts hands-down. Though fairly inexpensive in design and materials, it offers significantly better stability. Views, especially higher magnification views like those needed for planetary observation, won't suffer as much vibration and jitter, making for a much more enjoyable viewing experience.
The Orion StarBlast 6i comes equipped with Orion's IntelliScope Computerized Object Locator. The IntelliScope system consists of a hand control that connects to encoder assemblies on the altitude and azimuth axes of the mount.
The Intelliscope is extremely easy to use. Once you have set up the telescope and mount, you need only turn it on and run its two-star alignment procedure. This does require the user to be able to identify two bright-named stars, but this should be a fairly easy task.
Once this alignment is complete, the user can select from a sizable catalog of objects in the database, and the scope will provide directional cues on the back-lit screen of the hand control to guide the user to the object.
Should I buy a Used StarBlast 6i?
If it's a good price, then go for it. Be sure to check that the mount isn't damaged and that the primary and secondary mirrors are still clean and reflective. And of course, test the Intelliscope and be sure that it is able to tell the telescope is moving and works without any errors flashing on the display.
Alternative Recommendations
For the same price as the StarBlast 6i, you could buy a full-sized 8" Dobsonian. Our favorite of these is the GSO/Apertura/Zhumell/Orion Skyline 8", which boasts significantly more aperture -a and thus light grasp and resolving power – and some fairly good accessories. There's also the Celestron Astro-Fi 130, which has a bit less aperture but a full GoTo system and a similarly wide field of view to the StarBlast 6. Lastly, there's always the base StarBlast 6, which is identical to the 6i in all aspects except the controller – and can always be upgraded to have the Intelliscope later.
What can you see with Starblast 6i?
The StarBlast 6i's short focal length of 750mm means it provides a super-wide field of view with the included 25mm Plossl eyepiece, a full 1.8 degrees or 3.5 Full Moons across. This means it's really easy to locate deep-sky objects even without the Intelliscope, and easy to fit even the largest and most stunning deep-sky objects like the Double Cluster and the Andromeda Galaxy. You'll be able to see thousands of star clusters, including a few dozen bright globulars which begin to resolve into grainy balls of stars at high magnification. Nebulae like Orion and the Ring look fantastic. Galaxies require darker skies to be seen well with any telescope, but under good conditions, you can begin to resolve the spiral arms in M51 and a handful of other galaxies.
Within the Solar System, there's a lot to see too. Mercury and Venus are oblique crescents or gibbous disks with no detail to be seen. The Moon is stunning, with craters, ridges, and mountains only a few kilometers wide visible. Mars' ice caps and a few dark spots can be seen when it's close to Earth. You'll also have no trouble seeing Jupiter's moons, the Great Red Spot, and its cloud bands – and when the moons transit across Jupiter's face you'll be able to see their tiny disks and shadows, too. Saturn's cloud bands are harder to see than Jupiter's, but they're visible, along with the rings and a gap in them called the Cassini Division – and a half dozen or so moons too. Uranus and Neptune are little more than blue dots (which the Intelliscope greatly aids in distinguishing from stars), and unfortunately, their moons are just barely out of reach of the StarBlast, as is Pluto.