The StarBlast 6 Overview
The Orion StarBlast 6 is a 6-inch (actually 150mm) Newtonian reflector telescope on a simple altitude-azimuth mount. With a focal length of 750mm, the focal ratio is a fairly fast f/5.
As equipped, it comes with two of the standard Orion Sirius Plössl eyepieces (25mm and 10mm, providing 30x and 75x respectively) and a red dot sight.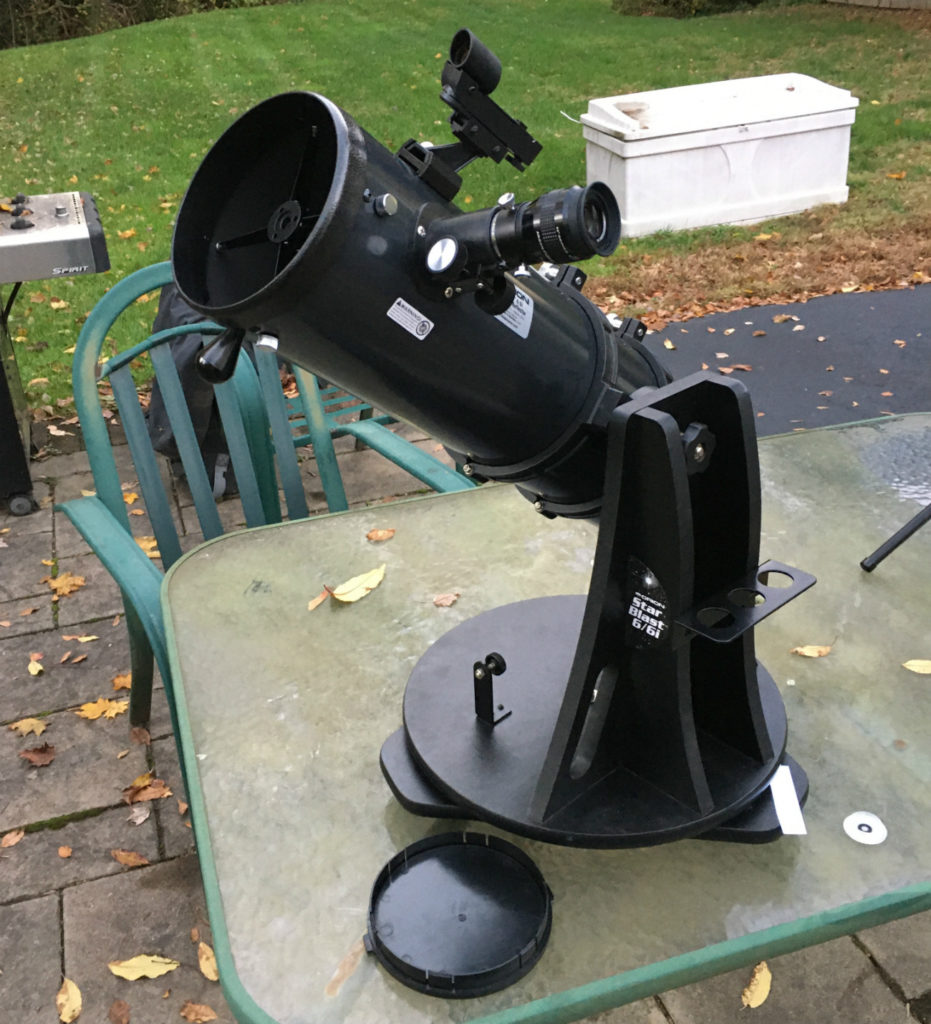 An optional upgraded package adds a moon filter, 2X Barlow Lens, red flashlight, moon map, and planisphere (these are fairly standard items that Orion often bundles in its "kit" packages).
A Compact Scope that Performs
The tube on this scope is only 28-inches long. When assembled, the entire unit stands about 36" (give or take an inch or two) tall when aimed at the zenith. Weighing in at under 25 lbs., this scope provides a lot of capability in a fairly portable package.
With 6 inches of aperture, the StarBlast 6 is a fairly powerful scope for such a small and portable package. Under fairly good skies, it should be able to show the observer any objects in the Messier catalog, as well as many others.
The scope is less ideal for planetary viewing, but still capable. The 10mm eyepieces offer 75X magnification, which is doubled to 150X with a 2X Barlow. Under steady skies, Jupiter will show prominent cloud bands, as well as the Great Red Spot, when it's visible, and the shadows of the Galilean moons on occasion. Saturn's rings along with the Cassini division should be visible, and Mars should show its polar ice caps.
A Stable Mount
The mount itself is a common simple altitude-azimuth mount. Though it's often described as a "table-top Dobsonian," it is not, in fact, a Dobsonian. Dobsonian telescopes are Newtonians with alt-az mounts, as this is. But a Dobsonian mount is a somewhat different design.
This mount is closer to a single-arm fork design. Regardless of what you call it, it is very easy to use and fairly sturdy and stable. Users generally will want a table or stool to set it up on, but it otherwise provides a good platform for the scope.
One of the best things about this mount is the stability. Lighter mounts, especially the low-end EQ-1 style German equatorial mounts that many scopes in this size come on, don't offer the stability a scope like this needs.
The table-top alt-az mount that the StarBlast comes with beats those other mounts hands-down. Though fairly inexpensive in design and materials, it offers significantly better stability. Views, especially higher magnification views like those needed for planetary observation, won't suffer as much vibration and jitter, making for a much more enjoyable viewing experience.
Great for Beginners and Experienced Users
This scope makes a great first telescope for a beginner, however, the Orion XT-6 is somewhat less-expensive and offers a longer focal length for better planetary viewing. If it were priced the same or less than the XT-6, it would be one of my top recommendations for a beginner telescope.
It's also a great grab-and-go scope for an experienced observer. It can be set up for use in mere seconds, and still, provide excellent viewing capabilities for a compact package. Its small size also makes it easy to throw in the trunk or back seat of a car and take anywhere you go without taking up too much space.
One thing this scope will not be recommended for is astrophotography. While some people may elect to try to take simple through-the-eyepiece photos, it is ill-suited to the purpose and users who wish to use a proper T-ring adapter for a DSLR or other camera are likely to find that they cannot reach focus without modification. But this is not the intended use for this scope at any rate.
The Orion IntelliScope Computerized Object Locator
The Orion StarBlast 6i comes equipped with Orion's IntelliScope Computerized Object Locator. The IntelliScope system consists of a hand control which connects to encoder assemblies on the altitude and azimuth axes of the mount.
The 6i comes with the Intelliscope controller, and Orion also sells several full-sized Dobsonian models with it as well.
Usage
The Intelliscope is extremely easy to use. Once you have set up the telescope and mount, you need only turn it on and run its two-star alignment procedure. This does require the user to be able to identify two bright named stars, but this should be a fairly easy task.
Once this alignment is complete, the user can select from a sizable catalog of objects in the database, and the scope will provide directional cues on the back-lit screen of the hand control to guide the user to the object.
PushTo versus GoTo
The Intelliscope is what is often termed as PushTo, as opposed to GoTo technology since you push the scope to position yourself. PushTo offers the object-finding convenience you would get with a full GoTo mount at a lower cost than an actual GoTo mount. Whether or not it's worth the cost is a matter of debate.
There is a body of opinion amongst amateur astronomers that GoTo capability is not recommended for people new to the hobby. The primary argument here is that it doesn't help the user learn the necessary skills and knowledge for amateur observing, namely constellations, bright stars, and the process of star-hopping.
On the other hand, many newcomers find themselves frustrated by not being able to find the objects they want to see. PushTo capability such as that offered by the IntelliScope system is a good compromise. I
Another problem with GoTo mounts is the cost of the full instrument compared to the optical performance. The GoTo electronic and mechanical components add to the cost. Often the price you'd pay for a GoTo scope could buy you a manual scope like a Dob with a much larger aperture. You sacrifice optical performance for the GoTo capability.
Along with this is the fact that a lot of the lower-cost GoTo mounts aren't always reliable. They are often made with plastic or nylon mechanical components and poorly manufactured electronic components (cold solder joints shorts, and components susceptible to damage from power fluctuations are common examples). When a GoTo mount breaks down, there's usually no usable manual backup option. While it is possible to unlock the clutch on the motion axes, they typically end up just flopping around on the axis, forcing you to hold them in position, which really isn't a viable option. The cost to repair is typically a significant portion of the price and tends to be more than most owners are willing to pay.
The IntelliScope system tends to be less expensive than full GoTo, so you get more scope for the money. And if for some reason, it breaks down, the scope is fully usable in manual mode without it.
Final Verdict
The Orion StarBlast 6i is a great scope for a beginner and a convenient grab-and-go option for experienced observers. It provides a good balance of capability, portability, and ease of use. The IntelliScope feature is nice to have, but probably not worth the additional cost for most users. My advice would be to get the regular StarBlast 6 or, better still, the XT6 or XT8 Dobsonian, unless you just want the smaller size. But all that aside, there's nothing wrong with this telescope or the IntelliScope feature.