The Infinity 102 is, as the name implies, a 102mm (4") f/6 achromatic refractor.
With a focal ratio of f/6, you'd probably expect there to be some chromatic aberration and indeed you'd be right. Purple or greenish halos are present on the Moon, planets, and stars above around third magnitude. Jupiter's cloud belts are visible but not the highest in contrast, and the Cassini Division in Saturn's rings – normally easy in a 4" refractor under good conditions – is hard to see at all, even under good seeing conditions. The views are acceptable for a fast refractor, but not great.
I would like to blame the disappointing views of the planets entirely on the scope's mere fast focal ratio, but I suspect that other problems are at play here. Still, the sample I tested was definitely at least diffraction-limited, so the optical quality is good enough for deep-sky viewing.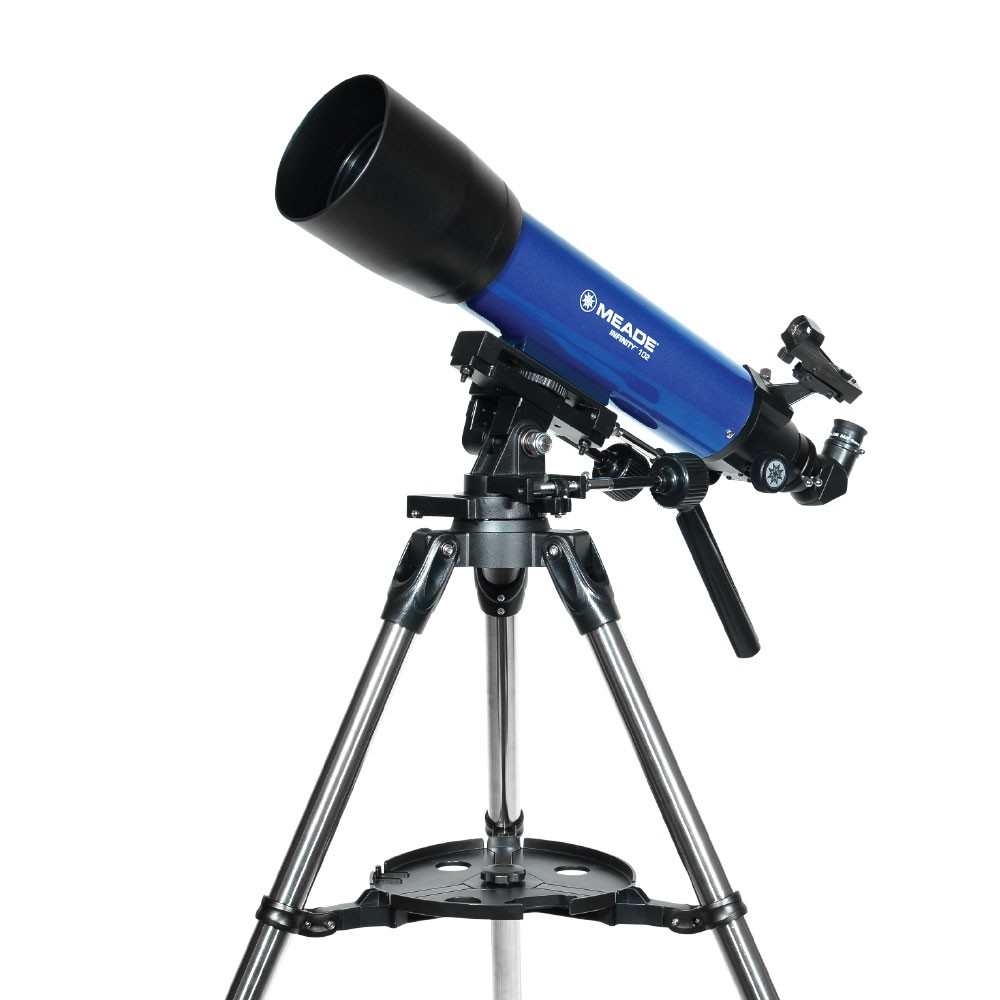 For high-resolution lunar and planetary views though, I'd recommend something else. This being said, I do enjoy the views of open clusters and nebulae this scope can provide and the alt-azimuth nature of the mount makes it very easy to pan the scope around the sky. You can have a lot of fun with this scope under decent skies, particularly if you can get your hands on a nebula filter such as the Orion UltraBlock.
The scope's dew shield is hard plastic and isn't darkened very well. Sanding the dew shield's interior with rough sandpaper and spray-painting it with an additional coat of flat black will greatly improve image contrast. The edges of the objective lens aren't blackened at all, but if you're confident enough to dismantle the lens cell you can blacken the edges with a Sharpie marker – this will also greatly improve contrast.
The focuser on the Infinity 102 is a 2" rack-and-pinion unit, made mostly of metal. While it is indeed sturdy enough to hold 2" eyepieces and doesn't vignette or anything, using this configuration will present you with some unrelated troubles which will be discussed in the mount section.
Reviewing The Accessories
The Infinity 102 comes with three eyepieces: 26mm (23x), 9mm (67x), and 6.3mm (95x) Modified Achromats. The 26mm and 9mm work fine, but the 6.3mm is rather uncomfortable to use and not the sharpest. The scope also comes with a 2x Barlow, which is functional, but for optimal high-magnification views, a better 6mm eyepiece like the generic 66-degree FOV "gold-lines" would be better.
Like all of the Meade Infinity scopes, the Infinity 102 comes with a 1.25", mostly-plastic Amici erecting prism diagonal. This diagonal works okay, but it doesn't have the highest light transmission, and it produces an annoying diffraction spike on bright objects. It also slightly vignettes with low-power eyepieces including the supplied 26mm MA. A real, standard prism star diagonal would be preferable.
Lastly, the Infinity 102 includes a plastic, battery-powered red-dot sight. I don't like red dot finders for manual telescopes as it is hard to locate deep-sky objects with them, but the wide field of view with the Infinity at low power makes this somewhat less of a problem.
About the Infinity AZ Mount
The Infinity mount is somewhat more similar in design to a photo tripod than to a serious astronomical mount. It attaches to the Infinity optical tube using a ¼ 20 screw that threads into a hole in the scope's Vixen-style dovetail plate, and the altitude pivot point is located below the optical tube rather than on the same plane. This does result in slight balancing issues when pointing the scope near vertical, but you can always lock the altitude axis up a little to solve this. And you'll pretty much always have to do that, as the scope is slightly rear-heavy even with the stock eyepieces and diagonal – Meade put the dovetail too far towards the front of the scope. I would suspect that using a 2" diagonal and 2" eyepieces would lead to frustration.
The Infinity mount uses a lot of plastic parts, but nothing is particularly flimsy and there is metal in most places where it's needed. There's also a nice big handle to the pan and tilt the scope, a nice added convenience.
Overall the Infinity mount works pretty well for an entry-level mount – much better and easier to use than a cheap EQ1 or EQ2 mount. There is some backlash with the slow-motion controls but I've seen far more expensive mounts with this problem, and it's not severe enough to hamper your viewing experience. The stainless steel tripod legs do bounce and twist a little during use, but the vibration dampening time is pretty reasonable.
Final Verdict
The Meade Infinity 102AZ is a good scope and excels at what it was meant for – rich-field deep-sky viewing. Being a fast achromatic refractor with an inexpensive lens, good high-power performance isn't expected to begin with. I'm a little disappointed by the balance issues, but otherwise, it's got no major functionality problems. I definitely would recommend this scope, particularly if you can improve the blackening of the dew shield and lens cell.