Overview of NexStar 102SLT Optical Tube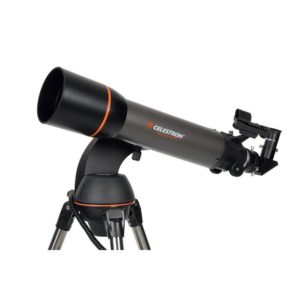 The NexStar 102SLT is a 102mm (4") f/6.47 achromatic refractor, thus with a focal length of 660mm. Being a standard Fraunhofer doublet achromatic refractor with crown and flint glass lenses, the 102SLT does show chromatic aberration or "false color", which is worsened by the fast f/6.47 focal ratio. The Moon and planets are still observable, of course, but the sharpest views can be obtained with a yellow filter or something like a Baader Contrast Booster or Fringe Killer, which you can screw onto the end of your eyepiece or star diagonal. Any of those will cost money and tint the view (particularly, of course, a yellow filter) but if sharpness is what you are looking for then they are pretty much the only fix.
The optical quality of the scope overall is pretty good. Of course, the edge of the field of view will have some slight aberrations at low powers, particularly with cheaper eyepieces, but it's nothing to worry too much about.
The 102SLT's dew shield is quite short, at only 3" from the front of the lens. As a result, stray light and dew are not very well-controlled. You can make your own dew shield extension out of foam or a yoga mat, or buy a more rigid aftermarket plastic unit. Either will significantly improve your observing experience.
The NexStar 102SLT's focuser is a high-quality, all-metal 2" rack and pinion unit. Unfortunately, using a 2" diagonal and a wide-angle eyepiece will probably make the scope too rear-heavy to balance on the SLT mount, as the scope's dovetail plate is short and you cannot slide it forward in the mount saddle very far. The balancing issue could be solved by putting on a longer dovetail bar and/or tube rings, but the combined weight of tube rings and heavy accessories will be a little much for the SLT mount to effectively bear.
About the Accessories
The NexStar 102SLT comes with a StarPointer red dot finder, 1.25" prism star diagonal, and two eyepieces: A 25mm Kellner (26x) and 9mm Kellner (73x).
The StarPointer is the same red dot finder supplied on most inexpensive telescopes these days. While not satisfactory for star-hopping with a Dobsonian, it is just fine for its sole purpose on the SLT: Aligning the GoTo system.
The 1.25" prism diagonal supplied with the 102SLT is really nice. So nice in fact that it's the same thing I use with my extremely expensive Takahashi FC-76 – though there are certainly better diagonals available. While the housing is partially plastic, the barrel and eyepiece holder is metal, it comes with two thumbscrews to grip your eyepiece instead of the usual one, and optically it's fantastic.
The 25mm Kellner will not provide the maximum field of view at low power that you could get with a 1.25" eyepiece – a 32mm Plossl or a wide-field eyepiece between 24-28mm focal length would be better. The 9mm Kellner provides a nice medium-high magnification, though you could push the scope a little further – say, to 125x. Both Kellner eyepieces are mostly plastic but of decent enough quality to get you started.
Reviewing The 102SLT Mounting
The NexStar 102SLT comes with the same Star Locating Telescope mount (wow, what a cool name) that all of the other SLT telescopes use – the same chassis and motors are used for Celestron's NexStar GT, SkyProdigy and AstroFi telescopes.
The SLT mount is lightweight, using thin steel legs. The motors and gears are not the highest of quality and the tracking accuracy is mediocre, but for a primarily low-power, wide-field instrument I would not be super concerned. The database on the SLT scopes is variably mentioned as having either 4,000 or 40,000 deep-sky objects in its catalog. Regardless of which it actually has, there are probably a few hundred deep-sky objects that are actually interesting to observe with the 102SLT.
The SLT mount is powered by 8 AA batteries which you put into a simple pack attached to a tripod leg, which plugs into a DC power jack into the side of the mount head. You will probably run down the batteries pretty fast during normal operation and I would recommend a dedicated lithium-ion or lead-acid rechargeable battery to use as a power supply – it will pay for itself after a dozen or so observing sessions.
As is typical with all of Celestron's computerized telescopes, their SkyAlign auto-alignment feature never actually works – it requires perfect time/date/location settings, and perfect leveling of the tripod, a combination you are unlikely to ever achieve. Use Auto Two-Star Alignment – it's almost as easy. Keep in mind that the time and date must be entered every time the scope is powered up, and changing location is a bit of a hassle.
Observing
As I've said previously, the NexStar 102SLT is primarily meant for wide-field viewing of open star clusters and some nebulae. Unfortunately, the lack of the ability to balance the telescope with 2" eyepieces means you will not be getting the widest fields possible, but you can still squeeze about 2.4 degrees out of it with a 32mm Plossl or similar 1.25" eyepiece that offers the maximum true field possible.
Being a 4" refractor, the 102SLT has enough aperture to show a fair amount of nebulae, star clusters, and galaxies. However, the wide field of view means that the GoTo system is kind of unnecessary to find many of them. Furthermore, you can't move the scope manually, and half the fun of a wide-field refractor is panning around the Milky Way and star fields, which you can't really do with this telescope.
Astrophotography Capabilities
The alt-azimuth nature and cheap gears of the SLT mount, combined with the inability to balance with heavy accessories and of course chromatic aberration means that serious astrophotography, be it deep-sky or lunar/planetary imaging is pretty much out of the question with the NexStar 102SLT. You can have some fun shooting the Moon with a phone adapter such as Celestron's NexYZ (which they offer bundled with the telescope) but that is about the limit of the telescope's capabilities.
Final Verdict
While certainly limited by its unsophisticated mounting and minimalistic design, the Celestron NexStar 102SLT is not a bad overall choice to enter the astronomy hobby. However, do consider the other computerized telescopes in Celestron's lineup or a manual Dobsonian first before buying.