Optics
The Celestron SkyMaster 25x70s are equipped with 70mm (2.75-inch) f/4 achromatic objective lenses. As expected, these lenses produce a significant amount of chromatic aberration; however, at 25x magnification, it's not highly noticeable on most celestial objects. For individuals who wear eyeglasses, these binoculars provide only 13mm eye relief, which can be a bit short if you have astigmatism or otherwise need to keep them on. The 15×70 SkyMasters have a much more comfortable 18mm of eye relief.
The true field of these binoculars is 2.7 degrees, which is approximately 5.5 times the angular diameter of the full Moon. At 25x magnification, this equates to an apparent field of view of 61 degrees, which is fairly immersive if not super wide. Views are sharp across the majority of the field. The 2.7-degree field is narrow enough, however, that locating objects can be a lot more challenging; most binoculars provide a true field of view of 3-4 degrees or greater to make it easy to find objects as well as view the largest deep-sky targets, which may not fit entirely within a 2.7-degree field.
The prisms used in all SkyMaster binoculars, as well as most high-quality binoculars, are made from BaK-4 crown glass. This material surpasses the quality of the more common BK7 prisms found in cheaper or inferior products. BaK-4 prisms are crafted to higher standards than inexpensive BK7 prisms, and binoculars using these prisms usually do not have undersized prisms that could cause clipping or vignetting of the field of view. The SkyMaster 25x70s' exit pupils are nearly perfect circles, and the aperture of these binoculars is a genuine 70mm, with only minimal clipping around one edge of the exit pupil, which does not impact the views.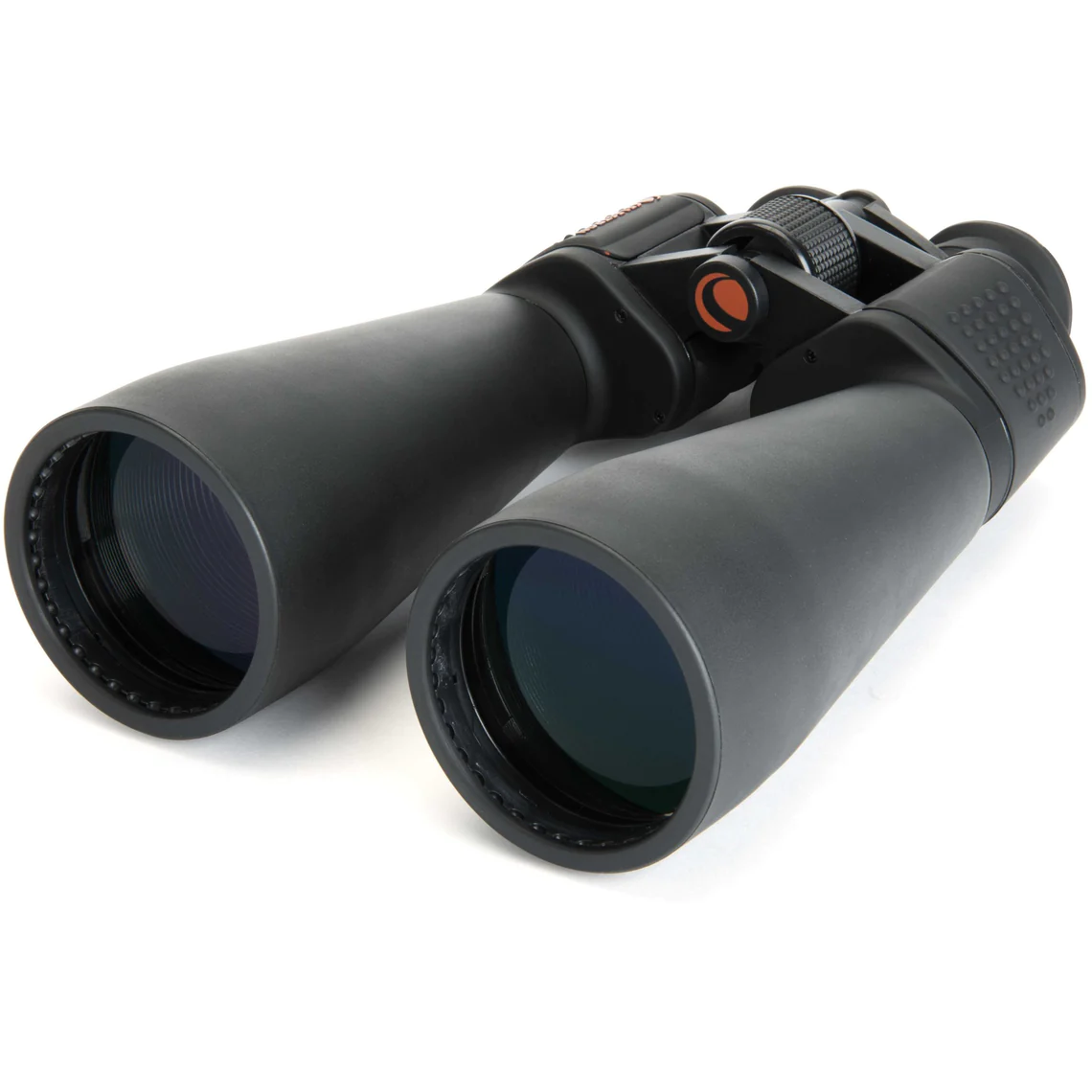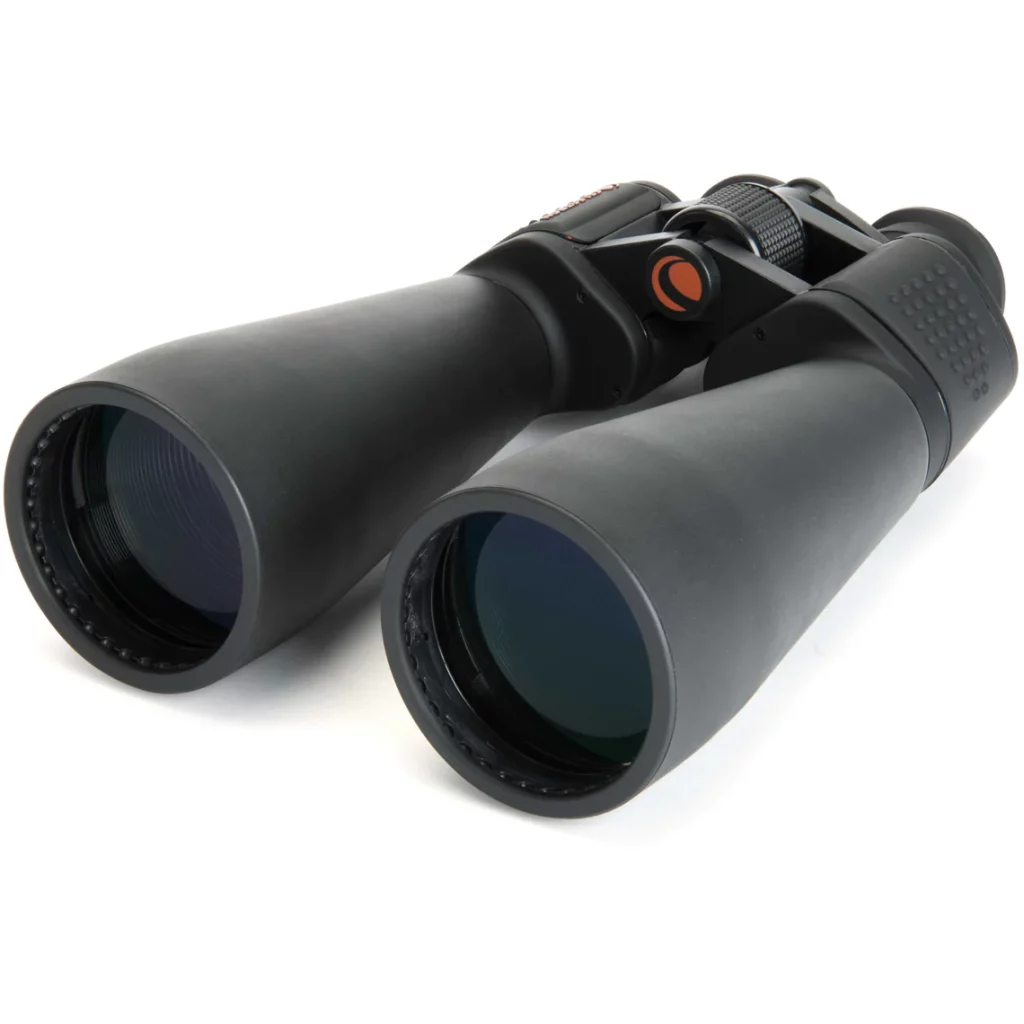 Mechanics
The Celestron SkyMaster 25x70s feature fold-down eyecups with a 50mm (2-inch) diameter and an interpupillary distance (IPD) that can be adjusted between 56mm and 72mm. A central knob is used for focusing as with most smaller binoculars, and the SkyMaster 25x70s' right eyepiece has a diopter adjustment ranging from -4 to +8 to compensate for vision differences between your left and right eye.
The SkyMaster 25x70s frequently arrive miscollimated, resulting in a double image when looking through them. At 25x, slight miscollimation that might go unnoticed with a pair of 15x or 12x binoculars can ruin the view. This issue is common enough to warrant serious concern. Thankfully, Celestron's customer service is usually capable of addressing this problem, or you can attempt to access the adjustment screws yourself, although this may be difficult. Both options can be time-consuming and significantly frustrating, and doing it yourself requires quite a degree of precision on account of the 25x magnification and the fact that these binoculars were never intended to be maintained by the user.
The SkyMaster 25x70s are fairly well-constructed and robust, though they are not made out of any exotic materials or waterproofed. However, it's best to avoid subjecting them to impacts. If they are dropped, they might need collimation, which could involve sending them back to Celestron—an inconvenient process—or attempting to do it yourself by ripping apart the rubber housing and accessing the tiny collimation screws.
A tripod adapter is mandatory at 25x magnification, but the SkyMasters' supplied plastic one is extremely poorly made, inducing vibrations and also prone to simply cracking from heavy use anyway. A more reliable all-metal adapter can be purchased for less than $20. To attach the binoculars to a tripod with a metal adapter, simply screw in your tripod head's ¼ 20 screw to the adapter, remove the small Celestron-logo cover on the binoculars' front end, screw the knob on the adapter into the binoculars, and you're ready to attach the adapter to any tripod, monopod, or other mount with a ¼ 20 screw head.
Mounting Recommendations
When purchasing a tripod or other support for the Celestron SkyMaster 25x70s, you should ensure that it can support the binoculars' weight by a comfortable margin. Many affordable options might not provide sufficient stability or enough maximum height for viewing high in the sky. A beefy tripod that extends to six feet or more in height, such as the Celestron Ultima Pan Tilt Head Tripod, is recommended to facilitate observing objects higher in the sky. Alternatively, a reliable parallelogram mount is ideal for any astronomy binoculars.
Related Product Guide: Best Tripod for Astronomy Binoculars
Should I buy Used Celestron Skymaster 25×70 Binoculars?
The primary concern when buying used Celestron SkyMaster 25x70s or any inexpensive binoculars is the potential for them to be out of collimation. It is not advisable to buy a pair that you cannot test in person. Miscollimated binoculars typically display a noticeable double image on terrestrial objects at moderate distances, making it easy to identify this issue. Additionally, avoid used binoculars with signs of fungus or deterioration, particularly if they have inaccessible interior optical surfaces.
Alternative Recommendations
While the Celestron SkyMaster 25x70s are at least passable, their quality issues and cumbersome nature in both transport and use mean you really should consider alternative options with different aperture and magnification specifications, such as 15x70s, 12x70s, or smaller 50-60mm binoculars instead.
The Celestron SkyMaster 12x60s are typically convenient for extended handheld use, unlike their 15×70 or 25×70 counterparts, and as with the other SkyMaster binoculars they feature BAK-4 prisms and multi-coated optics for optimal light transmission, while providing a wider field of view and less bulk than a larger 70mm pair.
The Celestron SkyMaster 15x70s offer excellent value for their price. Although they may occasionally have misaligned prisms, similar to the 25x70s, the lower magnification is more forgiving of such issues. It's still essential to replace the included plastic tripod adapter, however, and using these binoculars with a tripod or monopod will significantly enhance your experience given their weight and the 15x magnification.
The Bushnell Legacy WP 10x50s offer a huge 6.5-degree true field and are effortless to use and aim handheld. These waterproof and durable binoculars provide sharp views, and also sport a huge 20mm eye relief and comfortable, convenient twist-up eyecups.
The Zhumell 12×70 Astronomy Binoculars present a wider field of view and marginally lower magnification than the SkyMaster 15x70s while maintaining a similar construction to the SkyMaster 15×70 or 25×70 binoculars. The Zhumell 12x70s are more forgiving of collimation issues and require a less stable mount compared to higher-power binoculars of this aperture, with handheld use being at least in the realm of possibility.
What can you see Celestron SkyMaster 25×70 Binoculars?
While the 25x magnification and resultingly limited field of view can make finding objects tougher and limit the expansiveness of starry vistas surrounding many open clusters and nebulae, the SkyMaster 25×70 binoculars can still provide admirable views of expansive open star clusters, such as the Pleiades, the Double Cluster, and numerous others, in addition to prominent asterisms like the Coathanger and striking nebulae like Orion (M42) and the Swan Nebula (M17), when these objects are observed under adequately dark skies. The light-gathering ability of these binoculars, which is what matters for deep-sky objects, is similar to that of a small, wide-field telescope in the 4" aperture range, though viewing with both eyes can have some contrast improvement, especially under light-polluted skies.
With the SkyMaster 25x70s, globular clusters can be effortlessly discerned and easily differentiated from stars at a 25x magnification; you might even perceive a slightly granular texture to a few of them. These binoculars are capable of unveiling a handful of galaxies, including M31 and M33, though the presence of urban light pollution will obstruct finer details or entirely obscure these objects. Under darker sky conditions, M31's dust lane and companion galaxies, as well as subtle indications of M33's spiral arms, may become visible, along with dust lanes in a few other galaxies too, albeit with significant effort.
At 25x magnification, the SkyMaster 25×70 binoculars allow you to discern Saturn's rings and its largest moon, Titan; observe the phases of Venus, and, of course, reveal Jupiter's moons and equatorial cloud belts. The Moon's more prominent features, such as craters, large mountain ranges, etc., are also visible, although chromatic aberration is bound to be an annoyance. Additionally, these binoculars can separate some wide double or multiple-star pairings, such as Albireo. Nevertheless, a good telescope, even one with less light-gathering power, is typically more suitable for examining small and bright targets like these, and can reveal the phases of Mercury, fine detail in galaxies and planetary nebulae, the Cassini Division in Saturn's rings, Jupiter's Great Red Spot, surface features on Mars, and many other celestial details that astronomy binoculars cannot.