As a newbie in the world of astronomy, you probably beam with excitement at the thought of owning your first telescope. Sorry to burst your bubble but please, don't count binoculars out just yet. Why not? If your budget is under $100, most other astronomers and I highly recommend getting a pair of binoculars instead of a low-quality telescope to start out.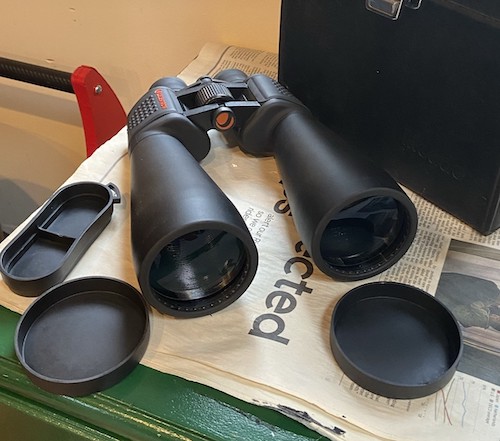 Binoculars don't require a proper mount or interchangeable eyepieces, and are sold far more than telescopes, so good binoculars are quite cheap. A good pair of 7x50s is under $30. But some astronomy newbies may want a larger aperture.
Basic Features
Aperture : 70mm (2.75")
Dimensions : 11" X 4" X 8.5"
Optical coatings: Multi-coated
Magnification : 15x
Prisms glass type: Bak-4
Weight : 3.28 lbs.
Eye relief : 18mm
Angular field of view : 4.4°
Accessories
Tripod adapter with finder rail
Nylon Carrying case
Neck strap
Rainguard / cap
Lens cloth
Instruction manual
Overview Of Celestron's SkyMaster 15×70
Celestron's SkyMaster 15×70 binoculars are an excellent choice for those who have enough strength to hold them or own a sturdy photo tripod.
Aside from the obvious fact that telescopes generally need tripods, binoculars tend to show a better image due to the fact that since you are using both eyes, you see objects in 3D. Plus, the light-gathering capability of binoculars is said to be around 30% higher than those of telescopes, while all other things are constant.
The SkyMaster 15×70 has BaK-4 prisms and full multi coatings, which is quite spectacular for binoculars of this size and price range.
A pair of 70mm binoculars like these are roughly on par with a 5" telescope in light grasp, though unlike a telescope they cannot deliver high-power views of globular clusters, small galaxies, the moon, or planets. Binoculars like these are mainly good for open clusters and large nebulae.
When you purchased this big baby, you may end up getting the ones that are not yet collimated, but don't worry.
The SkyMaster, like almost all of Celestron's economy binoculars, sometimes come miscollimated, which means when you're looking through them, you'll see a double image.
Thankfully, Celestron's excellent customer service can usually remedy this problem, or you can access the screws yourself and do it, albeit with some difficulty. That being said, my SkyMasters are only slightly out of collimation, but not to the point of it being a problem.
The SkyMasters need a tripod or mount of some kind to be used unless you are built like Arnold Schwarzenegger. If you rest your elbows on something you'll probably be okay, but that is awkward and limits where you can point them. Unfortunately, I have an abnormally strong heartbeat, and thus my views always shake no matter how well I brace my arms.
As for mounting the SkyMaster on a tripod, forget the supplied adapter. It is so bad that I threw it out. Celestron sells an all-metal adapter for less than $15. As for why they couldn't include that instead of the supplied one is beyond me. Attaching the binoculars to a tripod with the metal adapter is a simple affair – just screw in your tripod's ¼ 20 screw to the adapter, remove the small Celestron-logo cover on the binoculars, screw the knob on the adapter into the binoculars, and away you go.
As for the views, with an aperture of 70 mm or 2.75", my 15x70s have been able to pick out dark nebulae in Cygnus, M31's dust lane, and even managed to spot M33, things that are impossible or at least very difficult with a small telescope under my skies.
Its optics are multi coated, so expect sharp and very clear views. Open clusters are absolutely spectacular in these binoculars.
You can see the rings of Saturn similar to how Galileo did – a slight elongation of the planet's disk – as well as Jupiter's moons, Venus' phases, and a fair amount of lunar craters, but that's the limit with the 15x that the SkyMaster provides.
There is a decent amount of chromatic aberration on bright stars, the moon, and the planets – as with any binocular at a sane price – but it doesn't hamper views in the slightest. The outer 10% of the field is a little fuzzy, but you will probably not notice.
The fact that you're typically holding the binoculars horizontally for daytime targets, combined with the ease your brain has in processing images of familiar stuff in daylight, means the SkyMaster can be used far easier with your hands during the day than at night. So for terrestrial spotting, they're great – albeit not the most portable or compact option.
Pros
Affordable
Easy to use
Works well for terrestrial use if you don't mind the size
BaK-4 prisms
Fully multi-coated optics
Cons
25% of the peripheral seems blurry with chromatic aberration
A bit bulky
Tripod would be required for an extended period of viewing
Included tripod adapter is useless
Often come miscollimated
What's The Bottom Line?
I will make life easy for you. Get yourself these binoculars. Why? Because they are awesome and their quality is comparable to expensive brands and models, but definitely won't break your pocket.
For someone who's on the lookout for serious land- and night-sky viewing, but are constrained by their budget, the Celestron Skymaster Giant 15×70 Binoculars with a tripod adapter is the closest thing to having the taste of the best. However, be prepared to deal with possible miscollimation.
I own and still regularly use my pair of Skymaster 15x70s. If that's not a good endorsement, I don't know what is. It's no wonder it's listed under the Honorable Mentions of our buyer's guide of Best Binoculars for Astronomy.