Dobsonian telescopes are what I usually recommend to beginners, and if you ask most astronomy clubs, websites or observatories, they'll probably respond in unison: "Get a Dob". The famed San Francisco monk's simple, pioneering design allows for a smooth-moving, easy-to-use telescope that puts as much money as possible into the optics and simply gives you the most bang for your buck. Heck, half of my personal telescopes are Dobsonians. The design just works.
In this guide, I'm excluding the smaller, sub-$250 tabletop Dobs. While technically Dobsonians, these scopes lack the double-armed rocker boxes of a true Dob and don't sit on the ground. But a tabletop Dobsonian will last you even after you've moved on to more advanced and complicated equipment, as it remains an easy to use, portable Grab n' Go scope.
A full-sized Dobsonian remains easy to use and ideal for visual astronomy even when you get some big expensive astrophoto setup later on. Beginner telescopes on tripods seem to be sold almost entirely because they "look like a telescope," whereas Dobsonians look kind of strange by comparison. Don't be fooled.
Above $1000, Dobsonians tend to diversify a lot and it gets difficult to pick a best dob among them. You have to decide whether you want GoTo, digital setting circles, or an entirely manual instrument. Also, there are numerous other design features that often make it hard to really nail down a single "best" dobsonian telescope for one price bracket.
First off, here are our top Dobsonian recommendations straightaway, in case you don't want to read in detail. These recommendations stick if you are looking for best deep space telescopes as well since Dobs are what's perfect for deep space viewing. 
Recommendation Table of Top Dobsonian Telescopes
Cheapest 6" Dob in the US
Sky-Watcher 6" Traditional Dobsonian
Best value 6" Dobsonian. Very well worth it over the XT6 if you've got the money.
Sky-Watcher 8" Traditional Dobsonian
Sky-Watcher's 8" Traditional is usually the cheapest 8" Dobsonian available in the US and comes with the bare essentials to get started.
Best bang for your buck offering from HighPointScientific, the US' largest telescope retailer. Extremely worth it over the Skywatcher 8" if you can afford to spend the extra buck.
If you'd rather start with basic 10" dobsonian and upgrade the accessories later, it's not a bad choice.
It's awesome just like AD8, but with more aperture.
If 10" of aperture still isn't enough to satisfy you.
Now let's dive into detailed reviews of the best Dobsonians that we choose. We have focused more on negatives so that you'll know the worst side of the dobs. But rest assured that, these really are the best dobs that you can get at this price range. 
Best Dobsonian Telescopes 2021 - Reviewed
1. Orion XT6 - Budget 6" Dobsonian Pick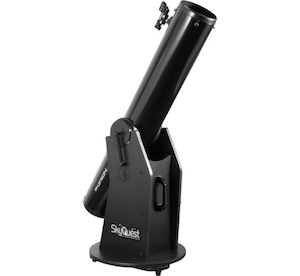 5th among 5 Classic 6" dobsonians
5th among 20 telescopes in $300 range
The Orion XT series really modernized Dobsonians when it was introduced in the early 2000s. For the first time, you could buy a Dob with a sleek metal tube, and a mount that at least looks and feels high-quality (though in practice is just particle board with melamine on top).
Today the Skyquest XT6 seems a little outdated, however. The scope's cheap red dot finder and spring-tensioning system work, but a 6" telescope really deserve a real finder and the springs can be awkward and difficult to get working correctly and are yet another small part to lose.  
6" f/8 scopes such as the XT6 or Apertura DT6 is easy to collimate, lightweight, and portable. However, an 8" f/6 Dob is only slightly larger in width and is still pretty easy to collimate, despite being the same length/height overall. That being said, 6 inches of an aperture is more than enough for a lifetime of enjoyable views.
The XT6 is pretty Spartan when it comes to accessories – it now only includes a single 25mm Plossl, and nothing else – Orion used to supply a 6×30 finder and a 10mm Plossl eyepiece, but they've slowly cheapened the XT6 over the years. You will inevitably need to go eyepiece shopping after purchasing your first telescope, but most scopes include at least two good eyepieces – not so with the XT6.
Finally, the Orion XT6's focuser is a cheap plastic unit which is vulnerable to damage. But if you're tight on your budget and can't add a $30-$50 extra to your budget to buy the Apertura DT6, XT6 won't be a bad choice at all. 
2. Sky-Watcher 6" Traditional Dobsonian - Choice Between $300-$350
The Sky-Watcher 6" Traditional is more or less an improved XT6 with a different paint job. Unlike the XT6, it uses adjustable tensioning knobs rather than springs for the altitude bearing tensioning, includes a 2" rack-and-pinion focuser, and comes with a 25mm and 10mm Plossl eyepiece as opposed to the XT6's single 25mm Plossl eyepiece.
The 6" Traditional also comes with a pretty decent 6×30 finderscope, though I'd recommend adding a Telrad or Rigel Quikfinder to supplement it – the 6×30 is uncomfortable to use and the images aren't very bright, making it ultimately not much more helpful than a red dot sight, and the images through it appear upside down.
Like the XT6, the 6" Traditional will show you the entire Messier catalog as well as many other deep-sky objects and a wealth of detail on the Moon and planets.
The Sky-Watcher Dobs have rack-and-pinion focusers rather than the Crayfords of other brands, but with an f/8 scope, this is a nonissue.
Being exactly the same optically as the Orion XT6, the f/8 focal ratio of the 6" Traditional means it's easy to collimate and is gentle even on cheap eyepieces like the ones supplied with the scope, unlike faster Dobs where a cheap low-power eyepiece will provide less-than-sharp images, particularly at the edge of the field of view.
My only complaint about the Sky-Watcher 6" Traditional? The altitude tensioning knobs stick out quite far and have an annoying tendency to grab loose clothing or get bumped in the dark.
3. Sky-Watcher 200P Traditional - Our choice between $350-$400 (8" Budget Pick)
An 8" telescope nowadays is considered the minimum for serious viewing – a few decades ago it was a 6" and 10" Dobsonians already are becoming more of the norm.
The Sky Watcher 8″ dobsonian is the lowest-priced 8" Dob on the market, and while it does make some sacrifices when it comes to accessories compared to more expensive models like Apertura AD8 it doesn't sacrifice anything when it comes to the optics. It will show you everything any other 8" commercial dobsonian telescope can.
The Skywatcher 200P comes with a relatively inexpensive 2" rack-and-pinion focuser. This works reasonably well, but at high power, an f/6 telescope's smaller depth of focus means that focusing may be a little difficult.
The 8" Traditional's finder is a straight-through (not right-angle) 9×50 finderscope. While not quite as comfortable to use as a right-angle finder it does provide reasonably bright and sharp images.
Thanks to having the same focal length, the 8" Traditional has the same tube length and same height mount as a 6" Dobsonian like the aforementioned two and thus is really no less portable than a 6" Dobsonian apart from being slightly wider and heavier. 
4. Apertura AD8 - Choice between $420-$520
1st among 8 Classic 8" dobsonians
1st among 33 telescopes in $400 range
If you asked me if there was any #1 telescope that I recommend to beginners over all others, it would probably be the Apertura AD8 or one of its various copycats.
Why you might ask?
It's simple. It's because it's a perfect size, comes with all the required accessories out of the box, and somehow bundles features that you normally have to pay double its price for. No other telescope provides as much bang for your buck out of the box as the Apertura AD8.
The AD8 is an 8" f/6 just like the Sky-Watcher 8" Traditional, but it has altitude tensioning knobs that don't stick out and can be adjusted to move along the scope's optical tube to properly balance it. It has a fancy 2" dual-speed Crayford focuser. The 50mm finderscope is a right-angle correct image model, though you may want to supplement it with a Telrad.
The AD8 also comes with a quality 30mm wide-angle 2" eyepiece for low power, and a 9mm Plossl for high power, though you'll of course want something in between as well as a shorter focal length high power eyepiece or two if you want to squeeze out the maximum potential of the scope. 
Lastly, the AD8 includes a cooling fan on the back, and a laser collimator which may or may not function out of the box – more often than not, the laser beam isn't aligned with the body of the collimator and has to be collimated itself, which is an extremely difficult process. Don't worry, though – you don't really need the laser and the Apertura AD8 is still a fantastic deal even without it.
5. Sky-Watcher 10" Traditional Dobsonian - Choice Between $520-$620
Like their 8" model, Sky-Watcher's 10" Traditional Dobsonian offers the most aperture for your money, at the cost of everything else.
The 10" Traditional comes with a 50mm straight-through, inverted-image finderscope, inexpensive 25mm and 10mm Plossl eyepieces, and a 2" rack-and-pinion focuser. However, being an f/4.7 telescope, the rack-and-pinion focuser starts to become a little uncomfortable to use even at fairly moderate magnifications like the 120x provided by the 10mm Plossl. Swapping this out for a good quality Crayford is going to cost you a minimum of $100, and it will require some knowledge of what you're doing (and it's certainly not for the faint of heart – disassembling any telescope is scary even if you're fairly used to it).
The scope's tube is a little longer than a 6" or 8" Dobsonian, but not by too much. However, the scope's size and weight means it is a bit more awkward to handle than its smaller cousins. Also, at f/4.7, precise collimation is critical.
However, the extra 2" of aperture amounts to a lot of practical use, so if you aren't bothered by the focuser and are willing to upgrade later on, I say go for it. A 6" or 8" may be enough aperture for a lifetime, but even for the serious observer a 10" Skywatcher Dob may be the only telescope you ever want or need. 
Sky-Watcher 10" Traditional Dobsonian
6. Apertura AD10 - Choice Between $620-$800
1st among 8 Classic 10" dobsonians
1st among 24 telescopes in $700 range
If you like the Apertura AD8, you'll really like the AD10. Like the fantastic Apertura AD8, the Apertura AD10 offers a great set of accessories bundled with it right out of the box and a little more aperture.
The 30mm eyepiece supplied will show some off-axis coma and astigmatism in a fast scope like the AD10 but provides a far larger field of view than a 25mm Plossl, which is, of course, a huge boon in locating and observing deep-sky objects.
Thanks to the AD10's dual-speed Crayford focuser, focusing at high power is an absolute delight. The AD10's cooldown fan is actually pretty helpful with a 10" scope, though it is really nothing more than a glorified computer fan attached to the rear end of the tube with a battery pack wired on.
Like the AD8, the AD10 also comes with a 9mm Plossl eyepiece, though the scope can handle a lot more magnification than the 133x it provides – a 10" scope is capable of up to 500x with good collimation and steady skies, and the AD10's dual-speed focuser makes comfortably achieving that even easier.
Like with the AD8 and AD12, the Apertura AD10's laser collimator is probably unusable and the Moon filter is a joke, but considering the great value the scope still otherwise provides, I don't consider these to be a problem in the slightest.
7. Apertura AD12 - Choice Between $800 - $1000
1st among 3 Classic 12" dobsonians
3rd among 15 telescopes in $1K range
If 10" of aperture still isn't enough to satisfy you, then there's the Apertura AD12. The AD12 comes with the same 30mm 2" wide-angle eyepiece, cooling fan, dual-speed Crayford focuser, adjustable altitude bearings, 50mm right-angle finderscope, and great optics that make the smaller AD series scopes such great deals, as well as the same useless Moon filter and laser collimator. However, there are some practicality considerations to be made in buying this telescope.
First: It's heavy. 75 pounds may not sound so bad, especially considering that it splits into two pieces. But what if you have to load it into your car to get it to an observing site? Now picture loading that scope back into your car, then unloading it, then bringing it into your house very late on a cold, damp night. Even if you observe from your backyard, setting up the AD12 isn't easy.
The AD12 is also much physically larger than a 6", 8", or 10" Dob. It's a full foot longer, and the tube is 14" wide with no good places to really grab it from. You'll probably want straps or a helper to move the tube. Also, the length means it may not fit in smaller vehicles.
The AD12 is best if you have a smaller scope to complement it and/or a dolly and garage so you can conveniently roll it out for observing. If you're shopping for your first telescope, I would recommend getting something smaller and cheaper first before purchasing the AD12. But if you're sure you're hooked and can accommodate this massive instrument in your home and lifestyle, a 12" Dobsonian like the Apertura AD12 can't be beaten.
The below Dobsonians are not our first preference. But if you have any particular reasons to choose any of the below Dobsonians, we won't say it's a bad choice. 
Sky-Watcher 8" Collapsible - $350-$450
The Sky-Watcher 8" Collapsible differs from its Traditional cousin in two aspects: It has a collapsible tube and a single-speed Crayford focuser.
The focuser is certainly a nice upgrade and is almost worth the money by itself. However, as the name implies, the main selling point of the Collapsible is its collapsible tube, made of 3 metal struts. Collapsing or extending the tube is as simple as loosening some knobs and adjusting the struts. Collapsing the tube shrinks it by a foot, which means it can fit in a smaller space and takes up less room when transported – it can sit vertically in a car seat and lay horizontally across the trunk of even a relatively modest-sized sedan.
However, this feature is a mixed bag. For one, you now need three dust covers – one for the lower assembly and two for the upper assembly, which means you have two more pieces to keep track of and clean. But more importantly, the open tube allows stray light to get in. Aftermarket shrouds are available to solve this, and you can make one yourself out of Spandex, Lycra or Ripstop fabric pretty easily if you have a sewing machine, but it's again one more piece to keep track of and it also costs some extra money.
Finally, the scope tends to lose collimation more often than a solid tube even when left extended, simply because the three metal struts are less rigid than a solid tube. And of course, collapsing it will almost inevitably ruin the collimation.
Orion XT8i - $600-$700 Price Range
Orion's XT8i features a number of improvements over the standard XT8 (which I haven't mentioned here as it is basically the same as the slightly superior Sky-Watcher 8" Traditional). It comes with two high-quality Plossls (a 25mm and 10mm), a single-speed 2" Crayford focuser, and a 9×50 right-angle correct-image finderscope, as well as some weight-saving cutouts in the base. However, its main selling point is the Intelliscope digital setting circle system.
The Intelliscope allows you to locate over 14,000 deep-sky objects, without consuming much in the way of battery power. It guides you to your target with arrows and measurements. However, it, of course, offers no motorized tracking or location of objects. All in all, I personally consider increasing your aperture or buying some better accessories more important than having the Intelliscope, but others have different opinions – read our review of it and decide for yourself.
Sky-Watcher 10" Collapsible - $600-$700
Like the 8" Collapsible, the Sky-Watcher 10" Collapsible is more or less the same as the 10" Traditional except with a Crayford focuser and of course the collapsible tube. Like the 8" Collapsible, it of course has all of the benefits and drawbacks of a collapsible tube design. The collapsible tube is a little more beneficial at the larger 10" aperture, but I still find the practicality of it questionable.
If you can afford the Zhumell Z12 but don't think you can handle its massive size, I would probably recommend the Orion XT10i.
While I don't find the Intelliscope to be the most useful feature of all and would prioritize aperture if a 10" is the most you can comfortably use it is definitely beneficial to have the Intelliscope. The XT10i's weight-saving cutouts and the knob on the end of the tube are also nice bonuses that even the Zhumell Z10 doesn't have.
Like its sibling the XT10 Classic, the XT10i includes a single-speed Crayford focuser and 25mm Plossl eyepiece. However, it also includes a 10mm Plossl eyepiece and a 50mm right-angle correct image finderscope.
This all being said, you are sacrificing some of the accessories of the Zhumell Z10, so it really comes down to whether you find the Intelliscope system and some cutouts in the mount to be worth this downgrade as well as the step up in price.
Tips On Choosing The Best Dobsonian
If you're on a tight budget, it's probably best to get the largest scope for your dollar and worry about accessories later. However, don't skimp to the point that you are unable to get everything you want out of your telescope.
If possible, I highly recommend borrowing a scope from a friend or at least examining it in person before purchasing it. Dobsonians are big, hefty instruments and sales brochures are going to try to make them seem as small and portable as possible. Don't buy something that looks small in pictures and then ends up being an unwieldy behemoth that you never bother with – the best telescope is one you'll use.
A cheap Dob nowadays probably won't be compromised optically (thank goodness), but the accessories and things like the focuser will be necessarily cheapened. If you can afford them, the more expensive models for a given aperture are probably worth it.
If you're using your Dob for outreach, you'll want something portable but at the same time with as much aperture as possible – GoTo or digital setting circle assistance also helps as you'll save time locating targets. If you're using it with your kids, portability may not be as much of a consideration but the "wow" factor of the image, as well as your kids' attention span, will dictate a lot about your choice of the telescope.
If you're buying a telescope for a child or teenager, I wouldn't recommend going above 8 inches in aperture – collimation will be too difficult and it'll be too heavy for them to set up and use on their own.