Meade's Polaris line promises to offer decent aperture scopes on good equatorial mounts with decent accessories bundled – something that a lot of manufacturers promise and fail to deliver entirely. The Polaris line even contains a dud – the Polaris 127EQ Meade offers is identical optically to the much-derided Celestron Powerseeker 127EQ. So, one must always take caution when shopping for scopes such as these.
Luckily, the Meade Polaris 130EQ has not only met but exceeded my expectations, albeit with a few quirks. Read the review to know in detail. 
What Makes The Polaris 130MM a Good Choice?
The Polaris 130 is a standard 130mm f/5 Newtonian, with a parabolic primary mirror – this is key, as there is at least one 130mm f/5 Newtonian on the market from a reputable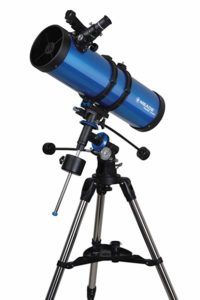 manufacturer which now ships with a useless spherical primary. I have heard a few scattered reports of the Polaris 130 being shipped with a spherical primary but these are all unconfirmed and are almost always secondhand accounts, so I would disregard them entirely.
At f/5, you may begin to notice some coma creeping in at the edges of the field of view with a low-power eyepiece. However, it's not really enough to significantly distort your view and there aren't 1.25" coma correctors on the market anyway.  Both the primary and secondary mirrors in the Polaris 130EQ can be collimated, which is to be expected with any decent reflecting telescope.
The scope's 1.25" rack and pinion focuser is mostly plastic, but the eyepiece holder is metal and as a whole, the unit works fine. The eyepiece holder actually has T-threads on it, so you can use a T-ring to screw on your DSLR camera with no additional adapter – though this has limitations, which we will examine later.
The Polaris 130 comes with a cheap, all-plastic red-dot finder. It works fine – certainly better than a cheap 5×24 or 6×30 – but the plastic window that you look through and which the red dot is projected on is slightly tinted which dims your view of the sky.
The scope comes with tube rings and a Vixen dovetail which allows it to be put on another mount if you wish, and of course for the optical tube to be rotated and balanced. One of the tube rings has a captive ¼ 20 screw so you can piggyback your DSLR camera and lens on top of the scope, but this again has limitations.
The Polaris 130EQ comes with an astounding three eyepieces and a 2x Barlow – quite unusual for any telescope.
The eyepieces supplied with the Polaris telescopes are all plastic-bodied 1.25" Kellners – a 26mm (25x), a 9mm (72x) and a 6.3mm (103x), which can be used with the 2x Barlow to double their respective magnifications.
None of these eyepieces are particularly high quality and perform adequately at best with an f/5 telescope, which has rather demanding and strict tolerances for eyepieces, but I prefer having a range of cheap eyepieces over a single low-power 26mm or 25mm Plossl which will not allow beginners to have exciting lunar or planetary views.
The 2x Barlow lens supplied with the Polaris is almost entirely plastic – I think even the lens might be plastic. It works surprisingly well considering that the lens is probably plastic, but I would swap it out for a better unit or simply forego its use entirely if you can.
The Polaris telescopes all come on the same mount – an EQ-2 with 1.25" steel legs, a single counterweight, and flexible slow-motion controls.
The 130mm f/5 optical tube is at about the maximum weight capacity the EQ-2 can sustain and was it any longer, it would probably be unusable on the mount (the 114mm Polaris, with its 3-foot long tube, is incredibly shaky on the EQ-2 mount despite being lighter than the 130mm f/5 optical tube). Thus, you are really straining the mount's capability if you attach or piggyback a DSLR camera on it, and I wouldn't recommend using one. You will grow frustrated trying even a piggybacked shot, and forget long exposure astrophotography.
For planetary and lunar photography, where one records video and stacks it with a program like Registax or AutoStakkert, your biggest problem will be the scope bouncing and wobbling as you track in right ascension. Meade sells an RA motor drive which will somewhat alleviate the problem, but all in all you simply cannot attach a DSLR to the Polaris 130 on its lightweight mount.
For visual use, the EQ-2 is more than adequate, and I have no significant complaints about it stability-wise. I don't like the amount of plastic used in the tripod and fear it could be broken easily if heavily used.
As I've said, the Polaris' EQ2 mount is unable to hold a DSLR camera with the telescope, due to weight restrictions. That being said, you can still do planetary imaging with a webcam-style CCD camera, though you'll need a quality 3x or 5x Barlow to boost the image scale sufficiently and of course the motor drive.
Visually, the Polaris 130EQ is great for deep-sky viewing with its 130mm aperture and wide field of view – you can complete the entire Messier catalog even from the suburbs, and of course, see many other non-Messier deep sky objects. There are some who have completed the far more challenging Herschel 400 and even 800 catalogs with a 5-inch telescope like the Polaris 130EQ given practice and dark skies.
On the Moon, planets, and double stars, the Polaris 130EQ does quite well, though you'll need some decent, quality planetary eyepieces to get all the scope can offer performance-wise. Good collimation is also critical, given that the Polaris 130EQ is an f/5 Newtonian.
Conclusion
Though it does have the compromises typical of entry-level, low-cost beginner telescopes, the Meade Polaris 130EQ is certainly a good choice for the price, if not the best. There are only a handful of telescopes at the same or lower price that I could really, objectively deem better than the Polaris 130.