Mechanics
The Losmandy G11 is a classic German equatorial mount known for its reliability and build quality. It utilizes stainless steel and anodized aluminum hardware, with a sleek black finish, which not only makes it sturdy but also aesthetically pleasing. The G11 boasts a payload capacity of up to 60 pounds for visual use, which allows it to comfortably hold a 14-inch Schmidt-Cassegrain telescope. However, for astrophotography, where tracking and guiding accuracy are more critical, the optimal payload capacity is around 45 pounds. This is still sufficient for a telescope the size of a Celestron C11, which is often used for astrophotography.
The G11 is equipped with a 1.25-inch counterweight shaft, a common feature in large equatorial mounts, and comes with two 11-pound counterweights. The G11 offers additional flexibility through upgrade options. For instance, there is a hybridization system where you can merge components from the G8 mount to create a G8/G11 configuration. Another upgrade option involves using parts from the Losmandy HGM Titan mount to transform the G11 into the G11T. This upgrade enhances the G11 by increasing its payload capacity and improving tracking accuracy through the integration of the Titan's Right Ascension gearing and hardware.
The G11 attaches to your telescope with a dovetail bar affixed to the telescope tube or its rings. The Losmandy D saddle is standard, but newer G11s have a Vixen-style dovetail slot as well. Older ones will need a hybrid saddle upgrade to fit Vixen plates. The G11 also fits the Celestron CGE dovetail bar, which is essentially the same as a Losmandy D plate.
The G11 does not include a polar scope as a standard feature, but it has a sturdy polar axis housing that can accommodate Losmandy's aftermarket polar scope, which has a built-in illuminator. While this polar scope is somewhat expensive, it is almost essential for precise polar alignment if you are not utilizing software-based polar alignment tools such as drift alignment or a PoleMaster.
One of the striking features of the G11 is its robust folding aluminum tripod, which serves as a hybrid between a tripod and a pier. Though often referred to as a lightweight tripod, it behaves more like a portable pier and provides exceptional stability for nearly any payload mounted on the G11. The heaviest component of the G11 setup is this pier, weighing around 44 pounds, while the mount head itself weighs about 36 pounds. The height of the tripod is adjustable, ranging from 33 to 48 inches, allowing for versatility in observing positions.
A unique design element of the G11 is its large setting circles. While they may seem functional at first glance and large enough for manually dialing in celestial coordinates, in practical usage, they are more decorative in nature, akin to the setting circles on most equatorial mounts since the 1960s. For effective navigation to celestial objects, it is advisable to utilize the mount's motors and, if available, a GoTo system or plate-solving software to pinpoint targets accurately.
The Losmandy G11 equatorial mount is engineered for both smooth motion and precise tracking, which are crucial for astronomical observations and astrophotography. One of the keys to its smooth motion is that it features large needle thrust bearings on its pivot points. This is complemented by a stainless steel worm gear that operates on ball bearings for the Right Ascension drive. These components work together to ensure accurate motions during tracking and slewing. Another noteworthy aspect of the G11 is its variable slip clutch system on both axes. This system allows users to smoothly adjust the grip on the mount to lock it securely in place without the risk of causing any damage.
Lastly, one of the notable features of the Losmandy G11 is its modularity. The right ascension and declination axes can be separated for ease of transportation, storage, or upgrading. The G11 can be upgraded to the smaller GM811 hybrid mount or to the more substantial G11T (Titan) hybrid mount. Many users appreciate the ability to disassemble the mount head, although this might not be necessary for everyone.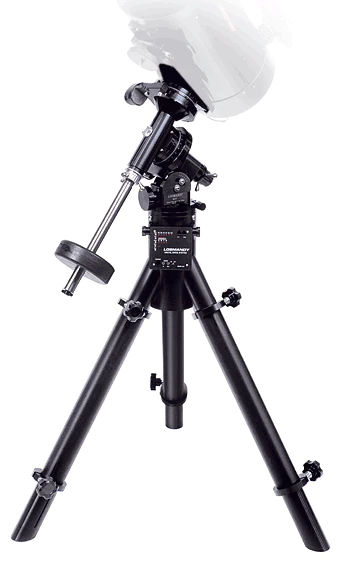 Electronics
If you opt not to use the Gemini 2 system for GoTo control of the G11, another alternative is the Explore Scientific PMC-8 system. This system operates via the ExploreStars app on a smartphone or tablet. While it's not as commonly used as other systems, it's fairly intuitive and effective. For astrophotography with the G11, it's common to rely on third-party software applications for advanced control and automation, and this usually requires connecting the mount to a PC, which is fairly easy to do with the Gemini 2 and PMC-8 systems as they have ports and are ASCOM-compatible. However, if your mount was supplied with a drive controller, and no GoTo system (see below), you'll need to upgrade to Gemini 2, PMC-8 or install a third-party (i.e., DIY) kit of some kind to control the mount directly via a PC or connect it to a WiFi adapter.
Older G11 units that were supplied without the Gemini GoTo system simply have a dual-axis electronic drive and push-button hand controller box similar to what is found in more basic motorized mounts. This "dumb" dual-axis system is efficient for visual observations or planetary imaging and can be guided, but there's no GoTo or ability to plug directly into a PC. For users desiring these more advanced features, it's required and also relatively straightforward to upgrade to the Gemini or the PMC-Eight system while retaining the dual-axis drive electronics for possible future use.
Although the G11 utilizes servo motors, they are of exceptional quality. Combined with high-quality encoders and precision-machined parts, the G11 mount provides exceptional tracking and guiding up to the limit of its weight capacity, provided that it is properly polar aligned and autoguided.
While add-ons like a GPS module are available for the Gemini system, most users find them redundant. Modern smartphones can easily provide date, time, and location information. Additionally, by plugging a Wi-Fi module into the G11, users can control the telescope/mount through applications like SkySafari Pro, which is incredibly convenient. This not only makes the control more user-friendly but also automatically updates the necessary date, time, and location information.
Using the Losmandy G11 for Visual Observation
For visual observation, setting up the Losmandy G11 equatorial mount is relatively straightforward. Begin by leveling the mount and adjusting the altitude. Proceed to perform a basic polar alignment (always start with the counterweight down). There's no need for a computer or smart device at all if you're using the Gemini 2 system, as you can handle all the setup using the hand controller, although using a stylus is recommended for convenience. When you power it on for the first time, you'll need to enter some basic information, such as your time zone, longitude, and latitude – which can be easily obtained from your smartphone. After this, simply press SET and ENTER. You can then choose a star from the Star Align menu and perform a one-star alignment. While you have the option to do more star alignments or create a full model, it isn't necessary for visual observing. The dual-axis drives don't require any stars or button pushing to get started – just a polar alignment and good leveling/balancing and you're good to go. PMC-8 users can operate the G11 via the ExploreStars app wirelessly on a smartphone/tablet; it will guide you through setup and is fairly intuitive to operate.
For visual observation, the Losmandy G11 is rated to support a payload ranging between 63 and 70 lbs. This estimation is somewhat variable, depending on different sources. This capacity range also generally holds for planetary imaging. However, it's important to note that for stable performance, it's advisable not to exceed 55 lbs.
For example, using a Celestron C14 XLT optical tube, which weighs about 52 lbs, with additional accessories like a finder scope, a 2-inch diagonal, or a hefty Barlow lens and camera, could easily push the total weight of your rig beyond 55 lbs. The C14 is noticeably unsteady on the G11, especially when the tripod legs are extended. This suggests that the C14 or similar large telescopes would be better suited on a mount with a higher payload capacity.
Similarly, larger (long 6" or 7-9") refractors and 12-14" Newtonians – even if they slide in weight-wise – may not be well-suited for the G11, at least without a permanent pier, as they can make the assembly too top-heavy or exert excessive torque. Thankfully, the vast majority of us are likely not using telescopes at the extreme end of their class sizes. For most, the G11 will comfortably handle 12 to 11-inch Schmidt-Cassegrains, 10-inch Newtonians, and 6-inch refractors. However, for astrophotography, it's advisable to use smaller telescopes to maintain stability and imaging precision.
Astrophotography
When it comes to astrophotography, the G11 is touted to have a total payload capacity of as much as 65 lbs by some users, but this figure should be approached with skepticism. A more realistic payload capacity for imaging with the G11 is likely in the range of 30 to 40 lbs. An 8 or 9.25-inch Schmidt-Cassegrain would be well-suited, but a 10 or 11-inch scope, even with a reduced f-stop of f/6 to f/8, may face stability issues on this mount. Similarly, a 10-inch Ritchey-Chretien or Newtonian telescope may have difficulty maintaining the necessary stability for accurate tracking and guiding – and even if it seems fine on a calm night, any wind may turn your telescope into a sail owing to its huge size relative to the G11 and the relatively top-heavy nature of your rig.
For most astrophotographers, the recommended maximum telescope sizes for the G11 would be a 9.25" Schmidt-Cassegrain or EdgeHD telescope, an 8" Newtonian, or a 5" refractor. Going beyond these sizes with the G11 as a base could be problematic for consistent imaging results – at least with longer exposures – due to both weight/center of gravity considerations and the various other challenges introduced by larger, faster optical systems.
For astrophotography, the Losmandy G11 equatorial mount needs to be precisely polar aligned. This can be achieved through various methods, such as using Losmandy's sold-separately polar scope, employing software-based polar alignment routines like drift alignment, or utilizing specialized hardware like the QHY PoleMaster. It is essential to ensure that the telescope is properly assembled and balanced atop the G11, which is a standard procedure for any equatorial mount and even more important for imaging purposes due to the stringent tolerances involved.
Technically, any G11 can be simply autoguided by a PC through the ST4 port and controlled by the user with the supplied electronics. However, many astrophotographers will use specialized, automated imaging software that contains built-in controls for the mount. These software solutions offer advanced features like plate solving for precise object location as well as imaging sequences to automate the capture, slew, and meridian flip processes. Additionally, guiding – handled by software and a PC in any case – can be automated by most software. The G11 can be controlled in this manner via ASCOM-compatible software through the Gemini 2 system or the PMC-Eight system, and the proper cables to connect to a PC USB port. This will then allow commands to be sent directly from the PC to slew/track and guiding can be done without the ST-4 port to worry about.
One of the greatest strengths of the Losmandy G11 is its low periodic error and superior drive and guiding accuracy when compared to standard Chinese-made German equatorial mounts. The high-quality encoders, exceptional machining, and stricter manufacturing tolerances contribute to a more accurate system. There is less backlash during guiding, and the mount is more responsive and precise in making slewing corrections. The guiding accuracy depends on the types of exposures and payloads you are working with, but sub-arcsecond precision can be expected with most imaging setups.
Should I buy a Used Losmandy G11?
An older G11 may not have all the electronic features of newer models, but most of the parts are likely the same or can be upgraded. Losmandy offers spare parts and service for all G11s regardless of their ownership status, and this mount is considered one of the best to purchase used because of the high quality of its components, the ease with which they can be swapped out, and the typically excellent customer service from Losmandy—even for second-hand buyers.
Upgrading a used G11 to the Gemini 2 or Explore Scientific PMC-Eight (PMC-8) system is not an inexpensive endeavor, and neither is any repair that might be needed. This is an important consideration if you're contemplating purchasing a used unit. We advise against impulsively buying a used unit if you're uncertain about the drive control system it employs because this could represent a significant difference in value, potentially amounting to thousands of dollars. A used G11T or GM811 should be scrutinized with the same precautions in mind. These mounts have been around for quite a while, and their modular design means that outdated parts might still appear even on newer, so-called hybrid mounts.
An older G11 will also require other upgrades to function like a new one; these include the RA extension kit, knob upgrades, a high-precision worm block assembly, a new polar scope LED, and possibly the HD folding tripod if you prefer the new one. The cost of upgrading to the Gemini 2 with high-torque motors or to the PMC-8 system, which costs about the same and is recommended for astrophotography, can be almost as much as the cost of some used G11s by themselves. If you're considering adding a Wi-Fi adapter, that will incur additional costs. If you're looking at a used mount, don't rule it out if it lacks these upgrades, but keep in mind that these tremendous costs exist when pricing things out. Additionally, you may need a Vixen hybrid dovetail saddle if your mount only accepts Losmandy D-plates and you wish to use Vixen plates as well.
Alternative Recommendations
The Losmandy G11 has been a source of inspiration for many mounts since its inception, and it is not surprising that there have been imitators. The Orion Atlas EQ/EQ-G, also known as the Sky-Watcher EQ6 and later NEQ6, was among the first, and it is sometimes still available for purchase. The newer Sky-Watcher EQ6-R Pro and the AZ-EQ6 have various enhancements compared to the EQ6 and are somewhat comparable to the G11. However, they do not match Losmandy's build quality in their mounts, though their stepper motors could be considered superior in some aspects.
The Celestron CGEM II shares similarities with the EQ6-R and Atlas but falls short due to its utilization of lower-quality servo motors and some software compatibility issues that neither the G11 nor the aforementioned mounts have. The Celestron CGX, on the other hand, is quite comparable to the G11 and might even be more stable for large visual payloads. However, its machining quality and software compatibility do not measure up to the G11 or the mounts from Sky-Watcher and Orion.
For those who need more payload capacity than the G11 offers, Losmandy offers the G11-HGM Titan hybrid (G11T) or the full HGM Titan mount. Alternatively, for lesser requirements, one could downsize to the GM8 or the GM811 hybrid mount.
If you are considering premium mounts from other brands, there is a range to choose from, including Astro-Physics, Takahashi, and new entrants like iOptron, ZWO, and Sky-Watcher with mounts like the CQM350.
The Losmandy G11 is ranked at the top of its class in its price bracket for a reason, and that's why we have chosen to discuss our alternative recommendations in this manner rather than employing a list format as we typically do. If you're interested in a much smaller, medium-to-low capacity equatorial mount, such as the Sky-Watcher HEQ5 Pro or Losmandy GM8, we recommend checking our mount ranking page and our best telescope computerized mounts article for more information.
Aftermarket Accessory Recommendations
As is the case with most computerized mounts, one of the most worthwhile aftermarket investments you could think of for the G11 is a reliable rechargeable power supply, such as the Celestron PowerTank Lithium Pro or a generic lithium rechargeable battery supply, especially if you don't plan on plugging the G11 into a wall outlet for extended use. Moreover, a polar alignment tool is essential for the G11. A PoleMaster with an adapter or the Losmandy polar scope is crucial for achieving accurate polar alignment with the G11. You might also want to consider a pier extension if you use the G11 with long refractors, to avoid the need to extend the tripod legs too far. If your G11 didn't come with one, a counterweight shaft extension can help with balance and clearance issues.
As previously mentioned, the G11 is modular and capable of being upgraded with new parts and accessories over time, such as a Wi-Fi adapter, which can be sourced from various suppliers. It's likely that new G11 upgrades will continue to be developed, or you might need to send your unit in for servicing, which Losmandy happily offers.