Smartphones are a helpful tool for astronomy in many ways. You can use them to find your way around the night sky, control your telescope, and even do some astrophotography. This article will go over some of the ways your smartphone can help you with your astronomical endeavors, as well as the various tools you can buy.
Using your Phone as a Planetarium
Smartphone screens are very bright, and can ruin your night vision even on their lowest brightness setting. The easiest solution to this is to turn the screen red. On iPhones, this can be done by going into your accessibility settings and turning on a color filter, which can allow you to turn your screen red instantly by pressing the power button on the side of your phone or with another method like Siri. On Android, you'll need an app like Screendim, Sunset, or Twilight, though it won't be as perfect of a solution and may cause problems with being able to see text. Almost all astronomy apps have built-in red screen settings but getting out your phone may involve having to view a bright lock screen before re-opening the app, which can be a pain.
Most people are probably familiar with basic planetarium apps for your smartphone. However, a few stand out above the crowd; those are SkySafari 7 Pro and Stellarium Mobile. These apps have absurdly large databases of stars, deep-sky objects, asteroids, or spacecraft and can usually have additional databases of objects added in with updates or downloadable content. You can also simulate the field of view of your telescope, different eyepiece combinations, and finder scopes. With the right WiFi adapter, you can even control compatible GoTo telescopes. These apps can also change the color of your screen to red (but only within the app), let you make a list of things to look at, or simulate the sky for future observing sessions. You can completely ditch using analog star charts and maps altogether, and a single one of those might cost several times more than SkySafari 7 Pro and all of its downloadable bonus content.
Controlling Your Telescope with a Smartphone
Smartphone-controlled telescopes have become popular in recent years. Older GoTo telescopes were controlled by hand controller keypads, which can be irritating to learn to use and don't show you where you actually are in the sky. This can be a problem when you're trying to observe multiple objects and want to stay in the same area of sky. The keypad cannot tell you this information or convey it in a useful manner, so you end up having to consult a star chart anyway, which kind of defeats much of the point of a GoTo telescope.
Most newer GoTo telescopes made after around 2005 can at least accept a dongle to allow connection to a smartphone. The Celestron SkyPortal, Meade Stella, and SkyWatcher SynScan Mobile adapters are brand-specific to their respective telescopes, while others like the SkyFi 3 and StarFi are more universal; you can also build your own adapter/dongle with relatively basic electronics knowledgem as they are little more than a board with a small WiFi signal and some basic connection protocols.
Using a WiFi dongle with your existing telescope usually means unplugging the hand controller. After this, you control your telescope with an app. All of the telescope manufacturers have free apps, but they are either basic buttons or simply stripped-down copies of apps like SkySafari. Using SkySafari or Stellarium will give you a lot more functionality and a better interface when controlling the telescope.

Fully motorized GoTo telescopes with built-in WiFi adapters are also becoming more common. This is in part due to supply chain shortages, particularly with semiconductors, as well as a cost-cutting measure to ditch the hand controller. Sky-Watcher's telescopes and mounts pretty much all come with WiFi adapters as a default with newer models, such as the Virtuoso GTi and newer FlexTube SynScan Dobsonians, as well as the EQ-6Ri, AZ-GTi, Star Adventurer GTi, and Star Adventurer 2i mounts. These also all allow you to move the telescope/mount freely around the sky without disrupting the alignment of the GoTo system. The Celestron Astro-Fi and NexStar Evolution telescopes are controlled via your smartphone, but they do not feature the ability to aim the telescope manually at all, which is a bit of a drawback.
Telescopes with built-in Digital Setting Circles (DSC) that send position information to your smartphone also exist. These allow you to find objects in the sky and see where your telescope is pointed in real time. As with GoTo instruments, upgrading older DSCs to a WiFi-enabled system usually just involves getting a newer control unit, which may have an analog keypad as a backup like the Nexus DSC; purely WiFi-only kits and homemade designs are also available. The Celestron StarSense Explorer telescope/app technology and similar technologies like the AstroHopper app go a step further by eliminating the physical position encoders in your telescope's mount and using the smartphone's camera and gyroscopes to find your position.
Smartphone Astrophotography
Smartphone astrophotography is a new field made possible by the ever-improving camera technology in smartphones. Smartphone cameras are now incredibly high in resolution and capable of having settings like gain and focus adjusted in real time, as well as having the ability to take long exposures. Merely holding up your phone to the eyepiece will suffice for simple Moon shots, but for video imaging planets or taking long-exposure astrophotos, a real smartphone adapter is required to attach your phone securely to the eyepiece, allowing for shake-free photos and videos to be taken using voice controls or a remote shutter release.
Compared to deep-sky astrophotography with a DSLR, cooled, or mirrorless camera, smartphones up to the eyepiece fall dramatically short in quality and efficiency. The same goes for planetary imaging with a high-speed video camera, which doesn't cost much more than some of the higher-quality adapters we've listed here. However, smartphone astrophotography is certainly convenient, simple, and easy to teach others.
Best Smartphone Eyepiece Adapters: Our Recommendations
1. Best In Class Smartphone Adapter – Celestron NexYZ Universal 3-Axis Smartphone Adapter
The Celestron NexYZ is the most adjustable and easy-to-use smartphone adapter for telescopes currently offered.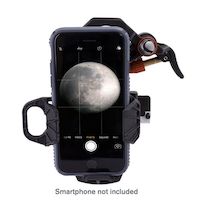 The Celestron NexYZ borrows some of the mechanical parts from Celestron's StarSense Explorer smartphone holder and turns it into an eyepiece adapter with a lot of great features. As the name implies, the NexYZ has a 3-axis XYZ adjustment mechanism. You turn the adjusters to move your phone up, down, left, and right, and you can move it forward/backward to line up perfectly with the eyepiece's exit pupil. With quick-release spring-loaded clamps, the NexYZ fits most phones and almost any eyepiece. Celestron also sells a NexYZ bundle that includes a remote shutter release button for your smartphone's camera, which is a nice bonus.
Tip – This item is mostly cheaper in Amazon.
2. Best Value #2: Celestron NexGo 2-Axis Universal Smartphone Adapter
The Celestron NexGo is very similar to the NexYZ but with the arguably-unnecessary Z axis stripped away and at a lower price.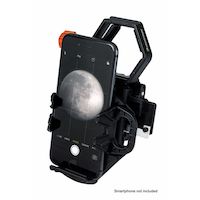 The NexGo smartphone adapter is similar to the Celestron NexYZ, but it doesn't have the Z axis. It cannot be adjusted forward/backward to bring your phone camera closer or further from the eyepiece, apart from when you initially clamp it on. This may or may not be a particularly important issue for you, though the NexGo is quite a bit cheaper than the NexYZ and has the same great XY adjustments and easy phone installation. Like the NexYZ, the NexGo is offered as a package deal with a remote shutter release button as well, at a slight extra cost.
3. Best Budget Smartphone Eyepiece Adapter: SVBONY Universal Cell Phone Adapter
The Tele-Vue FoneMate is great if you use exclusively Tele-Vue eyepieces, but is a bit of a specialty product due to its lack of universal compatibility with other brands.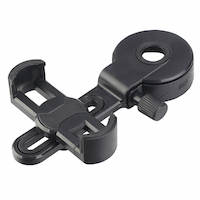 The SVBONY Universal Cell Phone Adapter is a generic adapter that is sold by many companies and is sometimes included with telescopes. It is limited to 1.25" eyepieces, and the adjustments are very primitive—just loosen the locking knob and attempt to center your phone on your eyepiece by sliding and rotating it. With small, lightweight phones (which unfortunately tend to coincide with poor-quality cameras), the SVBONY adapter will work fine, but using it can be irritating. The good news is that it is extremely cheap compared to all of the other adapters on the market.
4. Best Adapter for Tele Vue Eyepieces : Tele-Vue FoneMate
The SVBONY Universal Cell Phone Adapter is cheap and works well, but initial alignment can be irritating to achieve.
The Tele-Vue FoneMate uses a simple system of four adjusting clamps to securely grip and center your phone and a split-ring clamp to attach to any compatible Tele-Vue eyepiece. However, and is not as easy to adjust as the Celestron smartphone adapter. If you mainly use Tele-Vue eyepieces and want a top-notch adapter free of plastic parts, the FoneMate is the ticket; otherwise, you may want to seek out alternative options.
5. Easiest to Use: Explore Scientific Smartphone Camera Adapter
The Explore Scientific Smartphone Camera Adapter works best with smaller phones and eyepieces but is extremely simple to use thanks to its lack of moving parts.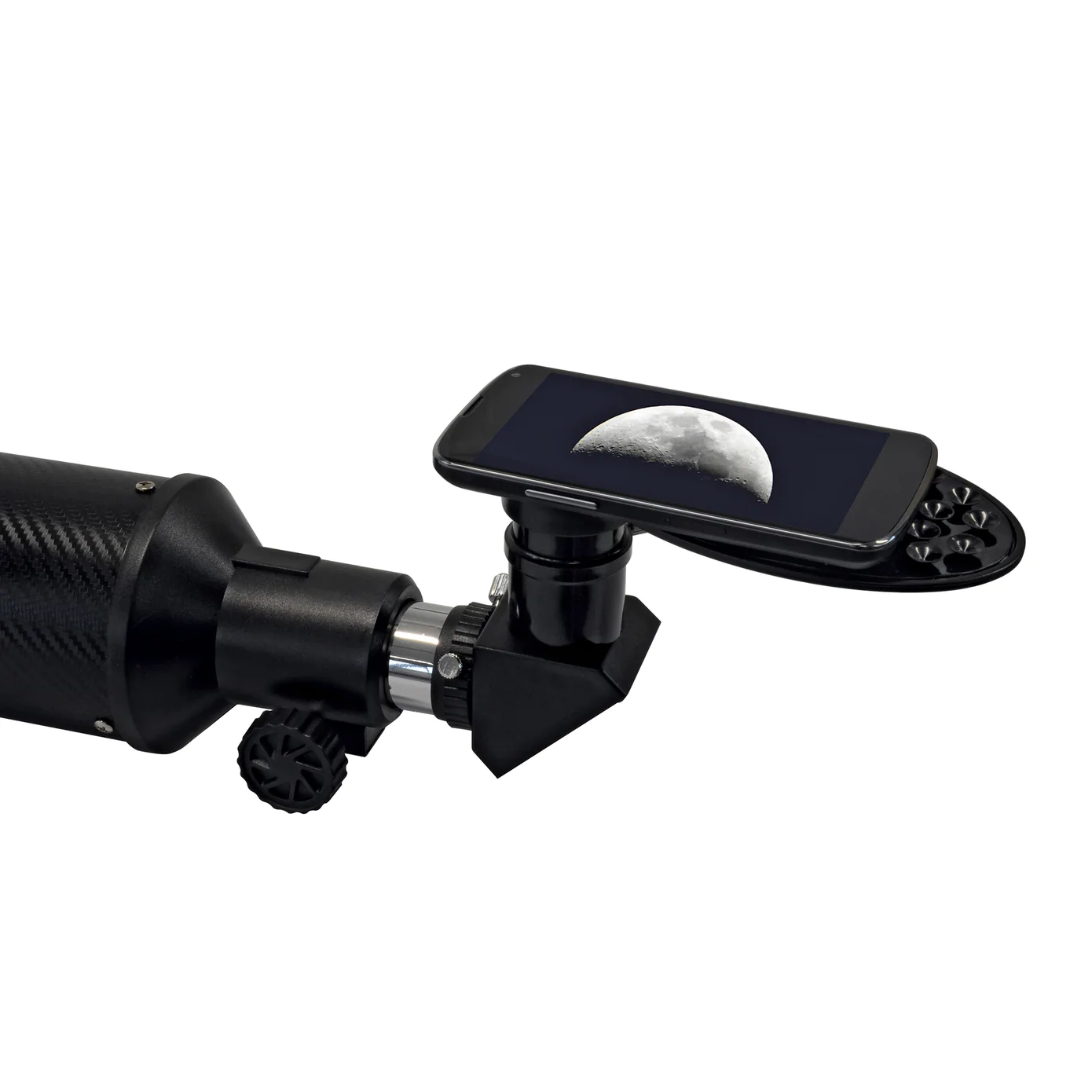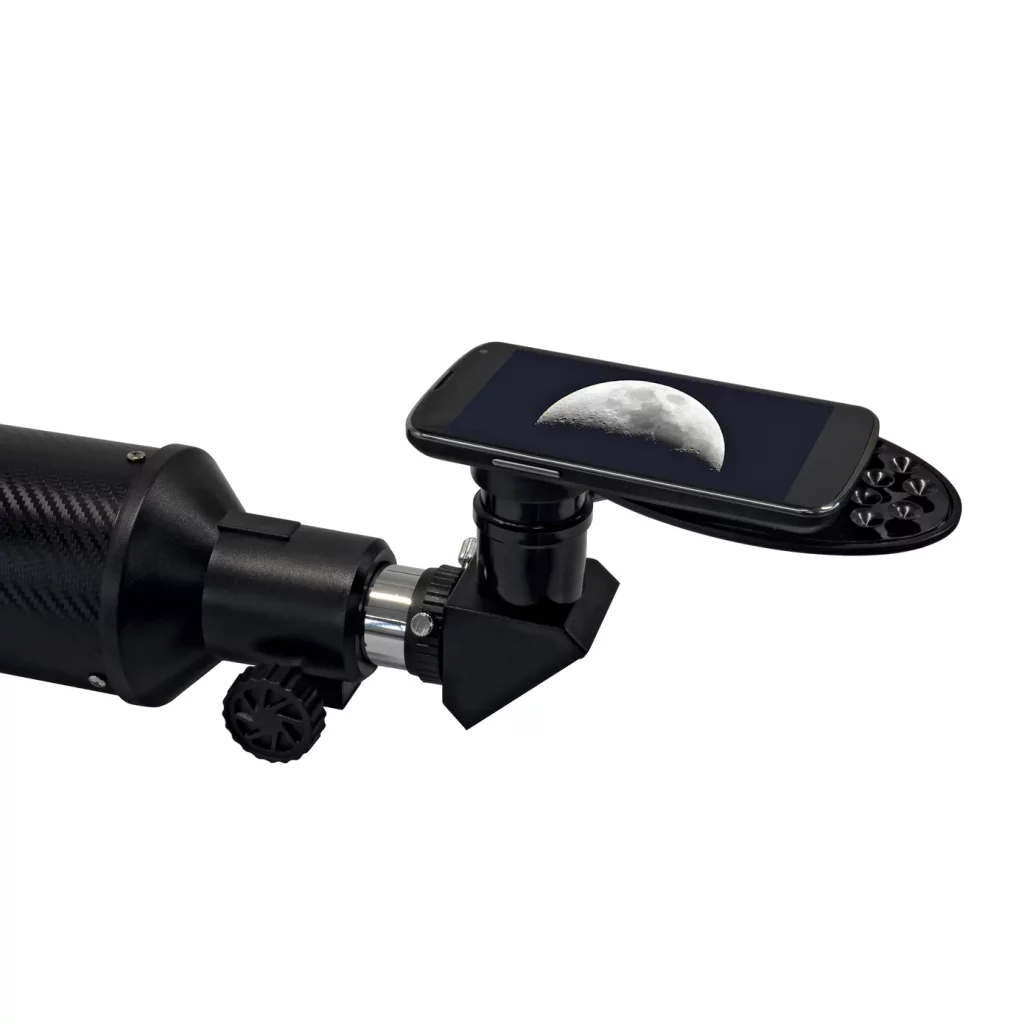 The Explore Scientific Smartphone Camera Adapter uses suction cups instead of clamps to grip your phone and locks onto narrow-bodied 1.25" eyepieces (such as Plossls) with a simple set screw. The suction cups can be a little unnerving to entrust with holding your heavy, expensive smartphone, but they are quite strong and make centering the camera extremely easy. The low price is also very agreeable. However, the eyepiece body size limitations imposed by the simple set screw and ring are a serious issue with this adapter.