Sky-Watcher's ProED series provides fantastic value for the price. While not true ED triplets like some scopes sold for similar amounts, all of the three scopes in the lineup are extremely well-made doublet apochromats and far better than some of the cheap triplets marketed for similar prices. Additionally, a doublet refractor is lighter in weight and thus works better on light-duty mounts compared to a triplet in addition to being easier to transport and set up.
The ProED 80, in particular, is an excellent scope for the beginning astrophotographer, or as a grab n' go visual instrument.
Overview of Sky-Watcher's ProED 80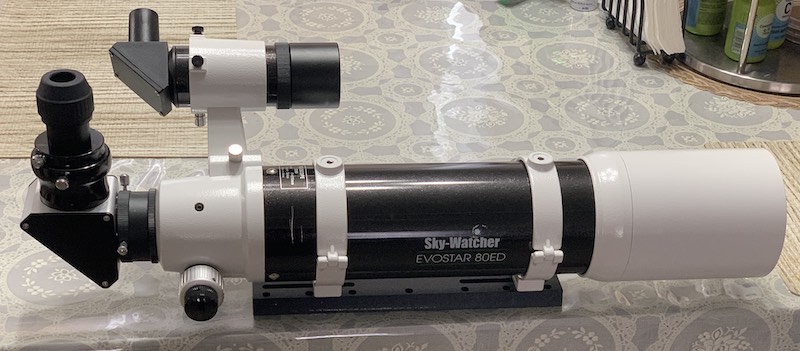 The ProED scopes all use a standard achromatic doublet design with FPL-53 and Schott glass in the lens elements. This results in a scope with rather low chromatic aberration, only detectable on the brightest stars, certainly an improvement over less-expensive ED refractors and of course achromats.
The scope's slow focal ratio of f/7.5 additionally helps with controlling chromatic aberration, and makes it easy to achieve high magnification without ultra-short focal length eyepieces. For astrophotographic use, the 600mm focal length of the ProED 80 means you can actually go after some stuff besides wide-field objects, albeit not as well as with a dedicated longer focal length scope.
The ProED focuser is a relatively unsophisticated 2" dual-speed Crayford design. People complain about it slipping under heavy loads but I suspect that they may not be adjusting the tensioning knob on the focuser because I have not experienced this issue.
The ProED scopes come with a pair of white felt-lined tube rings and a green Vixen-style dovetail plate (the black version shown in ads was phased out recently). The rings can easily have a second dovetail plate added on top for attaching a guide scope.
Accessories
The ProED refractors all come with a 50mm 9×50 right-angle correct image finderscope, a 2" star diagonal, and 20mm and 5mm eyepieces.
The 9×50 RACI finderscope is the same low-cost unit sold with many telescopes. People swear by it. I personally find the eyepiece to be a little small and uncomfortable to look through, but it does the job. It is probably an overkill if anything due to its large aperture.
The 2" diagonal is pretty good, and you shouldn't need to upgrade from it unless you're really picky. The 20mm (30x) and 5mm (120x) long eye relief eyepieces are decent – they're basically Plossl derivatives with twist-up eyecups.
The ProED refractors all also come with a nice, aluminum hard carrying case with a foam interior lining.
Astrophotography
For deep-sky astrophotography with the ProED 80 (as with most refractors) I highly recommend obtaining a field flattener. There are numerous third-party ones available, but Sky-Watcher also sells a 0.85x reducer/corrector for each ProED model – I haven't tried it but I've heard good things. Without a flattener, stars at the edge will look comatic and it will look like you are zooming towards the center of the field at Warp Speed on the Enterprise – thankfully, this is not an issue that shows up during visual use.
The ProED 80 will work fine unguided on most EQ5- and EQ6-class mounts, but autoguiding is a good idea if you want to do exposures of a minute or longer. You could buy a small guide scope and second Vixen dovetail bar to piggyback atop the scope, or swap in a guide scope in place of the 9×50 finder scope.
With 600mm of focal length you can still shoot wide-field stuff (the reducer will bring the focal length down to 510mm), but it's also possible to get good photos of the larger and brighter globular star clusters and galaxies, with some effort. The nearly pinpoint, crisp stars provided by the ProED 80 will look excellent, but as with any astrophotography telescope focusing and good seeing are critical to achieving this in your images.
Mounting Options
The ProED's dovetail has a ¼ 20 threaded hole for use on a photo tripod, but it's rather heavy and inconvenient to use on one. Instead, you should probably use the Vixen-style dovetail to attach the scope to a compatible mount.
For visual use, an alt-azimuth mount like the Explore Scientific Twilight I, Vixen Porta II, or Astro-Tech Voyager is probably best, as it will make it easy to rapidly move the scope around the sky. An EQ3- or EQ4-class equatorial mount will also work, but introduces unnecessary complications when setting up and using the scope and will bring the total weight up by quite a bit.
For deep-sky astrophotography, you'll want a hefty computerized German equatorial mount with autoguider compatibility. Anything from an EQ5 mount like the Sky-Watcher HEQ5 Pro or heavier will work just fine.
Conclusion
For the beginning astro-imager or the experienced user looking for a grab n' go instrument, the Sky-Watcher ProED is an excellent choice, especially if you're on a budget. For the price, it really can't be beaten and it does quite well even when compared to far more expensive scopes. I highly recommend it.