Optics
The Essentials 127ED is a 127mm (5") f/7.5 ED triplet refractor with a focal length of 953mm and a single ED glass element using FCD1 glass from Hoya. The Essentials 127ED's Hoya FCD1 glass is basically the same as Schott/Ohara's FPL-51 glass. This is cheaper and slightly less effective at controlling chromatic and other aberrations than the FPL-53 glass widely used in most doublet and triplet apochromatic refractors today, which is some of the most expensive optical glass that money can buy. That being said, the glass for any scope is irrelevant if the optical design isn't very good, and you should never buy a scope solely based on what glass it uses because that would be stupid.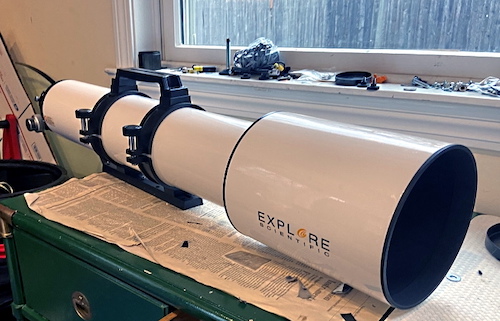 There are a lot of bad FPL-53 doublets and triplets out there that perform worse at controlling chromatic aberration than the Essentials 127ED. The Essentials 127ED's long focal ratio further helps keep chromatic aberration at bay. Compared to a regular achromatic or ED doublet refractor of this size and speed, the 127ED has significantly less chromatic aberration and a flatter field for astrophotography. However, compared to a top-of-the-line triplet or fluorite refractor, there is a little more chromatic aberration (the FCD100 version cleans up the image a little), and the triplet optics are, of course, heavier and require some additional cooldown time when setting up.
Optically, the Essentials 127ED performs very well. Brighter objects do have a bluish fringe on them as the out-of-focus chromatic aberration of the scope is concentrated towards the blue end of the spectrum. This does give the scope excellent performance in the red, allowing for crisp views of Jupiter and especially Mars, where many cheaper apochromats fail. However, the blue chromatic aberration can show up in images at similar levels to a mid-range ED doublet refractor.
Mechanics
The focuser on the Essentials 127ED is a fairly inexpensive but well-made dual-speed Crayford. If you aren't happy with it, it's not difficult to swap it out for a Moonlite, Feathertouch, or other aftermarket units, which, while expensive, pale in comparison to the cost of the Essentials 127ED by the time it is mounted and accessorized.
The Essentials 127ED's lens cell is collimatable, though collimating any refractor is an especially terrifying process, and you will hopefully not have to do it.
The scope comes with Explore Scientific's standard finder shoe, which locks onto your finderscope with two nylon thumbscrews. While it has a superior design compared to the standard Vixen/Synta shoes, it prevents you from using other brands of finders (besides Meade and Bresser).
Both the Essentials and FCD100 127ED are available with carbon fiber tubes. These lighten the scopes by a few pounds and avoid the expansion and contraction problems that can sometimes occur when imaging with a metal tube.
Accessories
The diagonal supplied with all Explore Scientific apochromats is a 2-inch dielectric mirror unit with a carbon-fiber body. It is easily one of the best diagonals on the market today. The Essentials 127ED also comes with two extension tubes to reach focus with the diagonal and an eyepiece.
Unlike many scopes, the 127ED has a handle attached to the tube rings, which is helpful, considering the scope's 18 pounds (8.16 kilograms). The tube rings are attached to a standard Vixen-style dovetail.
The Essentials 127ED used to come supplied with a case; however, this is no longer true. There are cases for ED80 and ED102, however.
If you are considering this scope for visual use and don't already have a set of eyepieces, I would recommend at the very least buying a 30-40 mm 2-inch wide-angle eyepiece, a ~24 mm wide-angle eyepiece, and a few others that are in the 6, 9, and 15 mm focal length range.
Explore Scientific is one of the best and most well-known eyepiece manufacturers out there, and they offer eyepieces at virtually every focal length, apparent field of view, and price.
Mount Recommendations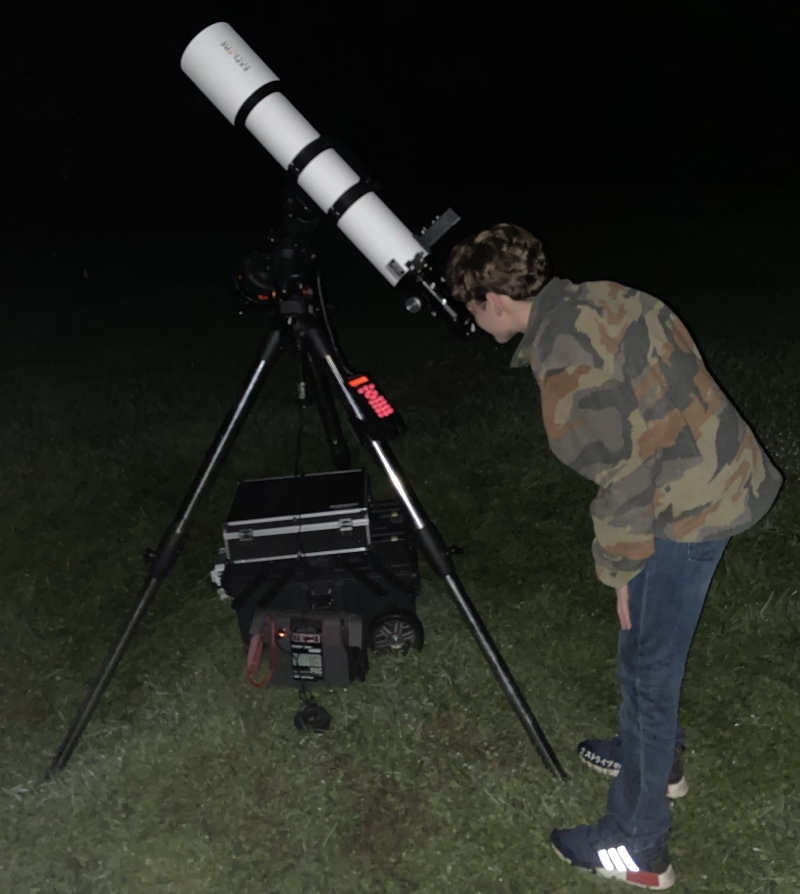 A heavy apochromatic triplet like the Essentials 127ED needs a good mount. Explore Scientific offers absolutely nothing in the way of mounting suggestions, so some users often buy rather lightweight mounts or even mounts that are plainly incapable of holding the scope.
A Celestron Advanced VX holds the scope fine for visual use, though it is insufficient for astrophotography. The Orion Atlas, Sky-Watcher EQ6R, and Losmandy G11 (the latter of which Explore Scientific offers with a wirelessly-controlled deluxe GoTo system) are all great choices for using the Essentials 127ED for imaging or visual use. Keep in mind that for any of these mounts, you will need to buy a Losmandy-style dovetail and bolt it to the tube rings, or buy a Losmandy-to-Vixen adapter for your mount.
Should I buy a Used Explore Scientific 127ED Essentials?
A used 127ED has fairly little that can go wrong with it, though there are slight mechanical changes to newer models. Expect to pay less if the scope's lifetime transferable warranty is absent or otherwise invalid. Refractors are pretty durable telescopes, and any damage to the objective lens or other parts should be immediately obvious, even to a complete novice.
Aftermarket Accessory Recommendations
A finder of some sort, be it an 8×50 unit from Explore Scientific or a reflex sight like the Telrad or Rigel QuikFinder, is a must for the 127ED Essentials. Additionally, you'll want eyepieces if you plan on conducting visual observations through the scope; any number of designs will work at f/7.5, though the Explore Scientific 82-degree line and Baader Hyperions are some of our top picks for medium and high power. The Apertura SWA 38mm (25x), in particular, is great for achieving the maximum possible field of view with the 127ED, about 2.75 degrees, or nearly 6 times the angular size of the moon in the sky. You might also benefit from a UHC filter, such as the Orion UltraBlock UHC, to increase contrast on nebulae.
Astrophotography Capabilities
In addition to a sufficient German equatorial mount, as previously discussed, for serious deep-sky astrophotography with the 127ED, you'll need an autoguiding setup. Mounting a guide scope will require replacing the ES or Made shoe for a Synta-style one, or removing the tube carry handle and putting a dovetail on top of it. A 30 or 50 mm guide scope will be more than adequate for guiding the 127ED with a planetary/guide camera.
A field flattener is recommended for good astrophotos, ones that don't look like you're flying forwards toward the focused target at warp speed. Explore Scientific sells one that works great with DSLRs, although it requires adapters and tweaking the spacing to get a non-DSLR camera to work with it.
Planetary imaging is also possible with the 127ED, a 2-3x Barlow lens, and a suitable high-speed video planetary/guide camera, though with only 5" of aperture to work with, your resolving power is fairly limited compared to a larger instrument; even the excellent optics of the 127ED cannot defy the laws of physics, and a bigger scope with good optics will usually be better for planetary and lunar imaging purposes.
What can you see?
The 127ED performs similarly on deep-sky objects to a 6" reflector or catadioptric telescope; the dimmer images are made up for by the increased contrast thanks to more efficient coatings and a refractor's lack of central obstruction by a secondary mirror. You can expect jaw-dropping views of open star clusters and to be able to just barely resolve the brighter globular star clusters like M13 and M15 into individual stars. Emission nebulae like Orion (M42) and the Lagoon (M8) are a little lackluster from light-polluted locales but explode with detail under dark skies, while the Veil and North America Nebula look superb if you have good skies and a UHC filter for the 127ED to work at its best. Most planetary nebulae are disappointing smudges, however, and only the brightest galaxies show detail, namely, high-contrast dust lanes in ones like M31 and M82. You can also, of course, see galaxy groups and clusters.
The 127ED is no slouch on Solar System objects, though blue chromatic aberration can be seen around most of the planets and the Moon. Mercury and Venus show their phases, while the Moon displays fantastic detail in various craters, mountain chains, ridges, and faults. Mars' polar ice caps and a few dark surface markings, along with any ongoing dust storms, are crisp and detailed, provided the planet is close enough to Earth to appear as anything more than a tiny orange dot. Jupiter shows colorful cloud belts along with various atmospheric details such as the Great Red Spot, and its four Galilean moons are resolved as sharp, if tiny, disks with inky black shadows during their transits in front of the gas giant. Saturn's rings and the Cassini Division within them are razor-sharp, as are the planet's tawny cloud belts and a few faint moons. Uranus and Neptune are little more than turquoise and azure dots, though the 127ED can just barely reveal Triton next to Neptune to the skilled eye, while observing Pluto or the faint Uranian moon system will require a much larger telescope.