Optical Overview Of Powerseeker 114EQ
The Celestron PowerSeeker 114EQ has a 114mm aperture on its scope and is part of the PowerSeeker series which includes models such as the 127EQ, 60EQ, 70EQ, and 80EQ. It's a Newtonian reflector telescope which includes an equatorial mount that's similar to other models in the PowerSeeker line and is the same as that of the Orion XT 4.5.
The primary and secondary mirror are both collimatable, and while the primary is spherical, at f/8 it falls well within the tolerances of providing a good image.
In fact, these scopes provide great images when used with quality eyepieces.
I used an identical 114mm f/8 (older Celestron, made in the same factory on the same assembly line but on a steadier mount) to watch the 2016 transit of Mercury with a solar filter. It performed admirably. I've also briefly owned another one and was able to resolve some very tiny craterlets inside the lunar crater Clavius.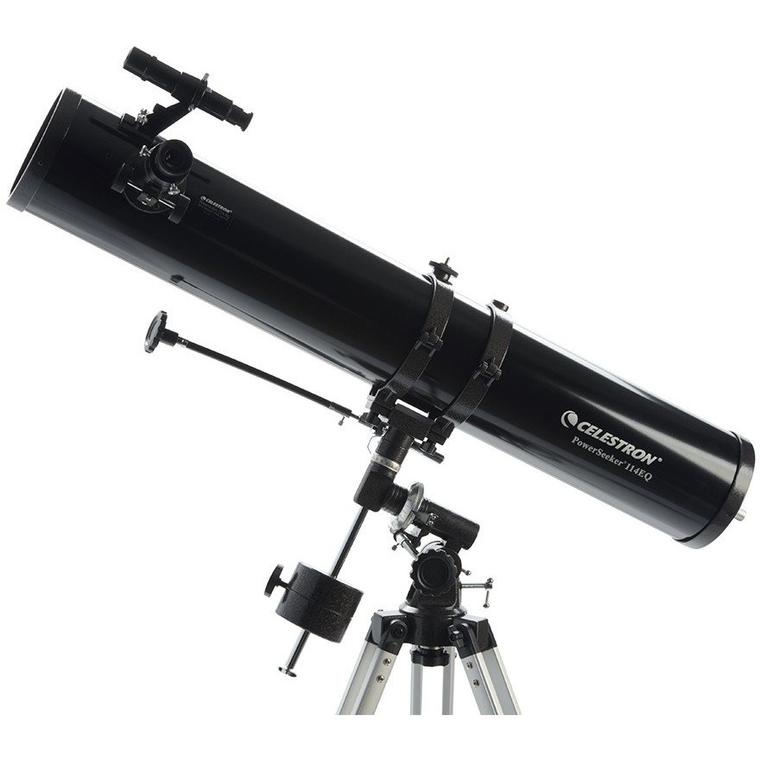 At f/8, these scopes don't have coma like tabletop 4.5" Dobsonians, and are also far easier to collimate, the former giving you better low-power images and the latter making you far more likely to get quality high-power views.
The secondary mirror is mounted on a stalk instead of a 3- or 4-vane spider.
A stalk is less stable than a spider because the secondary is in effect "hanging" instead of suspended evenly, but on a small scope like this such a problem has negligible, if any effects. Unlike a spider, the stalk doesn't produce spikes on stars, which helps with splitting close doubles.
The box has the following components inside: the optical tube and finder scope, equatorial mount, two eyepieces – 20mm and 4mm – as well as a 3x Barlow lens. But they all are wretched.
The 20mm "erect-image" eyepiece is almost entirely plastic, provides rather dim images, and has a very narrow field of view.
The 4mm Ramsden eyepiece provides nearly the maximum magnification usable with the 114EQ, has a tiny eye lens, and has an extremely narrow field of view. It is basically useless.
The included 3x Barlow is entirely plastic, works about as well as putting a piece of a beer bottle in the optical train, and probably costs under a dollar to manufacture.
Celestron supplies the awful erect-image 20mm so that the scope can be used for terrestrial viewing – why you'd ever do this with an equatorial Newtonian is beyond me.
The garbage 4mm Ramsden and 3x Barlow are sold with the scope to achieve the "675 power" marketed on the box, in the vein of department-store and toy telescopes.
Celestron is a legitimate brand and it saddens me that they are hurting their image with scopes and marketing tactics like this.
The included 5×24 finderscope is mostly plastic, has an aperture stop dimming the images severely, and is very hard to align. A red-dot finder would be far better, but unfortunately Celestron doesn't supply one.
Mount Capabilities
The PowerSeeker 114EQ comes on an EQ-1 mount. This mount is adequate to hold a shorter, stubbier 4.5" or even 5" reflector, but the 114EQ's tube is 3 feet (1 meter) long, and puts far too much strain on the mount. Shakiness becomes evident above 80x.
The PowerSeeker 114EQ's predecessor, the FirstScope 114EQ (which I used to watch the 2016 transit of Mercury), came on an EQ2 mount.
Even an EQ2 is a little small for a 4.5" f/8 tube, but it will do the job. It's really a shame that neither Celestron nor any other vendor sells this scope on an EQ2 or even EQ3 with good accessories because I'd recommend it in a heartbeat.
4.5" equatorial Newtonians on solid mounts and with good eyepieces, especially when made well at long focal ratios, are really fantastic performers.
If for some reason you happen to obtain a 114EQ cheaply and/or as a tube only, building a Dobsonian mount for it is quite easy and will really allow the scope to perform at its best.
Final Verdict
Overall, unless you glom onto a used tube and build a Dobsonian mount for it, I don't recommend the Celestron PowerSeeker 114EQ. The mount is too small, the accessories are too unusable, and the price is too high to make it a sensible purchase. There are better options in its price range.